The Birthplace of Kistune Udon: Usamitei Mastubaya
Kitsune udon is one of the dishes that represents true Osaka soul food, as well as being the birthplace of the dish. Today, kitsune udon is found everywhere in Japan, even in convenience stores as instant noodles! Unlike the other famous noodle dishes from Japan, i.e. ramen, the star of kistune udon is not the thick chewy noodle, nor even the seasoned slice of fried tofu that gave the dish its name. No. The star of kistune udon is the broth. The golden broth has a gentle and delicate flavor, from a perfect balance of konbu and dashi stock. Despite rich street foods like takoyaki now being associated with Osaka, the city earned its reputation as the "Kitchen of Japan" in part because of flavorful yet balanced flavors in a dish, like kistune udon.
Kistune Udon: From Sushi, To Side, To Udon
Kistune udon is immensely popular throughout Japan, so it come as no surprise that many restaurants in Osaka sell kistune udon. What is surprising is that it is not well-known that it was the founder of Usamitei Matsubaya who came up with kitsune udon. Long ago, in the distant past of 1893, the would-be owner of the Matsubaya, worked at a sushi restaurant named Takotake. At the time, it was common to serve udon with sushi. Eventually, he decided to open his own udon restaurant. He thought it may be good idea to use tofu age with udon– like inari zushi. At first, the tofu age was served separately, they soon realized it was better to put the tofu age on top of the noodles.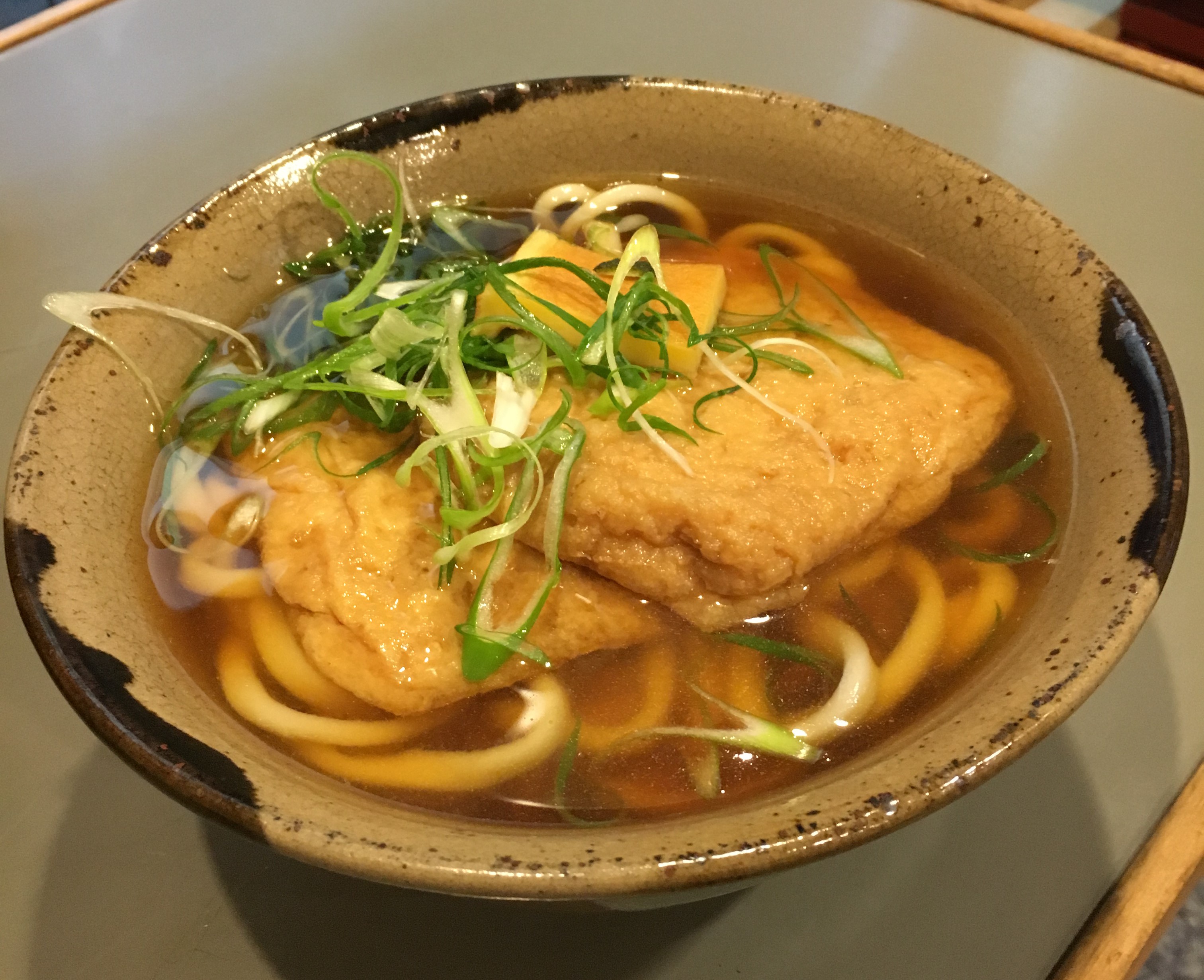 Clearly, this was the right move and kitsune udon became immediately popular.
Usamitei Matsubaya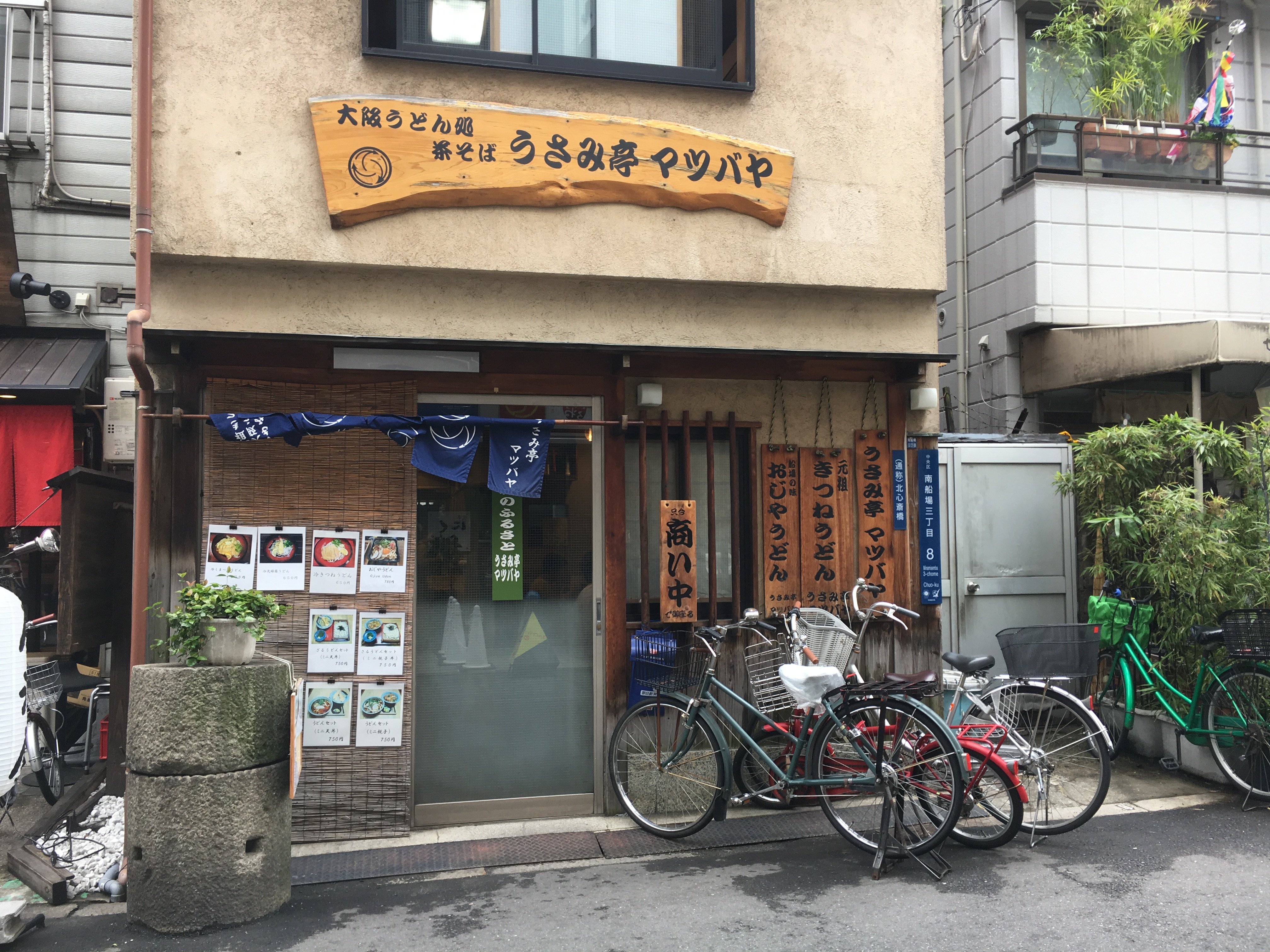 The restaurant is not big at all. We went around 2 o'clock and luckily there were not so many people. This is a very popular place for lunch and around noon there are long lines in front of the restaurant. If you want to avoid the crowds you should go evening.
Almost all of the udon are dishes are very affordable. It is great we can enjoy a more traditional Osaka meal for affordable prices.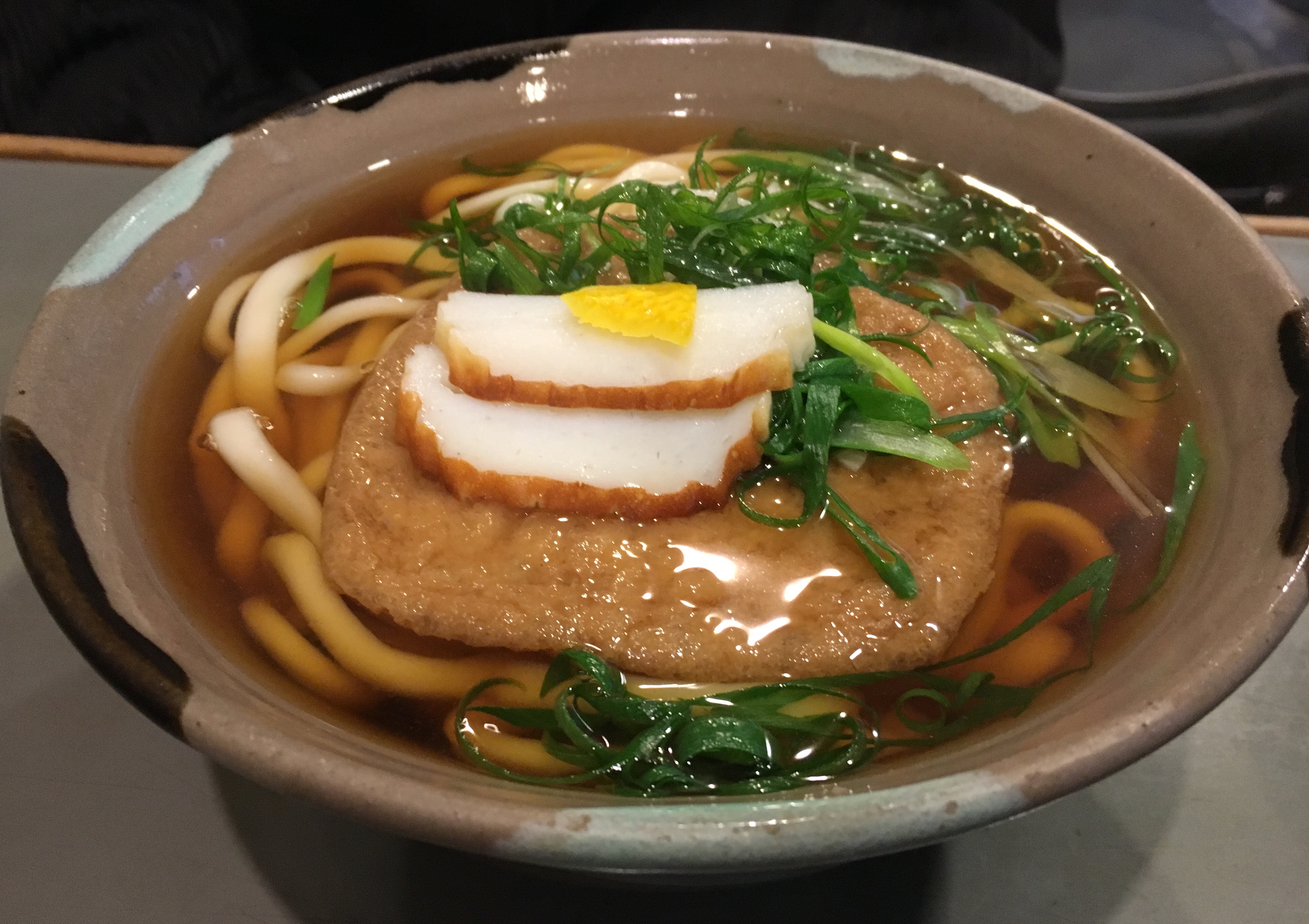 Of course, we ordered kitsune udon, but decided to get a local variation of the dish called Shinoda udon, which also has pieces of kamoboko. The large is an extra 200 yen if you are very hungry.
One other thing you should try here is ojiya udon.
Local Special: Ojiya Udon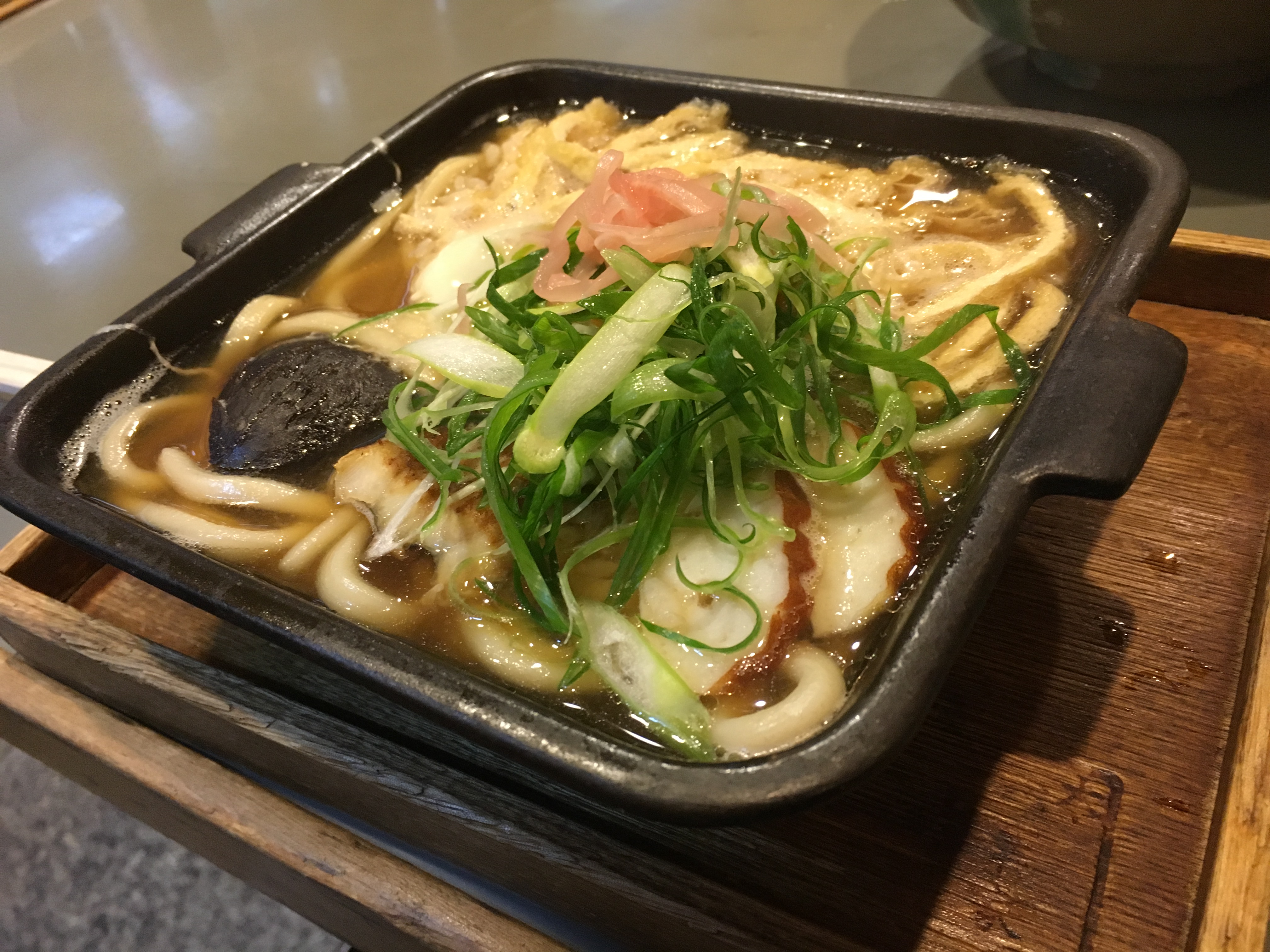 In Osaka, ojiya means rice porridge (okayu everywhere else) and Matsubaya offers up their own version of this local dish. But this is not you regular ol' ojiya. It not only has udon noodles, but also several other ingredients such as anago, shiitake and pieces of chicken too. Though recipes for ojiya are not as old as kitsune udon, its original popularity was due to the fact that people could make this dish when food was scarce.
They change up their ojiya slightly from time to time, to check to see if there are any seasonal specialties when you visit! Since oysters were still in season, they added them to the dish and it was really good. Don't worry, if you don't like oysters, you can still order the regular version.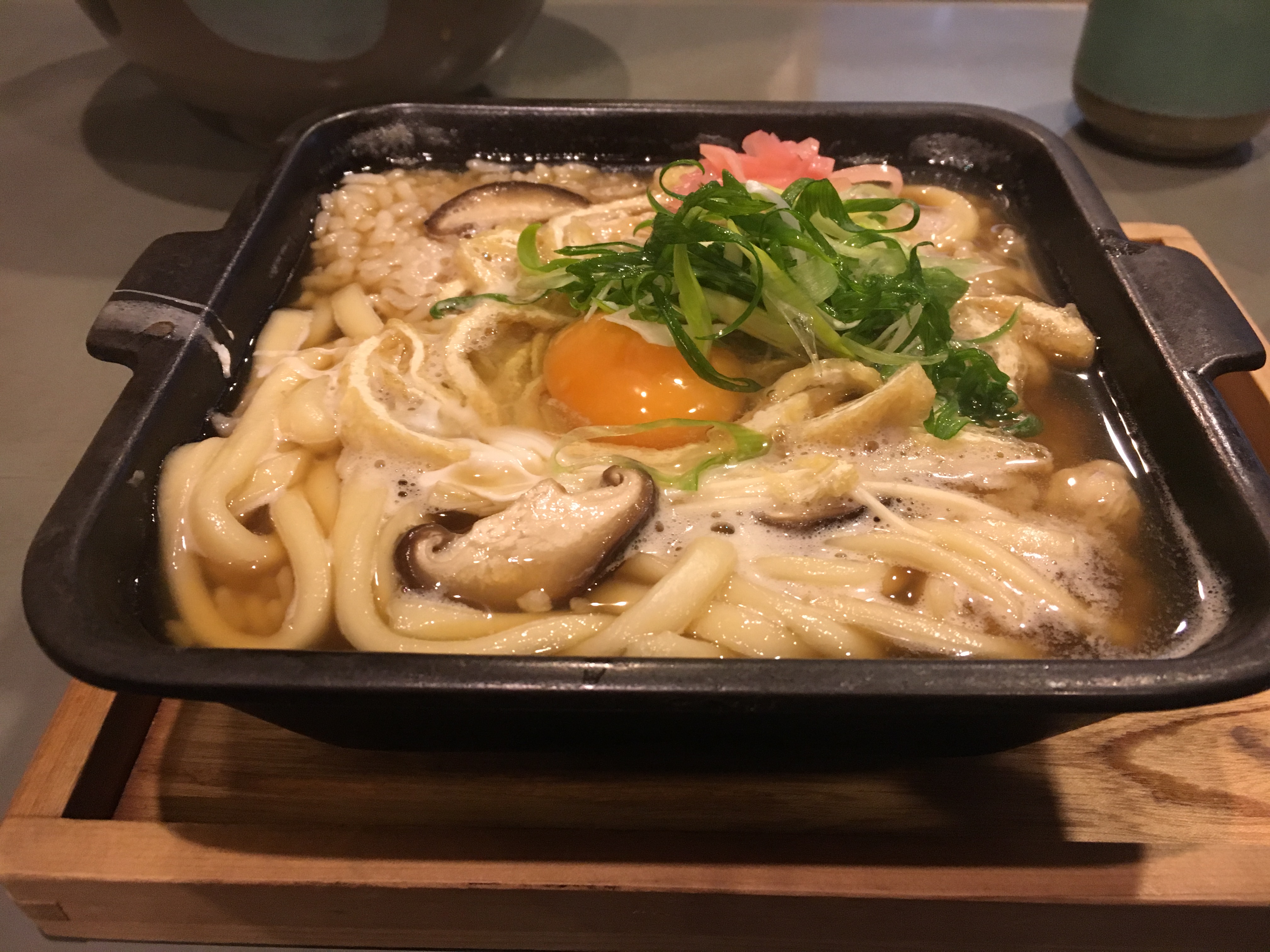 Infomation: Usamitei Matsubaya
Address
3-8-1, Minamisenba, Chuo Ward, Osaka City, Osaka Prefecture
Access
Just a few minutes on foot from Shinsaibashi Station off Osaka Metro Midosuji Line
Opening Hours
11AM-7PM. Closed on Sunday.
Notes
Matsubaya is a true local gem. Its soul soothing udon is the perfect thing you didn't know you were missing. The last time I ate there I was just recovering from a cold, so my nose quite congested. Of course, you could say it was just the steam, but after my serving of udon, I felt truly nourished. Moreover, if you have a picky eater with you or someone who is not used to Japanese cuisine, kistune udon is almost always a crowd-pleaser. Be sure to out Usamitei Matsubaya on your list of must haves the next time you visit Osaka.