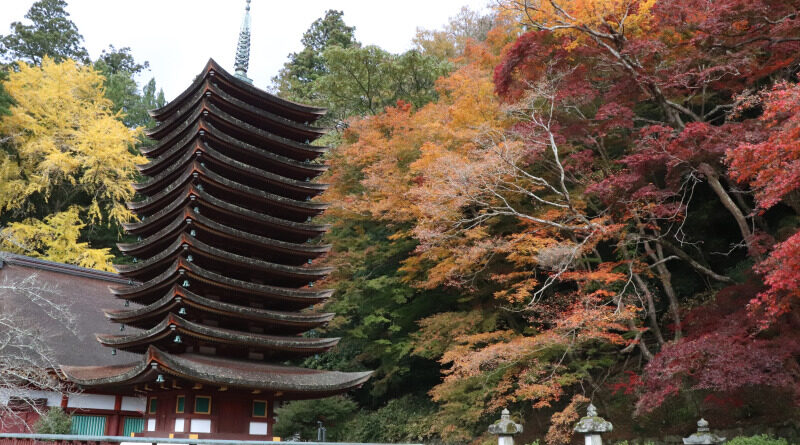 Tanzan Shrine: the Most Beautiful Fall Foliage in Nara
Going in the mountain from the ancient village Asuka in Nara, you will be in Tanzan Shrine. This shrine not only witnessed an important movement of Japanese history but also is known as one of the best spots of fall foliage in Kansai region. Though it may be a bit hard to access, it is off the beaten path spots you should definitely visit in Nara!
The History of Tanzan Shrine
 Tanzan Shrine currently stands is where Fujiwara no Kamatari [藤原鎌足], the original ancestor of the Fujiwara clan, frequently came to plot the assassination of the Soga clan as well as to plan the Taika Reform; a set of government doctrines that helped create Japan's central government. After Kamatari successfully completed the Taika Reforms and passed away, Myoraku-ji Temple, was built here by transporting some of his ashes from his grave in Osaka.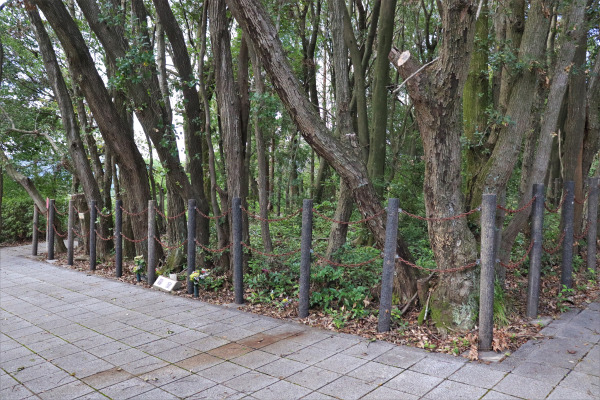 Myoraku-ji temple, or often referred to as Tonomine, flourished as the Fujiwara clan gained more power. The temples rise to power resulted in tensions with another strong temple in Nara, Kofuku-ji Temple. The strain between these two actually resulted in physical conflicts. As a result, Myoraku-ji Temple began to train a large number of warrior monks– ultimately making it one of the strongest temples in Japan. Of course, because of  the frequent fights with Kofuku-ji, Myoraku-ji burned down many times.
During the Meiji Restoration of the 19th century, Myoraku-ji Temple became a shrine and changed its name to "Tanzan" and officially enshrined Fujiwara no Kamatari. 
Tanzan Shrine
Tanzan Shrine is 30 minutes away from Sakurai Station by bus. Even though we took the first bus in the morning, it was decently crowded. The shrine has a reputation as a scenic fall spot, so when the leaves are at their peak it tends to get really crowded; better to go in the morning!
The bus goes will take you to Tanzan Shrine, but we decided to get off at Tonomine bus stop (one stop away from Tanzan Shrine) and walked up the hill for 10 minutes. This way, we had time to stop and look at Tanzan Shrine's main gate. It is just the gate, but it is one of the very few structures leftover from the shrine's days as Myoraku-ji Temple.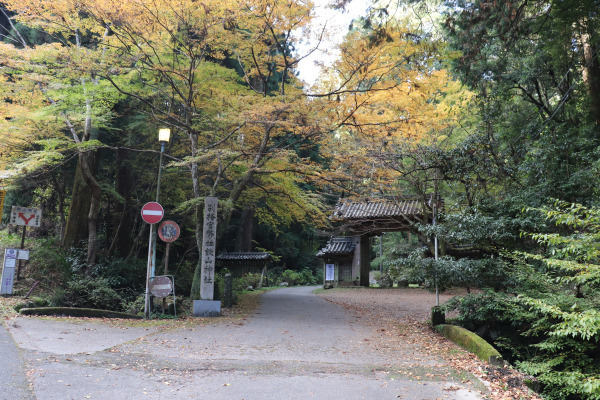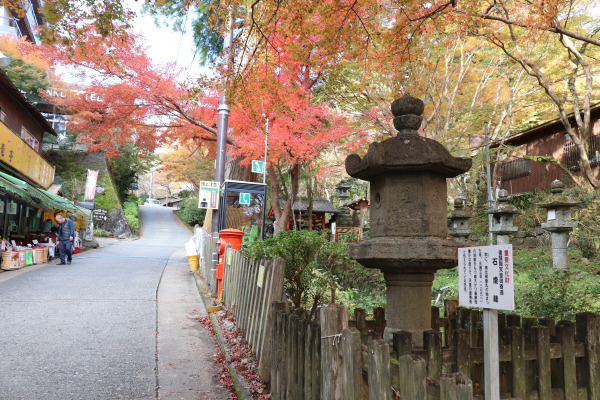 After a while, we arrived at Tanzan Shrine. It was certainly a bit crowded, but not nearly as bad as it would have been if we'd gone to Kyoto. If you come early enough, you can comfortably enjoy taking photos of the beautiful Japanese maple trees all over the shrine grounds.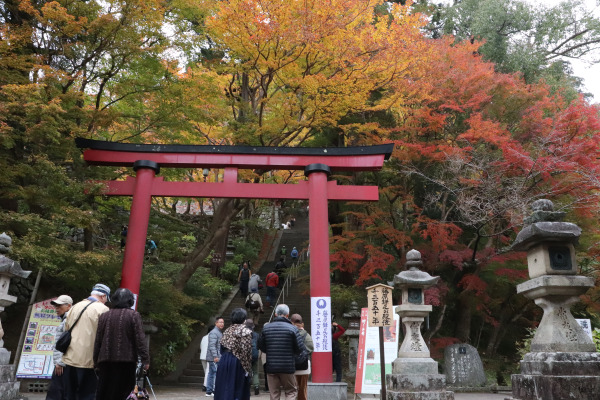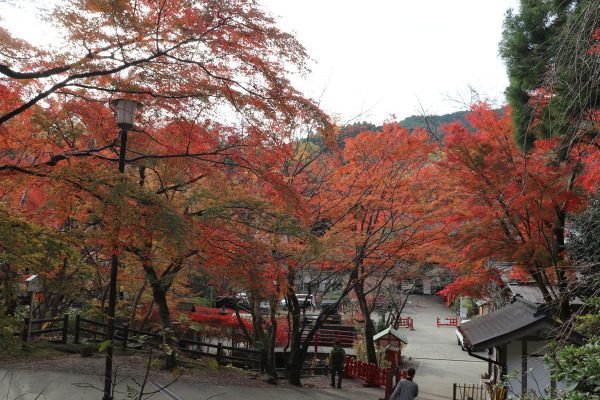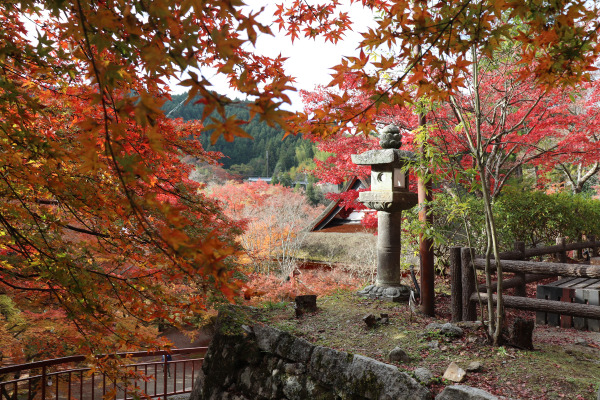 Honden
In order to reach the honden, you have to walk up a long flight of stairs lined with beautiful momoji trees on either side. But don't just head straight to the honden! On the way up, visit the Shinbyo Haisho, which was originally built as Kodo of Myoraku-ji Temple. In the Shinbyo Haisho, is a statue of the Fujiwara no Kamatari, and also of Nyoirin Kannon. Yes, Nyoirin Kannon, a buddhist deity, in the shrine! The statue of Nyorin Kannon is most definitely a leftover from the days of Myoraku-ji Temple. Unfortunately, the Kannon statue is not on public display and visitors are only able to see a picture of it.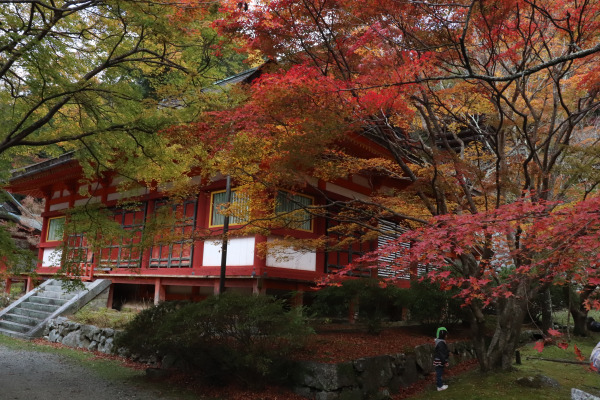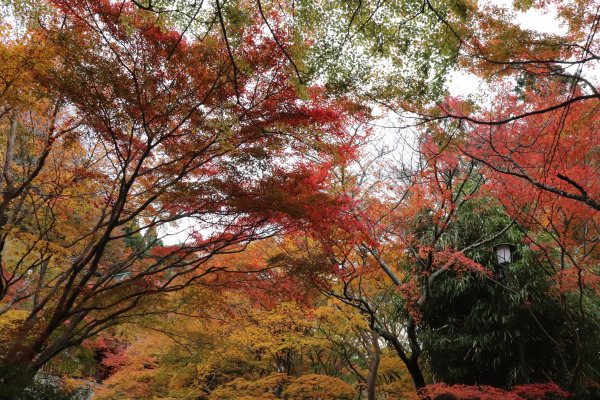 Honden
On top of stairs is the main building, the honden, and the prayer hall, the haiden. As mentioned earlier, the honden enshrines Fujiwara no Kamatari. In Tanzan Shrine, you can go into the haiden and take good look at the honden.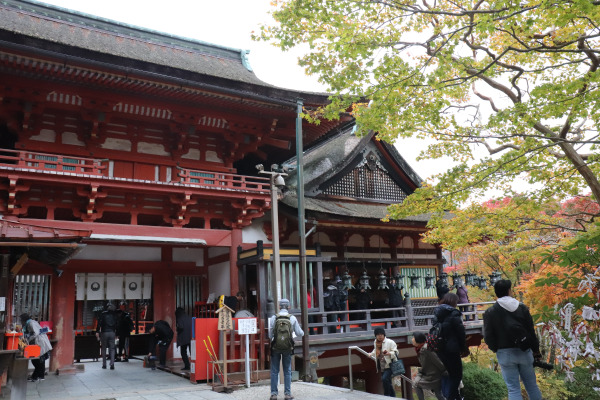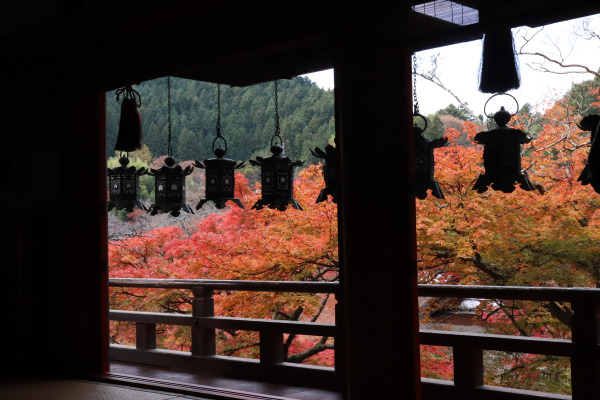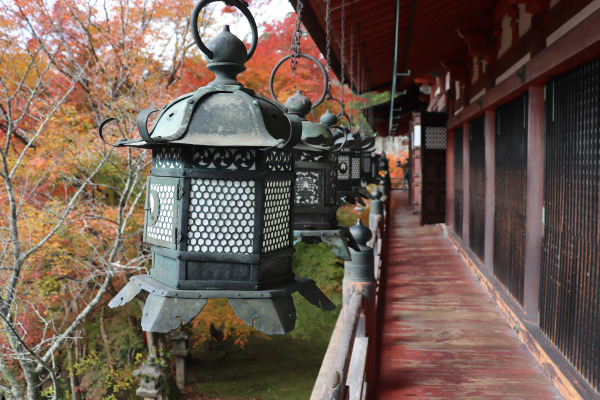 The highlight of  Tanzan Shrine is its 13-story wooden pagoda, which dates back to the 16th century. Stone pagoda of similar scale can be found several places in Japan, but the only wooden one in Japan is here in Tanzan Shrine. Moreover, it is important to remember that, regardless of material, pagodas a features of Buddhist temples— meaning it is very unusual for a shrine to have a pagoda.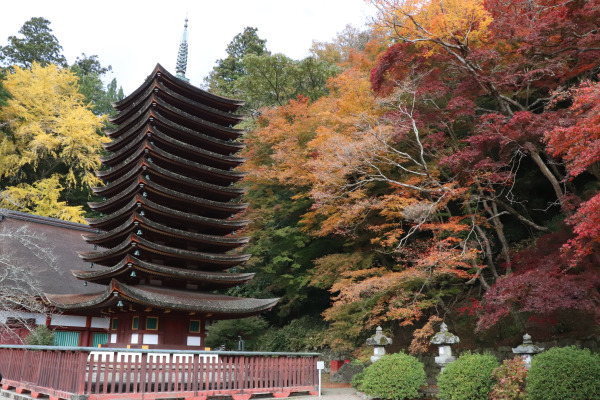 Points of Interest
Behind the shrine are the mountains, Mt. Katarai-yama and Mt. Goharetsu-yama. Both are very important because Mt. Katarai-yama is where Fujiwara no Kamatari conspired to assassinate Soga clan and Mt. Goharetsu-yama is here he was ultimately buried.
Even though there were plenty of people in the shrine, there were relatively few on these mountains. It takes only 30 minutes to climb them, so if you enjoy hiking or love Japanese history, you definitely should go!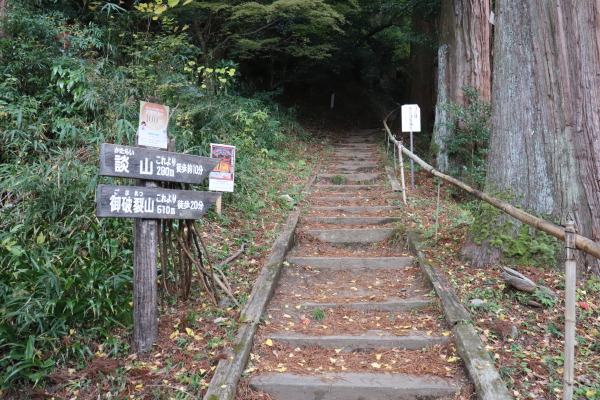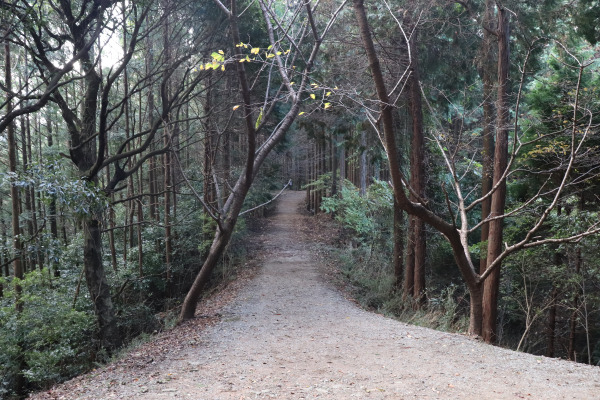 In 20 minutes or so, you will be the top of Mt. Katarai-yama. Though there isn't much of a view, it is one of the most significant places in Japanese history since the men who came here all the way from Asuka essentially created a new period of history. It is interesting to imagine who came here and what they talked about….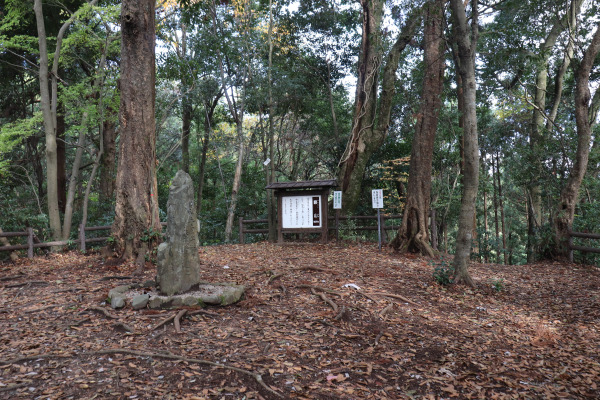 Also, 5 minutes from Mt.Katarai-yama, you will be Mt. Goharetsu-yama houses the grave site of Fujiwara no Kamatari's grave. There is another grave to Fujiwara no Kamatari in Osaka, but this one is considerably bigger.