Sakaisuji Street: Osaka's Old Main Street
Running from upscale Umeda to trending Namba, Midosuji Stree is the most famous street in Osaka. However, it has not always been that way. Prior to 1937, Osaka's main road was Sakaisuji Street. Once serving as a crucial road connecting Osaka to Wakayama, Sakaisuji Street became home to many important and stylish buildings during the flower of Osaka's golden era. Despite the ever-changing times, you can still find many interesting things on Sakaisuji Street. It is still here that you can feel the vibe of Osaka's past and present. 
Exploring Sakaisuji Street
Naniwabashi Bridge to Koraibashi Bridge
Sakaisuji Stree, starting from Naniwabashi Bridge to Tengachaya, is the main street in Osaka though it is not as large as Midosuji street today. All lines are bound for the south.  
Sakaisuji Street begins at  Naniwabashi bridge over both the Okawa and Dojima rivers. 
Naniwabashi Bridge, together with Tenjinbashi Bridge and Tenmabashi Bridge, are collectively known as "The Three Bridges of Osaka". However, I feel Naniwabashi Bridge is the best of the three, as it is the most decorative.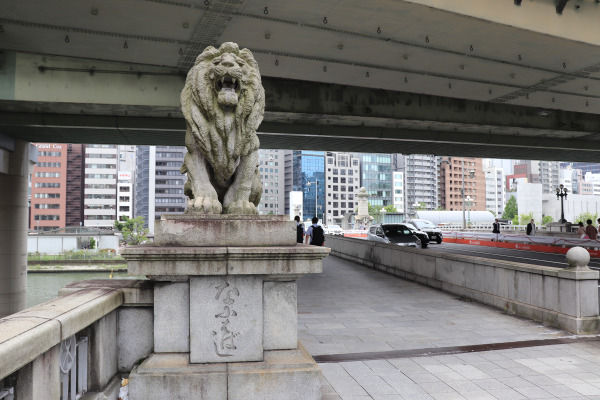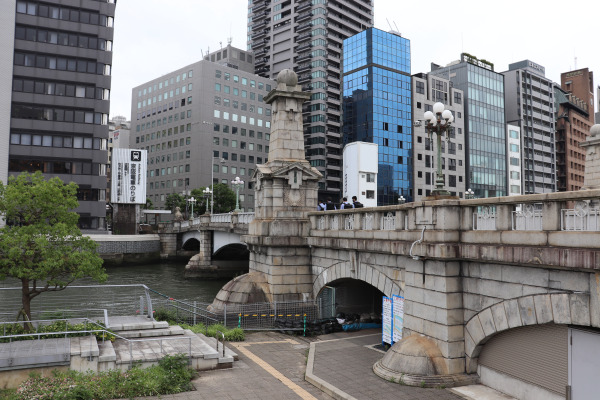 Kitahama to Sakaisuji Honmachi
Right after Naniwabashi Bridge is the Osaka Exchange. It is the first place where future transactions took place in the world. It also plays a major role in the economy of Osaka. In front of the building stands the statue of the father of the Osaka Exchange, Tomoatsu Godai.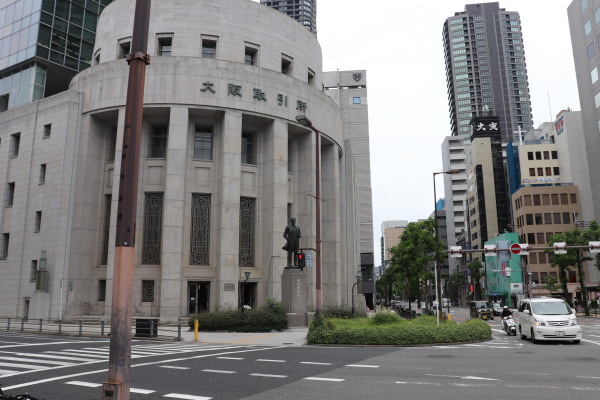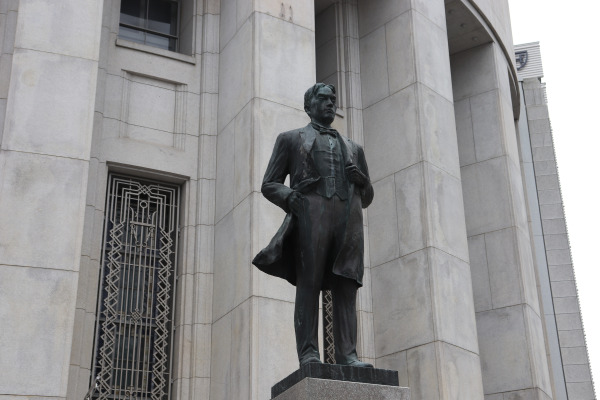 The area around the Osaka Exchange is Kitahama, fittingly the central hub of Osaka's economy. There are several big companies, banks, and some nice patisserie stores where all those businessmen enjoy a reprise from the grind. 
If you pay attention, you can see many old buildings around here. All these "retro" buildings were built during Osaka's peak prosperity around 1925-1930, called the Dai-Osaka Era. In this period, Osaka merged with several other neighboring cities, becoming at that time, the biggest city in Japan.  
There used to be far more old buildings along Sakaisuji Street, but fire raids during WWII destroyed many of them.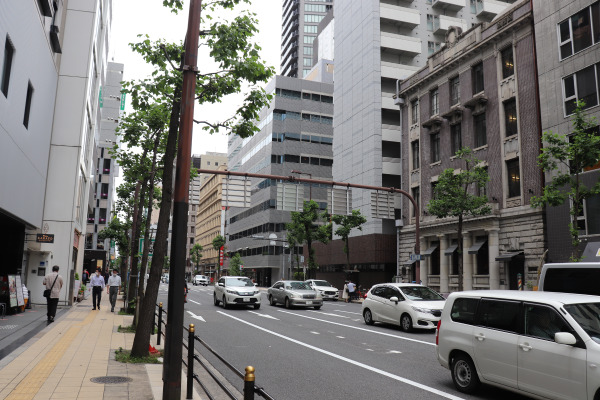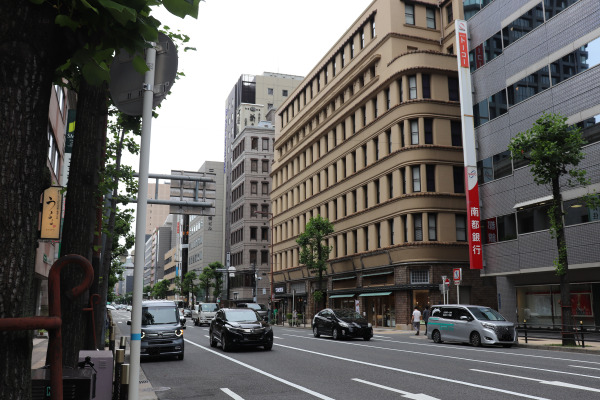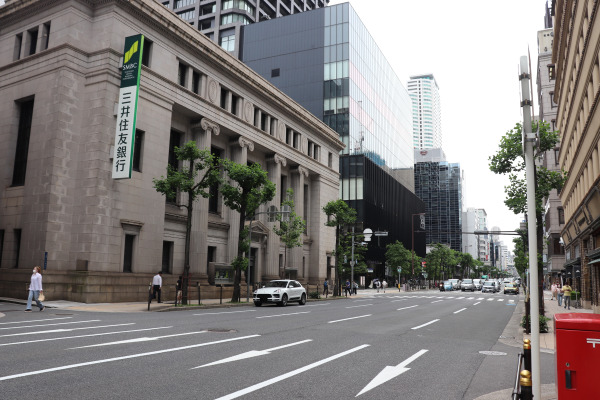 Sakaisuji Street: The Beginning of the Kishu Kaido
It is a bit away from Sakaisuji Street, but Koraibashi Bridge over Higashi-yokobori River is also a historic place to visit. 
For many centuries, Sakaisuji Street went by another name– the Kishu Kaido, an old road connecting Osaka and Wakayama (Kishu means Wakayama). At that time, the Kishu Kaido started from Koraibashi Bridge. 
Originally, the Kishu Kaido went west at Koraibashi Bridge and then merged with Sakaisuji Street near the Osaka Branch of SMBC.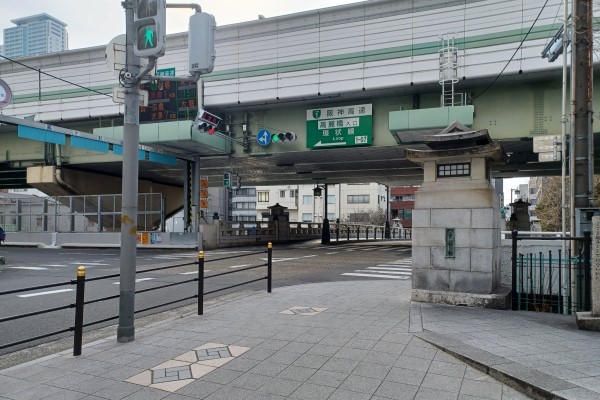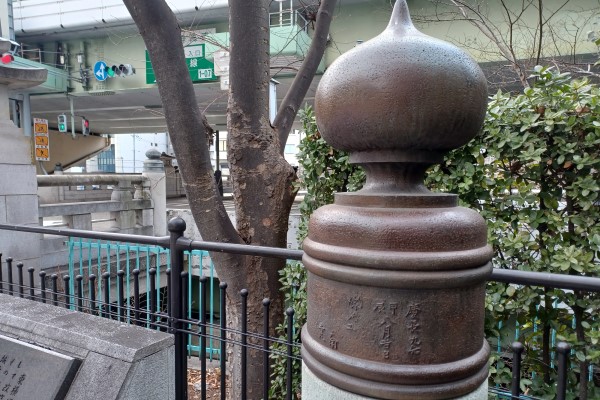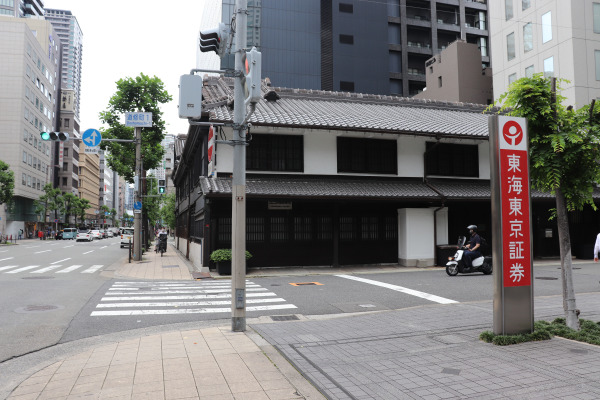 Doshomachi: Sakaisuji Street's Medicine District
The area around Konishi Gisuke's house is Doshomachi. During the Edo Period, this district is where licensed merchants bought a sold medicine. Even today, many famous pharmaceutical companies' main branches are in Doshomachi.
Naturally, since this is where a medicines district, in Doshomachi is Sukunahikona Shrine where the Shinto god of medicine Sukunahikona, is enshrined.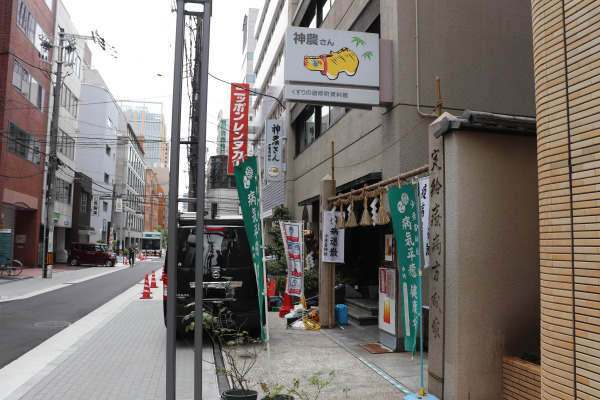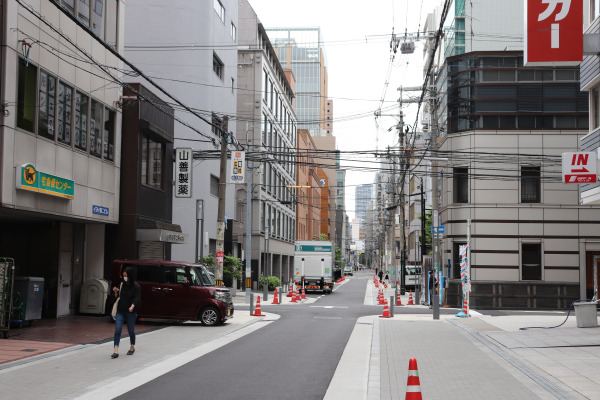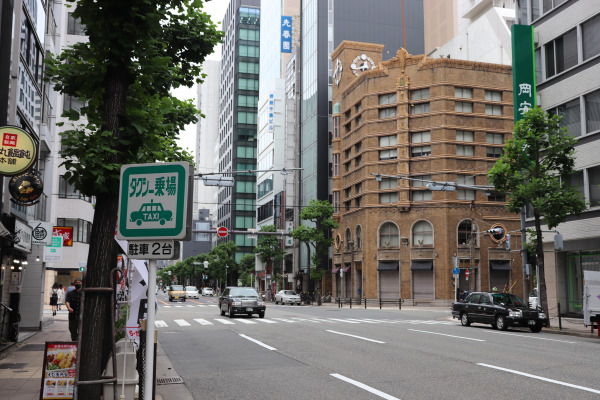 After Doshomachi, it is almost the end of Osaka's historic central area, Semba. Slowly, the brick buildings and art deco-style moldings give way to increasingly taller buildings. Because it is a business district,  many businessmen walk along the road during the day, it is surprisingly quiet if you come here at night.  
During the Edo Period, Osaka's main area was divided into three parts, Kita-gumi, Minami-gumi, and Tenma-gumi. Honmachi-dori Street was the street that separated Kita-gumi and Minami-gumi. While nearby Chuo-odori Street is much bigger than Honmachi-dori Street,  Chuo-odori Street, is in fact, a much newer road.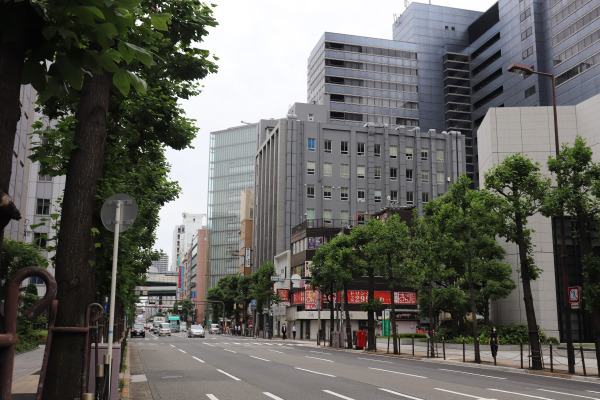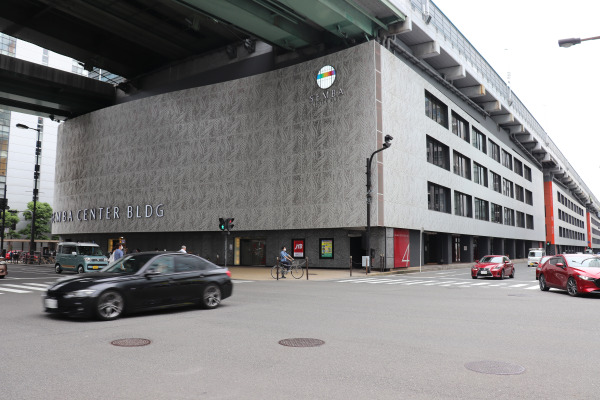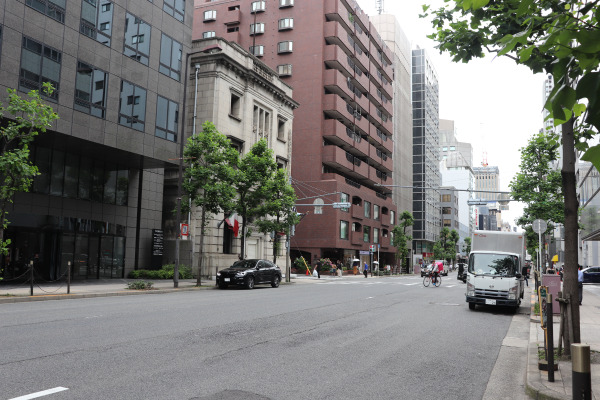 "Minami": Nagahoribashi Bridge and Nihonbashi Bridge 
The south of Nagahori Street is traditionally referred to as "Minami".  Today when people say "minami,"  they typically mean Namba, but traditionally if someone said "minami," they meant south of the Nagahori River, aka Shimanouchi. 
Sakaisuji Street once went over the Nagahori River, so Osaka made many bridges, including the famous Shinsaibashi Bridge, to cross this river. Nagahori Bridge was made on Sakaisuji Street to cross the river.
While the citizens of Osaka took care of most of these bridges, Nagahori Bridge was one of the very few bridges controlled by the Ego government, making Nagahori Bridge very important at the time.  
Unfortunately, the Naghori River was reclaimed decades ago and now in its place is the Crista Nagahorihe shopping street.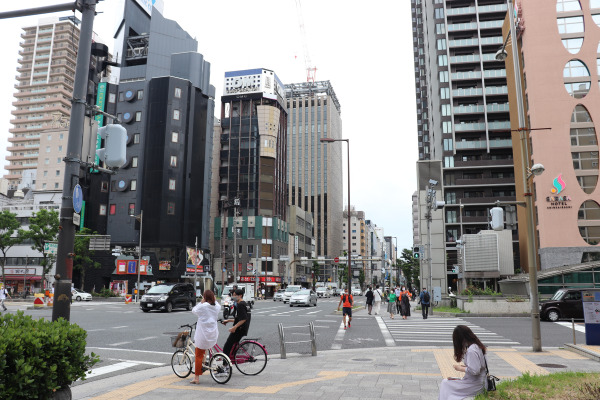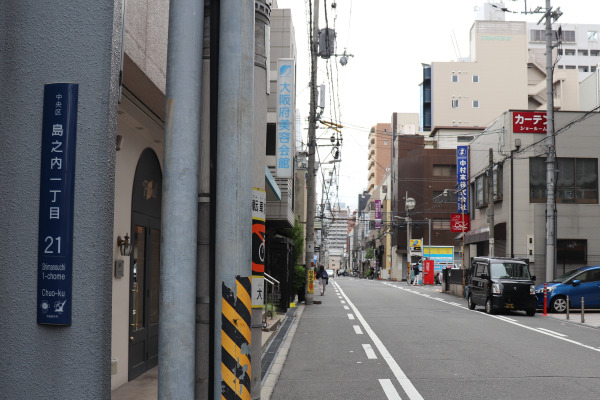 Nipponbonbashi Bridge is only a 20-30 minute walk from Nagahoribashi Bridge. During the Edo Period, Nipponbashi Bridge was a nationally controlled bridge and the only nationally controlled bridge that crossed the Dotonbori River. 
It is also interesting to note that [日本橋] is read Nihonbashi in Tokyo and Nipponbashi in Osaka.  The reason why there is a difference is that Nihonbashi in Tokyo was originally [二本橋], which means two bridges, but kanji later changed to [日本橋].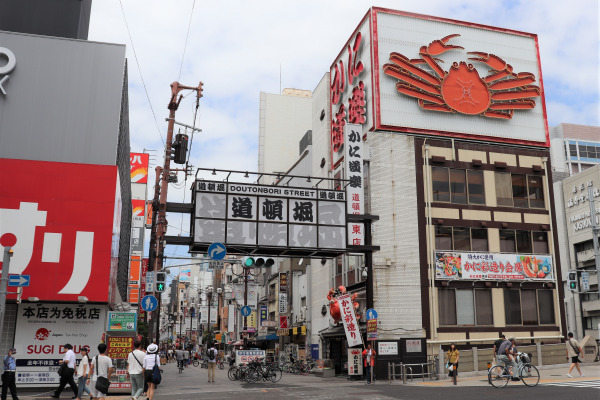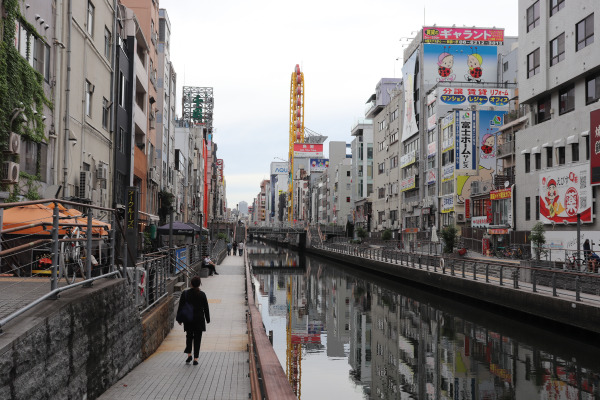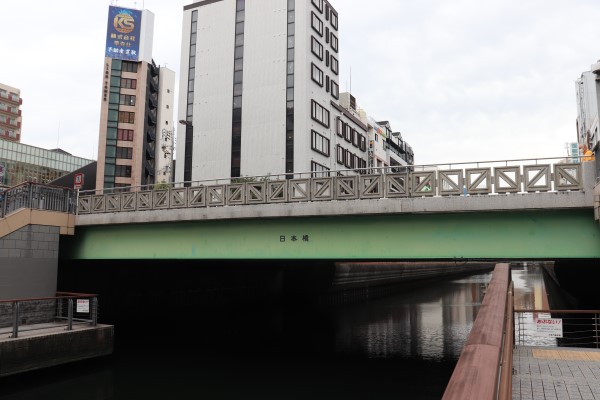 Kuromon Ichiba
Around Nipponbashi Bridge, Sakaisuji Street crosses Sennichimae Street.  Some people think this is the end of Sakaisuji Street, but it goes further!!
It is around here that Kuromon Ichiba you can find, which is quite popular with tourists. To be honest, to me it feels that this area just caters to tourists and locals more or less avoid it.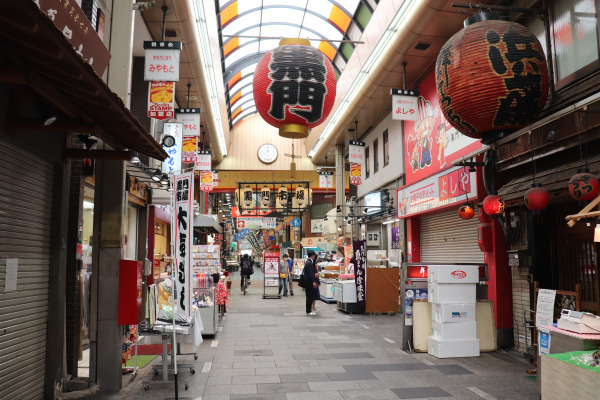 Denden Town: the Electronic Hub of Sakaisuji Street
If you say "Nipponbashi," most people probably immediately think of Denden Town. Among otaku and gamers, South Nipponbashi Bridge is widely considered a sort of mecca.
It is pretty funny that this area is now a popular electronics hub. Historically, this place went by the name Nagamachi and had a reputation as a slum. Locals considered it so poor that when the emperor visited Osaka for the 1903 Expo, all the people living here had to relocate to Airin, near Shin-Imamiya.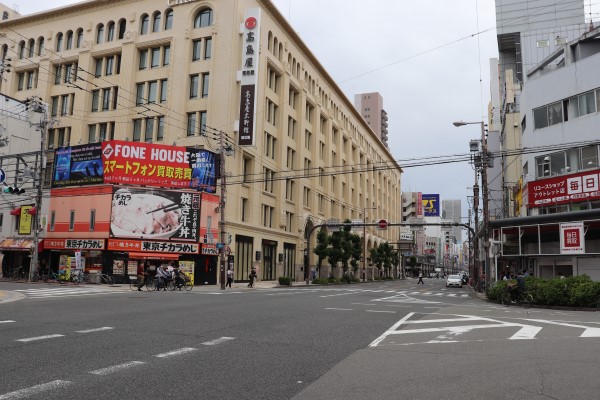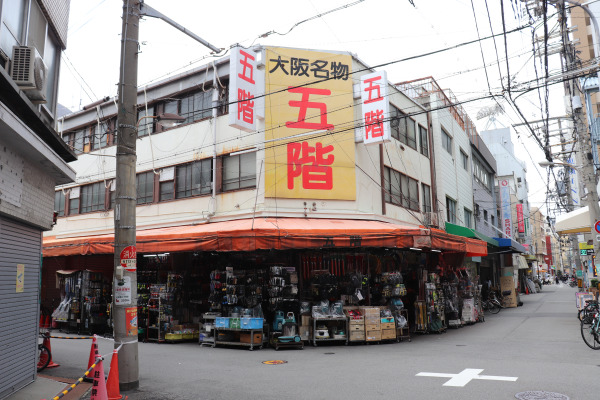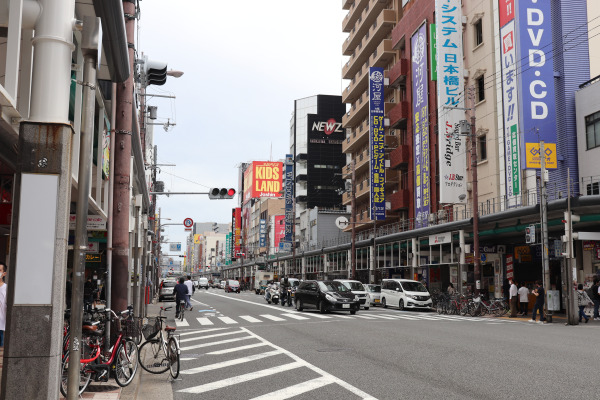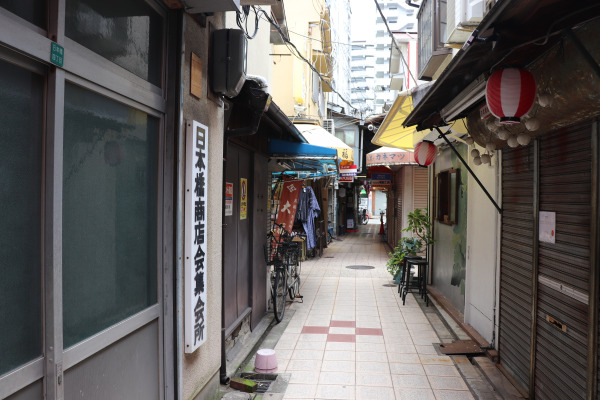 After Denden Town, Sakaisuji Street goes south, right next to Tsutenkaku Tower and Shinsekai. This area has changed a lot over the past couple of decades as more international tourists frequent Osaka. But historically this is the place where the 1903 Expo took place. 
Around the Ebisucho, Kishu Kaido separates from Sakaisuji Street and goes a block west. Though walking the Kishu Kaido can be really fun, this time we are sticking to Sakaisuji Street.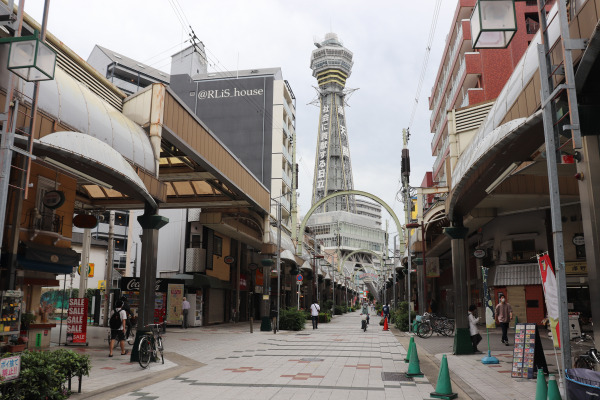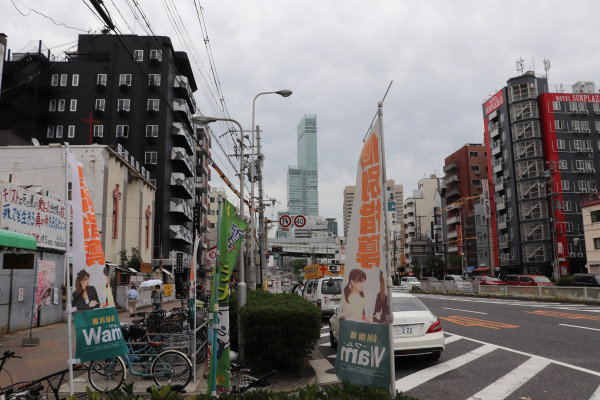 The End of Sakaisuji Street
After Shin-Imamiya Station, Sakaisuji Street starts to feel like just another neighborhood in the big city. Unfortunately, there is not as much to see around here and in just a few more kilometers, Sakaisuji Street is over.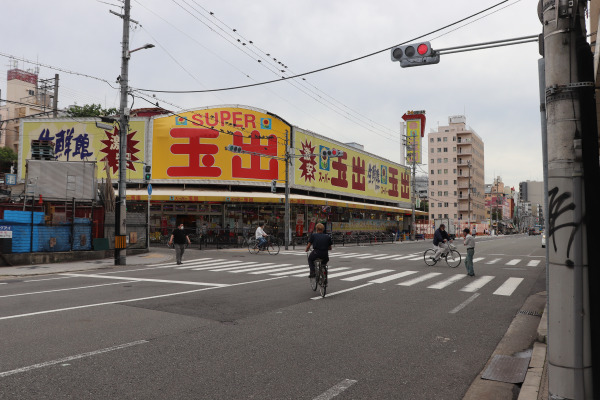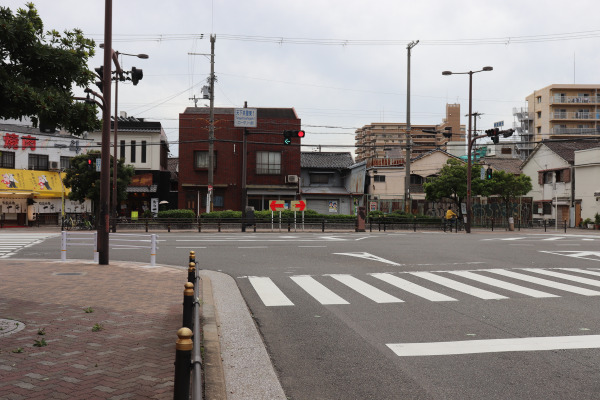 At last, after three hours we came to the end of Sakaisuji Street. It is roughly 8km (5 miles) from Naniwabashi Bridge. Even though it says "Sakai", Sakaisuji Bridge does not lead to Sakai City. It also ends quite abruptly without connecting to the major roads, unlike Midosuji Street.  
Since there were really a lot of interesting things to see, it took more than 3 hours to finish the route. After all this walking, it's nice to know that the Nankai Line Haginochaya Station is just 10 minutes away from the end of Sakaisuji Street.