Naritasan Fudoson: Osaka's Famous Setsubun Temple
In north Osaka, in the middle of a quaint residential area, lies Naritasan Fudoson Temple. Though Naritasan Fudoson doesn't have a very long history, when Setsubun comes in February, it is agush with people from all over Osaka, eager to take part in the temple's setsubun festival. 
Note: we went to Naritasan Fudoson in Febururay 2020. After the COVID-20 pandemic, the festival might be quite different.
The History of Naritasan Fudoson
The temple is quite new, only dating back to 1934. At that time, many train companies in the Kansai region were developing new residential areas along their new rail lines. The Keihan Line set out to develop its own neighborhood in Neyagawa City. However, few people seemed to want to live there. After some discussion with the company heads, they made an uncomfortable realization: Neyagawa is northeast of Osaka.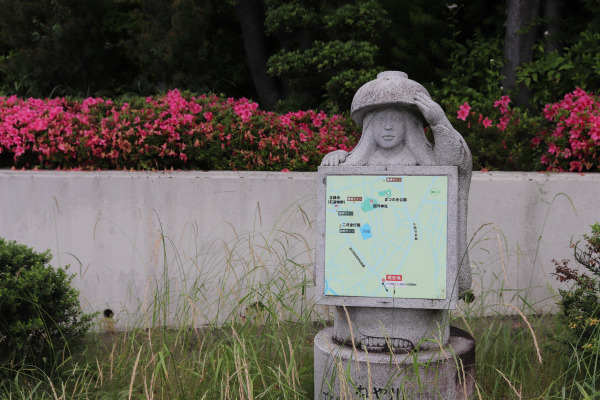 Long, long ago Japanese people adopted the belief that ogres and bad spirits go in and out of this world through the Kimon [鬼門], or Demons' Gate. This gate is in the northeast. Therefore, it wasn't poor planning on the part of the Keihan Company; it was ogres.  So, they decided to invite (or more accurately, made) a branch of Shinsho-ji Temple of Narita City in Chiba, to Neyagawa. Shinsho-ji Temple is a very famous yakuyoke temple, meaning they specialize in getting rid of bad omens and spirits.
Problem solved! No more ogres here! And in fact, once the temple was built there was more public interest in the area and more people bought property there. 
Temple Grounds
Naritasan Fudoson is quite unique. While this temple's official name is Naritasan Osaka Betsuin Myoo-in, to the people of Osaka it is simply Naritasan Fudoson. Actually, the temple is pretty popular. So much in fact that it attracts the second most people on New Years Day for hatsumode. So I guess it is fair to say this temple is the biggest temple in the north Osaka region.
Naritasan Fudoson is 15 minutes away from Korien Station of Keihan Line. Once you come here, you will be surprised by how big this temple is! Upon entering the temple, you can see a big parking lot. Naritasan Fudoson is the first temple that started purifying both people and cars at the same time.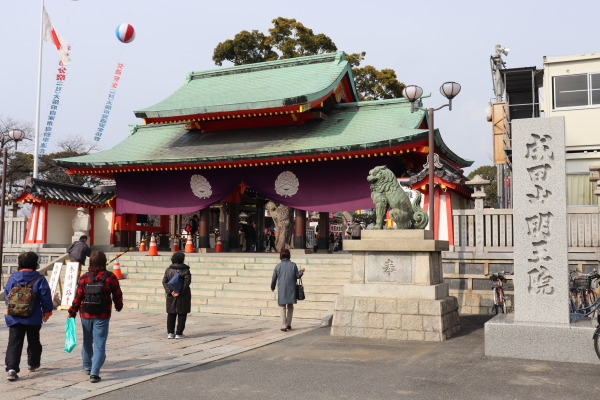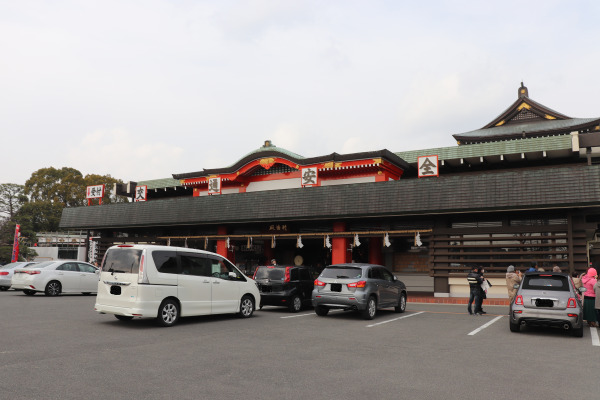 The principal deity of this temple is Fudomyouou, who is enshrined in the main temple building, the hondo.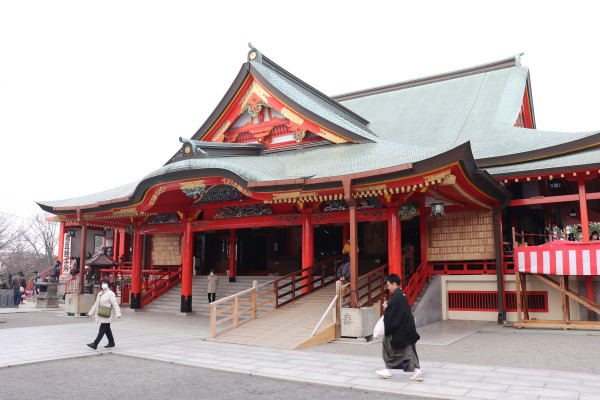 Because Naritasan Fudoson stands on the top of the hill, you can see the entire city really well. I guess Keihan's plan to invite the temple all the way from Narita did work out well as Neyagawa is now a more luxurious and famous residential area of Osaka prefecture.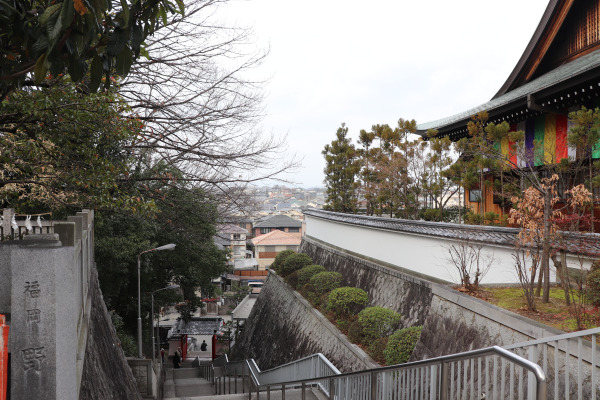 The temple is quite large, which is surprising since this seems like any old neighborhood. If you want to fully explore, it might be better to come on a day other than Setsubun.
Naritasan Fudoson Setsubun Festival
The big thing this temple is famous for is its setsubun festival. Traditionally in Japan, a new year began after the arrival of spring. Therefore on Setsubun, the day before spring starts, people would enjoy throwing beans to get rid of the bad omen before the new year began.
Since Naritasan Fudoson is so famous for getting rid of ogres, Sestubun is their busiest time of the year. Many people come from all over Osaka to take part in their bean throwing ceremony. Even celebrities sometimes come to Naritasan Fudoson to throw beans! They hold several bean throwing ceremonies, but the very first one that starts at 10:00 is typically the biggest ( this is the one celebrities usually attend). In order to avoid the crowds, we went to 1:00.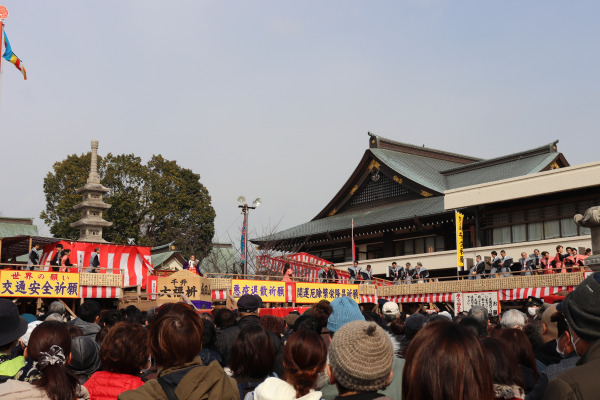 It was quite surprising they threw beans for only 10 minutes or so. If you wish to catch any beans, you may have to find a place to stand at least an hour in advance.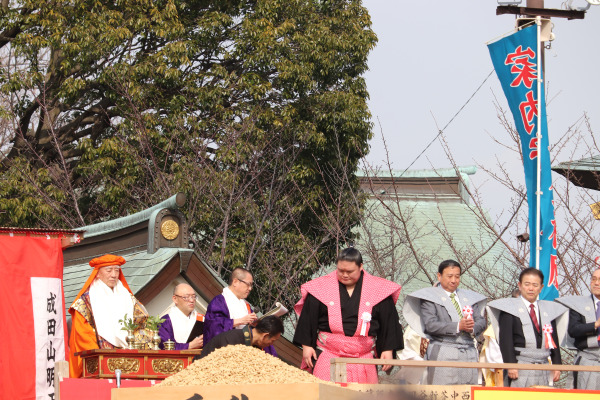 When throwing beans in setsubun, people say:
oni wa soto (ogers, out), fuku wa uchi (fortune, in)
but here in Naritasan Fudoson, people do not say "Oni wa soto."  I guess because there aren't supposed to be any ogres here in the first place?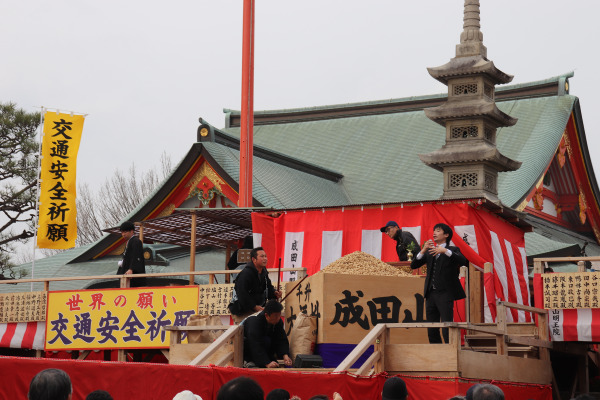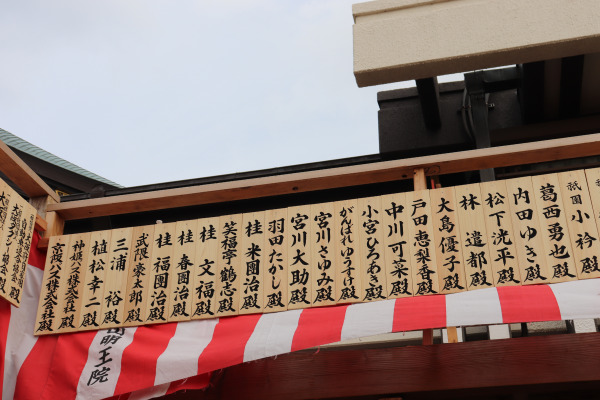 After the bean-throwing ceremony is over, head on over to the main temple building where you can get free happy beans!