Yoshino Sushi, Experts in Osaka-style Sushi
Sushi is hands-down the most recognizable Japanese dish in the world. For many visitors of Japan, experience authentic Japanese sushi usually sit at the top of their "must-do" lists. What they might not know however, is that Osaka has a style of sushi all its own. Places that prepare Osaka-style sushi are sadly dwindling, but Yoshino Sushi is still drawing loyal customers. With over 180 years of business behind them, Yoshino Sushi are true experts at Osaka-style sushi.
What is Oshizushi?
When most people think of sushi, what they are really thinking of is Tokyo or Edo-style sushi. Few people realize, however, that there is completely different style of sushi native to the Kansai region: oshizushi, also sometimes called Osaka sushi or hako sushi. As the name implies, oshizushi, is sushi that is pressed (押すmeaning to press) in a box with marinated fish on top. For a long time, oshizushi made use of cheap kinds of fish, such as sanma (mackerel pike) or saba (mackerel). However, around the Meiji Period, Yoshino Sushi changed oshizushi drastically. Yoshino Sushi began using more expensive kinds of fish and also were the first ones to make oshizushi visually appealing.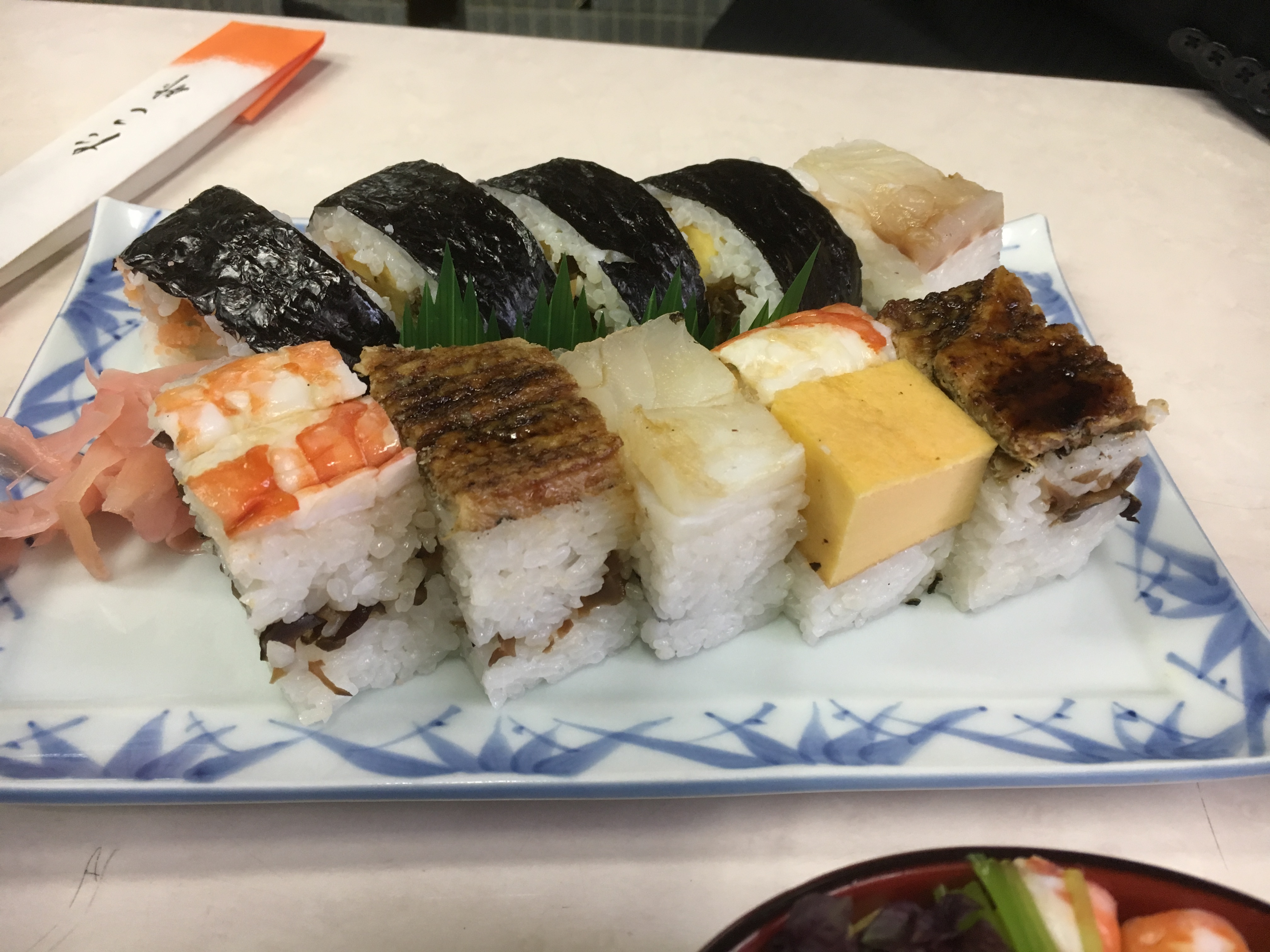 Though Osaka sushi was once very popular, today other kinds of sushi which are cheaper and easier to make, such as nigiri zushi, mean that oshizushi restaurants are now few and far between.
Sadly, the only other Osaka sushi specialist we've managed to hit up is Takotake, but it seems they just recently went out of business! This is pretty sad because, not only were they open just about as long as Yoshino, but they excelled at their craft and even influenced another iconic Osaka dish, Kistune udon.
Yoshino Sushi
We went for a late lunch around 1:30 and I imagine since everything nearby is an office, we just missed the lunch rush. Their boxed sushi sets are also very popular, so its very likely many people just order take out.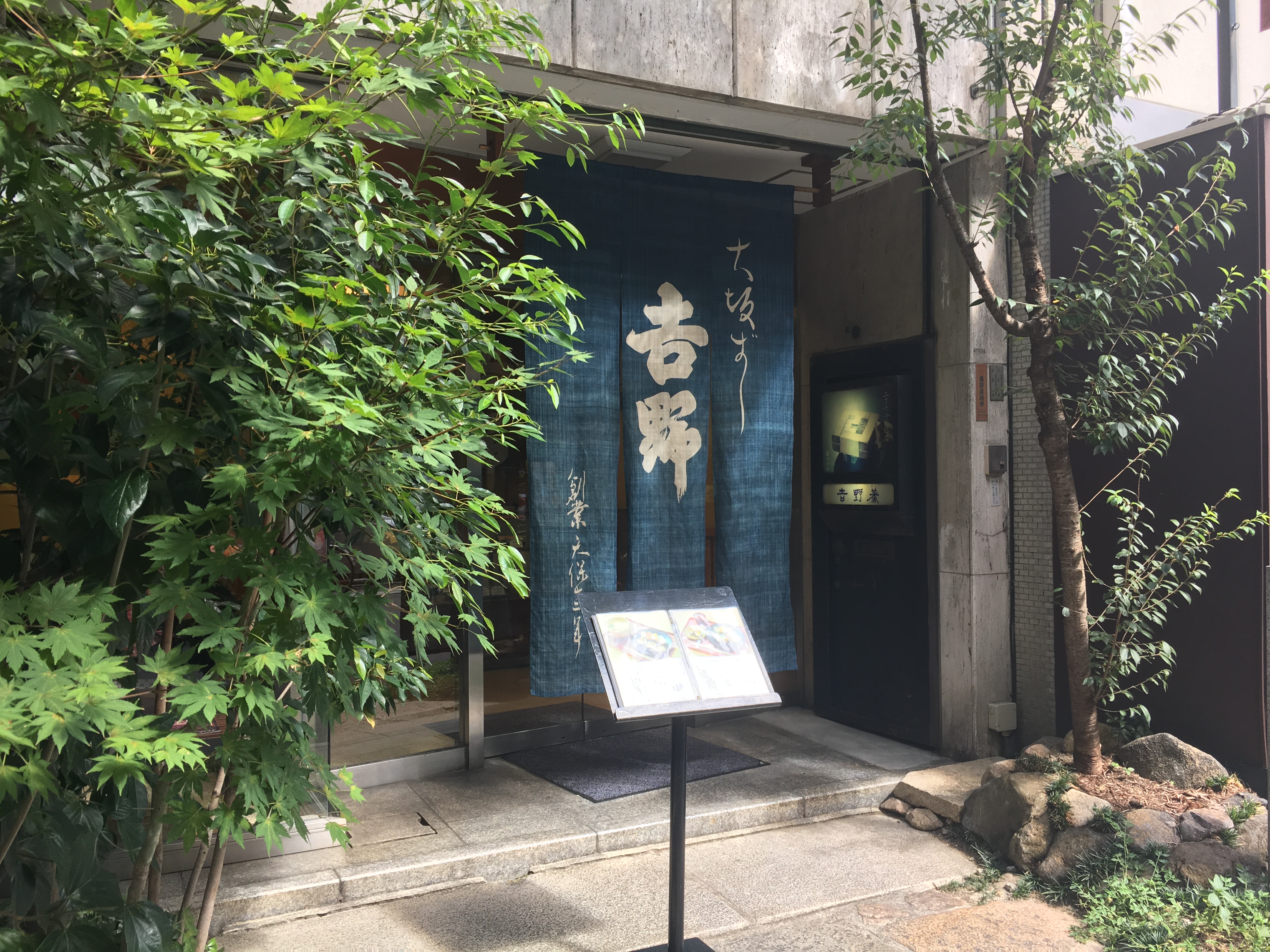 Lunch at Yoshino Sushi
For our lunch we had a chirashi bowl with red miso and a set of oshizushi. Even though lunch menus are generally not too pricy, our trip to Yoshino ran about 5,000 yen for the both of us. Yes, it's a little steep, but this is one of the very few places in Osaka that specialize in this kind of sushi.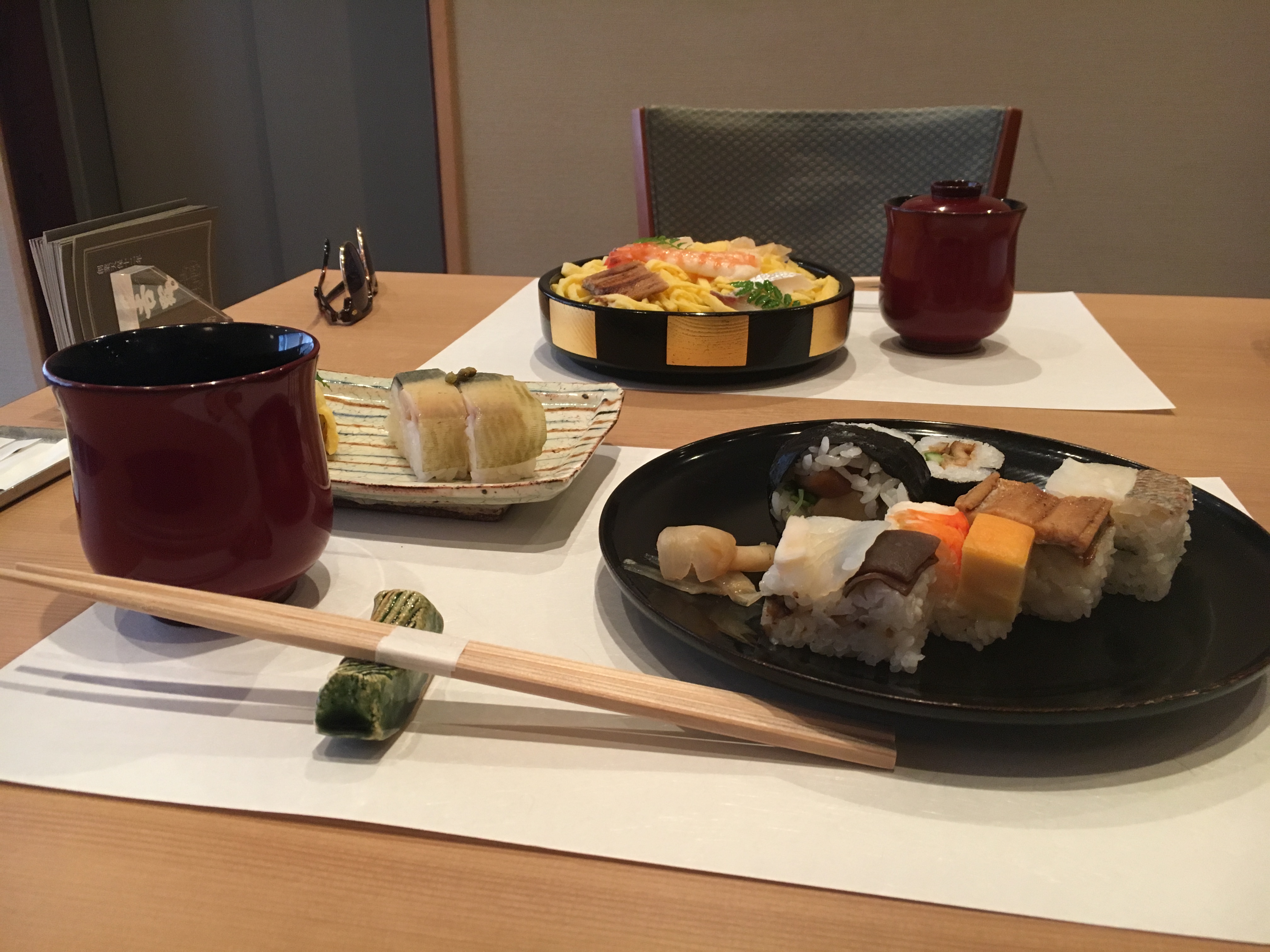 You might notice that no soy sauce or any other seasonings were on the table or served with our meals.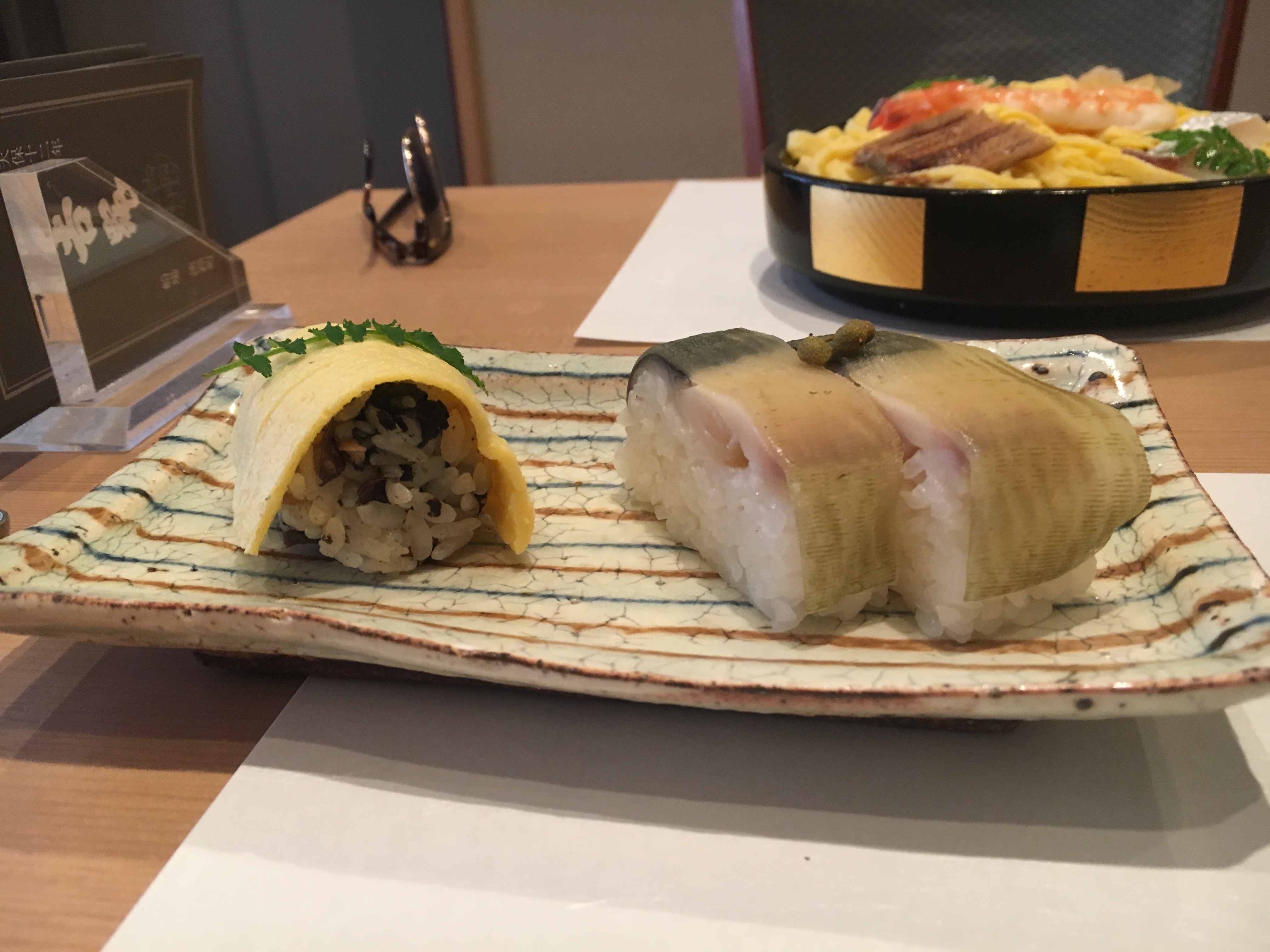 Oshizushi takes hours to prepare, so the flavors of fish and rice time to mellow. Since the sushi already has a gentle flavor, oshizushi is enjoyed without any soy sauce or wasabi.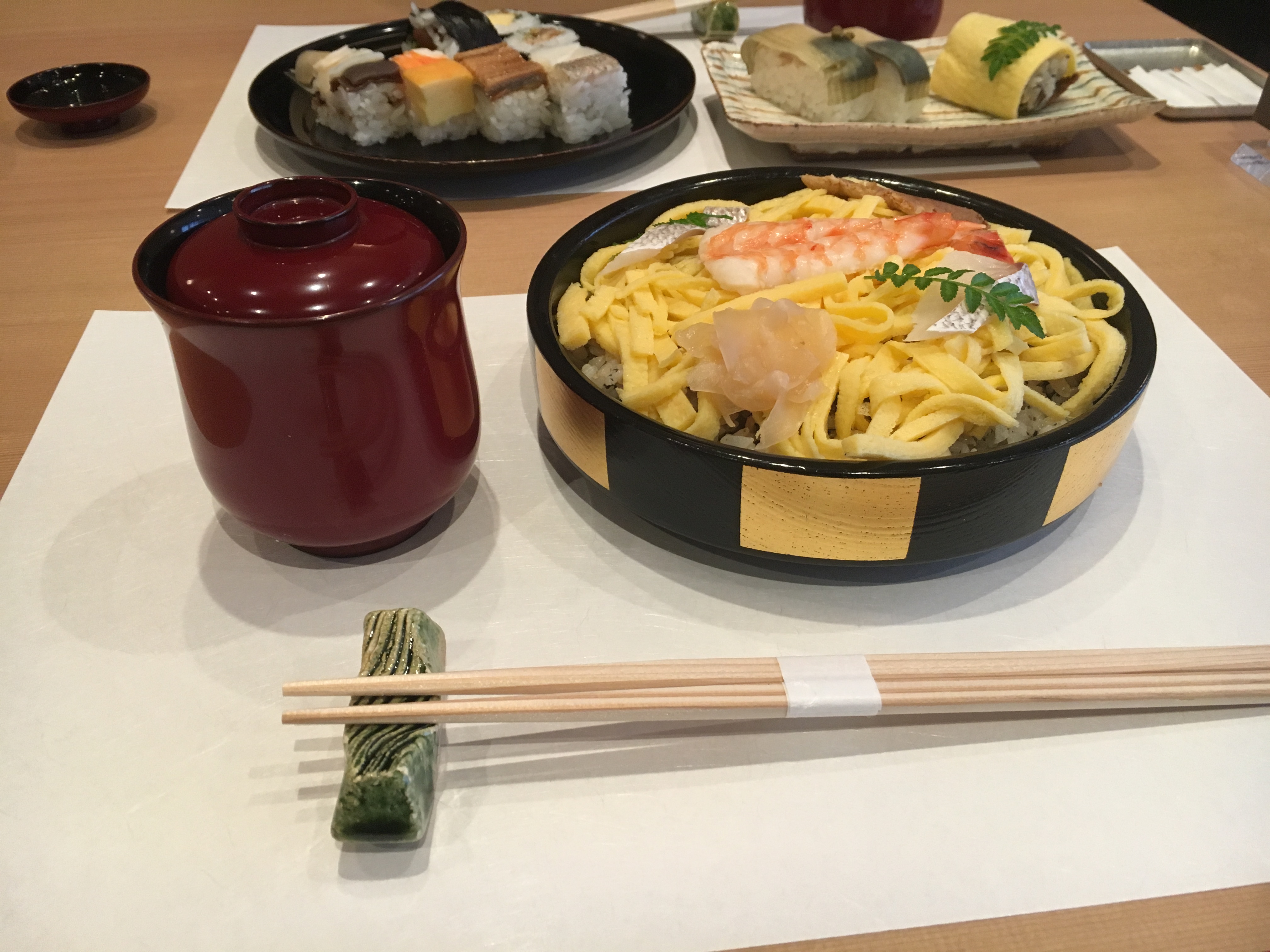 Yoshino seems to also dress up the rice in a few of their dishes. They didn't offer a description of what they use, but it appears to be some kind of nori and strips of marinated thin fried tofu.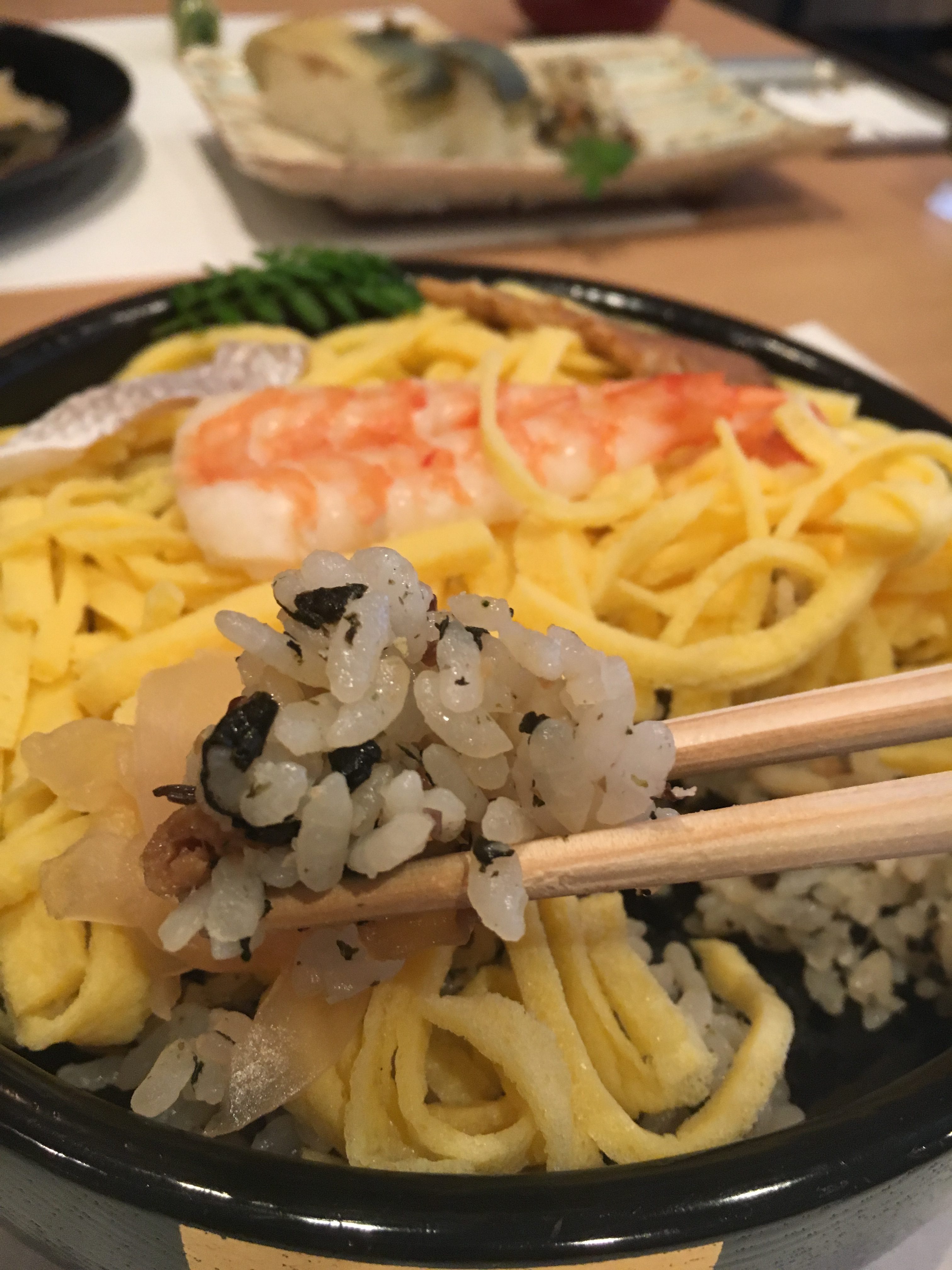 While we didn't come away feeling stuffed, we still felt a pleasant fullness. The food was good and the atmosphere very relaxing, if you find yourself wanting a taste of some real Osaka traditions,you can't go wrong here!
Information: Yoshino Sushi
Address
3-4-14 Awajimachi, Chuo Ward, Osaka City, Osaka Prefecture
Website
http://www.yoshino-sushi.co.jp/index.htm
Getting To
The closest station is the Osaka Metro Yodoyabashi Station. In the station take either the number 8, 10, or 11 exit up to Midosuji Street. Once you reach street level, head south until you reach the Awajimachi 3-chome intersection. Turn left and you will see Chiba Bank on your right hand side. Walk to the end of that block and make another left; the restaurant will only be a few more paces, but make sure you are looking for the blue noren.
Hours
Open: Mon-Fri: 10:00-15:00 Closed: Sat-Sun
*Weekday dinner reservations available upon request
Price Range 
1500-3000 yen
Note