Kitayama West Course: Hiking the Kyoto Circuit Trail
The Kitayama West Course is a part of the
Kyoto Circuit Trail
, and runs from Ninose to the foot of
Mt. Atago
. This trail takes you into the mountains surrounding Kyoto and the rich cedar forests of Kitayama. While it takes a long time to finish (roughly 8-10 hours)
it goes through mountains and rich cedar forests.
For those willing to commit to the hike, the Kitayama West Course is a great way to enjoy Kyoto's natural beauty.
Note: See here for the other entries of our Kyoto Isshu Trail (Kyoto Circuit Trail) series. 
Kitayama West Course
Kitayama West Course: Ninose – Yonaki-toge Pass
 The Kitayama West Trail starts from the Ninose Station (off the Randen Kurama Line). The trail head is near the station, but it is easy to miss. Keep your eyes open!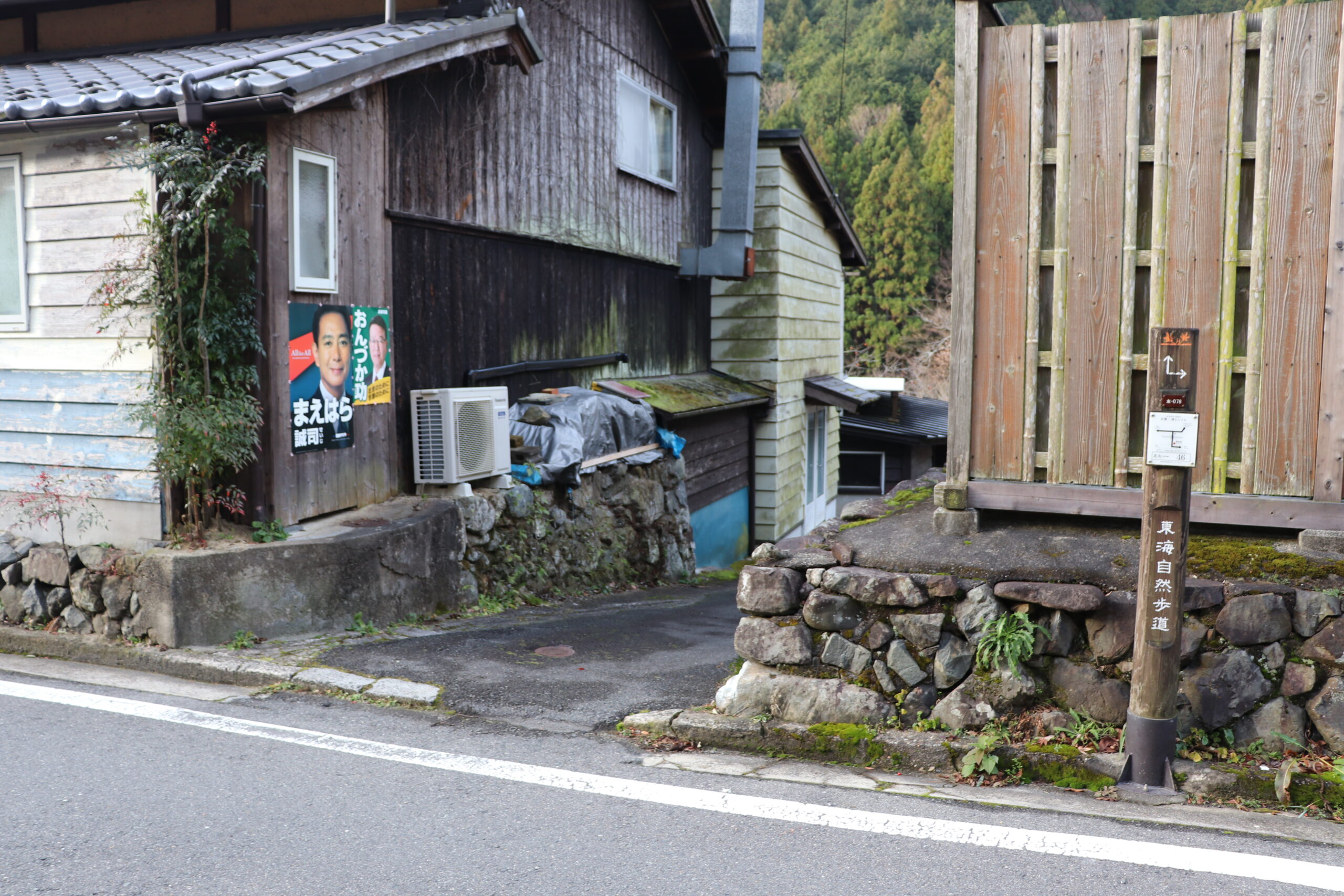 The Kitayama Course gets off to a somewhat rough start. From Ninose to the Yonaki-toge Pass, the trail goes up some pretty steep hills. If you're a novice hiker, you'll probably get pretty winded! Don't worry, it will get easier after an hour or so. 
The name
Yonaki
comes from a local tale about about Emperor Buntoku's son, Prince Koretaka. As an infant the young prince would cry and cry all night long. One night, at her wits end, his wet nurse came here and prayed to the local Jizo. Magically, the little prince stopped crying at night from that day forward.
Shortly after going through the Yonaki-toge Pass, we arrived at the top of Mt. Mukaiyama. Unfortunately, Mukaiyama is pretty small, and the top of the mountain is completely covered with trees so we couldn't see a lot from there. 

Kitayama West Course: Yamasachibashi Bridge – Nusuttodani Ravine
As we made our way down Mt.Mukaiyama, we crossed the Yamasachibashi Bridge. The river looks like a stream ,but this is the Kamogawa River, the biggest river going through the city center.   After the Yamasachibashi Bridge, the trail goes back into the mountains again and towards the
Nusuttodani Ravine.
Nusuttodani literally means "thief ravine"
but I am not exactly sure how this name originated. This forest is very dense and dark, so maybe there were a lot of thieves there at one time, but this is pure speculation. The great thing about having made it to Nusuttodani is that there are no more steep hills after this point on the trail!
Kitayama West Course: Hirumo – Sawanoike Pond
After Nusuttodani, we went through a charming little community called Himuro
. Their name probably originated because there was a
himuro
, a place to store ice, here for the nobility of Kyoto. 
Kyoto's prefectural tree is the Kitayama Cedar. It is a popular choice for many traditional Japanese buildings, such as tea houses. Many of Kyoto's Kyoto Cedar trees are grown in the Nakagawa area, which is just a few kilometers north of Hirumo. Some of the Kitayama Cedar forests stretch down here as well. Don't worry if you have cedar allergy. Kitayama Cedar do not have pollen that triggers allergic reaction.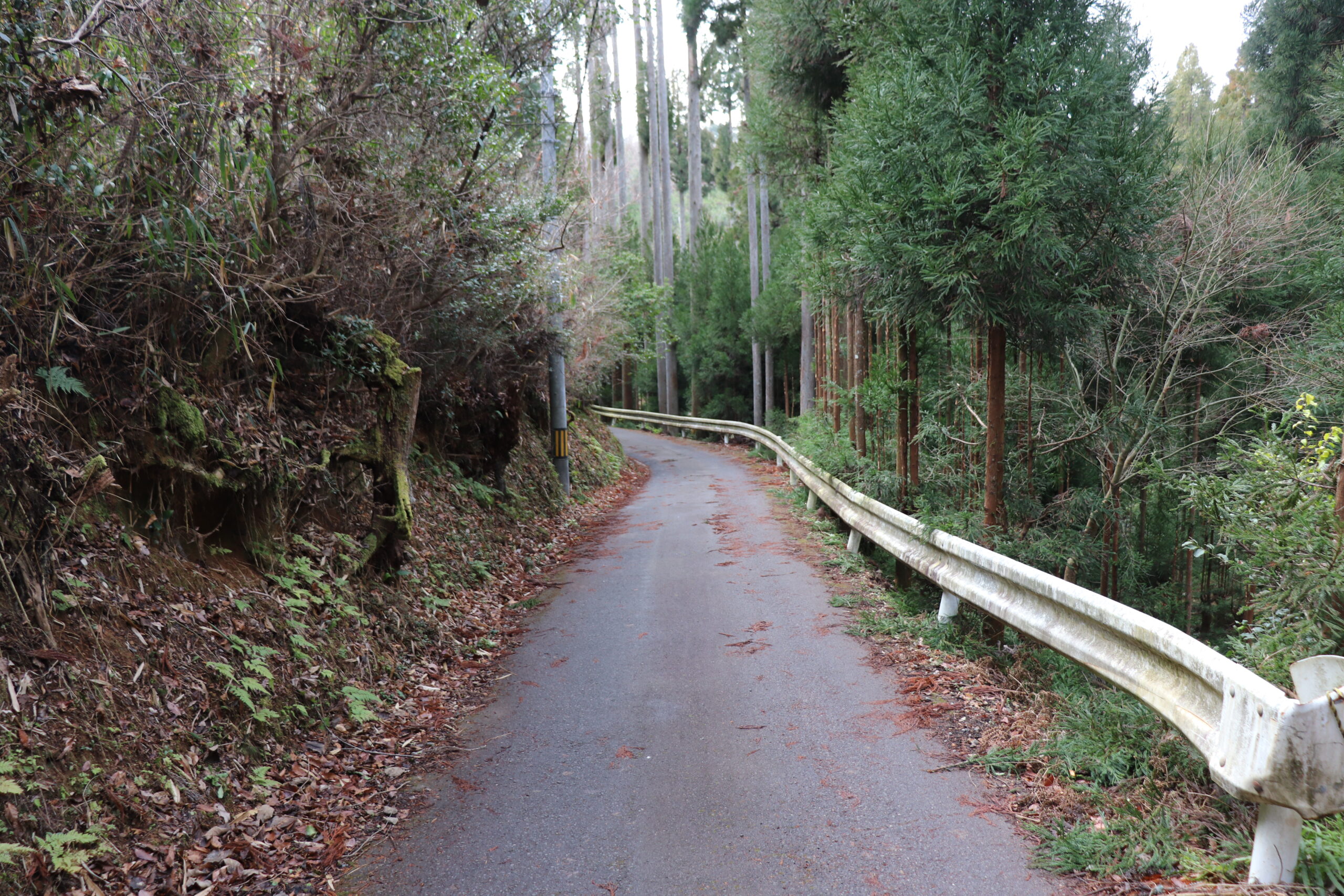 Just after Himuro, the trail splits into two different paths.
The official map says that one path is a little steeper than the other; so we took the easier one (come on, we've been walking for a pretty long time. Why make it harder?).  Whichever path you decide to take will not change your total time on the trail, so it's entirely your preference. 
The trail goes around Sawanoike Pond, a man-made pond created in the Edo Period. Some people were even enjoying camping too! It is another hour to Takao at this point.
Seasonal Detours
There are a couple seasonal detours along the Kitayama West Course. Every year from 9/25 to 11/10, the trail from the Kyomi-toge Pass (No. 68) to the Kaminomizu-toge Pass (No. 75) is closed. This region is well-known for matsutake, a highly prized kind of mushroom. During matsutake season, only individuals with permits can be in that specific area so they can harvest the mushrooms. The detour can add an additional an hour or so. Moreover, I really don't recommend coming to the mountain during this time as it's also the prime season for bears, snakes and wasps!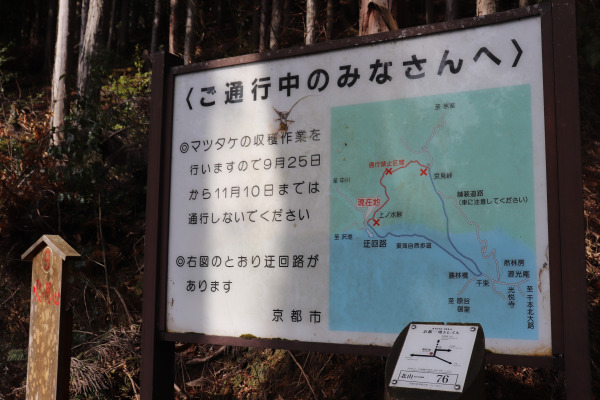 Kitayama West Course: Takao – Kiyotaki
So, this is Takao.
In Takao are three temples that are very famous for their lovely fall foliage: Kodai-ji, Saimyo-ji, and Jingo-ji. 
There are also many restaurants along the river called "Kawadoko". In summer it is a customs in Kyoto to eat in one of those restaurants, while feeling the cool breeze from the river. When we went there it was winter, so many of them were closed. I guess not so many people come here in winter.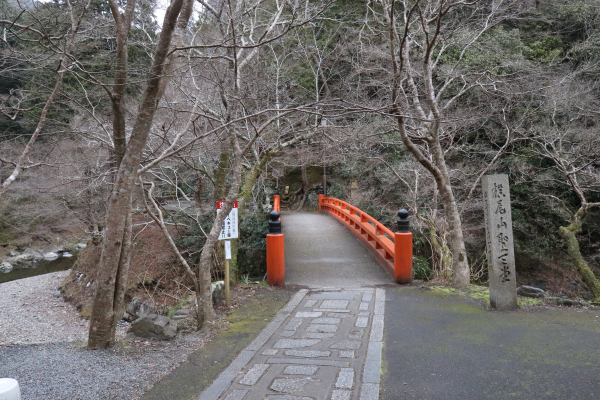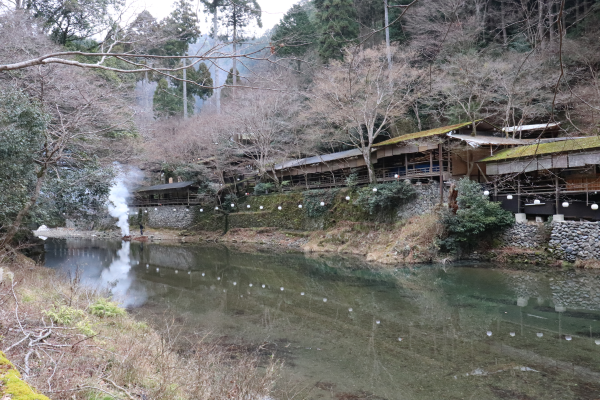 While up to this point the trail has predominately gone up and through the mountains,  from Takao the hike became a lot smoother.  It is also nice to walk along listening to sound pristine river flowing.
After an hour and a half, we arrived at Kiyotaki. This is the end of Kitayama west course. Kiyotaki is at the foot of Mt. Atago, which is one of the most popular mountains in Kyoto, together with Mt. Daimonjiyama. We climbed up last winter and it was quite snowy and nice!!
From this point on, the trail becomes the Nishiyama Course. Be sure to follow our next post for trail details!