Totsukawa Village, Japan's Biggest Village
The sense of timelessness is something lots of people seem to search for when they come to Japan. Apart from shrines and temples, another popular "timeless" attraction in Japan are its villages. While many people might assume that all villages in Japan are quite small this simply isn't true! Case in point, Japan's largest village, Totsukawa Village. Encompassing most of the southern portion of Nara Prefecture, one can describe Totsukawa Village as being hidden in plain sight. With an abundance of natural beauty, delicious food, refreshing onsen, and very unique history, Totsukawa Village is one of the most remote and prettiest villages in the Kansai Region.
Where is the Totsukawa Village?
Totsukwa Village is located in the south of Nara Prefecture. Unfortunately, there is no train available in Tostukawa, so you have to take a bus. There are several buses available from several stations, but perhaps the more convenient for most would be the Kintetsu Yamatoyagi Station, the Kintetsu Yamato Takada Station, or the JR Gojo Station.
At any of these stations, take a bus bound for Shingu. The bus ride will take roughly 4 hours. Make sure to check the bus schedule ahead of time, as bus service is very sparse. Along the way, you will go deep into the Kii Mountains. The scenery is truly beautiful but the winding bus ride around the mountains can trigger motion sickness!
For many of the people who visit Totsukawa Village, nearby Kumano Hongu Shrine is a big attraction. The shrine isn't that far from the village's biggest station, Tostukawa Onsen. Just bear in mind that bus service to and from Totsukawa Onesen to the shrine is only available a couple times a day. In addition, at some point you will most likely get to take one of the village buses, which are much smaller than the Kintetsu buses.
While in the village you will likely have to use buses to get around, but be careful because the village bus only runs several times a day. Plan ahead!
What is Totsukawa Village is Like?
Totsukawa Village is the biggest village in Japan, occupying one fifth of Nara Prefecture and is as big as Lake Biwa, Japan's biggest lake. 96% of the village is in the mountains (roughly 1,000m or above sea level) but only 3,000 people live in the village. Since it is simply hard for many people to access, it is unlike anywhere else in Japan. There are no convenience stores, only a few gas stations and a total of two traffic lights in the entire village.
However, the pristine rivers and tall mountains that you cannot enjoy anywhere in Kansai will make you feel refreshed.
Unfortunately, this village is prone to natural disasters. In 1889, the village had a severe flood that displaced many people of the villagers. A large number of them moved to Hokkaido and built Shin-Totsukawa Village there. Also, massive rain falls in the last couple of years ago caused landslides in several places in the village, which may make the river a bit murky occasionally.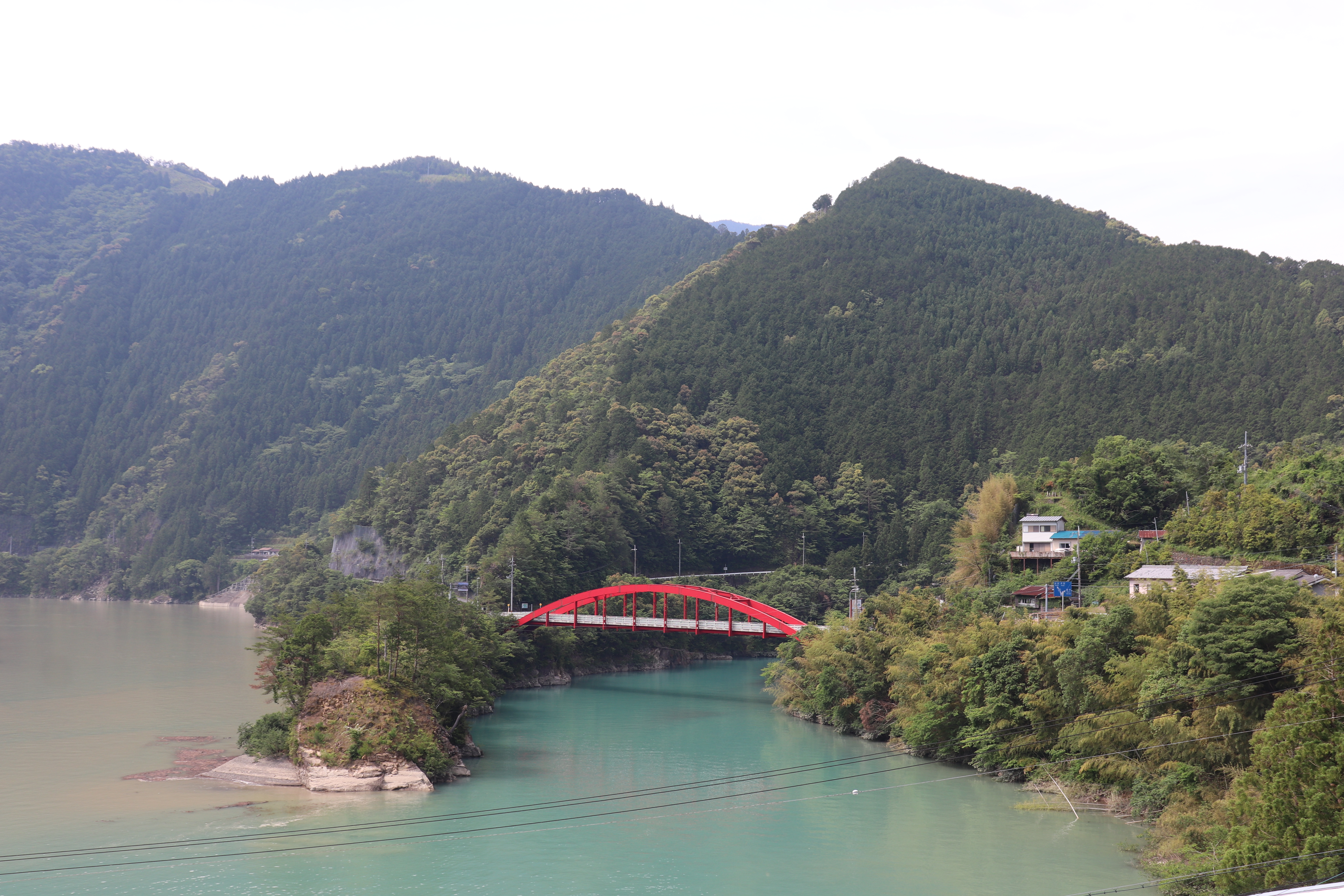 History of Tostukawa Village
Unlike other villages, Totsukawa Village appears many times in Japanese history. The first mention of Totsukawa is when the Jinshin War broke out. During the war, the villagers of Totsukawa aligned themselves with Prince Oama, who would later become Emperor Tenmu. The villagers' contribution played a huge part in Prince Oama's victory in the war and afterward, he rewarded the villagers by exempting them from taxation. The village continued to avoid paying taxes for another 1,200 years. They also supported Go-daigo's government and sided with Tokugawa during the Siege of Osaka. Perhaps because life as hunters in the mountains help cultivate skills that were highly valued in those wars. At the end of the Edo Period, the village joined an alliance to protect Kyoto and the emperor along with other successful, much larger provinces such as Satsuma and Choshu.
Naturally, the village's pride and independence had a strong influence on its culture. Additionally, being surrounded by tall mountains, made it difficult for outsiders to keep in touch with people in the village, or rather, made it easier for the villagers to simply avoid contact with the outside. The village has continued to maintain its independent nature to this day. Even though many other smaller villages and nearby towns began to merge during the Heisei Period, Totsukawa has not.
What to Do in Totsukawa Village?
Enjoy Onsen
When it comes to Tosukawa, relaxing in an onsen is a must. Though its reputation as an onsen hot spot (pun, lol) only began in the Edo Period, all the onsen in Totsukawa use 100% pure onsen water.
There are three different onsen sites in Tosukawa Village: Tosenji Onsen, Kamiyu Onsen, and Totsukawa Onsen. Totsukawa Onsen is arguably the best choice as it is located in the center of the village and there are a couple of stores and the bus terminal is close. At any of these locations is a number of traditional Japanese-style ryokan where you can enjoy a nice long relaxing soak.
Eat Local Food
Since Totsukawa Village is completely surrounded by mountains, their food is a bit different from the traditional Japanese diet that mainly consists of a lot of ocean fish. Instead, the diet here is heavy in river fish such as sweetfish (ayu) or trout (amago), boar, deer, as well as hearty mountain vegetables. Boar or botan is particularly famous in Totsukawa Village. If you do decide to stay in a ryokan, they will most likely serve up many of the local delicacies.
Totsukawa Village also has something called yubeshi. These are not at all like yubeshi found in other parts of Japan, which are typically sweet confections. Instead, these are a sort of savory preserved yuzu. The yuzu is hollowed out and mixed with miso, some seasoning, and a whole lot of other things! It has a very complex taste today the least; earthy, citrusy, salty.
Walk Japan's Tallest Suspension: Tanize Suspension Bridge
In the north of the village is the Tanize Suspension Bridge. This bridge is 54m high and 297 long. There are several tall, long bridges in Japan these days, but all of them are made for tourists except the Tanize Suspension Bridge. The villagers originally spent a large fortune to make this bridge, as a means of convenience just for themselves. Today, the bridge has serendipitously become one of the biggest tourist attractions in the village.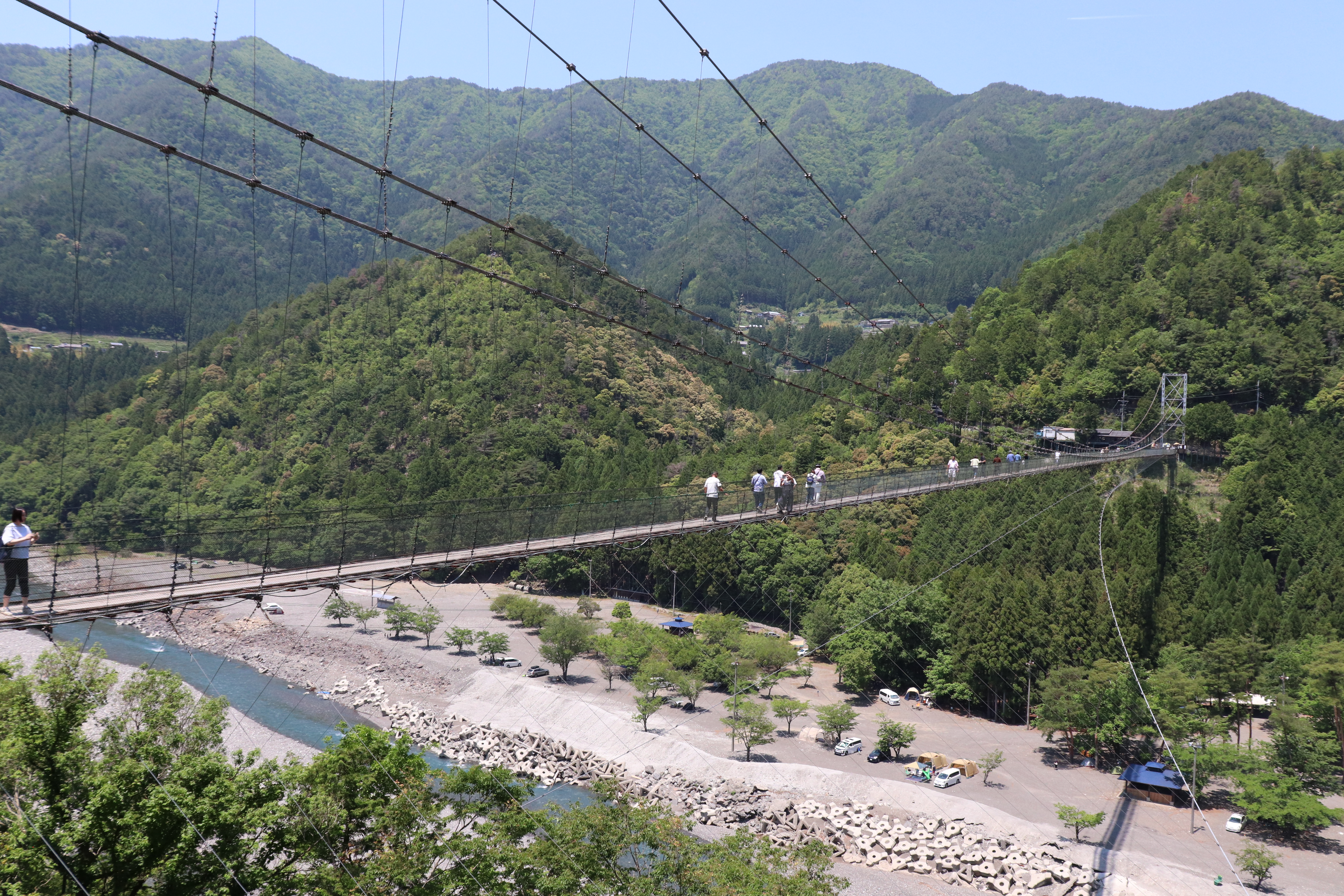 I guess it goes without saying that if you have a fear of heights, this bridge will be a real challenge. In addition to the bridge being so high, it also shakes a lot. My poor husband could only get 1/3 of the way across the bridge before giving up. If you take a bus from Yamatoyagi Station, the bus usually takes a short 20 minute break here, giving  you some time to enjoy the bridge.
Hiking
Totsukawa is a great natural retreat with a number of trails you can hike! If you'd love to get some great scenic shots, journey up to the Hatenashi Settlement. You can either hike up there or take a bus (available on Mondays only). The village's famous Tamaki Shrine is also an option, but it is very remote. Call the village bus company ahead of time and they will give you a ride to the shrine! Of course, you can go to Kumano Hongu Shrine either by way of the village or hike the traditional Kumano Kodo Trail to the shrine!