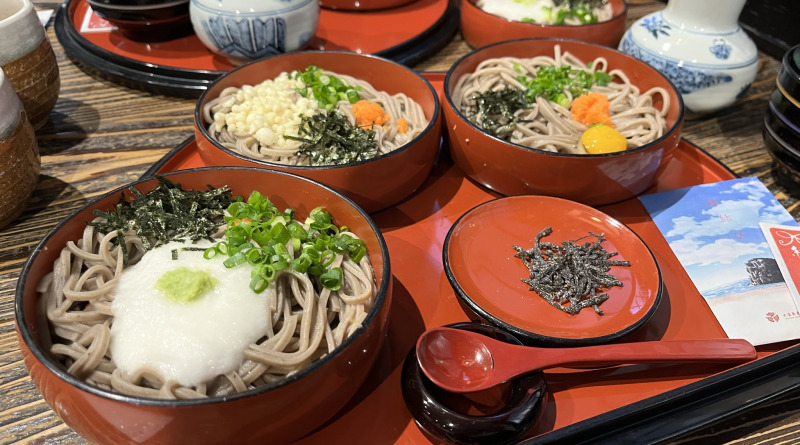 Izumo Soba: Izumo's famous noodles
A visit to Izumo Shrine in Shimane prefecture is not complete without trying Izumo Soba. Soba, or buckwheat, is quite common throughout the country but one in Izumo is a bit unique! Often served in a set of three, these noodles are some of the best in Japan, well-known for their fragrance and dark color. 
Izumo Soba
You won't have to look far to find a place to try this dish. There are many restaurants around Izumo Shrine that serve Izumo soba. Many of them can be crowded around lunchtime. It is quite surprising how popular Izumo Shrine has become these days.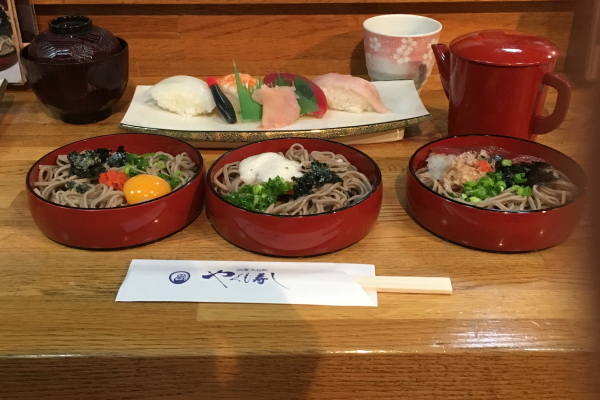 When milling the buckwheat for most soba, it is common to remove the husk. However, for Izumo soba, the flour is grounded with the pellicle attached. This results in a darker color than ordinary soba, but it contains definitely more nutrients not to mention that people can enjoy the fragrance of soba more.   
Warigo Soba and Kamaage Sobe
Izumo soba is commonly served in two ways: Warigo style and Kamaage style. Warigo style is often served in three-tiered, vermillion bowls, called warigo. It seemed to us that this was the most popular version at the restaurants we visited. 
Warigo soba comes with the broth in the little bottle. People eat it by pouring the broth into the bowl with their favorite toppings– like ginger or seaweed. Be careful not to use too much broth, as it will not ruin the flavor of soba!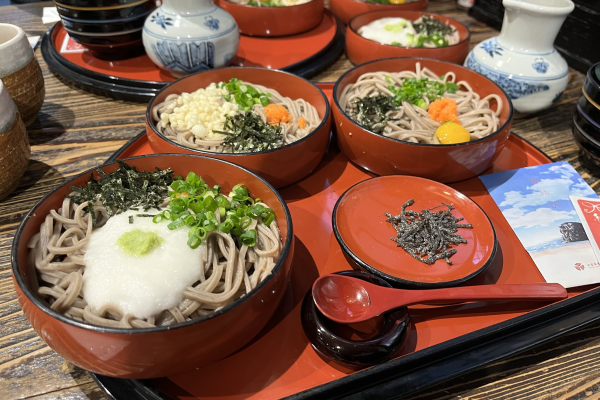 While warigo may be the most popular, kamaage style is also the specialty of Izumo. 
Most soba is rinsed in cold water after it is cooked, but for kamaage, the noodles are not rinsed. Instead, they are served in the same water they were boiled in. The broth is typically served on the side so you can make it as rich as you like but since the starch from the noodles is still present you will get a slightly more robust and creamier consistency.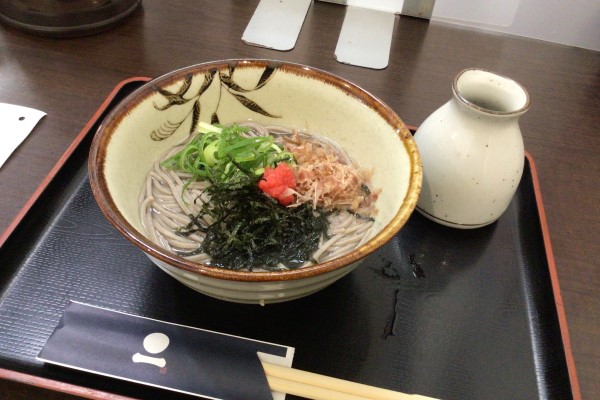 Both warigo style and kammage style are good in their own ways. I prefer warigo soba because I can get several different kinds of toppings so I don't have to decide one over the other. Still, if you are hungry enough, you should try both!!