Hozen-ji Temple, Osaka's Not So Hidden Temple
Osaka city is home to many shrines and temples, many of which are steeped in history. However, due to Osaka's reputation as a financial and gastronomic mecca, these historic places are often overlooked. Hozen-ji Temple on the other hand, which is very close to Namba Station, is not only popular with native Osakans, but also the millions of tourists that visit Osaka every year.
The History of Hozen-ji Temple
Hozen-ji Temple was built during the Edo Period in 1637. This makes it a relatively new temple, considering that a number of temples and shrines in Osaka are more than a thousand years old. Despite its newness, this temple has still been influential on the city. One of Hozen-ji temple's ceremonies called Sennichi-Mairi is the namesake of one of Osaka's biggest streets, Sennichi-mae Street.
Temple Grounds of Hozen-ji Temple
There are several ways to get to Hozen-ji Temple; either from Sennichi-mae Shopping Street or Ebisubashi Shopping Street. Both shopping streets are very big but the path to Hozen-ji may not be that obvious.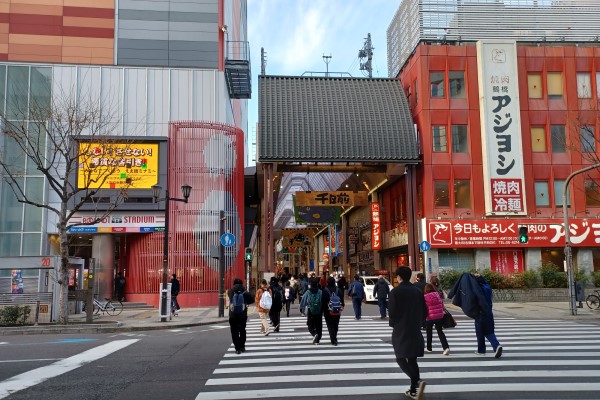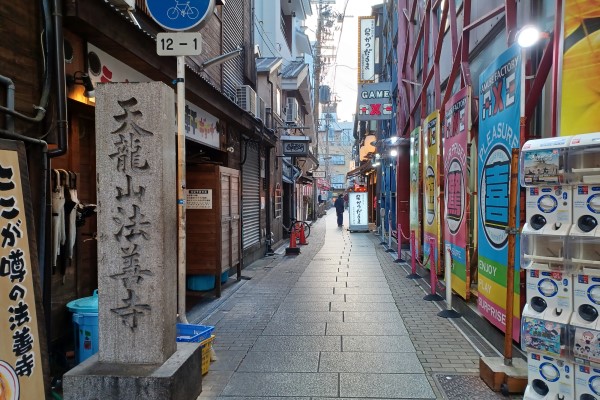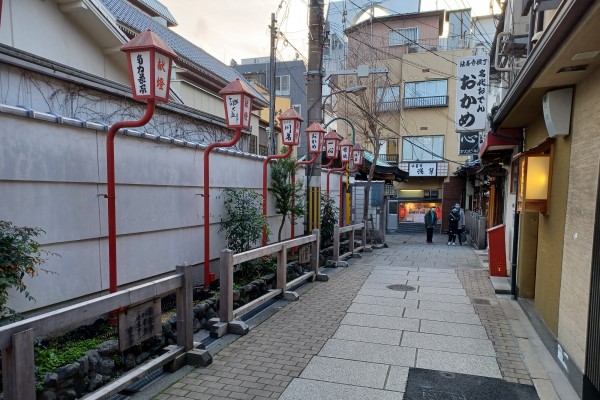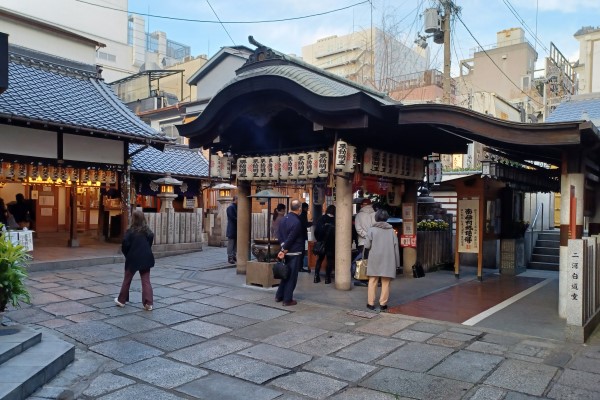 Hozen-ji's most iconic feature is the Mizukake Fudo. This fudo has been splashed with water so frequently by the visitors of Hozen-ji that a thick layer of moss has grown over it. Be sure to splash all three of them!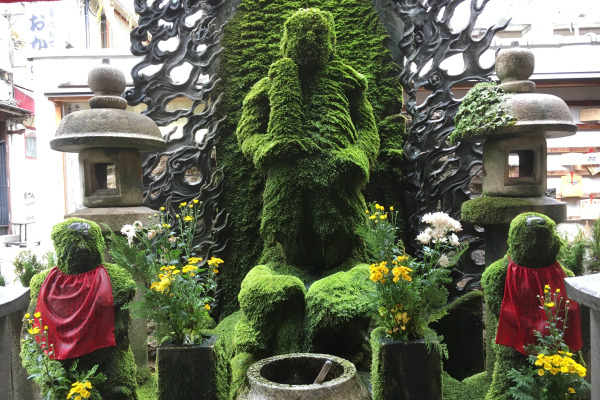 Unfortunately, WWII destroyed most of the temple. Today, only Konpira-do and the Mizukake Fudo Myoo [水かけ不動], also called the Statue of Acala, are all that remain of the original temple.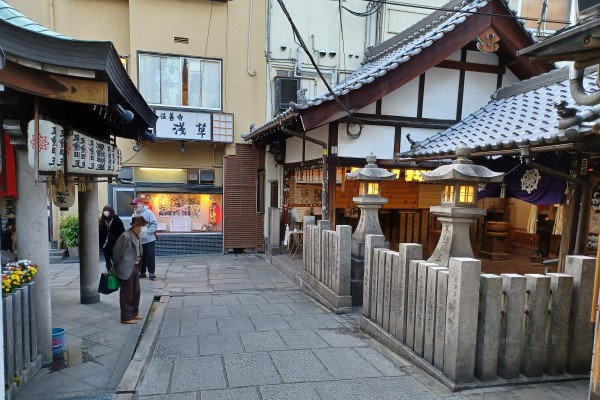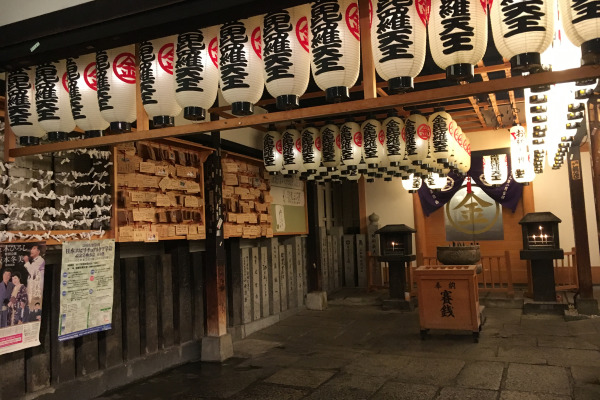 Since this area is has a number of popular bars, and Hozen-ji Temple does not have a gate, and many people visit this temple at night!
After you finish your visit to Hozen-ji, be sure to visit any number of the famous restaurants nearby, such as "Meoto Zenzai" and "Shoben Tango Tei", which here both written about in novels by Oda Sakunosuke.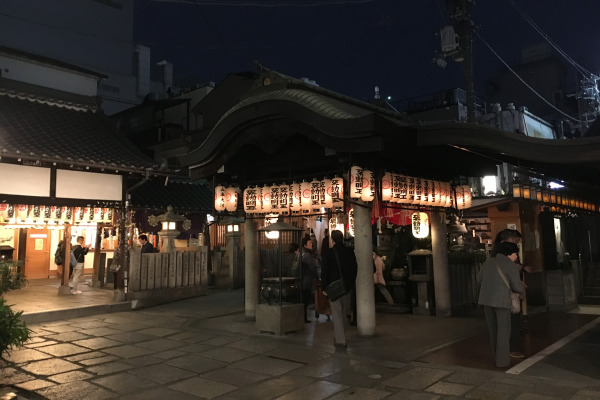 Hozen-ji Yokocho
There are two streets near Hozen-ji that run parallel to each other. One curved street is Hozenji-Sando, which actually leads you to Hozen-ji Temple. The other very straight street is Hozen-ji Yokocho, where you can find many tasty restaurants.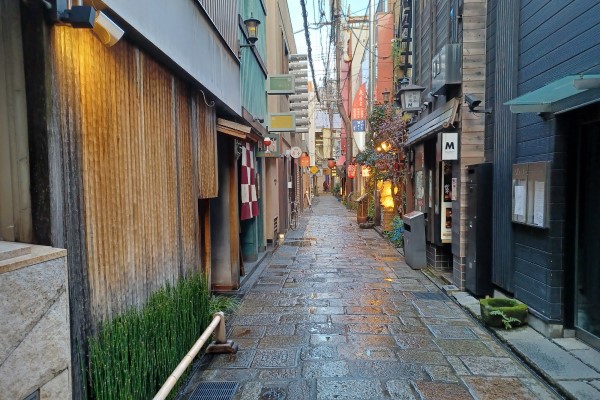 Hozen-ji Yokocho Street is just as popular as the temple itself. The temple grounds of Hozen-ji used to occupy most of Hozen-ji Yokocho, but over the years restaurants and shops have slowly taken over.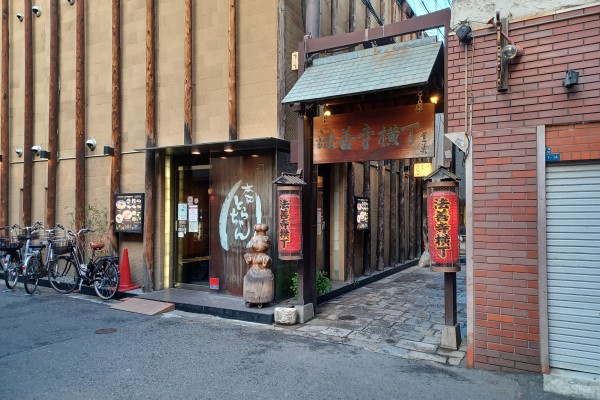 One of Osaka's all time best comedian/actors, Fujiyama Kanbi [藤山寛美], provided the calligraphy for the sign for the west gate of Hozen-ji.  Interestingly, the kanji of [善] meaning "good" is  incorrect. Many speculate that Kanbi did this intentionally, rather than it being the result of a simple mistake. Renowned for being an unabashed playboy who was very frivolous with money, and therefore the very opposite of [善]