Hoekago! Tooka Ebisu Festival!!
One of the biggest festivals in Osaka is Tooka Ebisu, held every January 9-11th, with most events taking place on the 10th. Scores of people gather around Dotonbori to see the colorful parade of celebrities and geisha chanting "Hoekago" and even more go to Imamiya Ebisu to pay homage to the god Ebisu.
THE HISTORY OF TOOKA EBISU
Historically, Osaka was as a bustling port city. A favorite god of the local merchants and fishermen the god, Ebisu. By the Edo Period, Osaka had evolved into a booming city of commerce. In this period, the economic center of the city shifted from fish markets and bayside ports to central districts like Semba (now known as Honnmachi). Even so, the business people of Osaka did not forget Ebisu's supposed role in their prosperity. As a result, Tooka Ebisu became a time for anyone seeking business prosperity to beseech the magnanimous "Ebbe-san."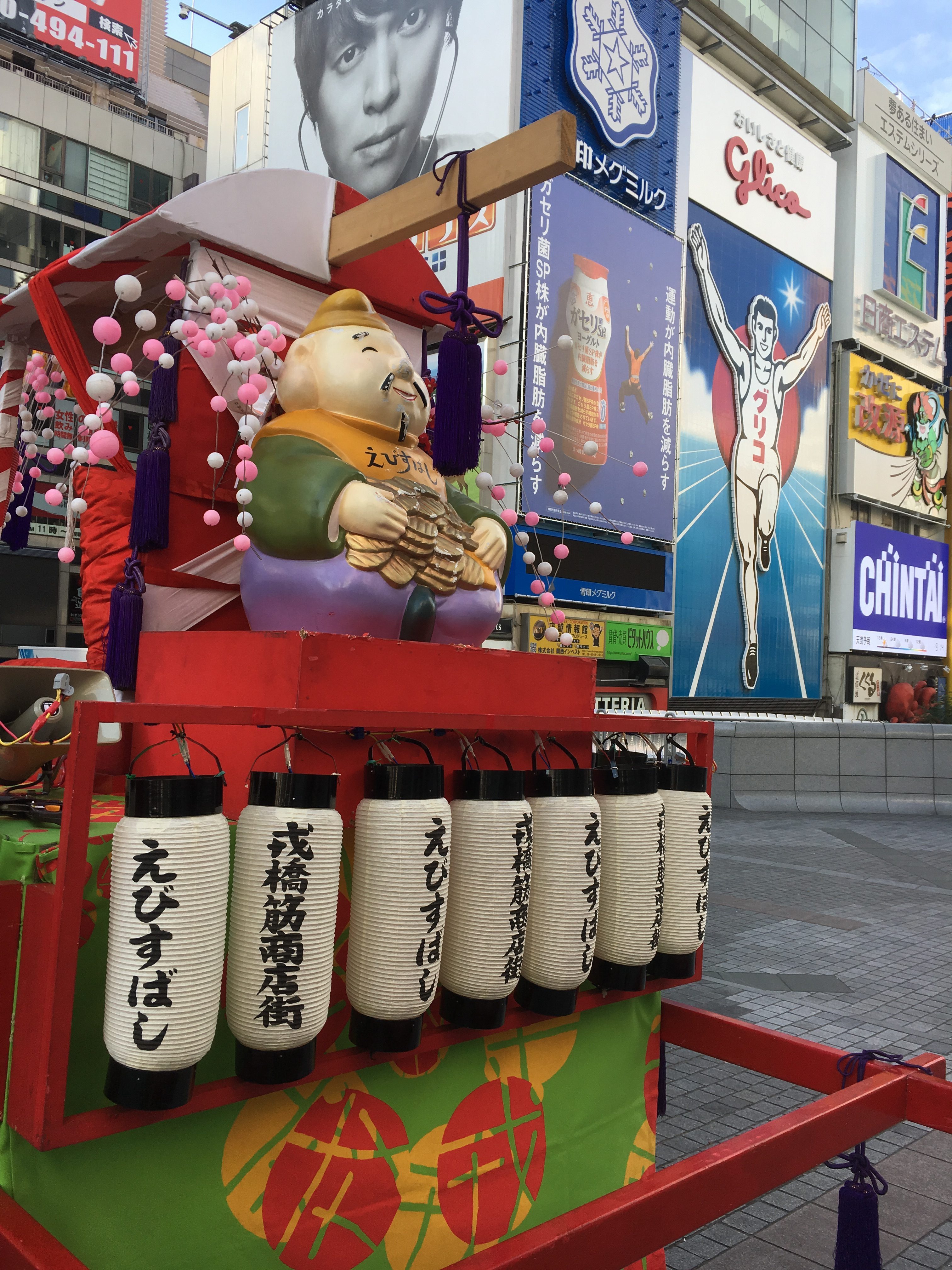 Imamiya Ebisu Shrine
As much fun as it is to hangout around Dotonbori during Tooka Ebisu, at some point you ought to visit Imamiya Ebisu (read more details about the shrine here).
The road to Imamiya Ebisu is a colorful assortment of food vendors and games that give way to rows and rows of people selling good luck tokens with the image of Ebisu on them the closer you get to the shrine.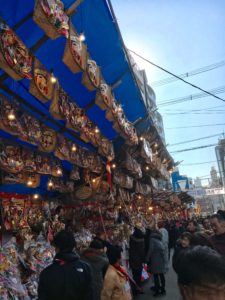 The most significant tokens of good luck however, are actually in Imamiya Ebisu. There, bamboo twigs are decorated with various charms, called kicchou [吉兆], which are supposed to bring good fortune to business throughout the year. Many people will also bring their old bamboo decorations from the previous year to be ritualistically burned.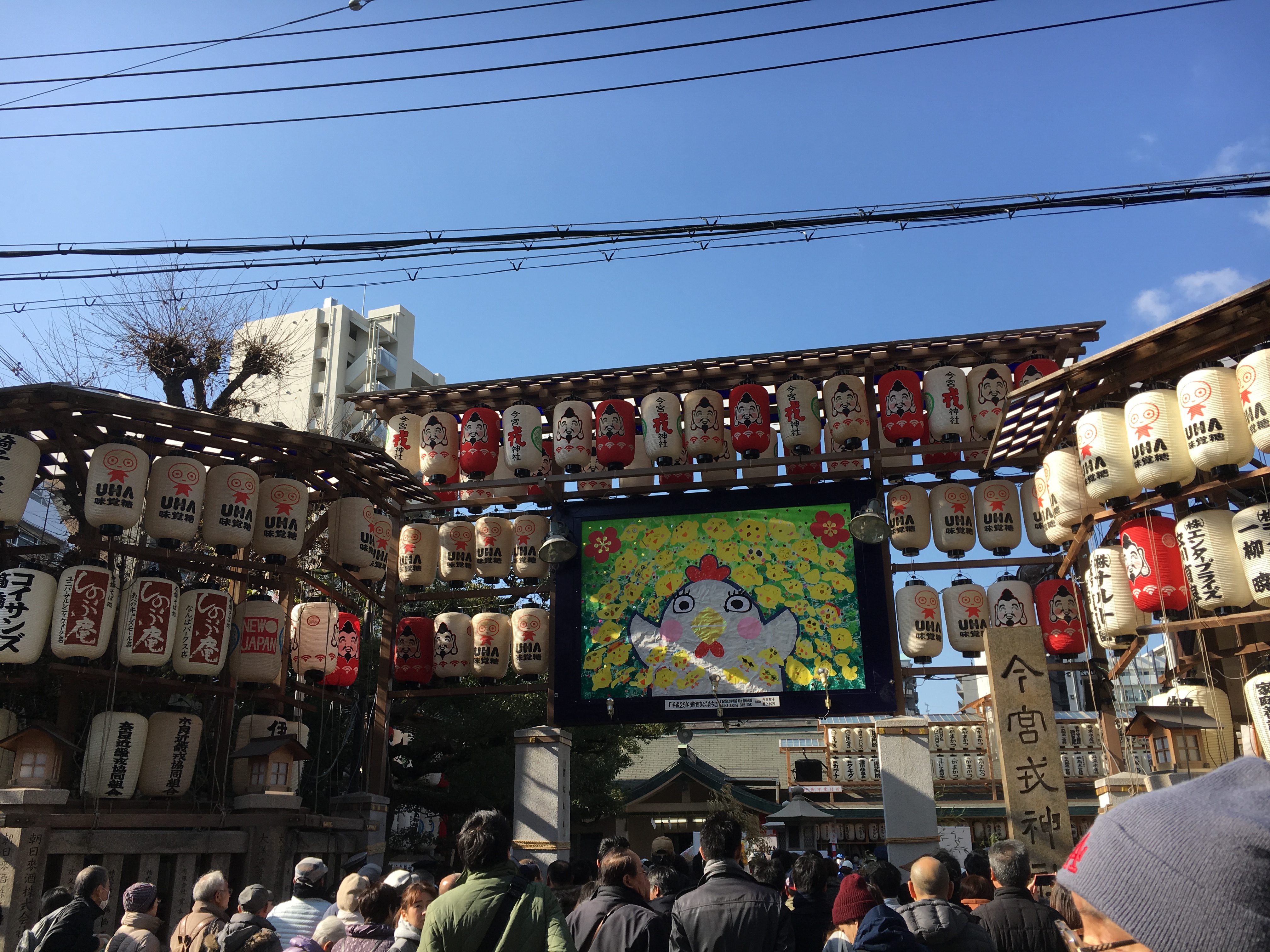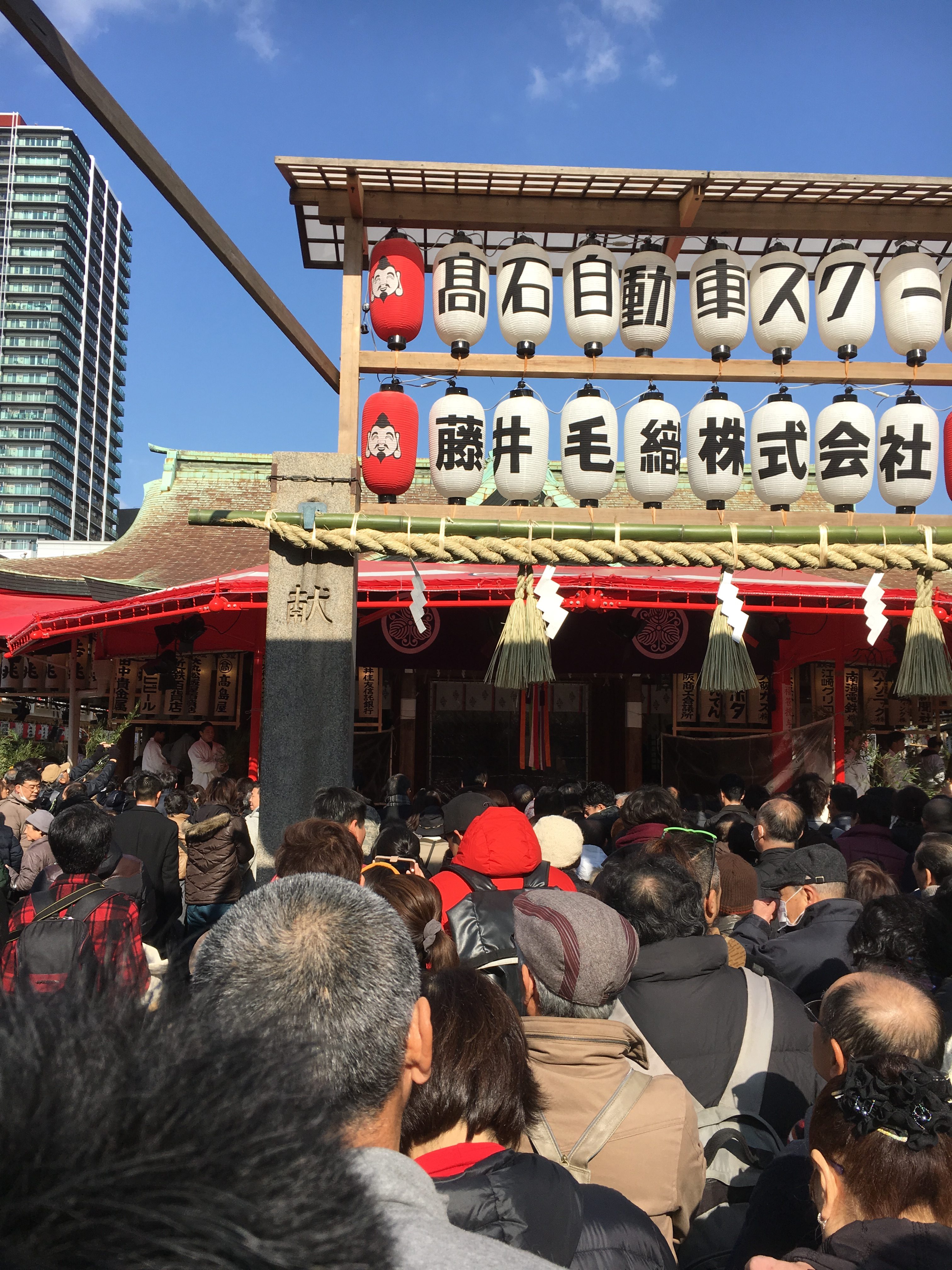 Throughout the shrine and even in the streets you can hear people chanting,
Shobai hanjo de sasa motte koi!
If you hope for prosperity, bring me [your] bamboo twigs!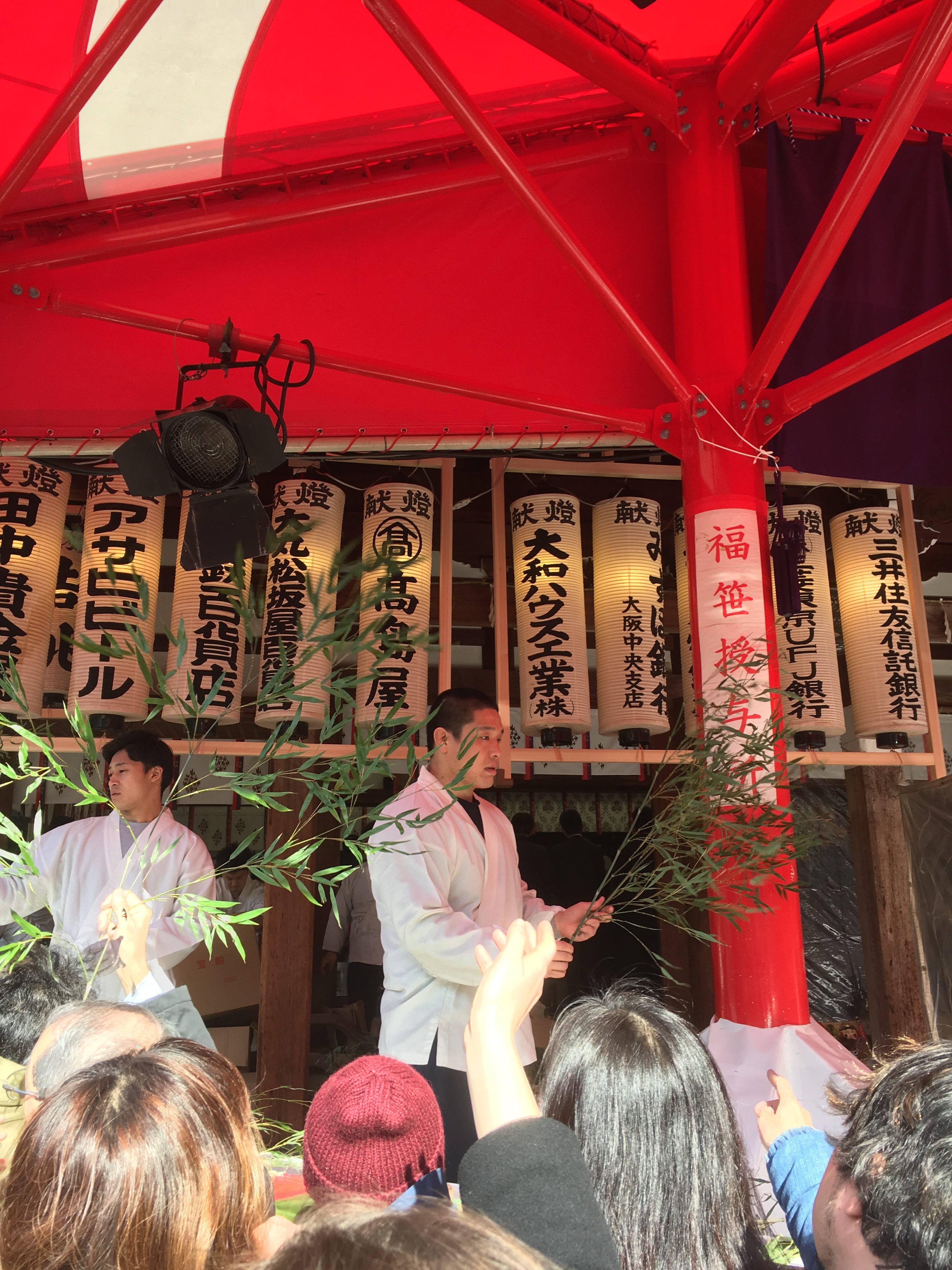 While the bamboo twigs are free, each charm at Imamiya Ebisu costs 1,500 yen each, with larger charms costing even more. Ideally, there should be a total of twelve different charms on the bamboo, each one representing an item that Ebisu carried with him, such as bails of rice, gold coins, and red snapper.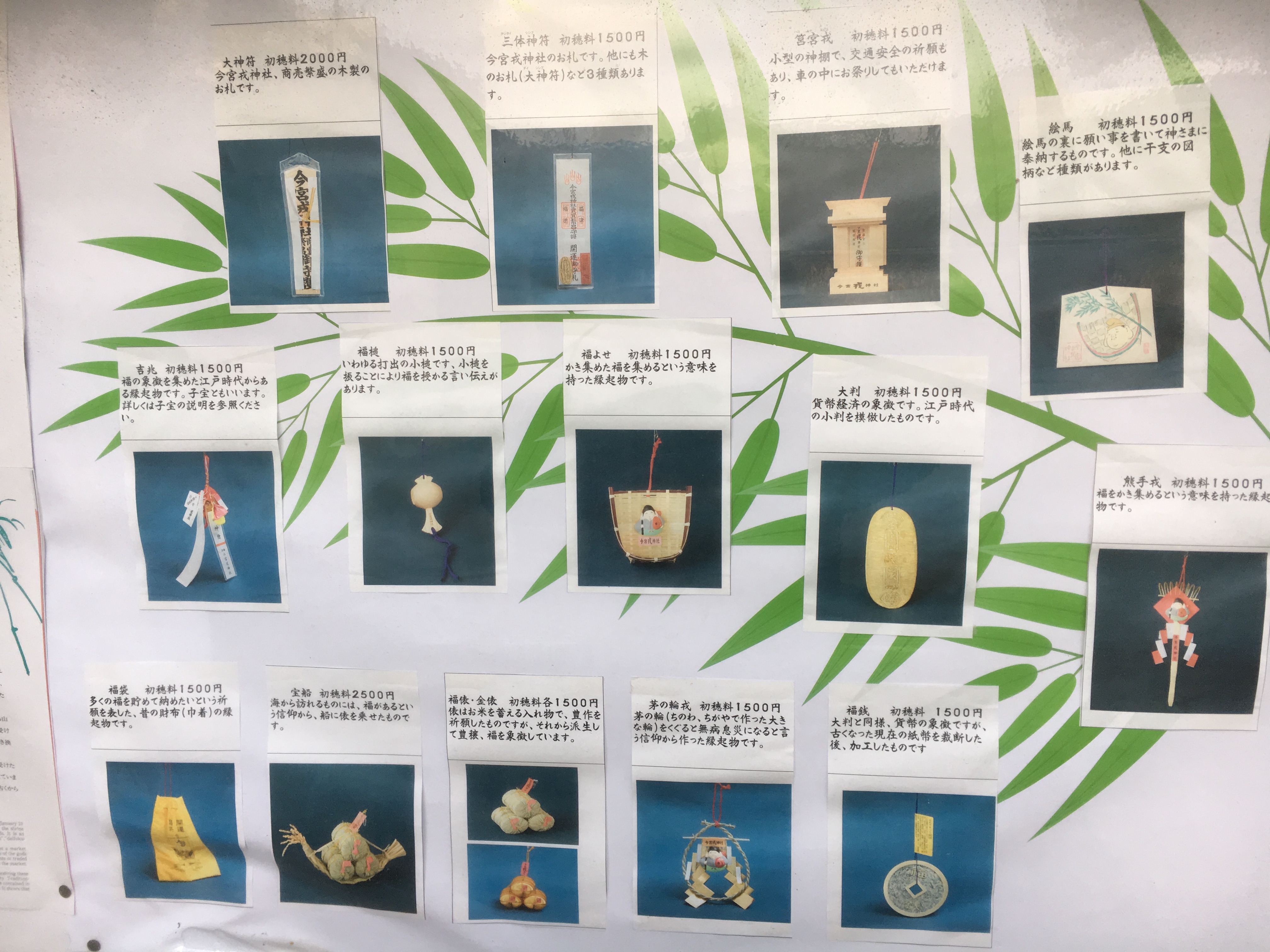 While you are shopping around for the charms, keep an eye out for the Fuku musume [福娘], or good luck maidens. These girls are only shrine maidens for three days but the competition for the job is fierce. Each year Imamiya Ebisu selects only 40 girls out of hundreds of applicants. The requirements? You must be an un-wed girl between the ages of 18-23. After the initial application process, the girls attend series of interviews before the final 40 are choosen.
Though this is grueling process, it is not with its perks. Not only does getting selected to be a fuku musume mean substantial bragging rights, but being a fuku musume is so special that it can even be put down on job applications!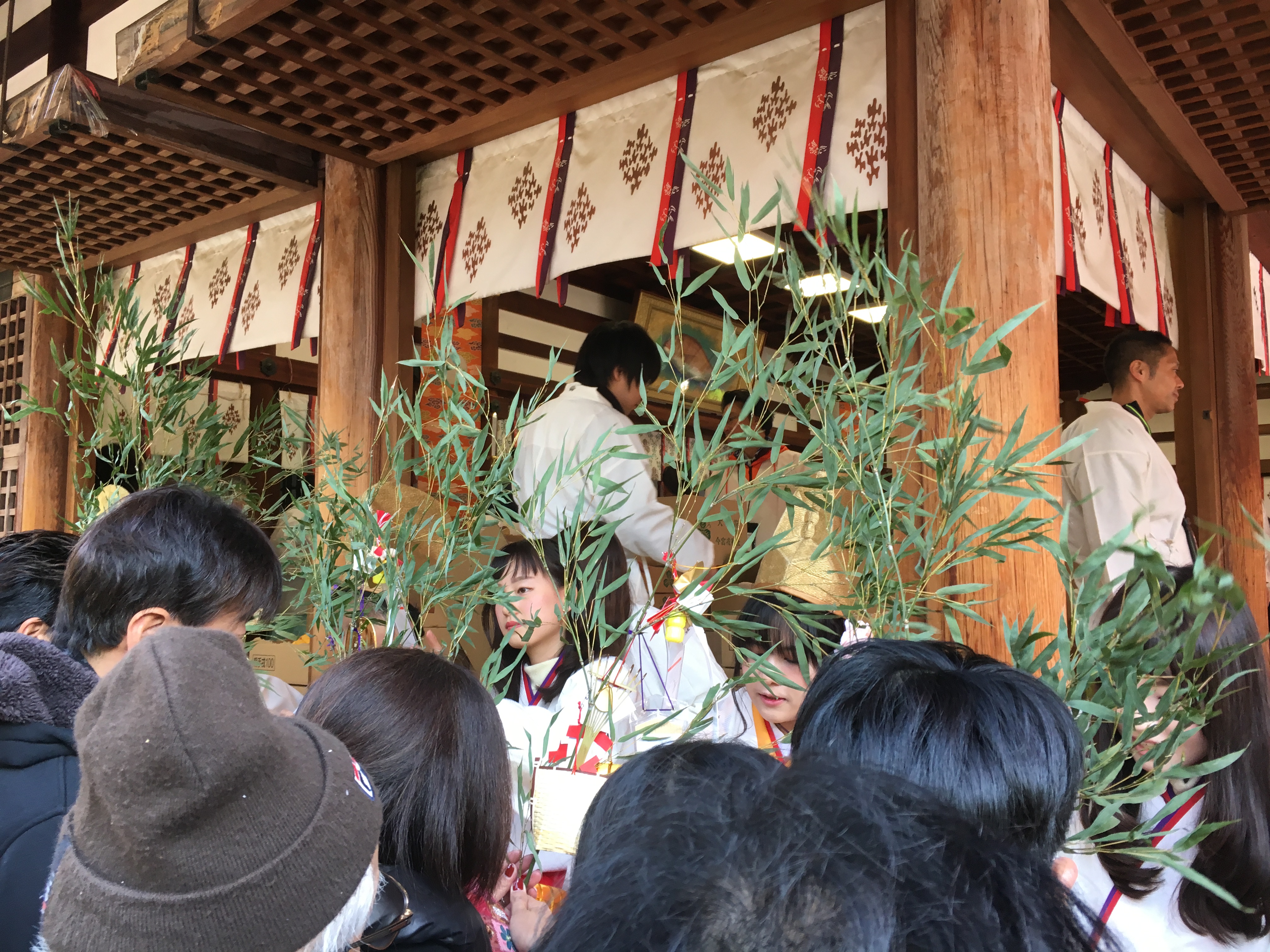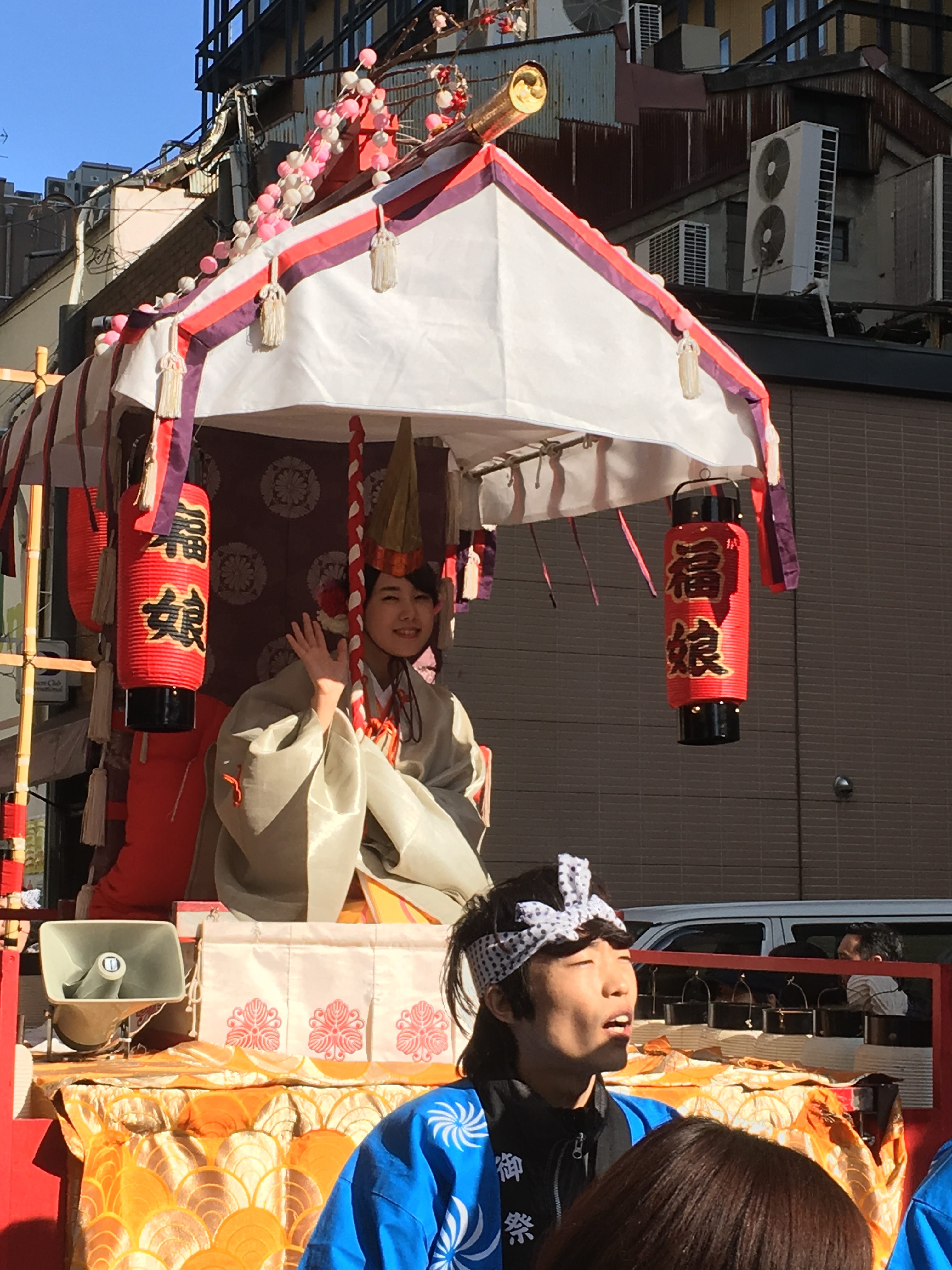 Festivities carry on non-stop for the full three days of Tooka Ebisu at Imamiya Ebisu, with more people visiting the shrine after they get off work in the evening. On average, a total of 1 million people visit Imamiya Ebisu on Tooka Ebisu. As the day goes on more and more stop by the shine to participate in the festivities. Therefore, if you want less of a crowd, I recommend you go earlier rather than later in the day.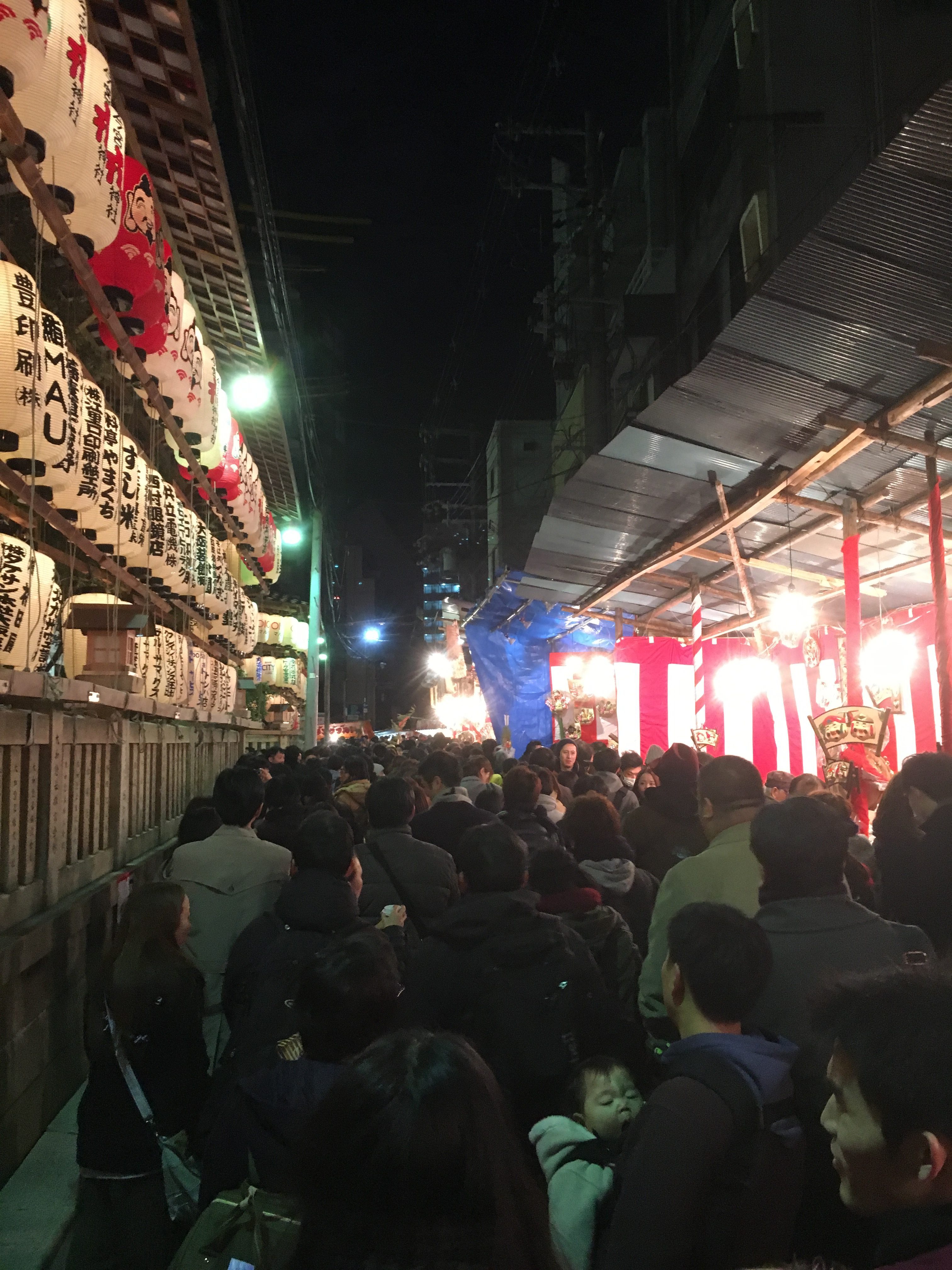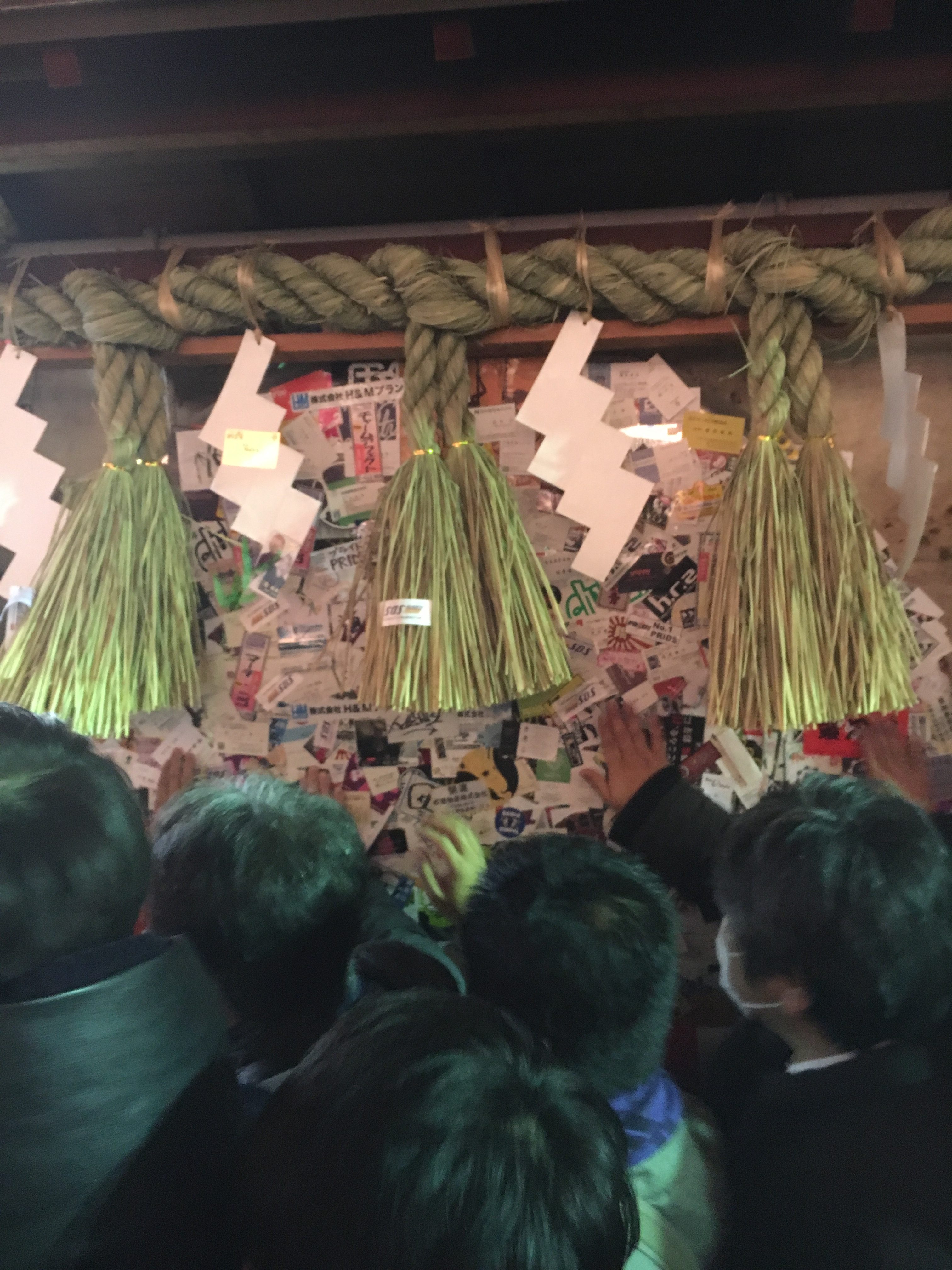 Points of Interest
Hoekago Parade
The Hoekago Parade takes place on January 10th. The parade is a menagerie of not only geisha, but famous celebrities, and members of the various traditional theater groups in Osaka. The opening ceremony is on the morning of the 10th under Ebisubashi Bridge. After the opening ceremony, the parade makes its way around Soemon-chou and down Dotonbori Street, before heading to Imamiya Ebisu.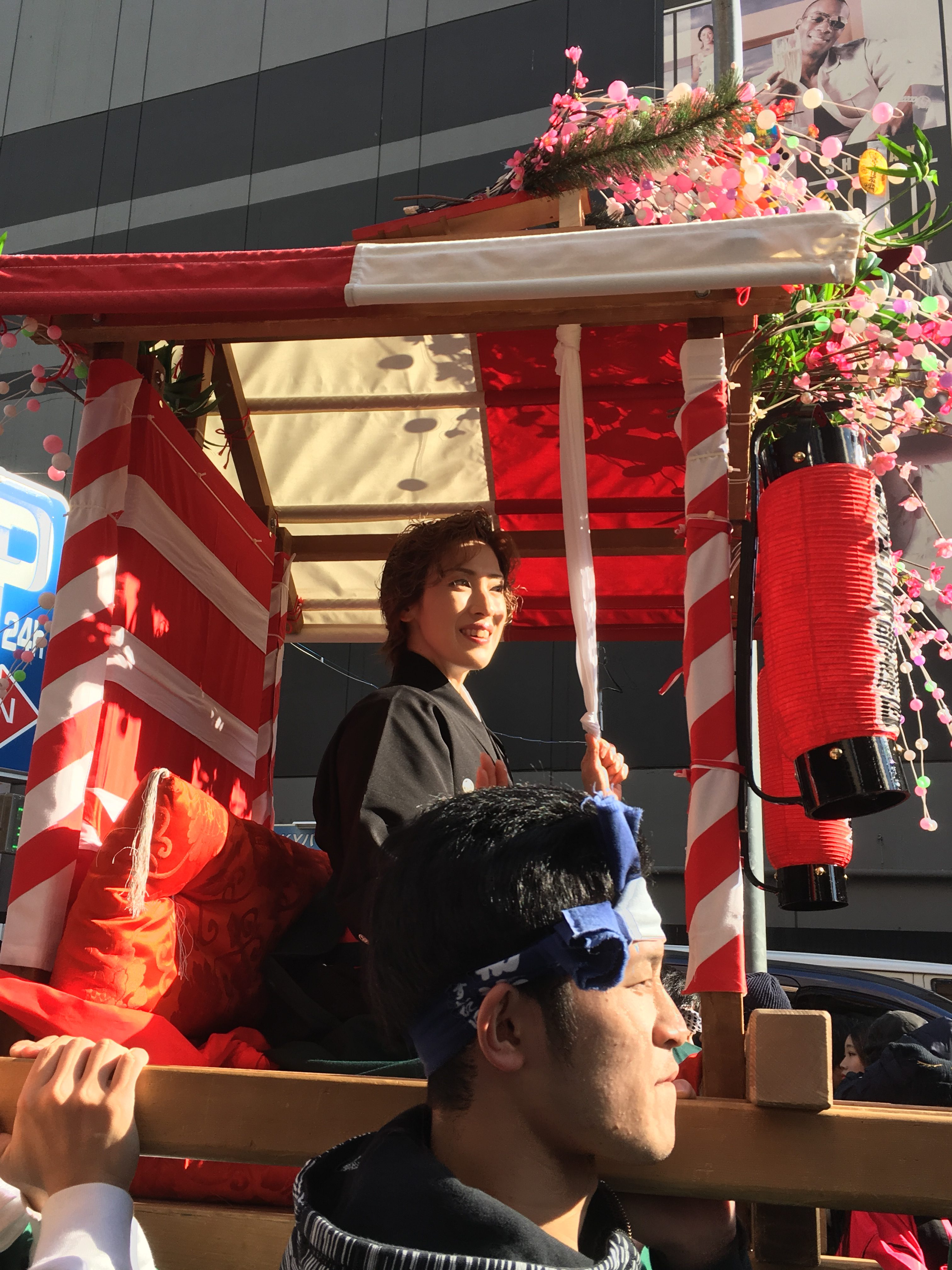 Ebisu Butai
Throughout the 10th on Ebisubashi a variety of short performances called Ebisu-butai [戎舞台] are held. Ebisu-butai is free to the public and features things like short bunraku, musical performances, and various messages from the aforementioned celebrities.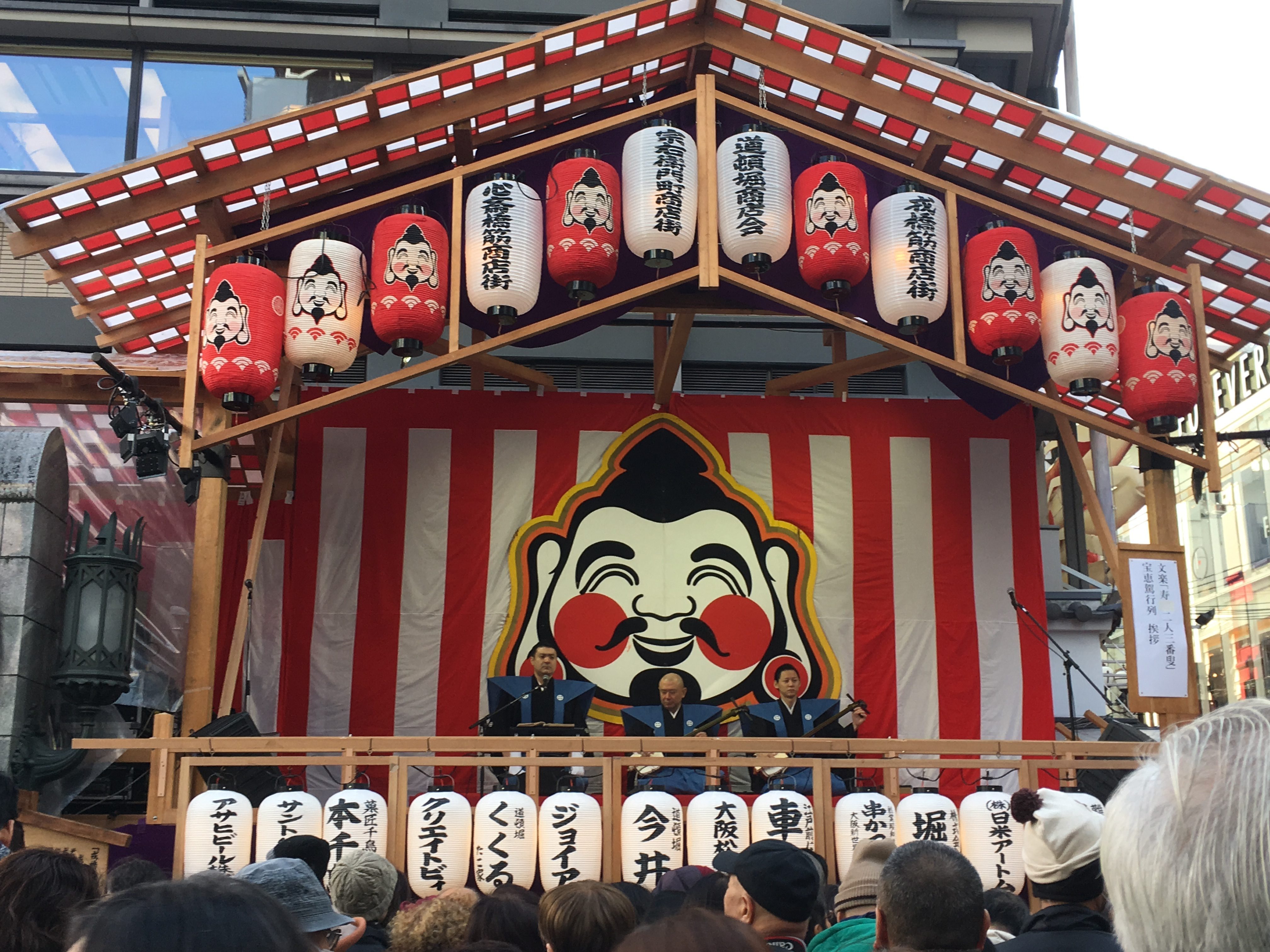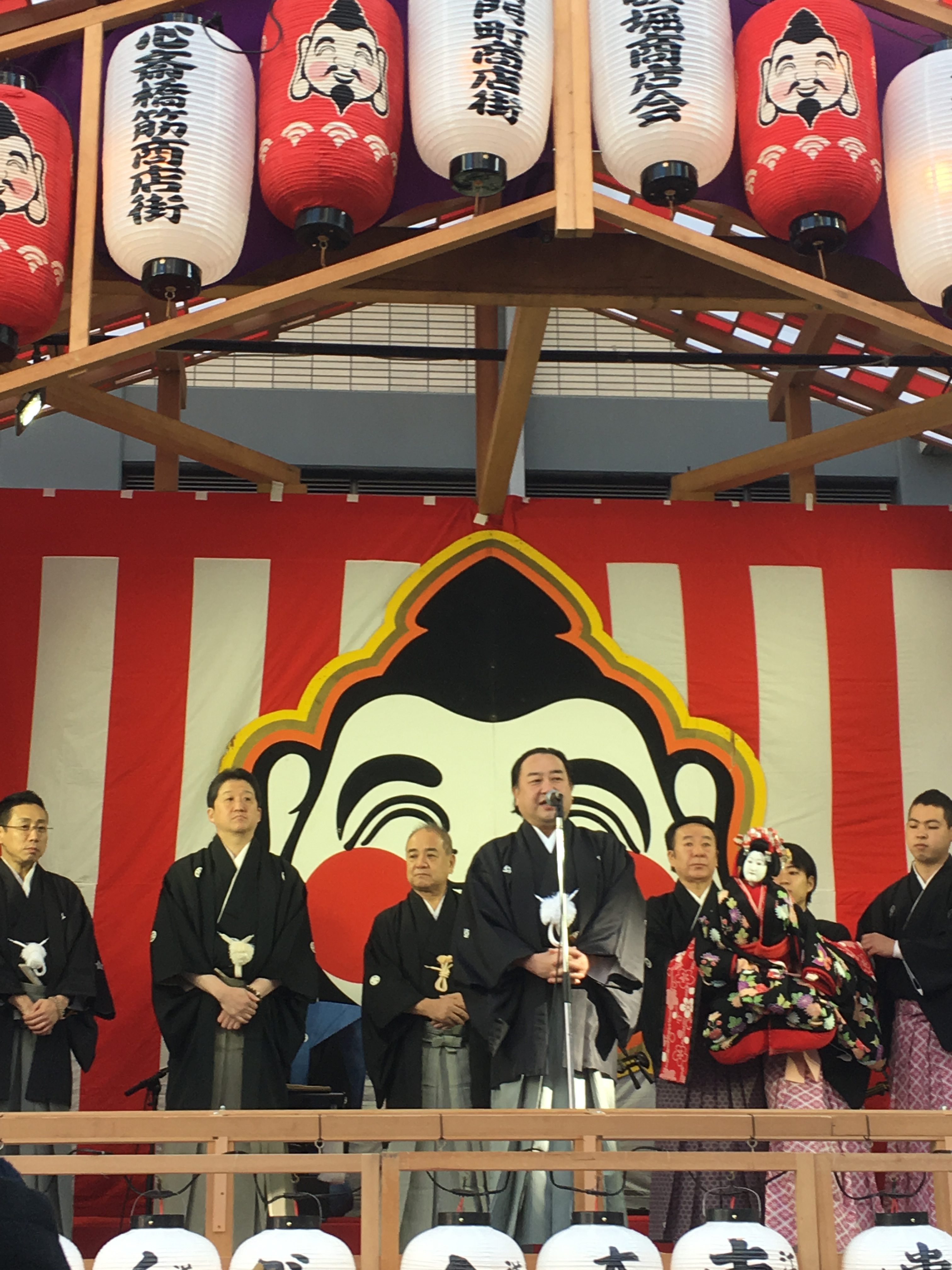 Shikitsumatsunomiya Okuninushi Shrine
After visit Ebisu, make sure to visit Okuninushi in Shikitsumatsunomiya. The main shrine of Shikitsumatsunomiya houses Susano-o, but there is another shrine for Okuninushi on the shrine grounds. Imamiya Ebisu follows the school of thought that believes Okuninushi to be the father of Ebisu. It is therefore conventional to visit this shrine as well on Tooka Ebisu.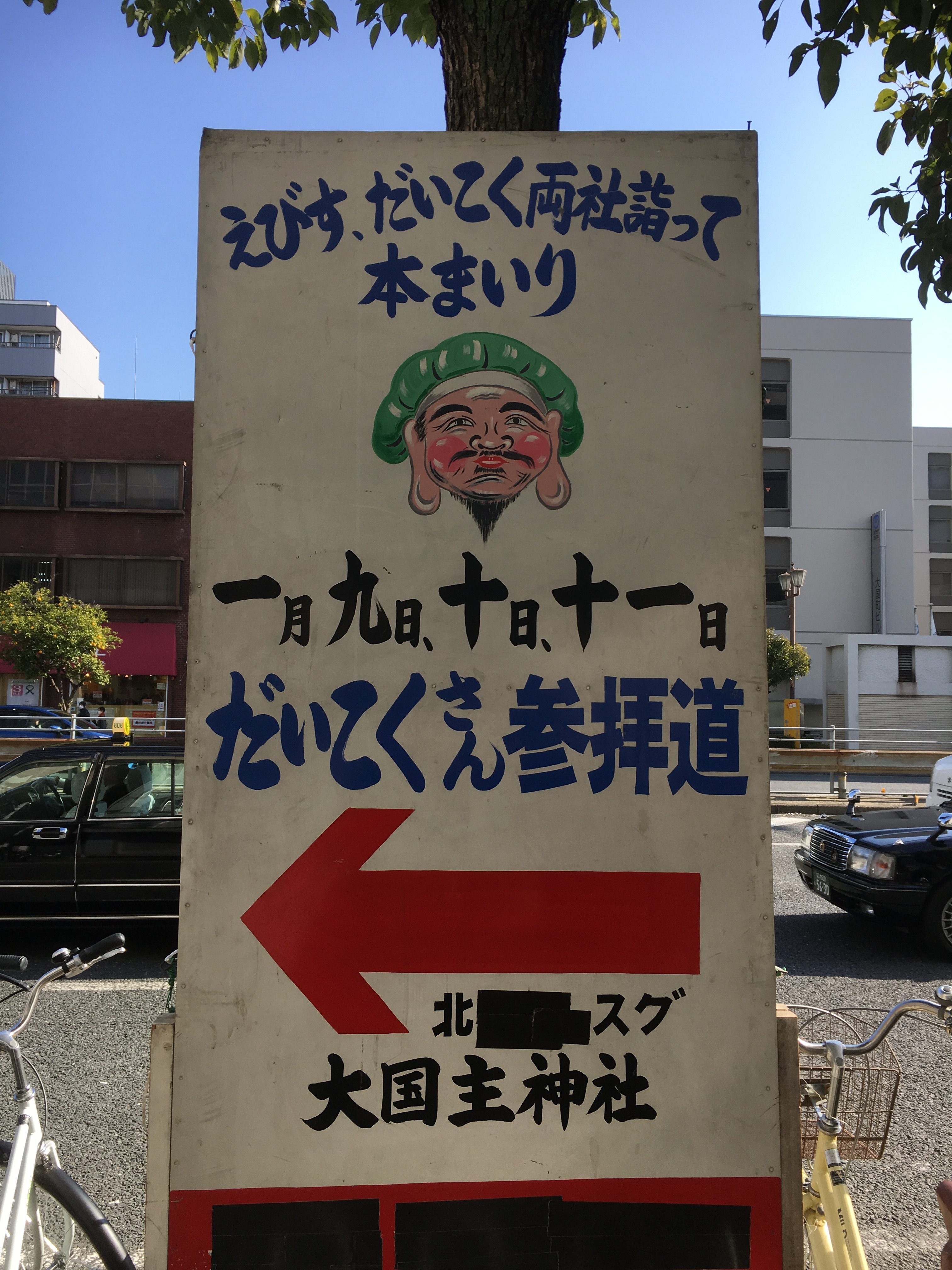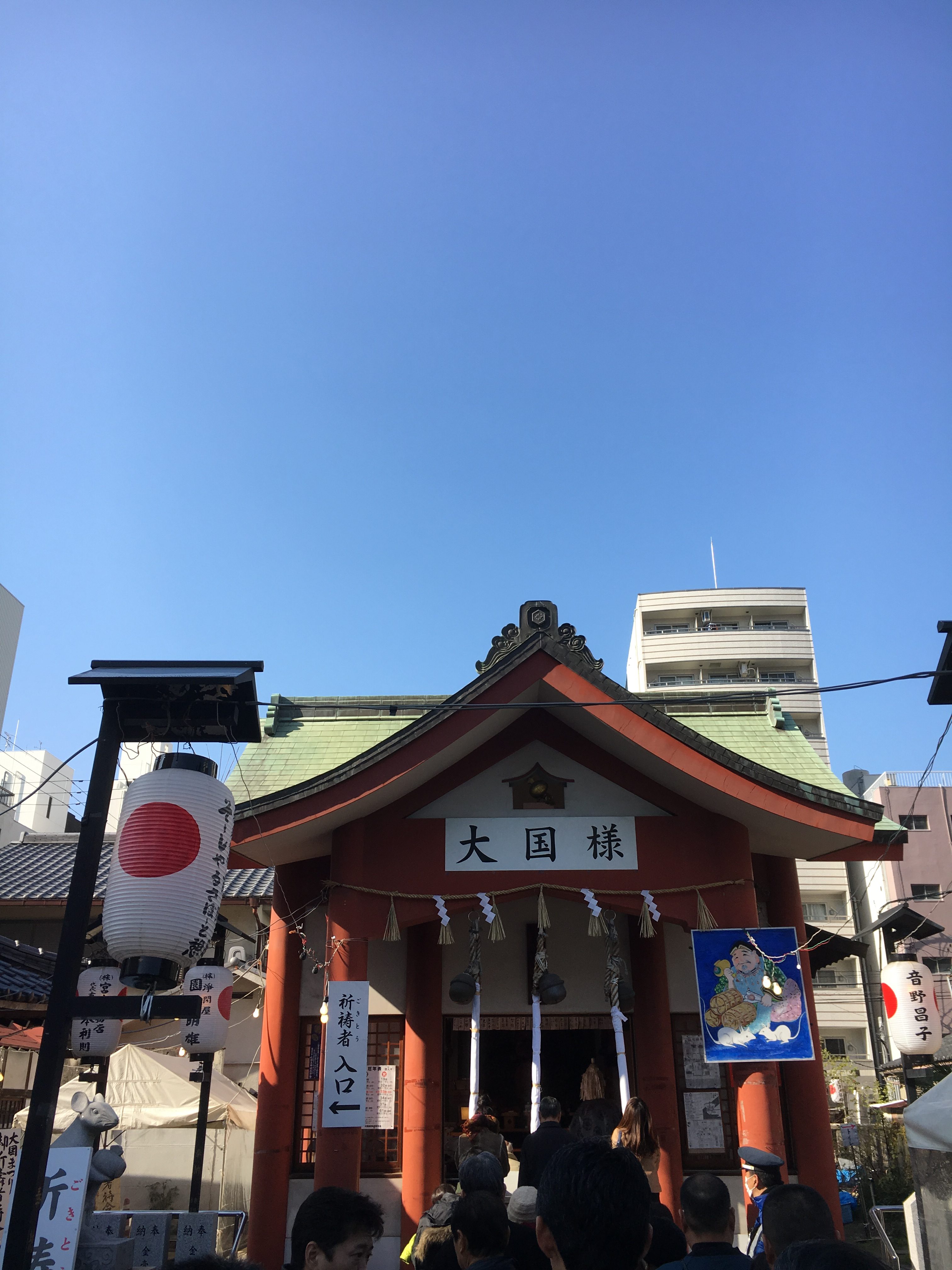 Like so many things in Japan, Tooka Ebisu has changed a lot from when it was first celebrated. In fact, the festival's ability to so fluidly change with people of Osaka is probably why the festival and Ebisu himself remain popular today.
Information:Tooka Ebisu
Address
1-6-10 Ebisunishi, Naniwa Ward, Osaka
Getting to
A minute walk from Imamiya Ebisu Station of Nankai Koya Line or 10 minutes walk from Nankai Namba Station
Opening Hours
1/9 to 1/11
Entrance Fee
Free
Note
There are so many food venders along the Nankai Line from Namba Station to the shrine!