Chomeiji Temple, the Temple of Long Life
OmiHachiman is the most famous tourist spot in the Omi region. Famous for the ruins of Hachiman-yama Castle and its beautiful moats and its abundance of its one-of-a-kind local food, the city is also home to the historic Chomeiji Temple, the 31st temple of the Saigoku Kannon Pilgrimage.
The History of Chomeiji Temple
Temple records place the origins of Chomeji to around the 4th century and center around a story of the famous ancient politician Takenouchi no Sukune carved the following passage into a large willow tree.
[寿命長遠所願成就]
" I wish to live a long life"
Miraculously his wish really came true and allegedly he lived to be 300 years old.
Several hundred years later, Prince Shotoku found Sukune's inscription in the tree. Since Sukune was a very famous politician indeed, Prince Shotoku was quite impressed with his discovery. Just then, an old man appeared and instructed the prince to carve the tree into a Kannon statue. Prince Shotoku followed the man's instructions and enshrined his statue in the little temple, naming it "Chomeiji" meaning, "the temple of long life".  
Getting to Chomeiji Temple
The closets station to Chomeiji is Omihachiman Station off the JR Tokaido Line. It is an hour away from Osaka City, and 30 minutes from Kyoto via the Special Rapid Service.
From Omihachiman Station, take a bus to the Chomeiji bus stop (departing from bus stop No.6). Bus service to the temple is available at least twice an hour and costs 490 yen. The bus also drops by several popular major tourists spots including the Hachiman-yama Castle's moats and La Corina (a sweets plaza).
Temple Grounds of Chomeiji
After you get off at the temple's bus stop you will not see it right away. To reach the temple you have to climb 808 stairs to reach the temple grounds, which sit at the top of the modest sized mountain of the same name.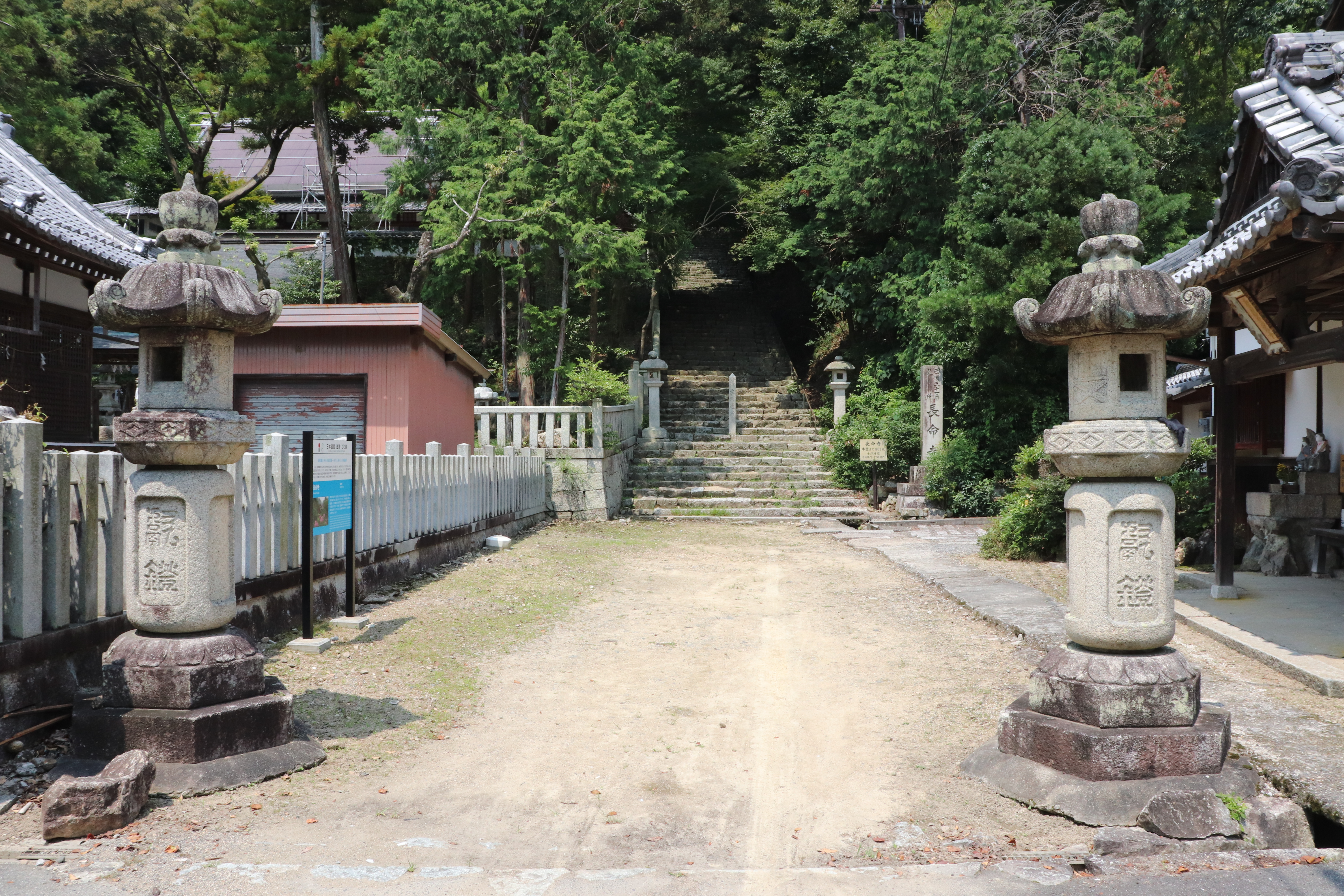 It was only 20 minutes to walk up the stairs. As it was middle of the summer, it was hot! Make sure to take plenty of water with you!!
The hondo enshrines Senju Kannon statue and two other Kannon statues, Jyuichimen-Kannon and Sho-Kannon, all of which date back to the 10-12th centuries. These statues are only periodically out for public viewing and we aren't when the temple is going to have them on display again. (The last time was in 2009.)
Behind the hondo is the shutara-iwa, which is many believe is the physical embodiment of Takenouchi no Sukune.  
After visiting hondo, make sure to go to the top of the mountain, which takes only a few minutes. You can get a great view of Lake Biwa from the top of the mountain.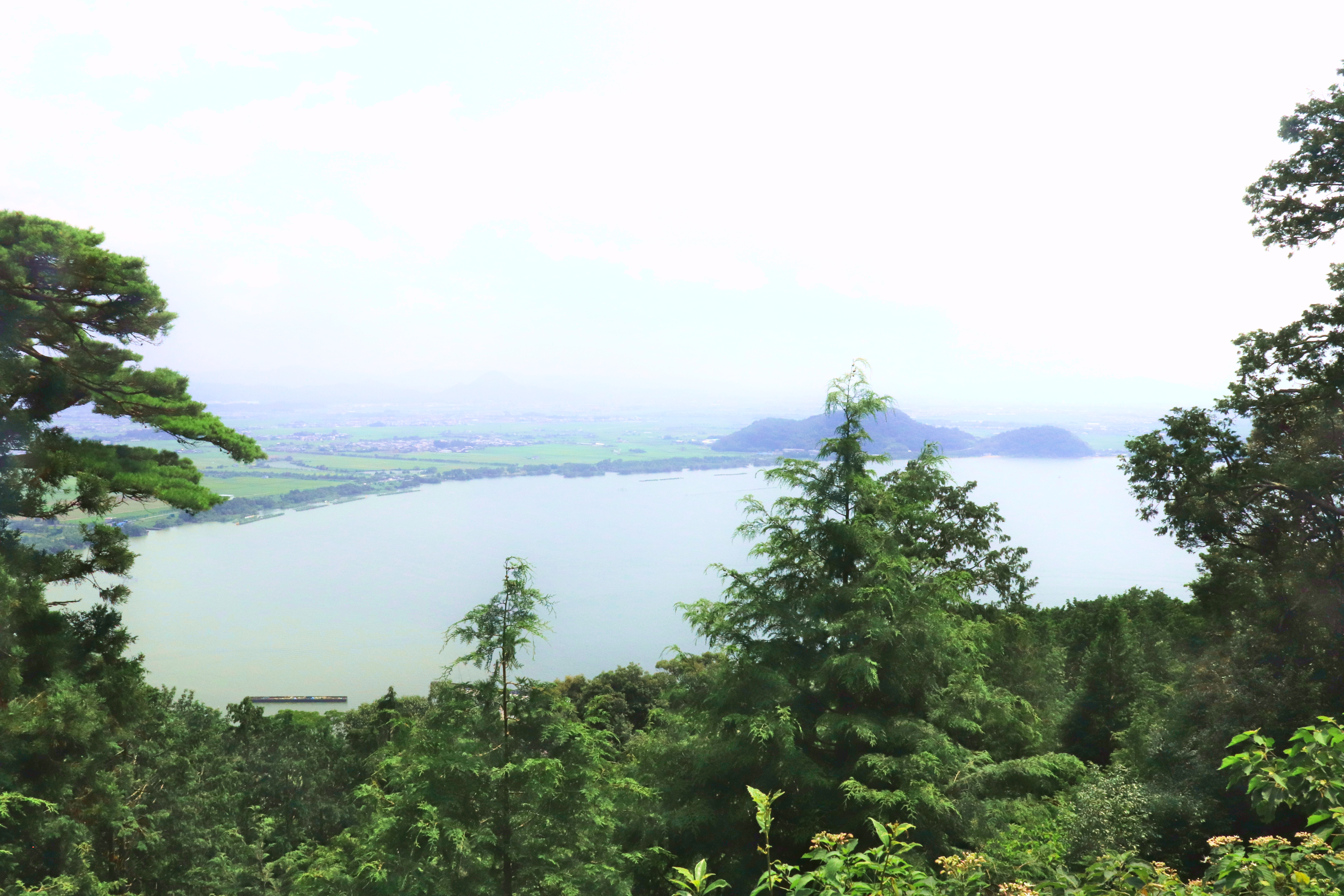 Also on the top of the mountain is Tarobo Daigongen Shrine, which enshrines the tengu, Tarobo, in Atago Shrine in Kyoto.
Information: Kumano Hongu Taisha
Address
157 Chomeijicho Omihachiman City, Shiga Prefecture 
Website
Getting To
Hours
8AM-5PM
Price Range
Free
Note