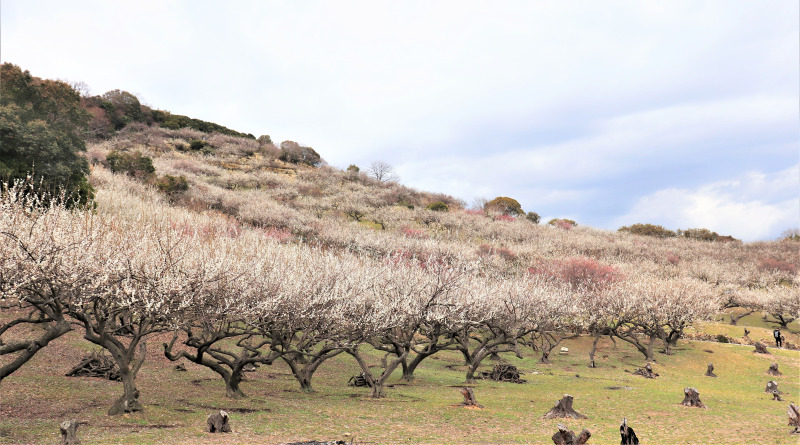 Ayabeyama Plum Garden: Hyogo's Best Plum Garden
Come springtime, everyone and anyone in Japan takes a keen interest in which flowers are in bloom and where you can see them. Of course, cherry blossoms are always a favorite, but plum blossoms, or ume, are some of the very first flowers to bloom. If you find yourself in Hyogo Prefecture during plum season, a trip to Ayabeyama Plum Garden is a delight! Standing along the Seto Inland Sea, Ayabeyama Plum Garden is less than an hour from popular sites like Kobe or Himeji Castle and offers a lot of plum trees to see.
Ayabeyama Plum Garden
Ayabeyama Plum Garden is in Tatsuno City, Hyogo Prefecture. It is only a few kilometers from Aboshi Station, which is only a few stations away from Himeji Station. During plum season, there is a seasonal bus service available from the JR Aboshi Station (Sanyo Line), so it is not hard to access, but the service can be a little sparse.
At Ayabeyama Plum Garden, there are as many as 20,000 plum trees. It is a wonderful place to visit, perfumed with the faint and delicate scent of the ume. This garden attracts fewer people than Tsukigase Plum Grove (another plum garden popular in Kansai), but the advantage is that you feel as though you have the place all to yourself and can truly relax!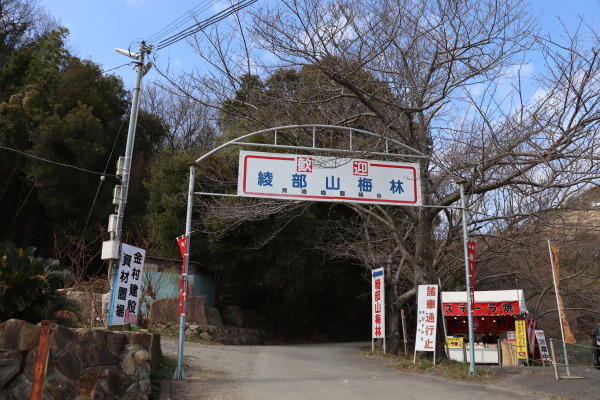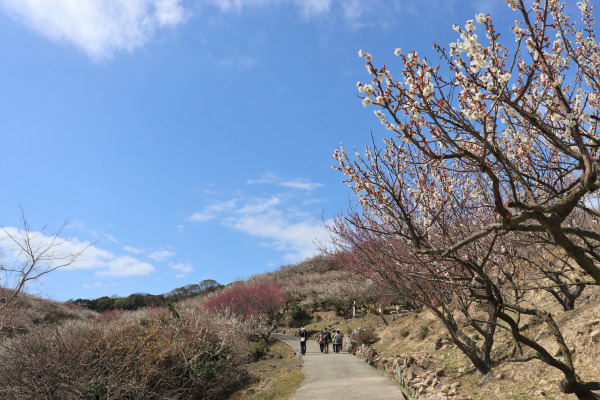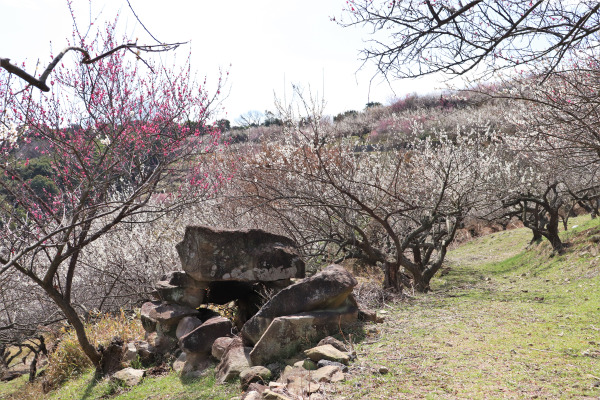 Ayabeyama is indeed a mountain, though it is only 144m high. Rows of pink and white plum trees adorn its entire sea-facing side and from the top, you can take in a panoramic view of the ocean. We were able to see the Harima Sea, a part of the Seto Inland Sea, pretty well, including several islands such as Awaji Island and Shodoshima Island.  When the weather is especially good, one can see as far as Shikoku. 
Of course, what is great is the contrast between the blue ocean and the pink blossoms!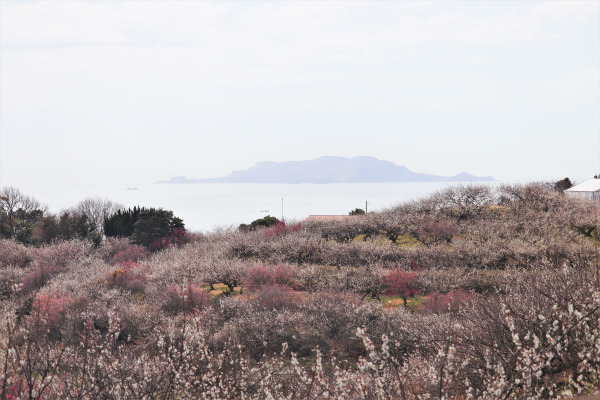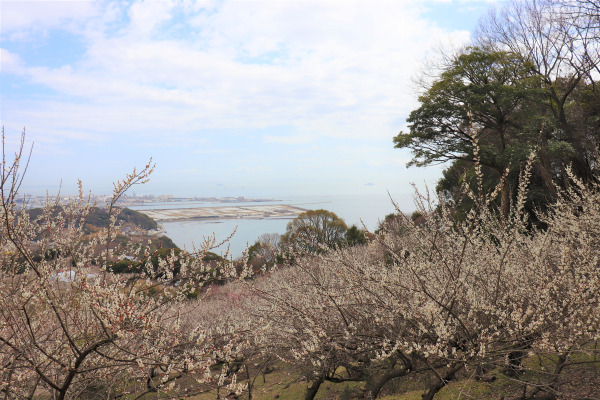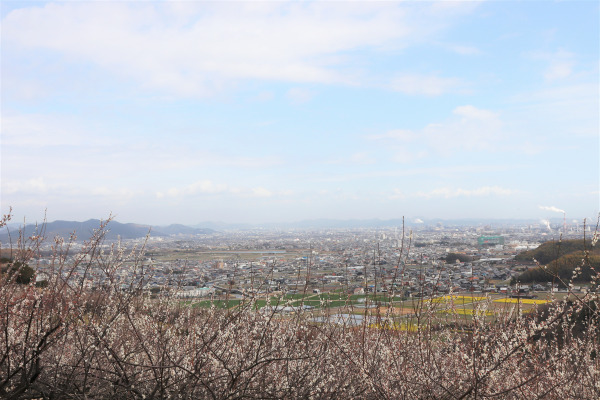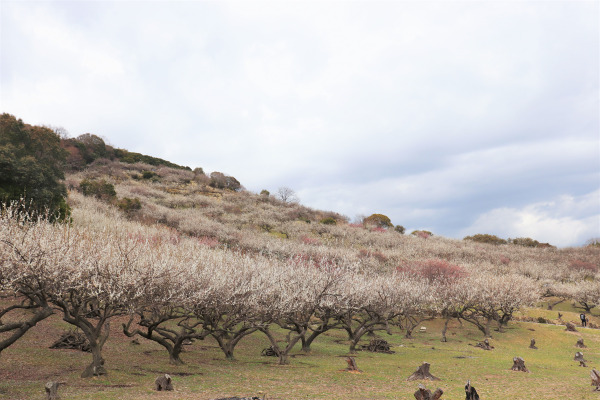 Plum Varieties 
Typically, most plum gardens have many different breeds of plums. Since each variety of plum blooms at different times. This means it is difficult to find a plum garden where all the flowers are in bloom at once.  With that in mind, we were pleasantly surprised to see that virtually all the trees in Ayabeyama were blooming during our visit. It seems most plums in Ayabeyama Plum Garden are "gyokuei", whose flowers are single-blossomed and white. Since most of the trees there are the same variety they all bloom together!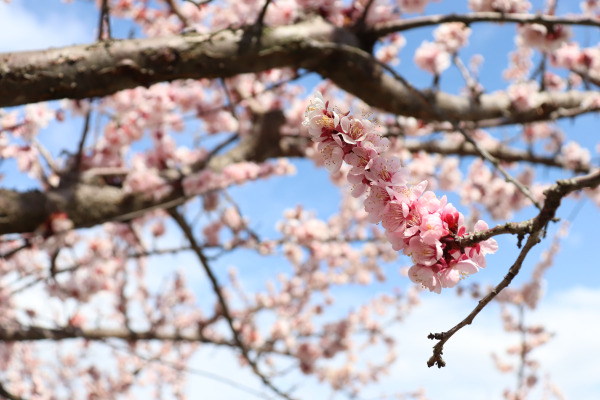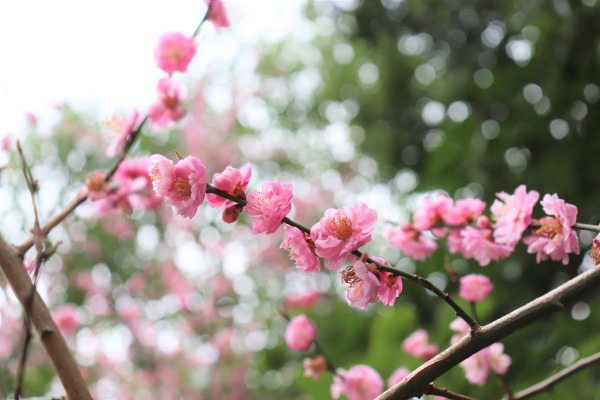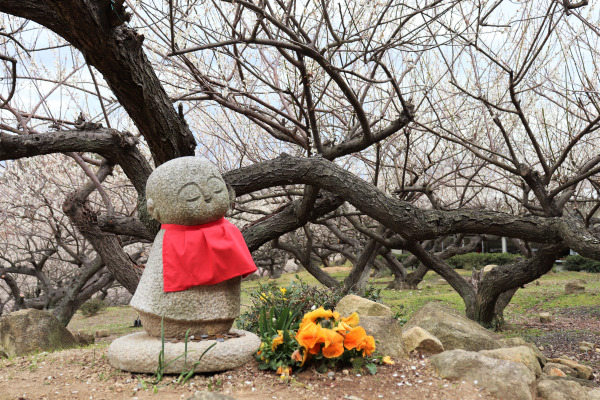 Finally, make sure to redeem your coupon for your free plum juice! You can get a coupon when you purchase a ticket at the entrance!