Abe no Monjuin: Japan's Largest Monju Bosatsu Statue
 all anciwihThough perhaps not as mentioned in English tour guide, the ancient city of Sakurai in Nara has a lot of things to see! One of its more famous sites is Abe no Monjuin. This temple is one of the most important temples in Japan dedicated to the deity, Monju, along with Kirito Monju in Chion-ji ( in Amanohashidate) and Kemeoka Monju (in Yamagata Prefecture). Inside the temple, you will find a most impressive statue Monju statue. Towering at some 7 meters, this statue is easily one of the most amazing statues we've ever seen (and that's saying something).  
Abe no Monjuin
Getting to Abe no Monjuin
Abe Monjuin is a 30-minute walk from either the Sakurai Station on both the JR or Kintetsu lines. Though the temple is not far from these two stations, it was still somewhat of a challenge to figure out how to get there. Triple-check your maps, google or otherwise. 
About Abe no Monjuin
The temple was built by the Abe clan in 645 CE to serve as their tutelary temple. Its founder was the prominent Abe no Kurahashimaro, who became the Minister of the Left after the Taika Reform.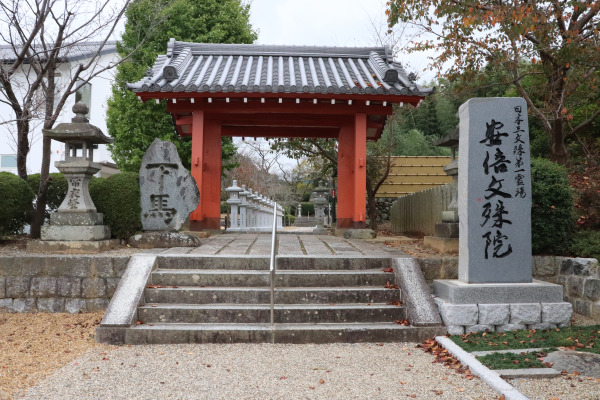 Though this temple is really old, Matsunaga burned it down in the 17th century. As a result everything, except for the Monju statue, was rebuilt after the Edo Period.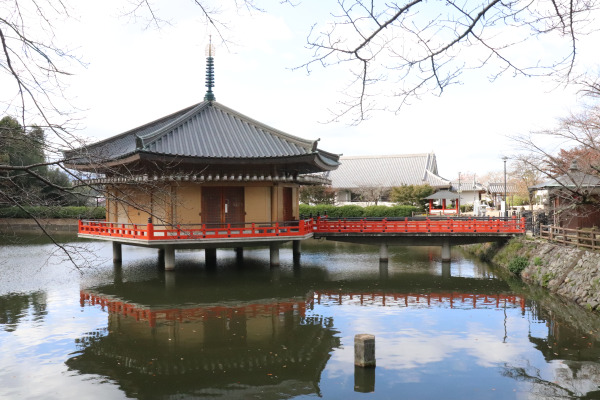 Temple Grounds
As stated, Abe Monjuin enshrines Monju Bonsatsu and is one of the three big Monju temples. Monju Bosatsu is often worshipped as the Kannon of wisdom. As such, the temple attracts many students wishing to pass school entrance exams. Additionally, the main hall also enshrines a statue of Shakasanson, the former principal statue of Tonomine (now Tanzan Shrine). 
Upon entering the main hall (you have to pay an entrance fee), you can see the actual Monju Bosatsu statue. If you come all the way here, by all means, do not pass this up. 
By the way, they serve you a nice sweet and some green tea before going into the main hall!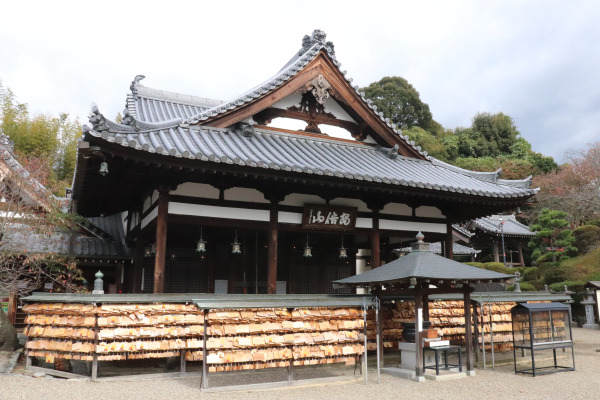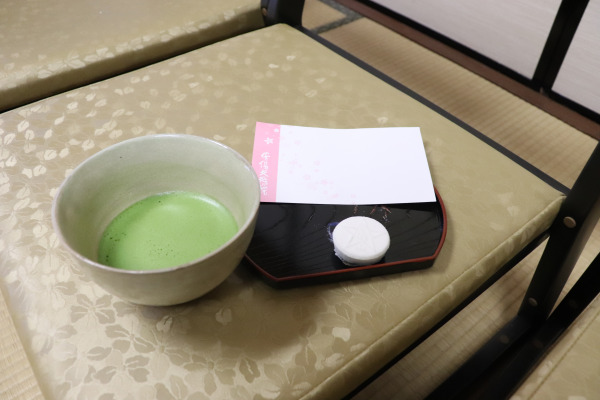 Amazing Monju : Tokai Monju Bosatsu
This Monju Bosatsu Statue is specifically known as Tokai* Monju Bosatsu. Carved by the monk Kaikei in 1203 CE, the statue depicts Monju Bosatsu riding crossing the ocean to spread the teachings of Buddhism on the back of a shishi (lion).   
Needless to say, a seven-meter statue is pretty phenomenal.  We have been to so many temples but, this one truly took our breaths away. In addition to the Tokai Monju, there are four other statues in the same hall. All of the statues are designated as national treasures, though the Monju's shishi was rebuilt in the 17th century. Sadly, we could not take pictures of the statue. You will just have to come and see it for yourselves, but trust us, it is so worth it!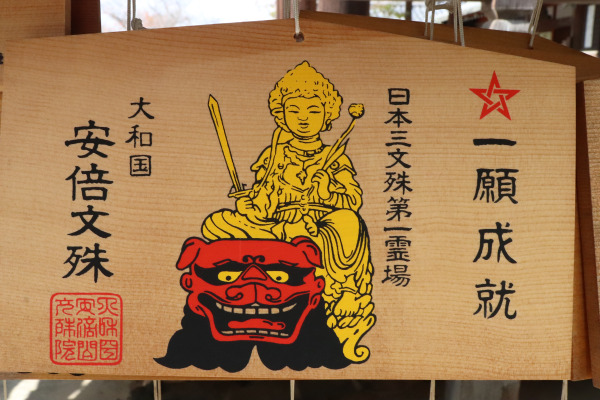 *(Tokai [渡海] meaning "crossing the ocean"). 
Seimei-do
On the temple grounds, you will find a little hut that enshrines arguably the most famous member of the Abe clan; the onmyoji Abe no Seimei. Even to this day Abe no Seimei remains quite mysterious. From his parentage (allegedly the child of a kistune and a man) to his sudden appearance at court (basically just walked into history) and finally his death (very abrupt and early), I doubt we will ever know the truth about him.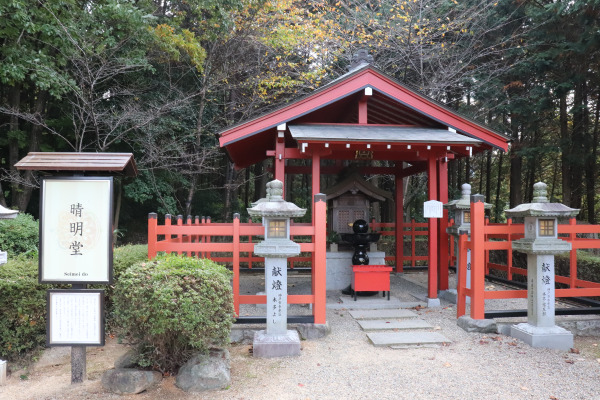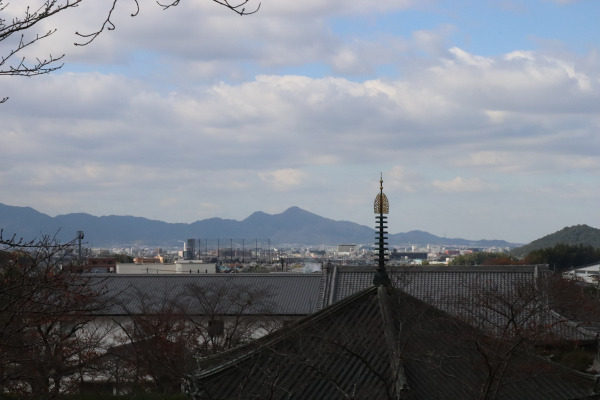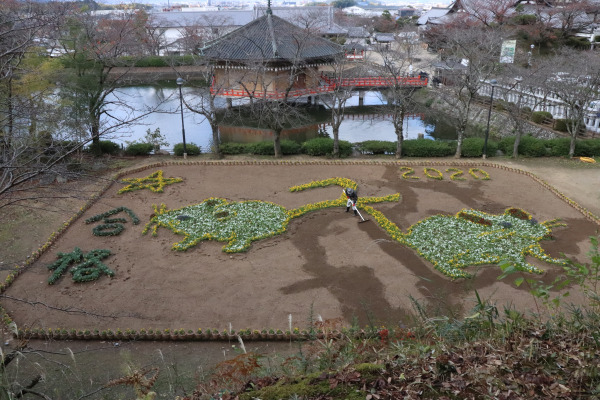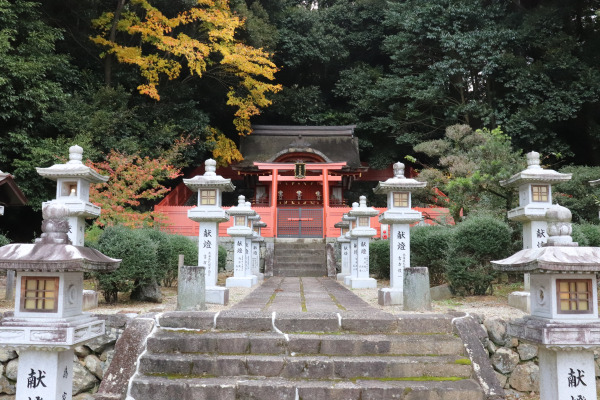 Nishi Kofun
Finally, another interesting attraction about this temple is that there is a kofun, or tumulus, on the temple grounds. Throughout Nara, but in especially Sakurai, there are a lot of kofun. That withstanding it is quite rare to see one in a shrine or temple. Nishi Kofun was made roughly 1,400 years ago and it remains in essentially perfect condition. You can even go inside and see the precision of each neatly cut st.