Fushimi Inari Taisha, A Journey Through 10,000 Torii!
 Although there are many shrines in Japan, some are very popular and attract not only Japanese but also foreign tourists. Some of those headliners are Meiji Jingu in Tokyo, Sumiyosh Taisha in Osaka and Ise Jingu in Mie. Another of the most iconic shrines in Japan is Kyoto's Fushimi Inari Taisha. Head shrine for the god of harvest business, Inari, Fushimi Inari is easily one of the most popular shrines in the entire country.
The History of Fushimi Inari Taisha
According to shrine legend, in 711 Irogu, the ancestor of Hata clan, was practicing arrows, using mochi as a target. Then suddenly the mochi turned it into a white bird and flew away. Then, the bird landed on the top of the mountain and rice grew! Irogu decided it was a sacred place and made a shrine for Inari because ine [稲] (rice ) nari [荷生り](grew).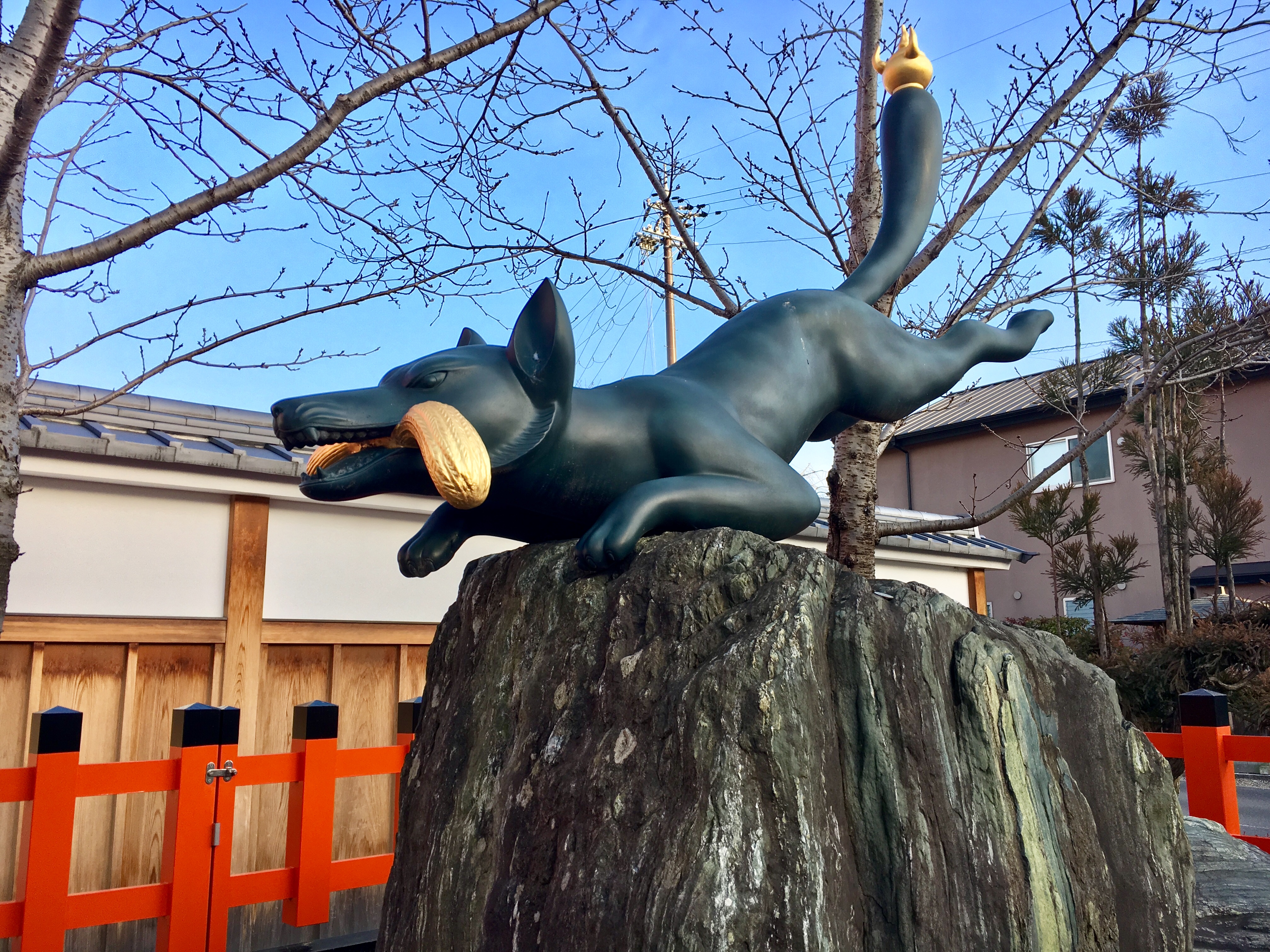 There is a very famous incident that made Fushimi Inari popular. When Kukai made To-ji Temple, the biggest Shingon-sect temple in Kyoto, they cut down a number of trees in Mt. Inari. However, soon the trees were cut down Emperor Junna became terribly ill. Realizing they had committed a great sin,  the government made Fushimi Inari Taisha the southeastern guardian shine of the capital. Fushimi Inarialso protects To-ji Temple. Considering that To-ji was quite popular at that time, it is no wonder that Fushimi Inari became popular as well.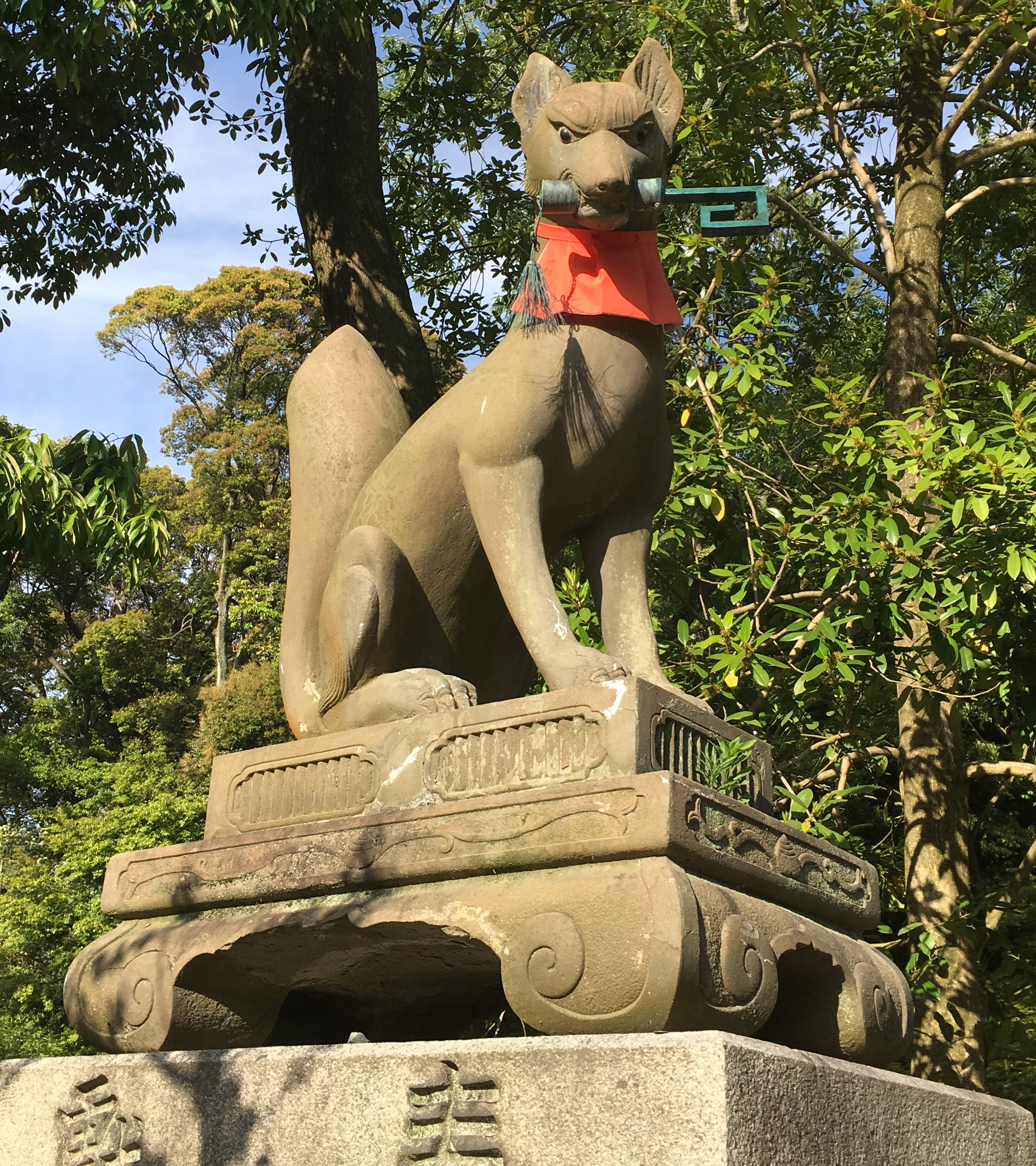 In the Edo Period, people used rice to represent assets, so people started to associate Inari gods with business. Currently Inari is associated with Uka no Mitama, the god of harvest that appears in Kojiki, and is worshiped not only for harvesting but also business.
Fushimi Inari Shrine Grounds
The gate of Fushimi Inari Shrine is only a few minutes away from the station. You probably won't miss it as there are so many people near the station…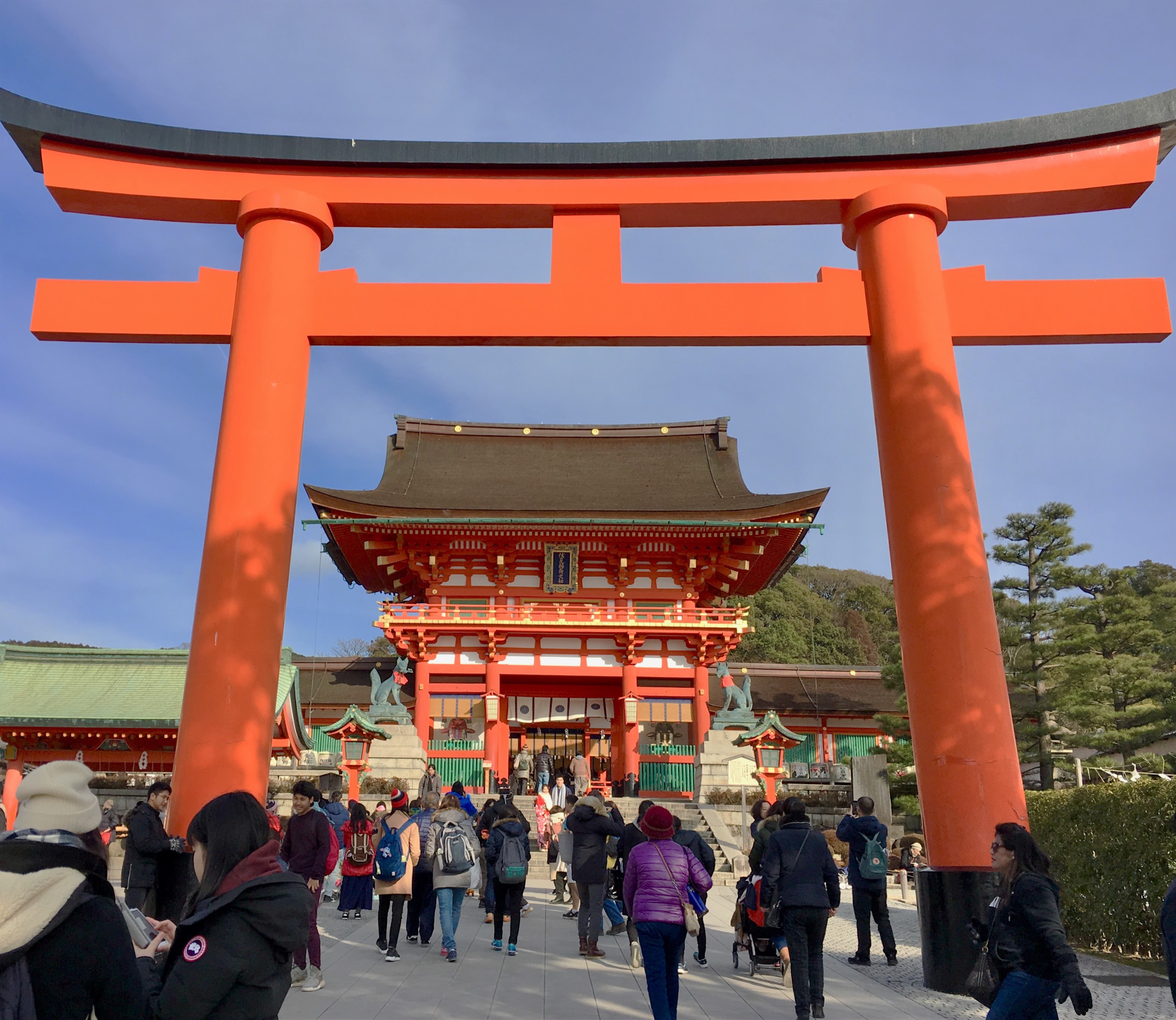 Once you enter the gate, you will immediately see haiden. This haiden, called the Nai-haiden, is where you pray to Inari.The Nai-haiden is very new, from 1961, but the roof was once part of the honden.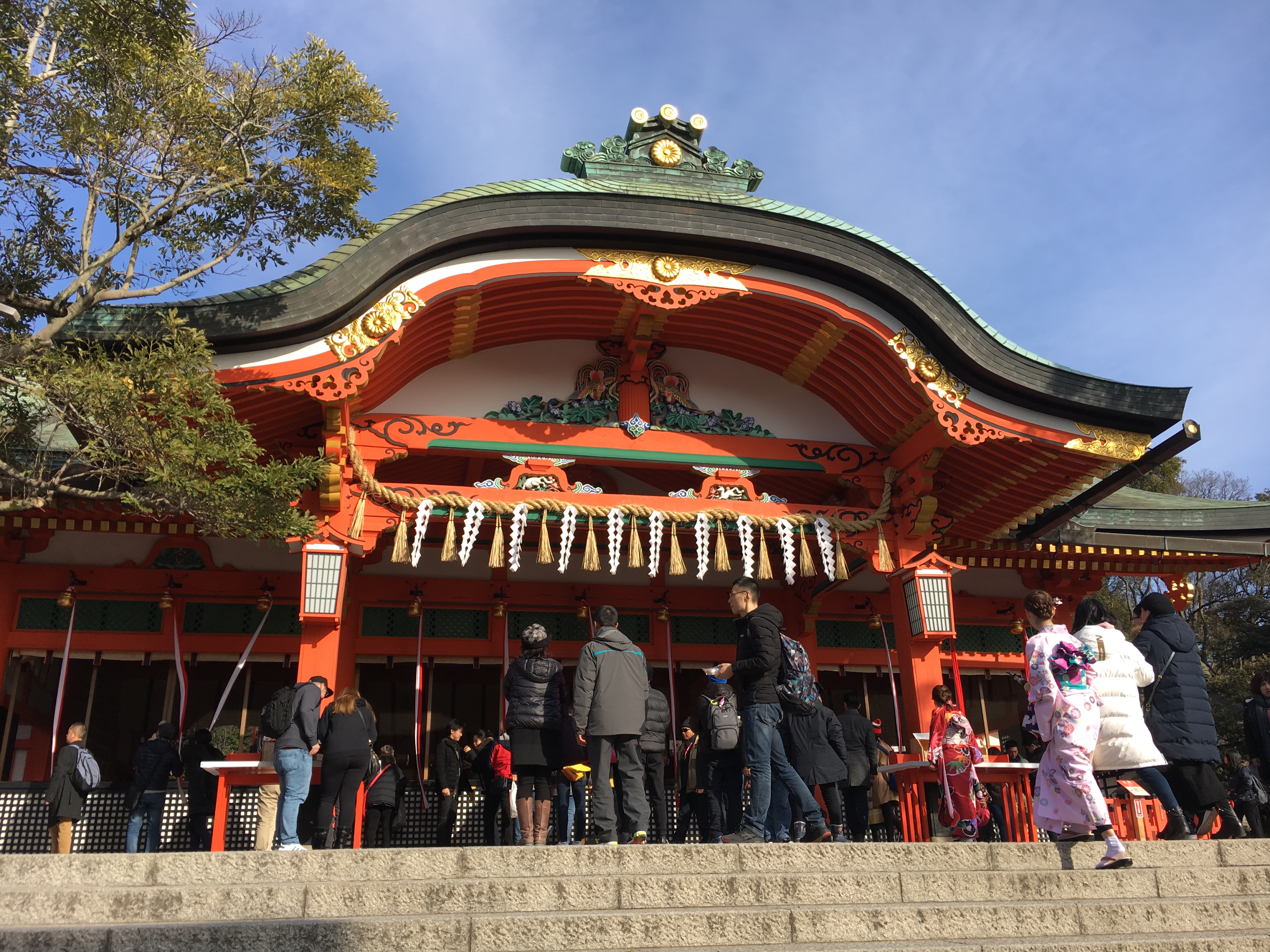 The honden is behind the Nai-haiden, but you cannot go there unless you are privately prayed by the shrine priests.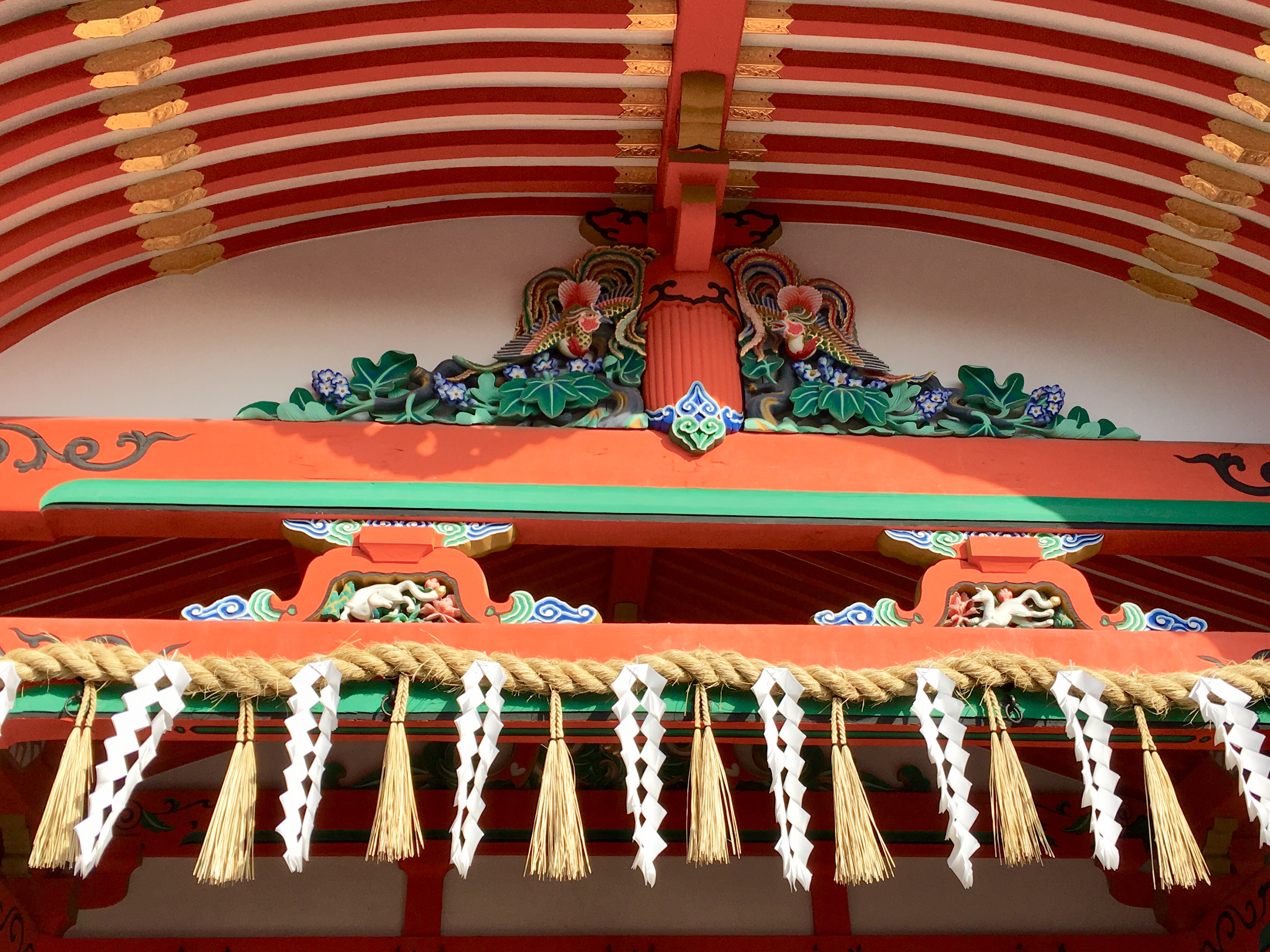 While many shrines have tall wall or fence surrounding the honden so that people won't disturb the gods, but for some reason Fushimi Inari doesn't, allowing you to clearly see the honden.
The roof is done in the nagare-zukuri style– where it is short on one side and long on the other side is called and has been the most popular Shinto style.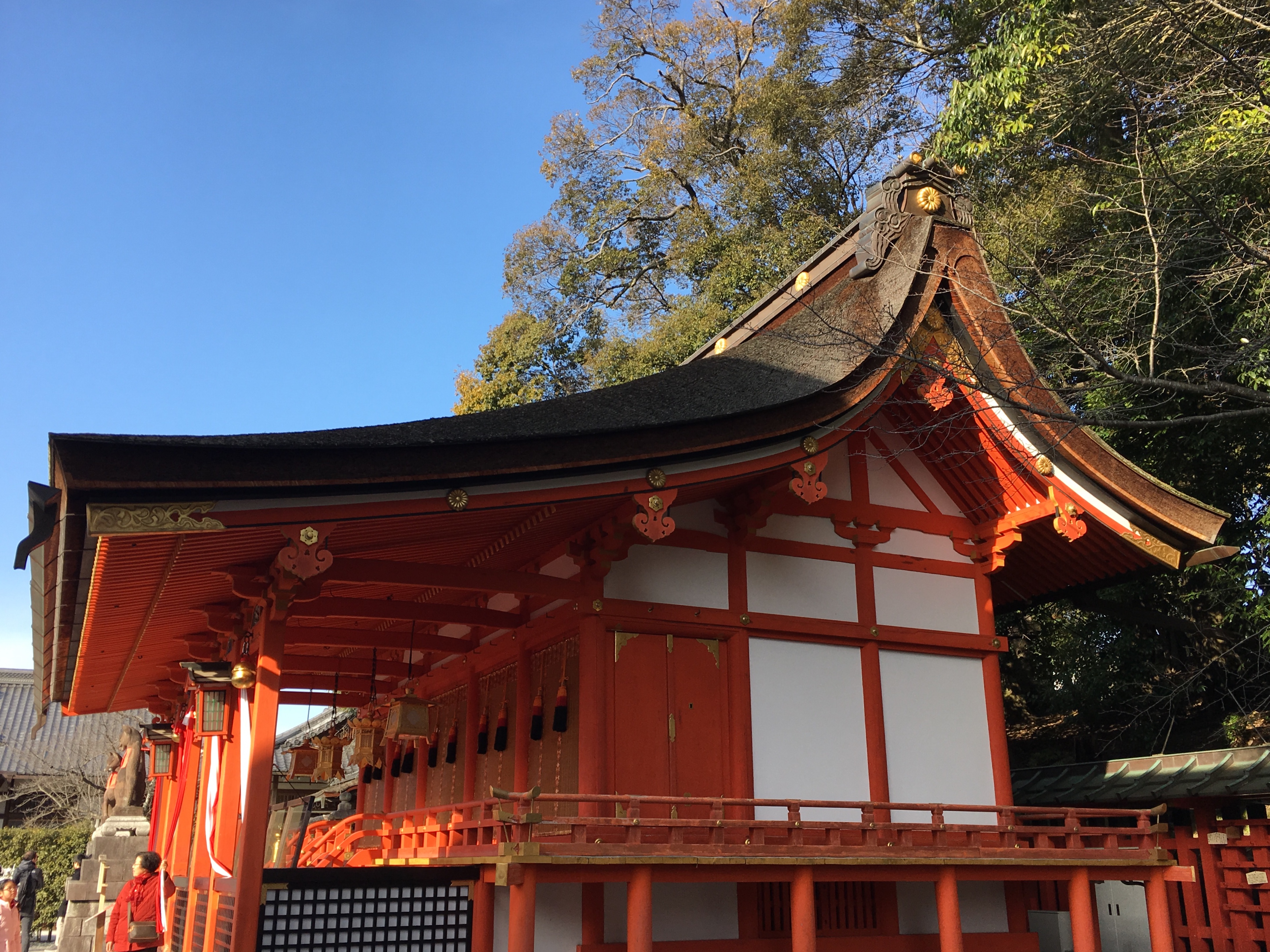 Senbon Torii [千本鳥居]
After praying to gods, many people walk head towards the iconic Senbon Torii. The Senbon Torii trail is one of the most famous spots in the grounds of Fushimi Inari Taisha.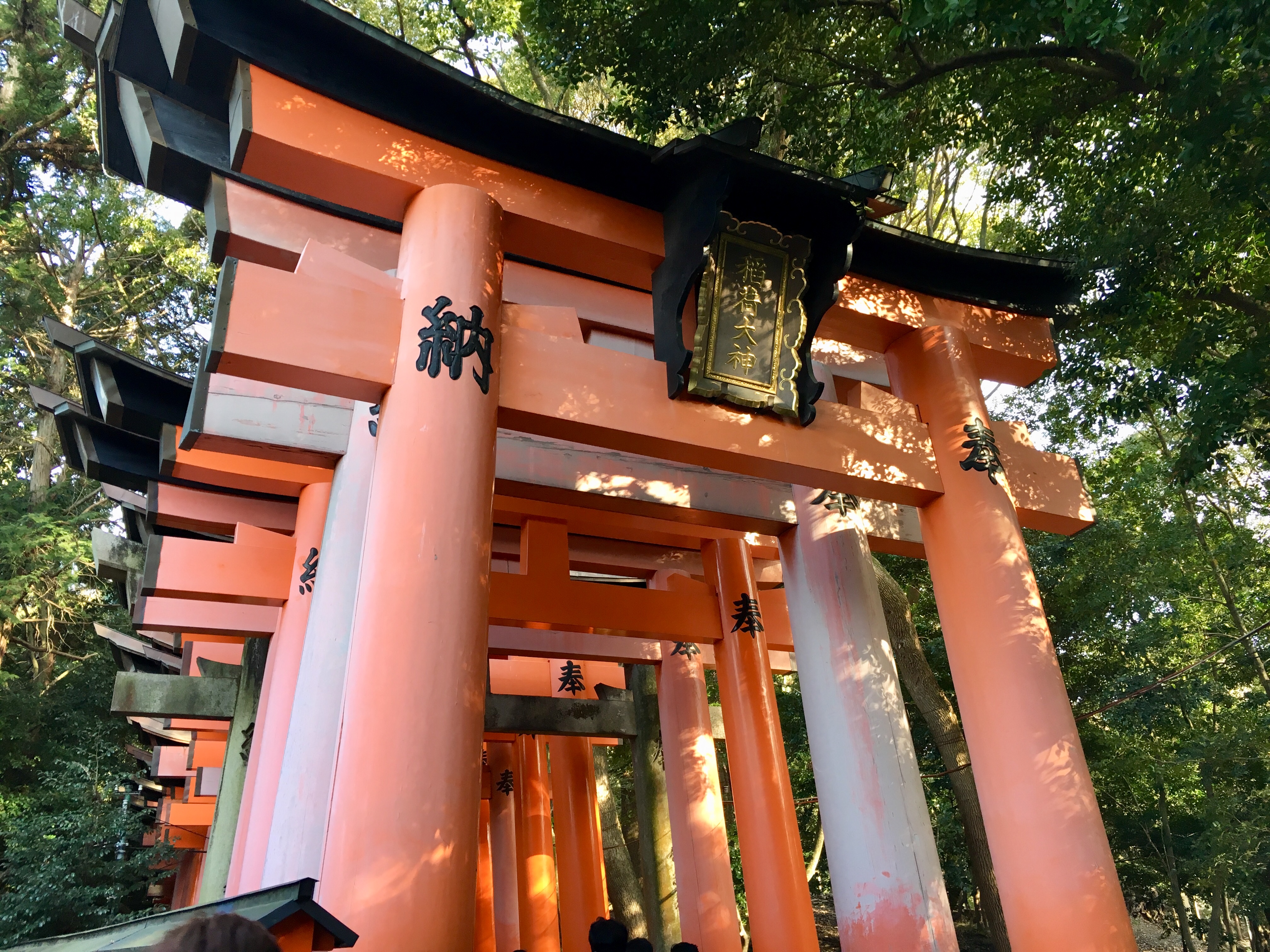 Senbon Torii is a 400m long path, completely covered with Torii that leads to the Okusha. This path once used by the gods themselves, represents the entrance to the sacred Mt. Inari.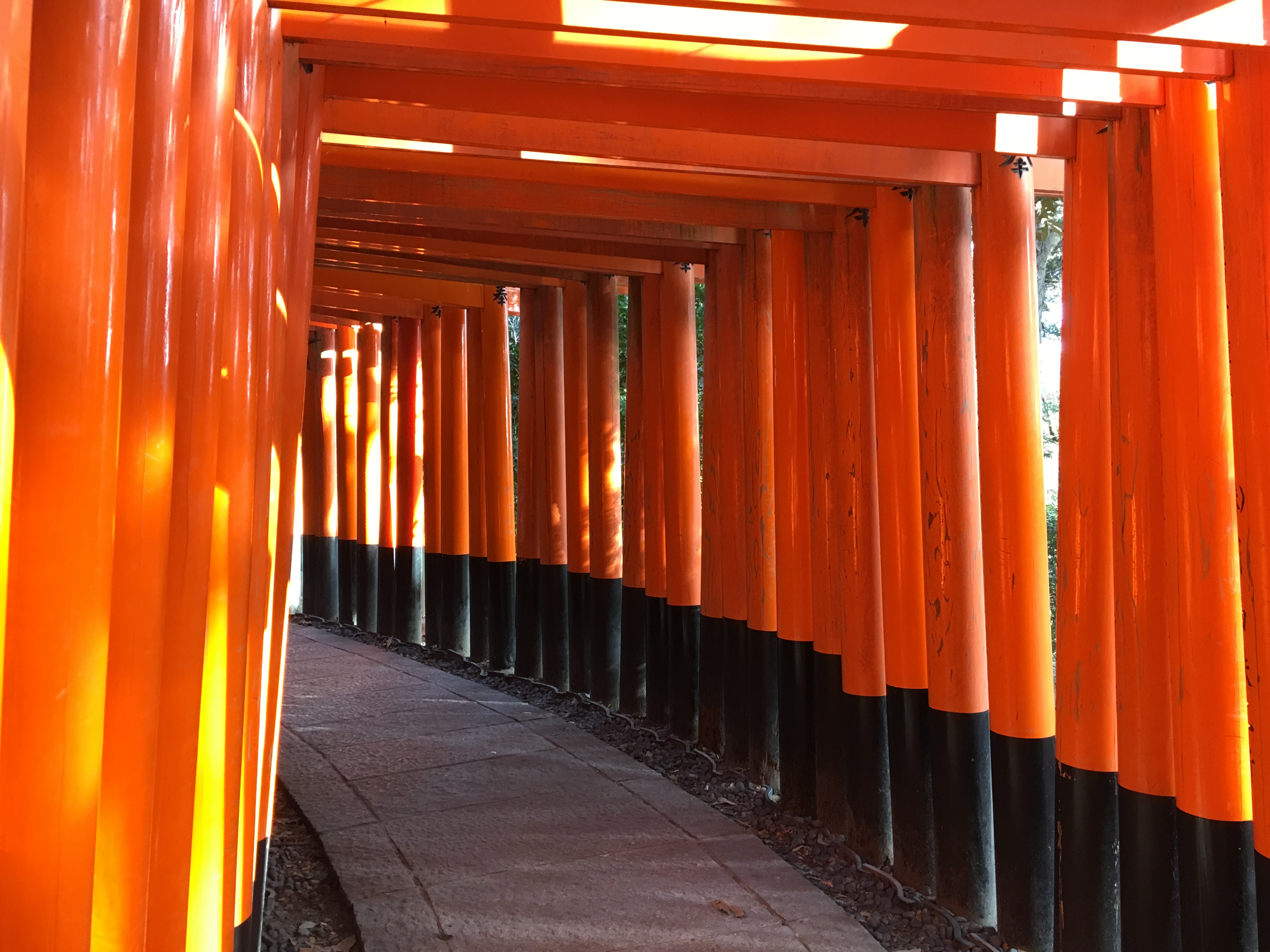 The torii were donated by people as tokens of gratitude for their wishes coming true. Though there are many Torii here, the culture of donating Torii started in Edo Period, which is rather new considering the long history of the temple.
Points of Interest
Azumamaro Shrine
Near the gate, there is a little shrine, called Azumamaro Shrine. It enshrines Kada no Azumamaro [荷田春満], the former priest of Fushimi Inari shrine and the devoted scholar of Shinto study in Japan.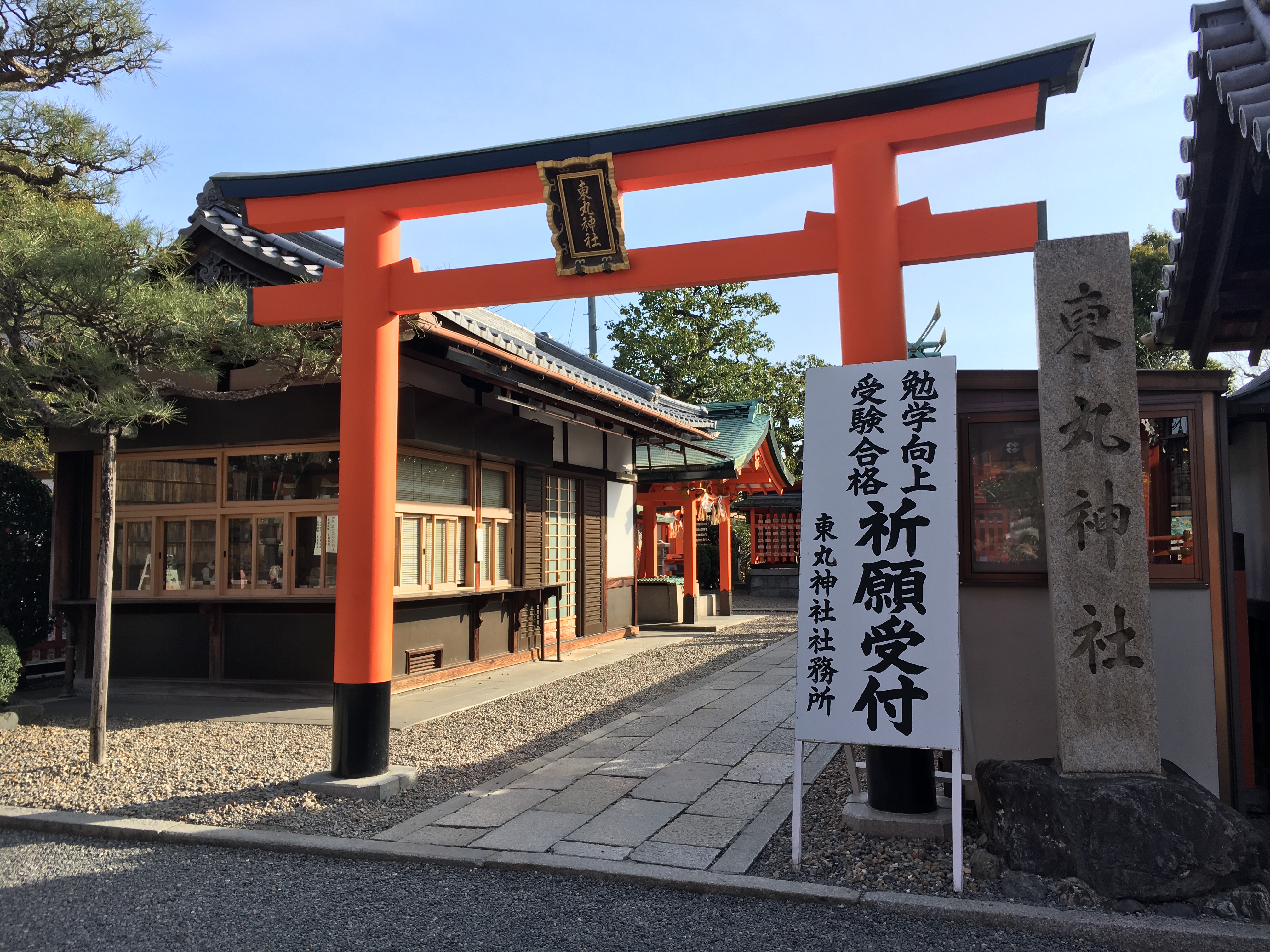 Even though it is located in the shrine grounds, the shrine is completely independent. Also, because Kada no Azumamaro was such a dedicated scholar, many students come to pray at this shrine.
Food
Fushimi Inari has been a famous tourist spot for centuries, so naturally, there are many tasty snacks along the path to the shrine. Among those foods, of particular interest is sparrow on stick. Sparrows live on rice and as such, many considered them an enemy of Inari. So, the people in this area of Kyoto developed a tradition of eating sparrow to help essentially defend the Inari. Unfortunately, due to hunting regulations, sparrow are not available all year round, so if you see it, try it!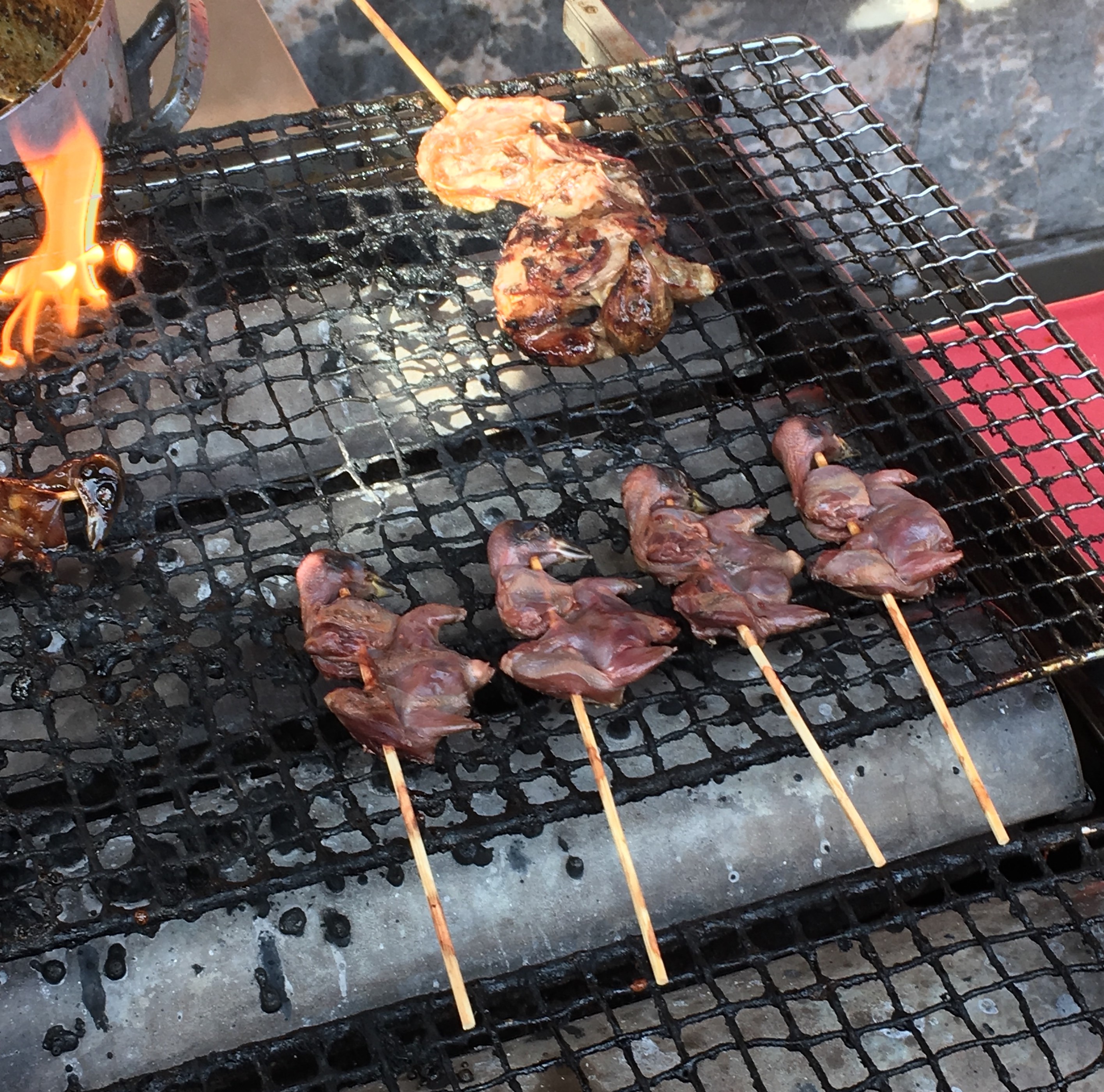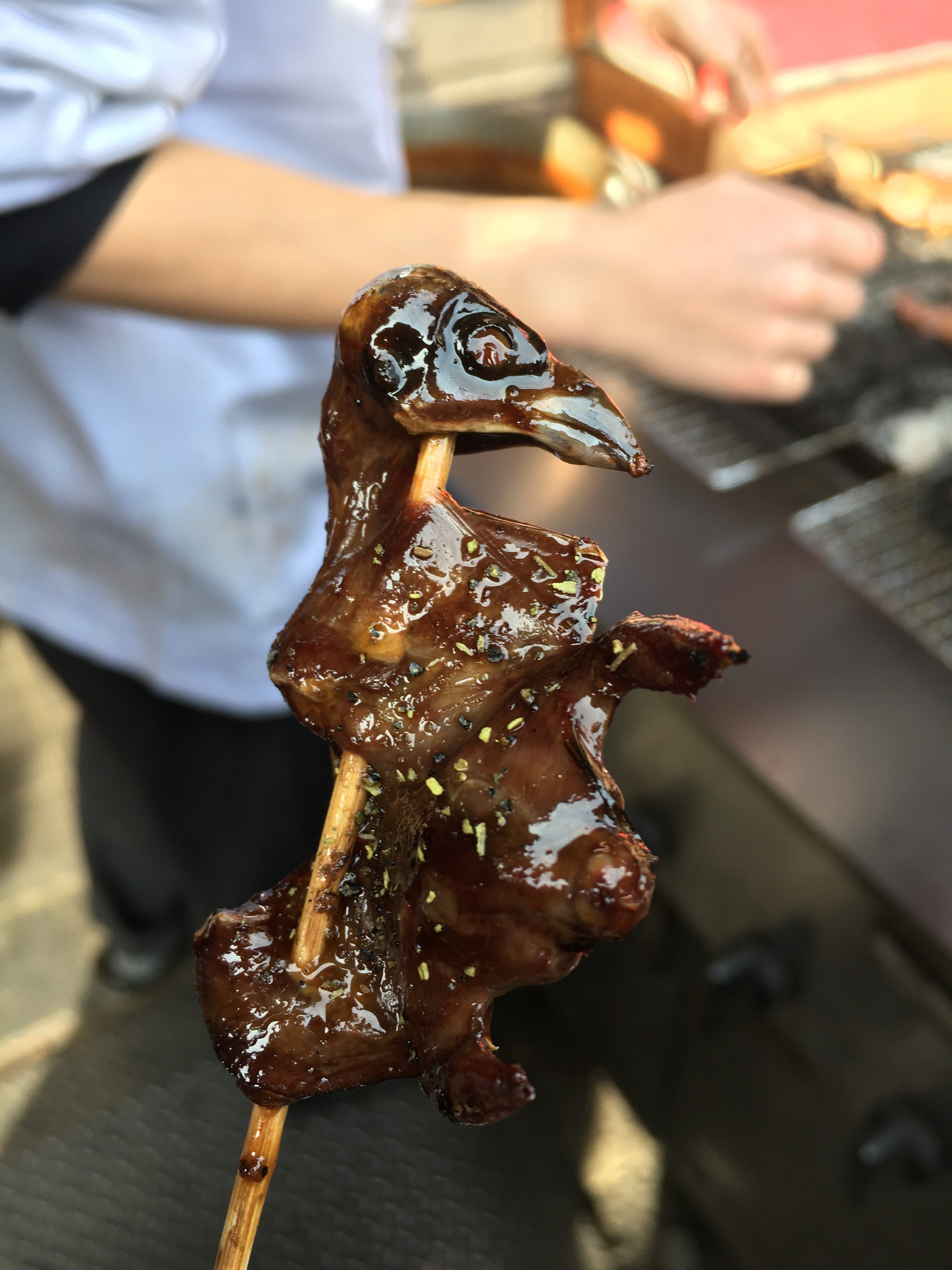 Information: Fushimi Inari Taisha
Address
68 Fukakusa Yabunouchicho, Fushimi-ku, Kyoto, Kyoto Prefecture
Website
http://inari.jp/
Getting To
Accessing Fushimi Inari Shrine from Osaka is very easy. Take a Keihan Limited Express train from Yodoyabashi Station and change trains for a Local or Semi-rapid train at Tambabashi. From Tambabashi, it is only several stations a minutes or so to Fushimi Inari Station. If you want to use JR, go to Kyoto Station and change to a local train on the Nara Line.  
Hours
Admission
Free
Note
See here for out post of Mt. Inari