Nozaki Mairi, An Osaka Spring Tradition
During Golden Week, there is a big festival in Higashi-Osaka that people have loved for centuries, Nozaki Mairi [野崎参り]. Nozaki Mairi first started in 1682, when it was popular for Osakans to go a short hike to visit nearby shrines and temples in spring. Nozaki Mairi continues to be a popular and convenient choice for the people of Osaka to visit during Golden Week. Over the years, the crowds have consistently come and gone every Nozaki Mairi, which draws plenty of vendors who bring tons of food and games. 
Held at Nozaki Kannon, formally known as Jigan-ji Temple [慈眼寺], Nozaki Mairi lasts from May 1st -May 8th. The main even of Nozaki Mairi is on May 8th, when the temple holds a Buddhist service called muenkyou [無縁経法要] that gives thanks to all living things in the world.
A Brief History of Nozaki Kannon
Though Nozaki Mairi started in the Edo Period, this temple itself originated much earlier. The origin of Nozaki Kannon is somewhere around the 8th century, when the monk called Basara visited the temple on his way to the Todaiji in Nara. Basara declared that Nozaki was very similar to Sarnath, the city where Buddha first preached. Shortly after that, a famous monk named Gyoki, carved an 11-faced statue of the Buddhist deity of mercy, Kanzeon Bosatsu, and enshrined it in Nozaki Kannon. When the temple was burned down during a brief war between feuding clans 1565, the statue alone miraculously survived.
Getting To Nozaki Mairi
[mappress mapid="31″ width="95%"]
To get to Nozaki Kannon , take the Gakkentoshi Line, as known as Katamachi Line, from Kyobashi Station and get off at Nozaki Station. Though now everyone can get there easily by train, in the Edo Period it was very common for people to go to Nozaki by ship. A famous rakugo, "Nozaki Mairi", depicts that it was also common for people who went to Nozaki by ship to pick a shouting matching with those who chose to walk to Nozaki. This odd tradition seems to have continued for a number years, eventually leading to the presumption that if you "won" this verbal tiff, you would get good luck.
Unfortunately, the rivers used by the people in Edo to sail to Nozaki were buried a long time ago, leaving the trains as the primary means to get to Nozaki Mari.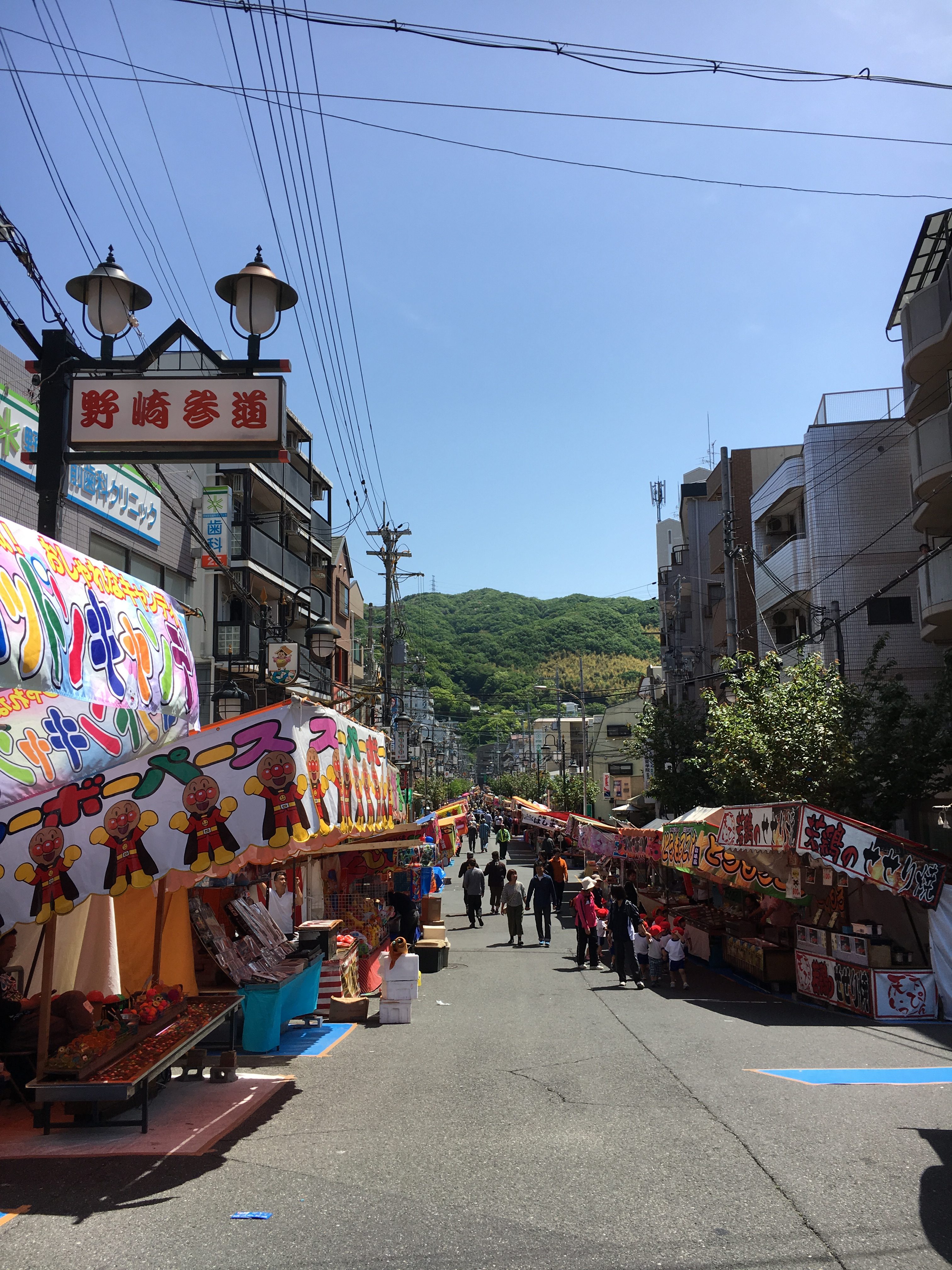 After getting off Nozaki Station, follow Nozaki Sando [野崎参道] to Nozaki Kannon. There are many food vendors lining either side of Nozaki Sando during Nozaki Mairi, so you can't miss it.
Keep going straight down the street with all the food vendors, and eventually the road will take up a slope. After the slope, just walk up the stairs! Don't worry, it is not as long as it looks.
Temple Grounds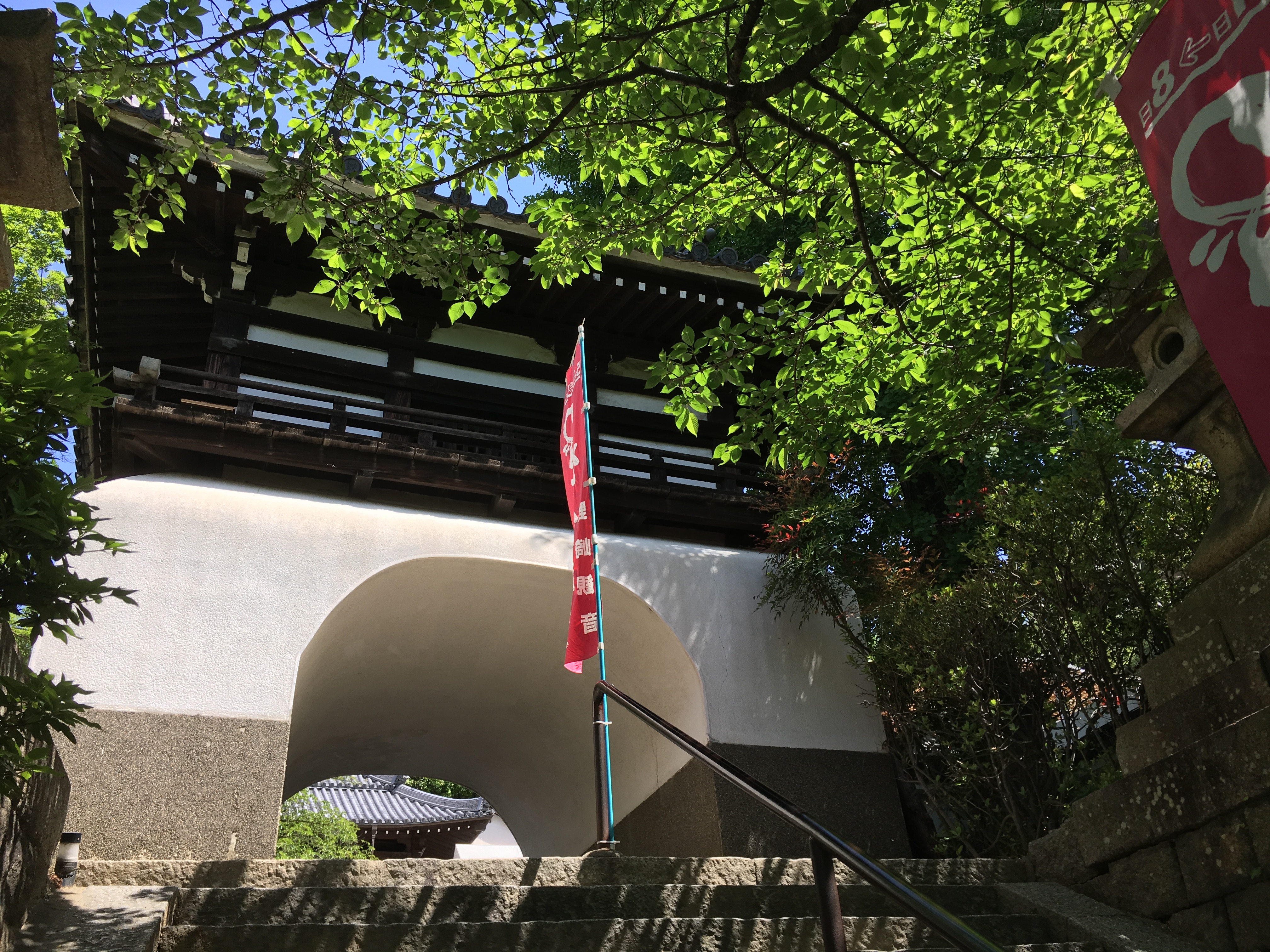 We visited Nozaki Kannon on May 2nd, which is not one of the national holidays held during Golden Week. Since it was technically a regular weekday, there was less people than we expected. Though going when there were fewer people was not our original intent, this ended up working out well for us, as we were able explore the temple grounds freely. If we had come here during the middle of Golden Week, the temple would most likely be just about over run with festival goers, and it might be hard to explore the temple grounds.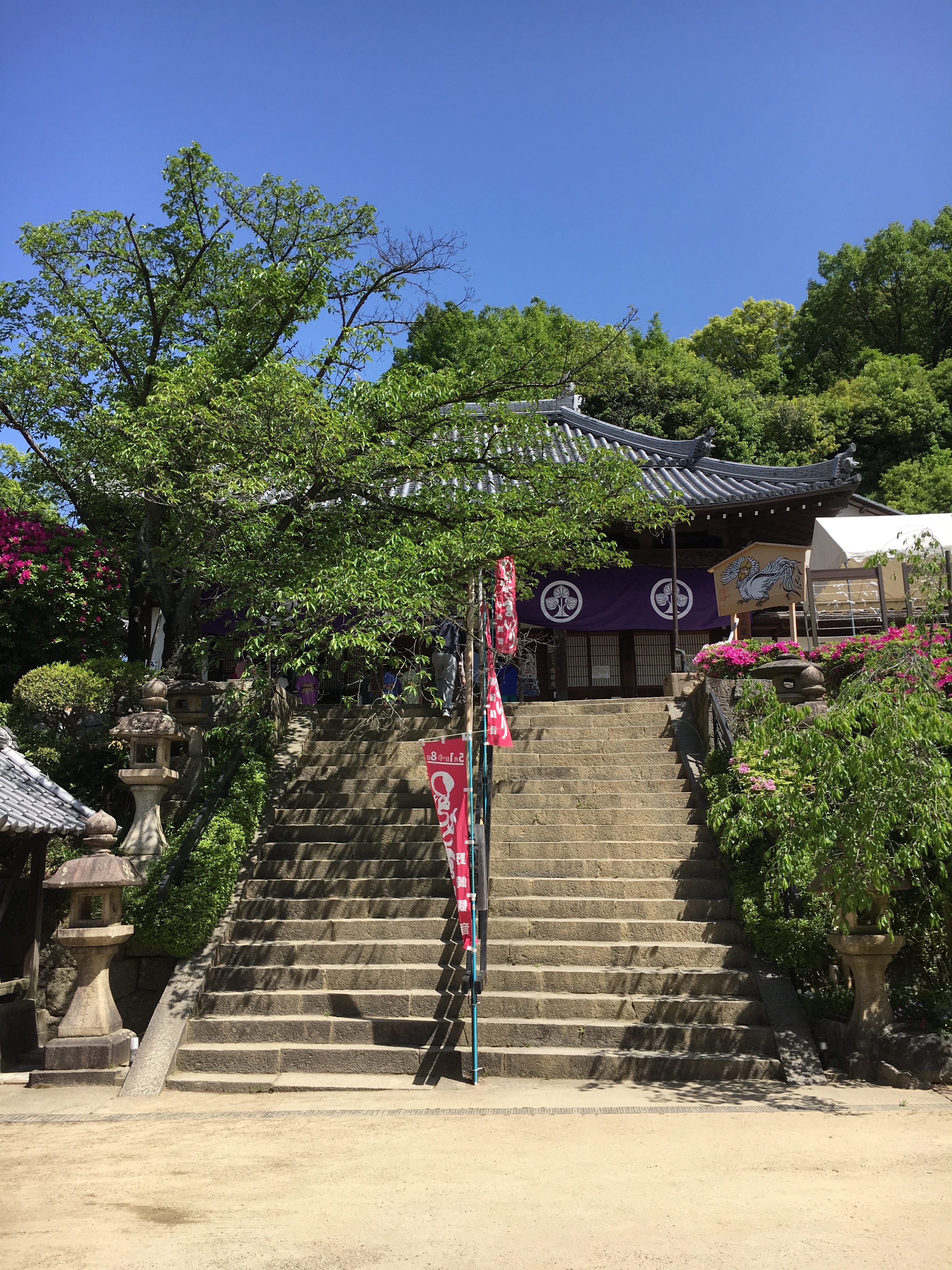 Hariko Omamori
On the ceiling of the hondo are hundreds of small paper mache dogs.
Nozaki Kannon has a reputation as a place of healing—particularly of women. These paper mache dogs are from women who believe their visit to Nozaki Kannon helped them conceive and give birth to a healthy child. After the child is born, the women return to the temple and purchase one of these paper mache dogs as a sign a gratitude.  
Eguchi no Kimi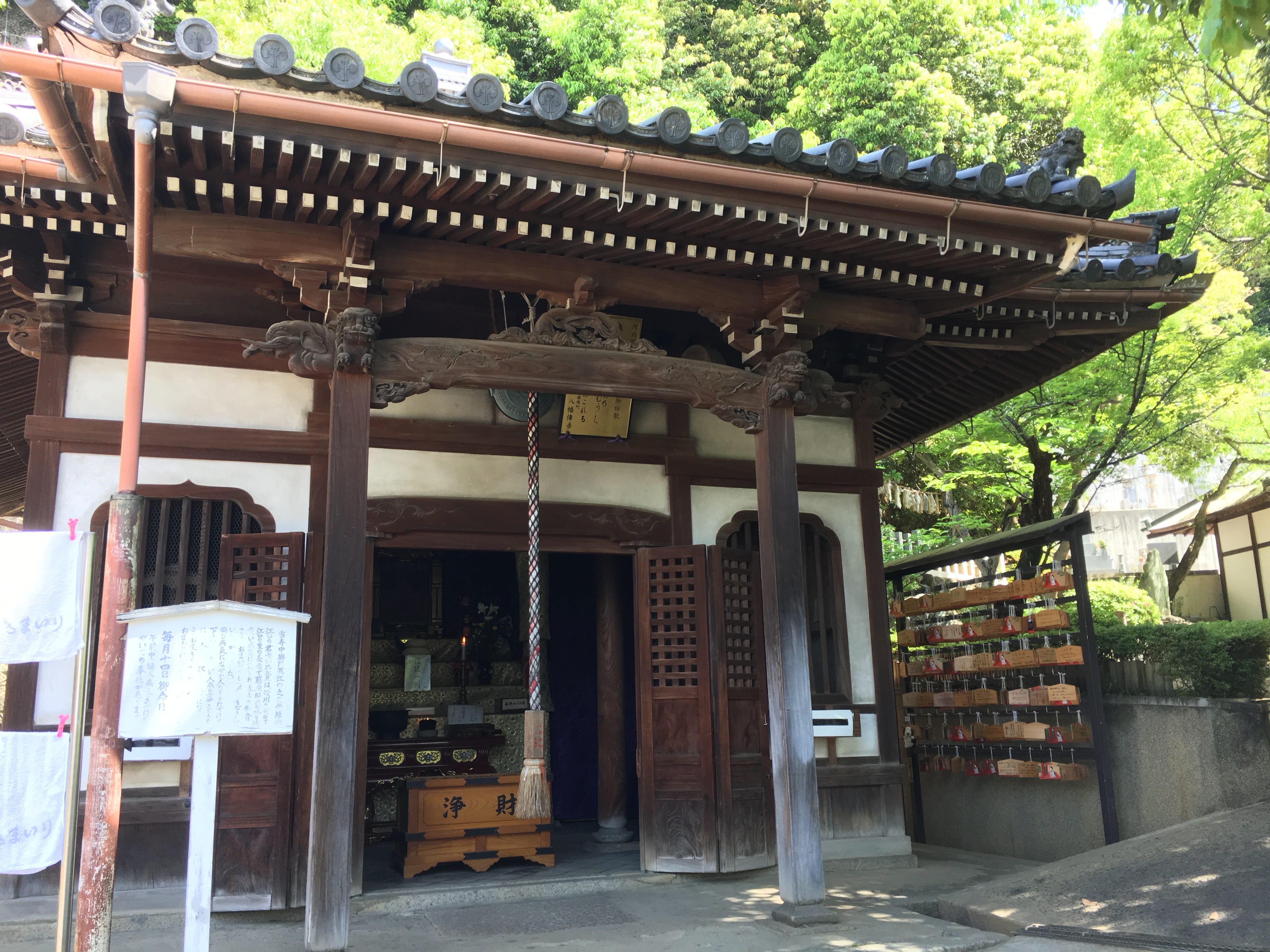 Nozaki Kannon's reputation as a temple that heals the ailments of women dates back in the Heian Period. The story goes that a geisha by the name Eguchi no Kimi [江口の君], had been suffering from a mysterious illness for a number of years; however, shortly after her visit Nozaki Kannon she found herself cured! Word quickly spread of Eguchi's miraculous recovery, and women began traveling to Nozaki Kannon for a wide variety of ailments. Also, as thanks for her recovery, Eguchi donated a large amount of money to the temple, which had badly fallen into disrepair.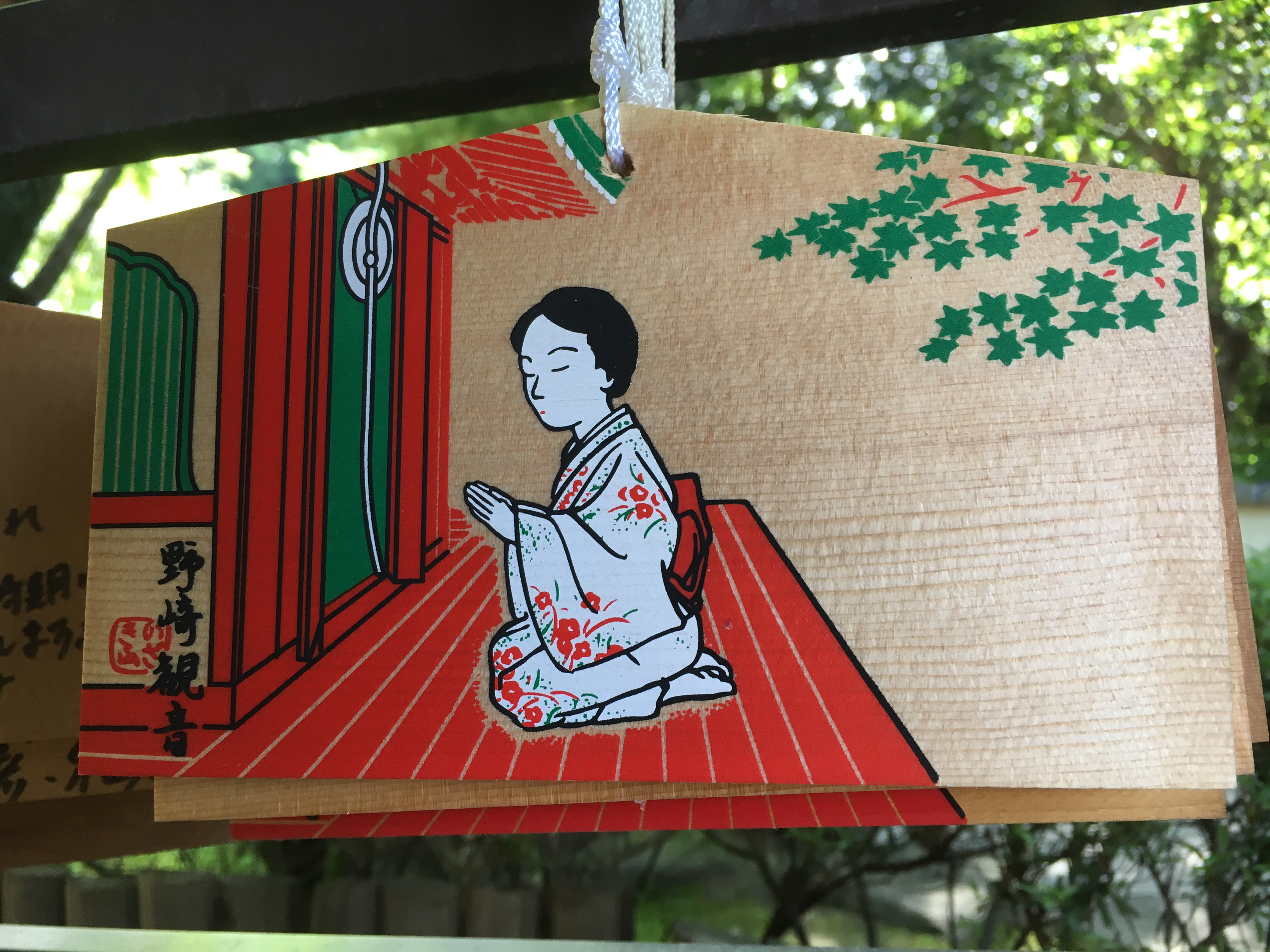 Points of Interest
Osome and Hisamatsu: Tragic Love
A large monument on the temple grounds is dedicated to the unfortunate couple Osome and Hisamatsu. The couple committed suicide here centuries ago would later become the basis of a famous bunraku by Chikamatsu Hanji.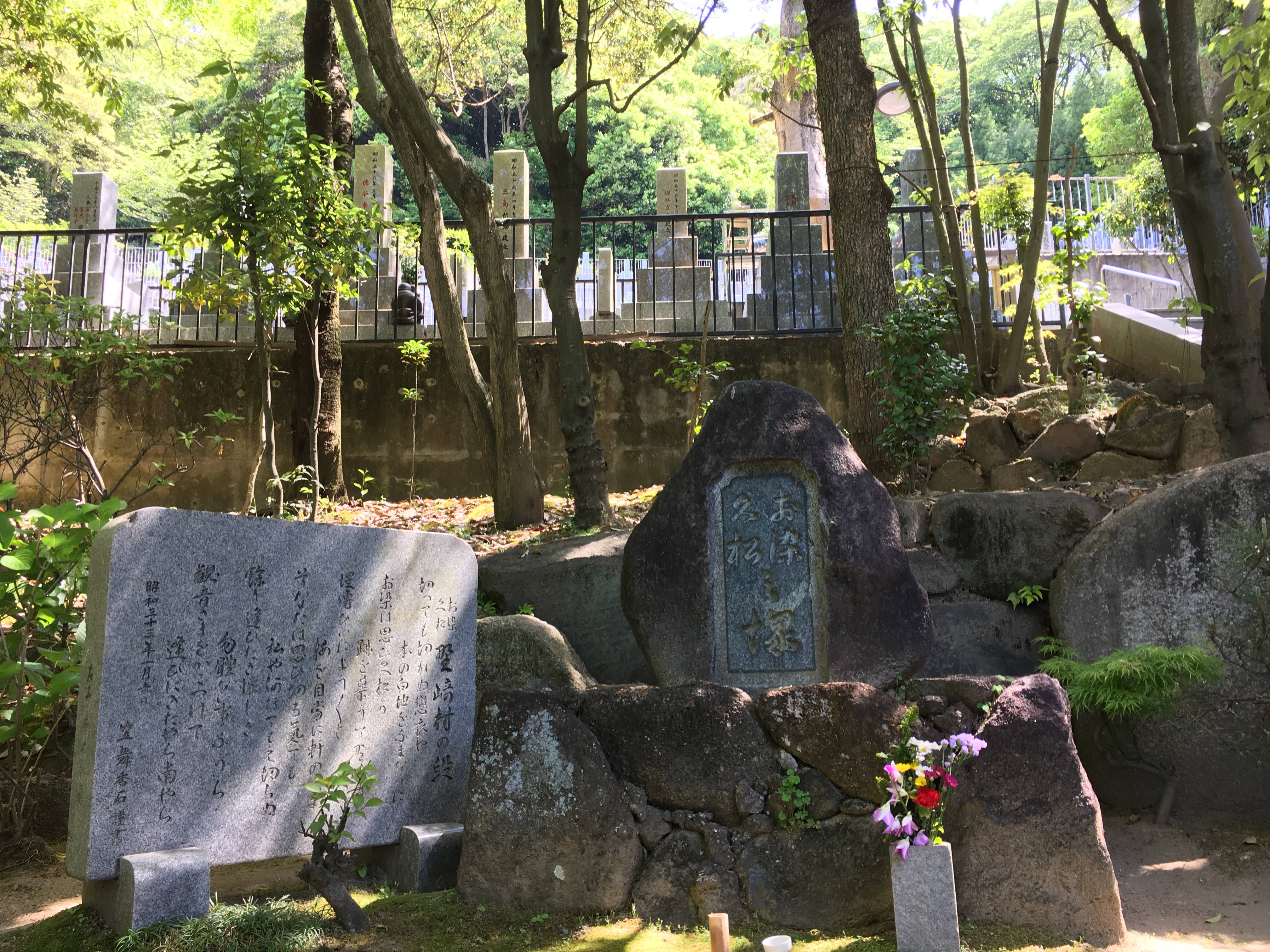 Nozaki Mairi at Nozaki Kannon
Nozaki Mairi has been a very local festival for hundreds of years, and continues to draw crowds of people every year. This festival is a great chance to experience a very authentic Osakan culture.
Coming next time,
Climbing a gastronomic tower of carbs called brick toast!
The adventure continues…