Kumano Nachi Taisha: Sacred Kumano
Three hours south from Osaka will take you to Kii-Katsuura. Often over-looked by foreign tourists i a an area famous for onsen and great tuna.  For a number of years, Kii-Kartsura has been a popular family vacation sites One its biggest attractions, perhaps somewhat ironically, is neither hot spring nor fish. Kumano Nachi Taisha [熊野那智大社] and nearby Nachi Falls, is one of the most famous tourist destinations in the Kansai region.
The History of Kumano Nachi Taisha
For a long time, the people of Japan believed Kumano to be one of the most sacred places in Japan as it is where one of the principle gods of Japanese mythology, Izanami, is buried. Visiting Kumano was therefore akin to journeying to the Underworld safely.
According to shrine records, Japan's first emperor, Emperor Jinmu founded the shrine originated 2,700 years ago. During his journey to conquer West Japan, Jinmu stumbled upon the sacred Nachi Falls. Impressed by the power and splendor of the falls, the emperor decided to enshrine the god Onamuchi (aka Okuninushi) there.
Shrine Grounds
Kumano Kodo Trail:
Daimonzaka
After a 30-minute bus ride from Kii-Katsuura Station you will arrive at the Daimonzaka bus stop. I thought it is quite amazing almost everybody got off here and decided to walk on the Kumano Kodo Trail to the shrine. It will only take you about an hour and while that there are no signs that mark the path, don't worry, you just need to follow everybody else. 
From here to Kumano Nachi Shrine is 640m or roughly 1.5 mile.  Though it may sound long, entire trail is completely covered with deep woods, so it is very cool.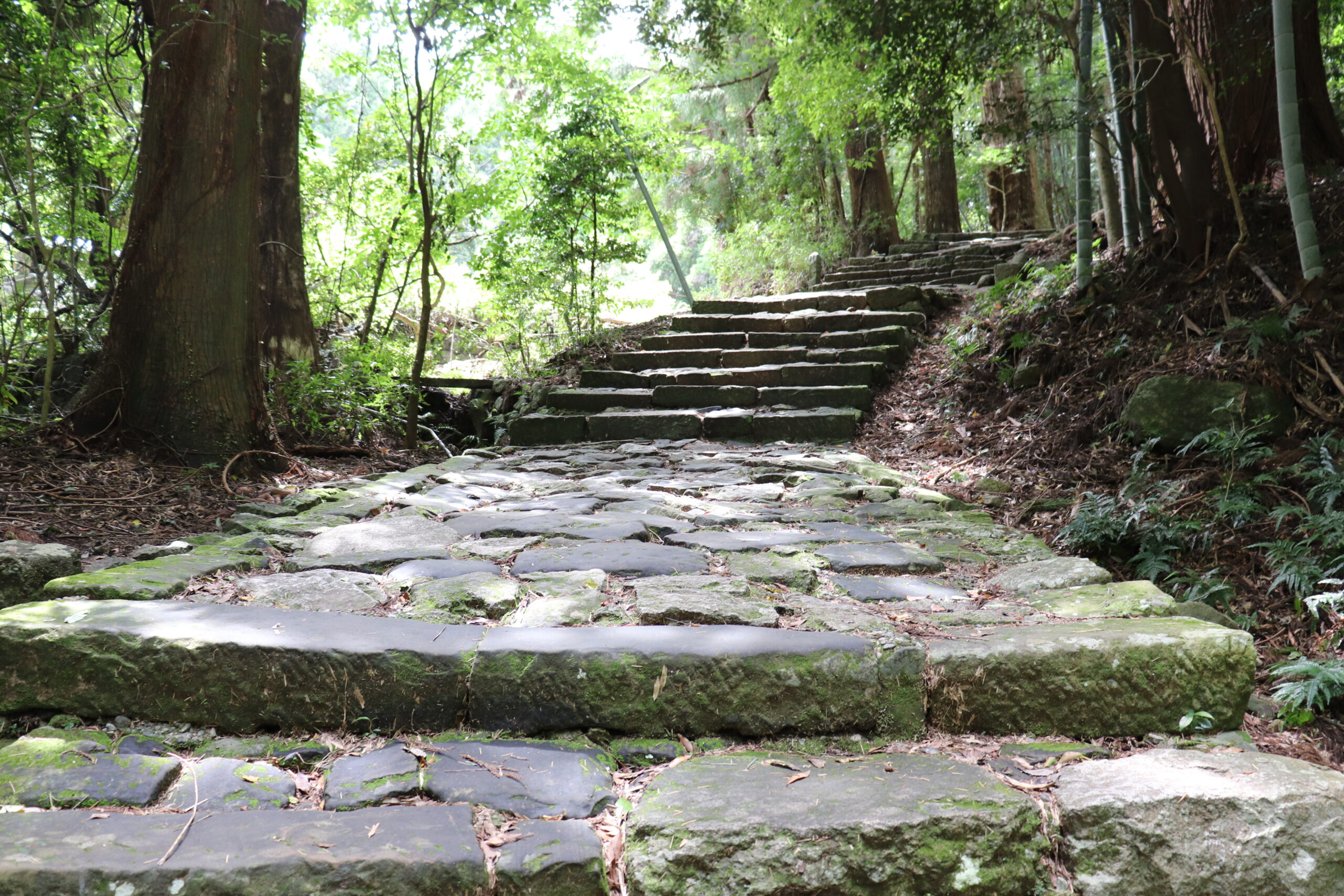 Main Shrine Grounds
Kumano Nachi Shrine is not as big as other two shines of the Kumano Sanzan, Kumano Hongu Shrine and Kumano Hayatama Shrine. However, since Nachi falls are a big attraction on their own, this is probably the most popular of the three. 
The main deity of Kumano Nachi Shrine is Kumano Musumi no Kami, who is identified as the Buddhist deity, Senju Kannon, or the Shinto god, Izanami. Just like the other Kumano Sanzan shrines, Kumano Nachi Shrine also enshrines twelve other gods, as well as Onamuchi.
When you're in Kumano you can't miss this guy.
It's the sacred crow, Yatagarasu! Next to the honden is Miagatahiko-sha Shrine which enshrines Yatagarasu, who guided Emperor Jinmu to Nara from Kumano!
After visiting the main shrine, make sure to drop by the famous Nachi Falls!!
Points of Interest
Nachi Falls
After visiting Kumano Nachi Shrine most people go to Nachi Falls— one of the most famous falls in Japan. Nachi Falls is in Hiro Shrine [飛瀧神社], which is a 5-minute walk from Seganto-ji's pagoda.
The Kumano Sanzan originated by enshrining natural objects. In ancient times, the only god of  Kumano Nachi were the falls. Indeed, this are the biggest falls in Japan and it is 133m high.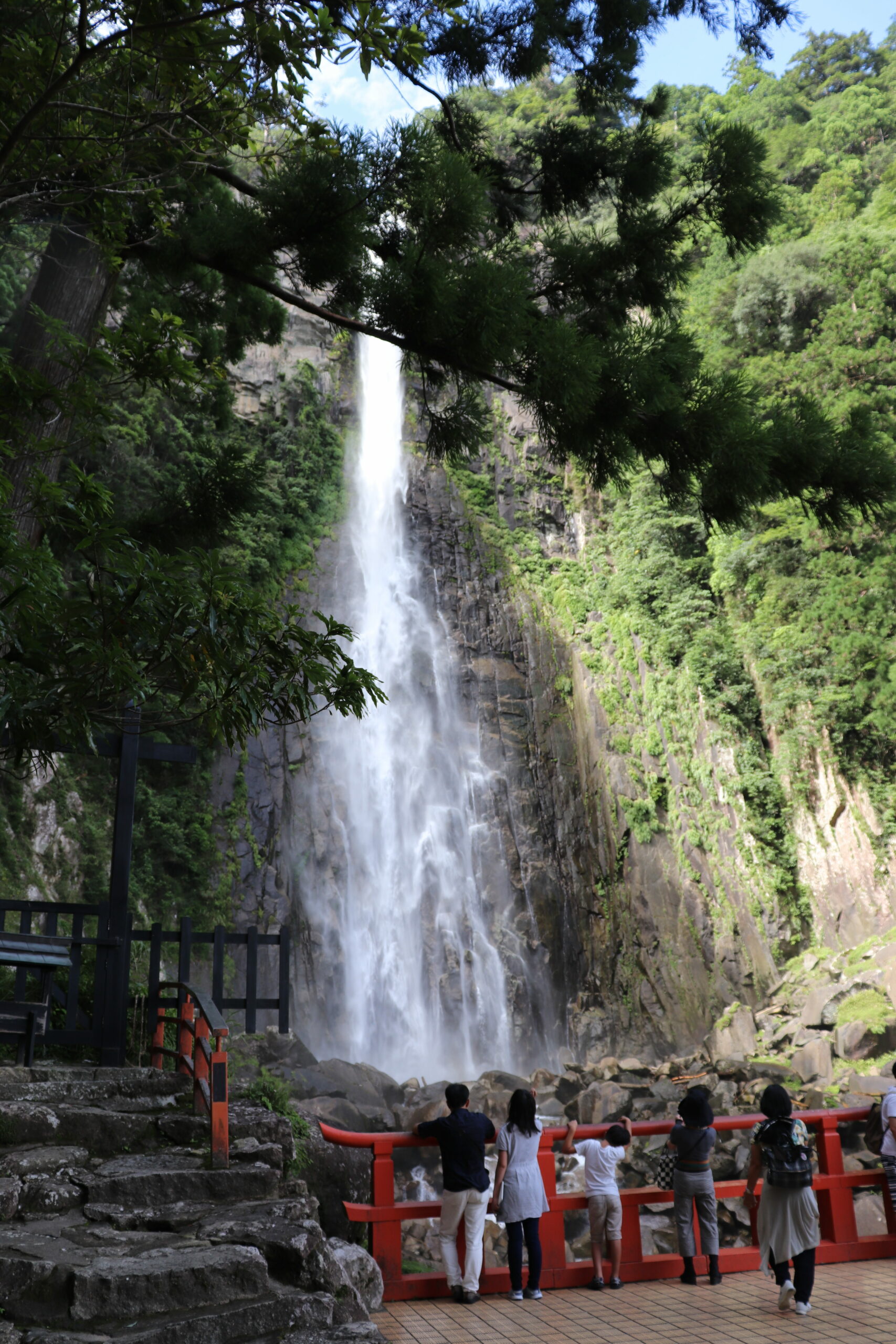 You can even go in the falls if you like and drink water from falls, which is said to have mystical properties that can prolong your life. Regardless, the water is very refreshing
Information: Kumano Nachi Taisha
Address
1 Nachisan, Nachikatsuura, Higashimuro District, Wakayama Prefecture
Website
http://kumanonachitaisha.or.jp/
Getting To
Osaka/ Nagoya: Take the JR Kinokuni (Kisei) Line to Kii-Katsuura Station off via the Limited Express Nanki (Osaka) or the Kuroshio (Nagoya).
From Kii-Katsuura Station, take a bus for Nachi-san (#31) and get off at the final bus stop which is right next to Seiganto-ji. The bus runs only once an hour, so make sure to arrive there early in the morning.
Most people, however, get off at the Daimonzaka bus stop and walk the Kumano Kodo Trail for an hour or so to the shrine.
Hours
9:00- 18:00
Admission
Temple: Free
Note