Mior Cafe's Towering Cake Parfaits
After a full day of trekking through the city, we often take refuge in a number of different cafes or coffee shops. Some days, however, we feel we deserve an especially decedent treat. Originating in Kobe and with multiple cafes in Osaka, Mior seems like a pretty normal cake shop. While the  case of glistening cakes is tempting enough, Mior found a way to elevate their cakes—literally. The Mior cake parfait might not sound like anything unusual, until you realize that they use a whole slice of cake!    
Getting to Mior
There are four different Mior cafes in Osaka; two in Umeda, one in Semba, and another one in Tennoji. All of the shops are very easy to get to and are usually located near major shopping areas. Check the map below to see which one is closest to you!
*The Umeda location is self service.
Mior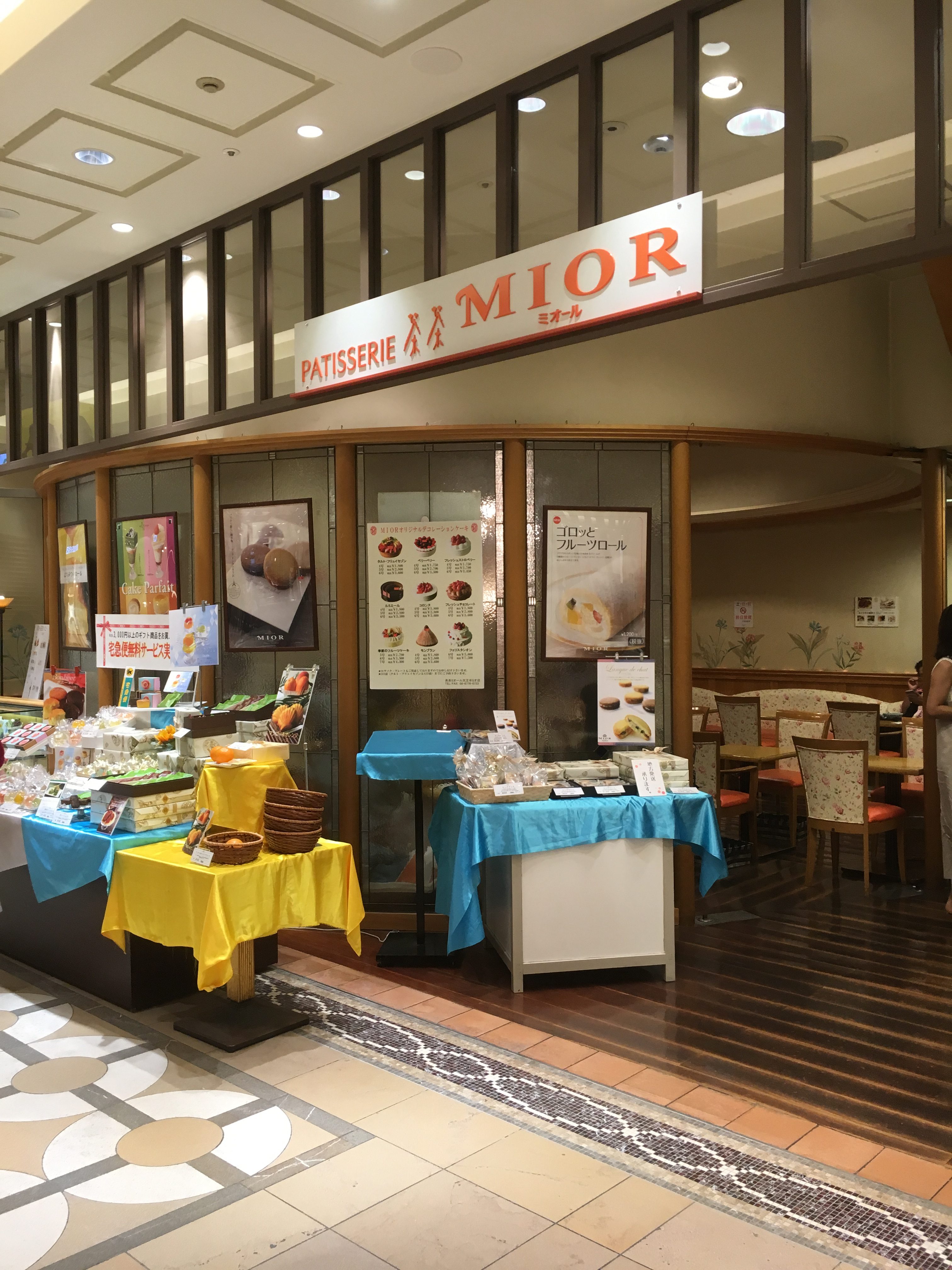 The cake parfait is the definition of indulgence. You could of course order a simple slice of cake and a coffee; but where's the fun in that? The cost of the cake parfait is around 440 yen for the base price of the parfait, plus the cost of one delicious cake. The total typical price for a cake parfait is around 800-900 yen, but might very well cost more if you select a more expensive cake.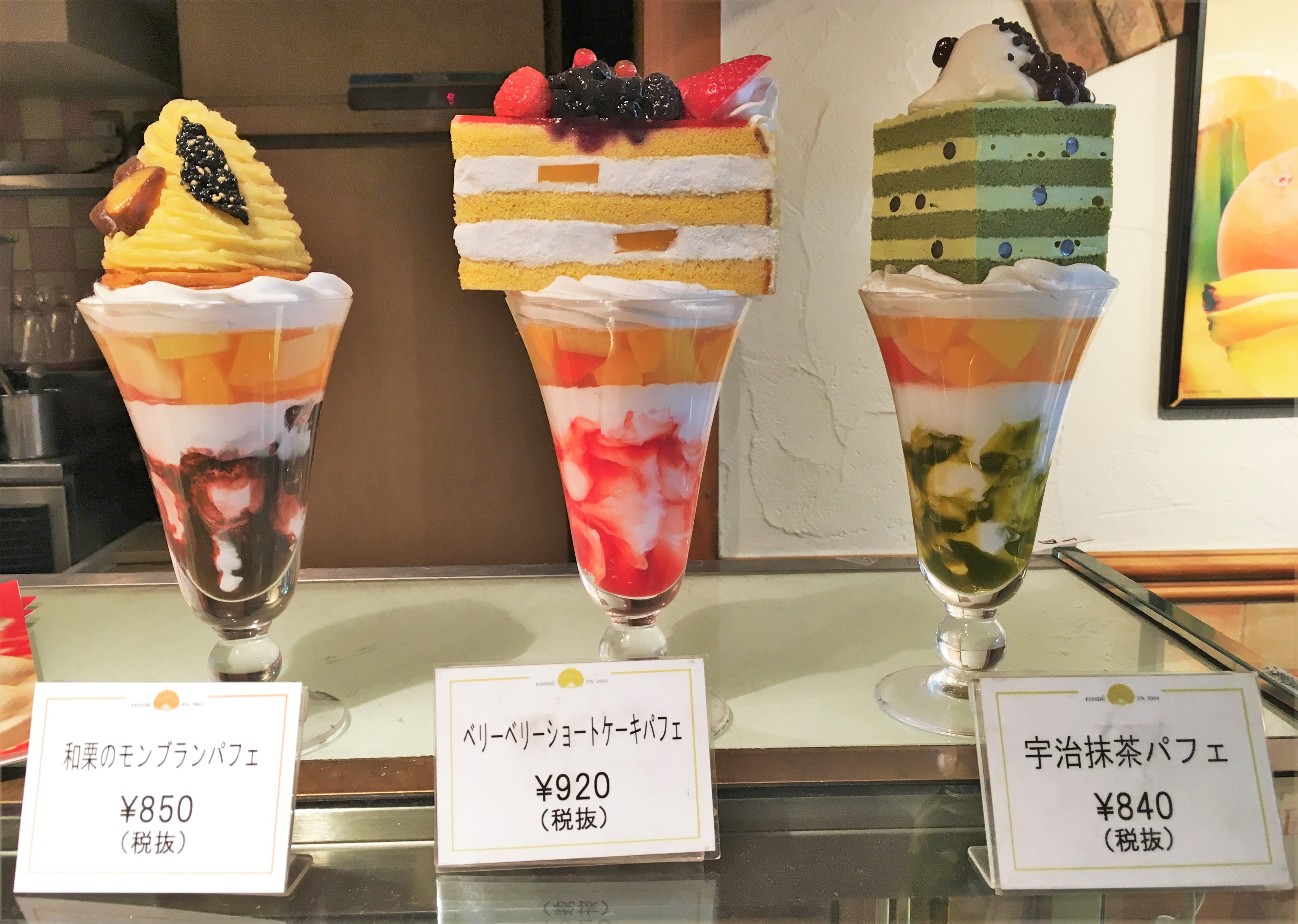 One of the things I really appreciate here, is that while many cafes use cheap fillers like cornflakes in their parfaits, Mior uses lots of ice cream, fruit, as well as sauce and whipped cream. In short, they don't skimp on the good stuff. Of course the crowning gem is that whole slice of cake!
It is worth noting that, despite Mior originating in Kobe, the cake parfait is only available in their Osaka shops!
The biggest slice of cake you can get is the New York Shortcake.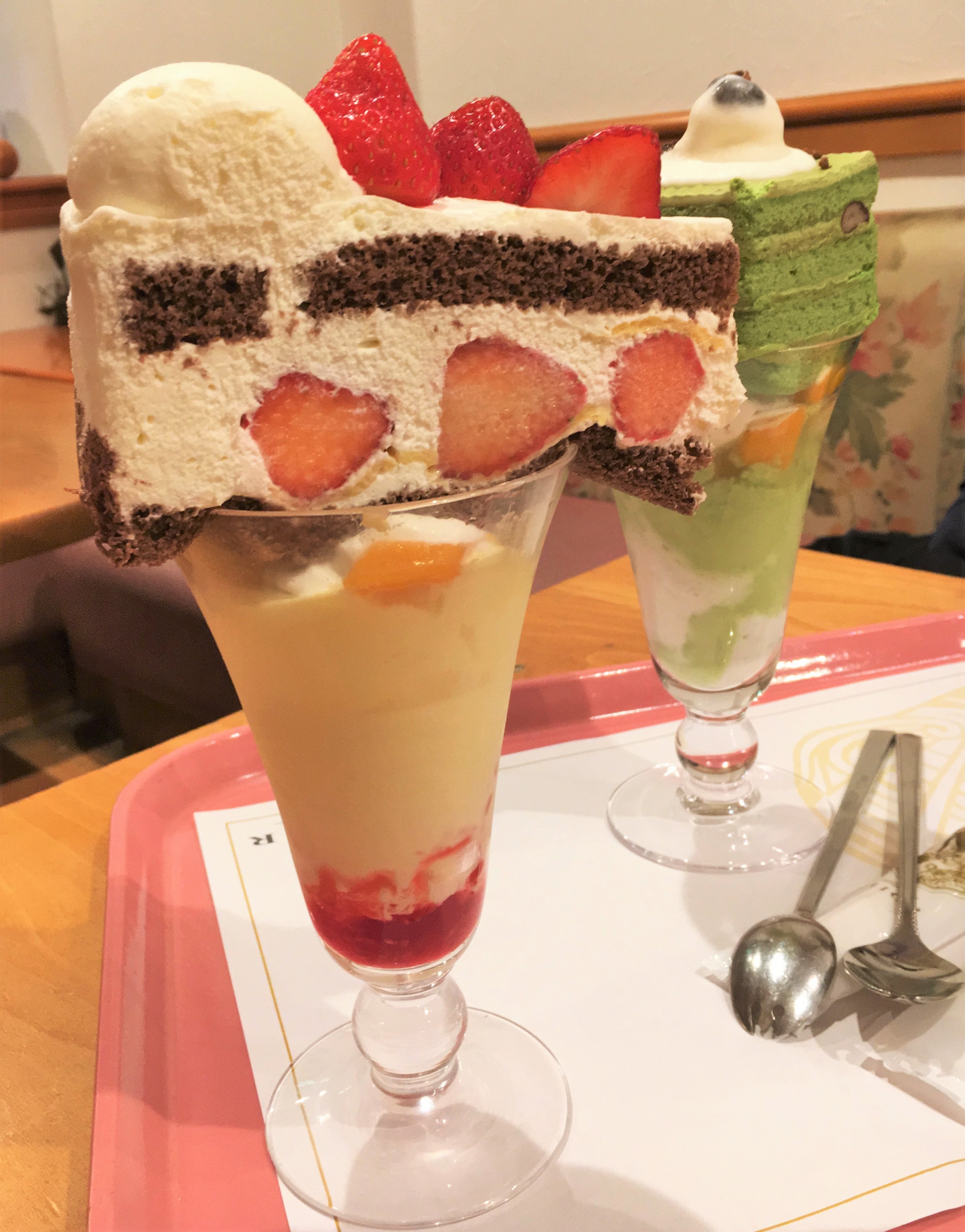 Because the parfaits are so big, you might feel like you need to pick a proper plan of attack so it doesn't topple over. My advice is to start out slow and gradually work your way down. If you are really worried about it falling over, get one of the smaller (still big) cakes like the match and adzuki cake.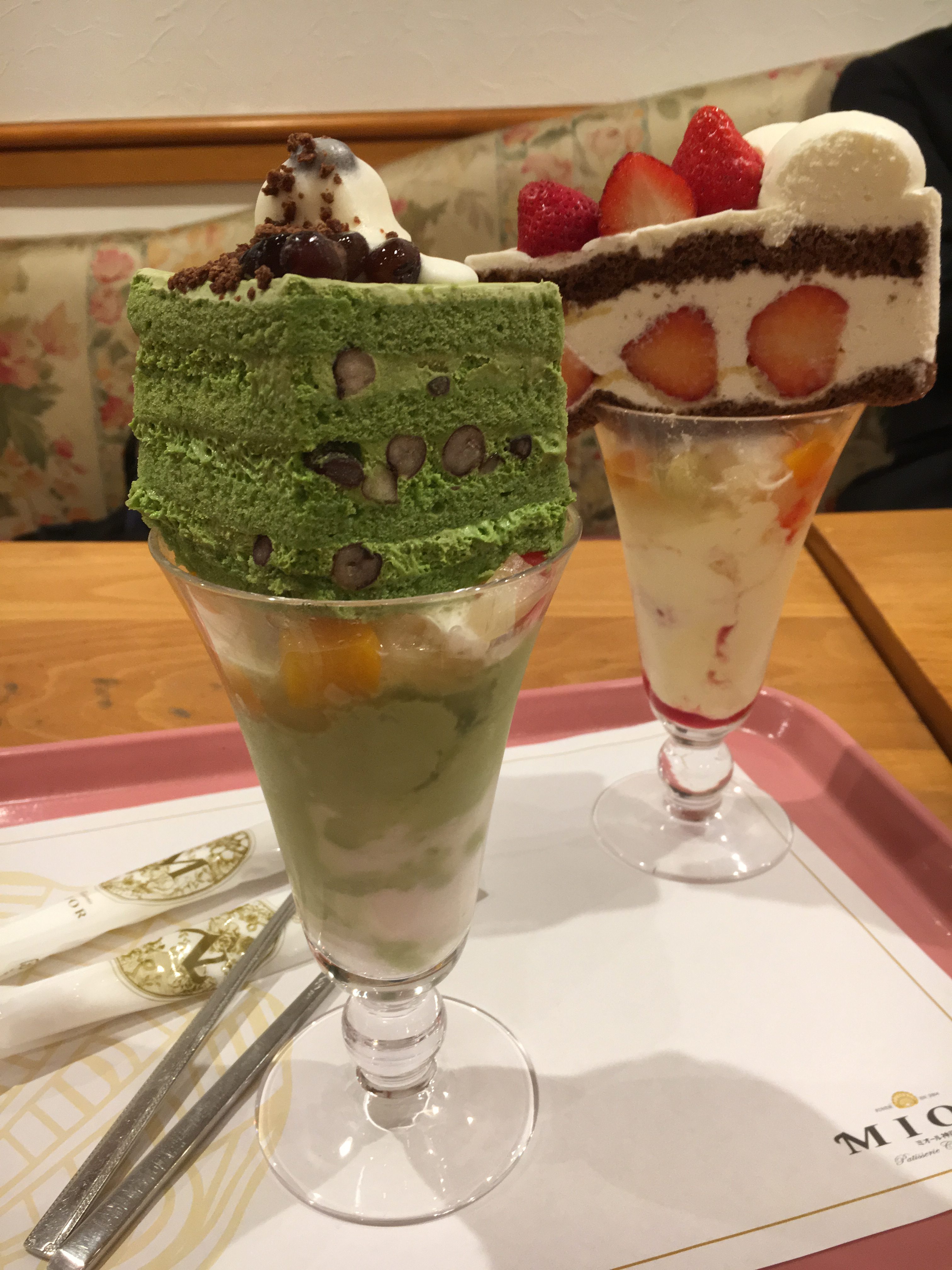 Despite being such a luxurious combination, I've never found these parfait overpoweringly sweet. The cake themselves already have a good balance of flavors and the fruit in the parfait helps shake things up.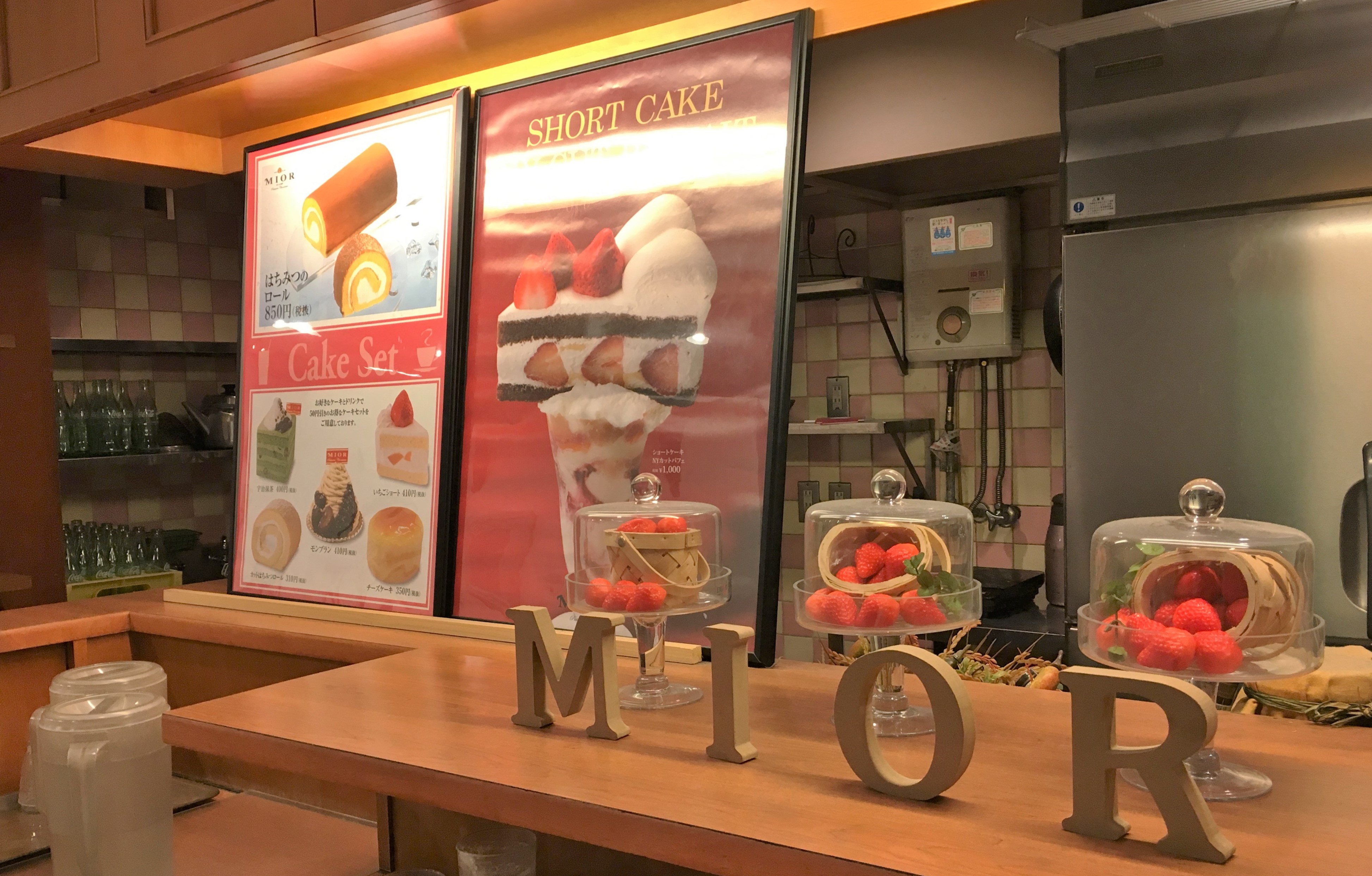 Definitely, if you are looking for a way to reward yourself, this is the way to go!