The Diamond Trail Part 1: Dozurubo to Mizukoshi Pass
In the east of Osaka is the Kongo Mountain chain, which is composed of many famous mountains, such as Mt.Kongo and Mt. Nijo. If you think you are tough enough, you can walk on the Diamond Trail. This 45km trail, which follows the Kongo Mountain Chain, is the best, but toughest mountain trail in the Kansai region.
Note: This post covers the first one-third of the trail, namely from Tonzuru to Mizukoshi Pass, a 6-hour hike! 
The Diamond Trail Part 1
Dozurubo- Mt. Nijo
The Diamond Trail starts from the interesting rock mountain, Donzurubo. The trailhead is a bit hard to access as it is far from the station. Maybe the easiest way to access the trailhead is walking 30 minutes from Sekiya Station of Kintetsu Minami Osaka Line. However, the road is quite busy with no sidewalk, so be very careful when you walk!! 
Though it officially starts from Donzurubo, you don't have to go into it. Rather, you keep walking along the heavy road, passing Donzurubo. The mountain trail starts from a bit after it. The entrance to the mountain trail is quite small, so don't miss it!!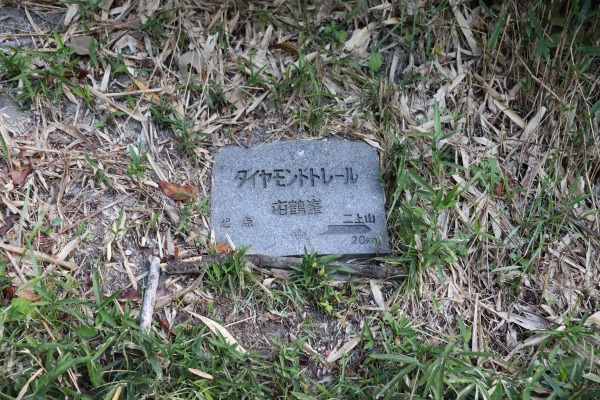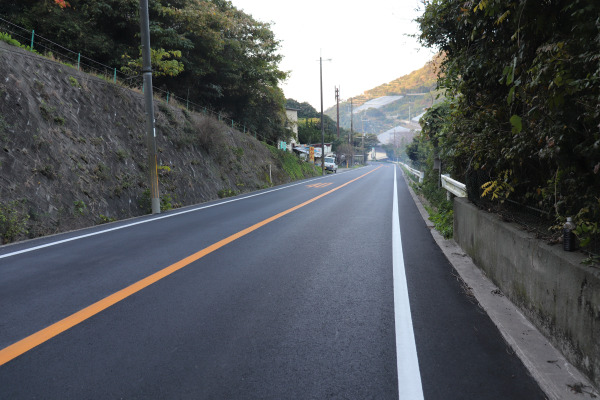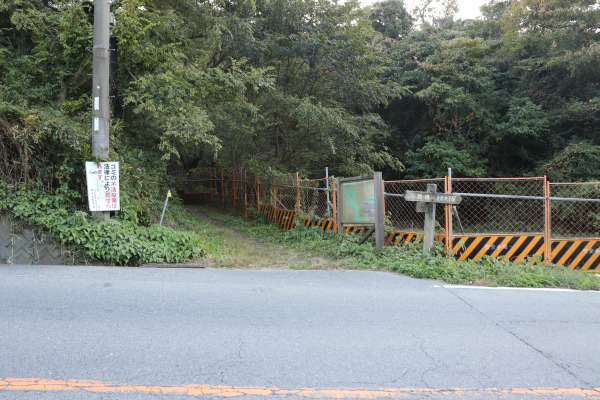 As you start the trail, you will head to Mt. Nijo first. As Mt. Nijo was actually a dormant volcano long time ago, it is a rather bumpy mountain. Since you are just beginning your hike, you might be thinking you should try to conserve your energy, but the trail is so rough it simply won't let you do so.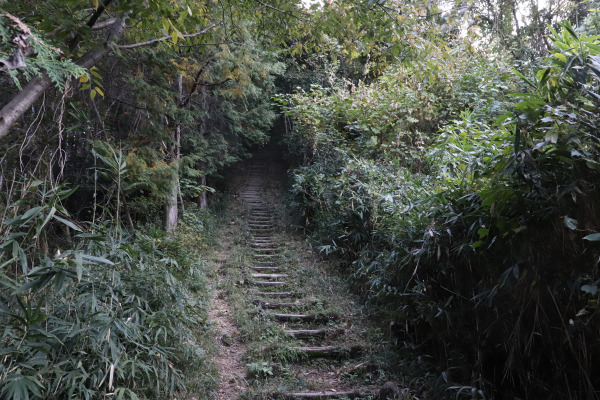 What's interesting about Mt. Nijo is that viewed from Asuka, it looks as if the sun sets on Mt. Nijo (and rises from Mt. Miwa). Therefore, the ancient people of Japan considered this mountain very sacred. While this might not be the case anymore, it is still a quite popular mountain.
Mt. Nijo technically consists of two mountains; O-dake (male mountain) and Me-dake (female mountain), with O-dake being slightly taller. Diamond Trail only goes through Me-dake, but make sure to drop by O-dake too, as it is just 20 minutes away!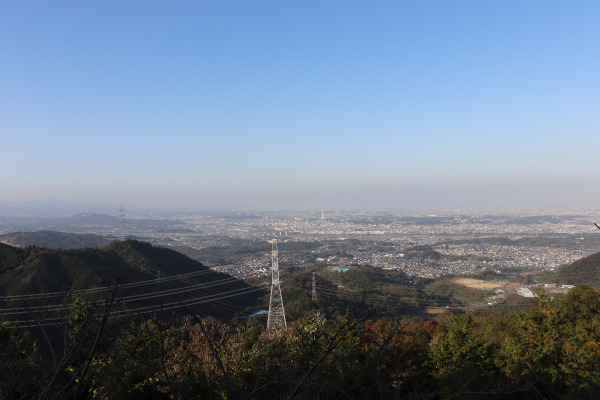 Mt.Nijo – Mt. Yamato Katuragi
From Mt. Nijo, the path leads down to the Takenouchi Pass. The Takenouchi Pass is the intersection of the Diamond Trail and the Takenouchi Kaido– one of the oldest roads in Japan. Starting from Sakai this trail goes to Nagao Shrine in Nara, and then to Asuka. The Takenouchi Pass is so historic that it was used even before Osaka existed as a city. Since this is quite a popular trail too, we think we will hike this trail as well someday!
FYI, if you are burned out at this point, you can walk down to the Nara side and there is a Kintetsu Station nearby.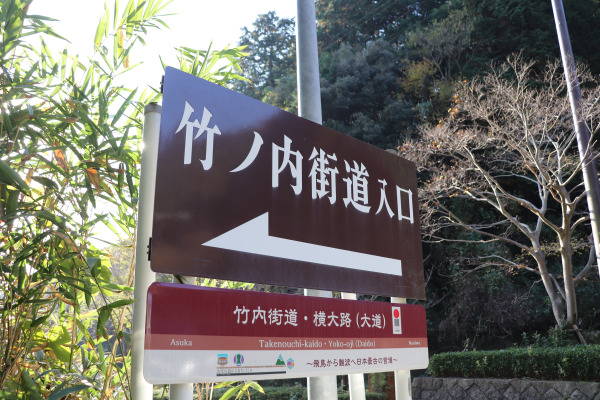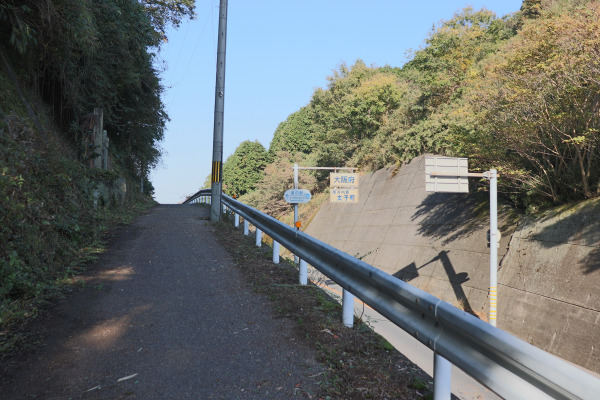 After you finish the Takenouchi Pass, slopes start to get steep once again as the trail heads up to climb up Mt. Iwahashi. It is not quite a popular mountain and unfortunately, we couldn't see anything from the top, as it is completely covered with trees.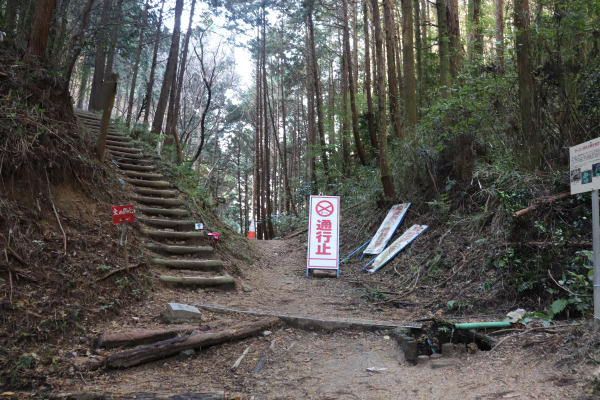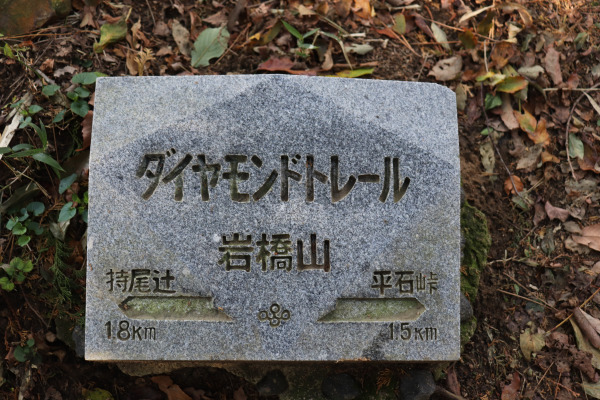 After Mt. Iwahashi is Mt. Yamato-Katsuragi, which is the biggest mountain in this part of the Diamond Trail. It starts easy, but things change a lot after you finish the first half. There are many long stairs, especially if you start the trail from Tonzurubo. You keep hoping you've reached the last long flight of stairs— but there is one long set after another! This part requires a lot of stamina.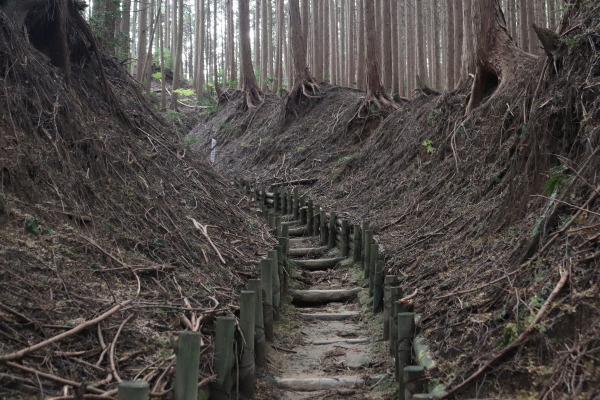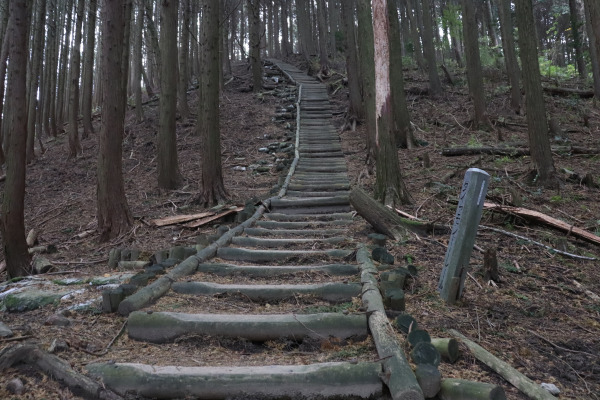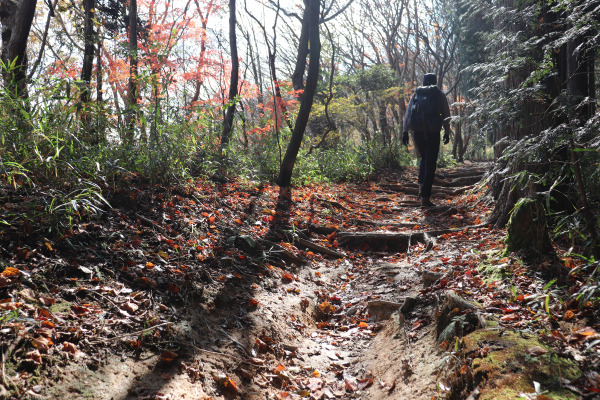 Mt.Yamato Katsuragi
It totally depends on how quickly you could climb up those long stairs, but after 2 roughly hours or so, you will reach the top of Mt. Yamato-Katsuragi. This area is especially famous for its beautiful azaleas. Since this is a pretty popular spot, there were several vending machines, so it's a good chance to refuel. Alternatively, if you've had enough, you can take a cable car to go down the mountain. If you can find a little more energy though, the Mizukoshi Pass is not far from this mountain.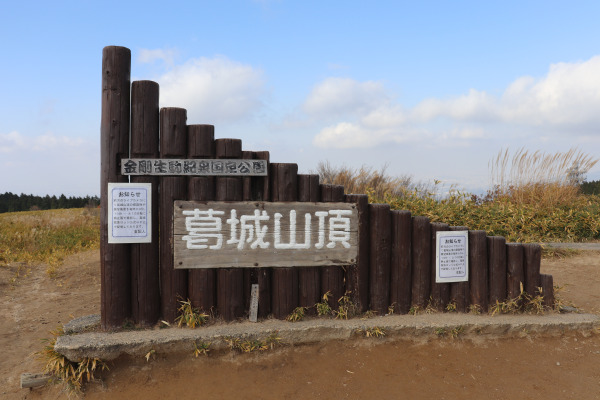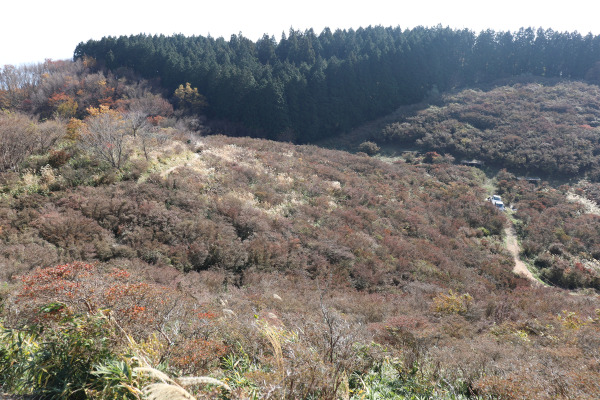 From the top of the mountain, you can see the beautiful scenery of Nara and Osaka. Indeed this mountain is 959m high and in winter it sometimes snows.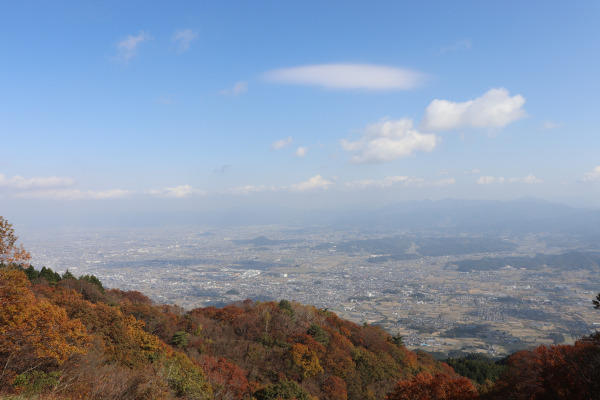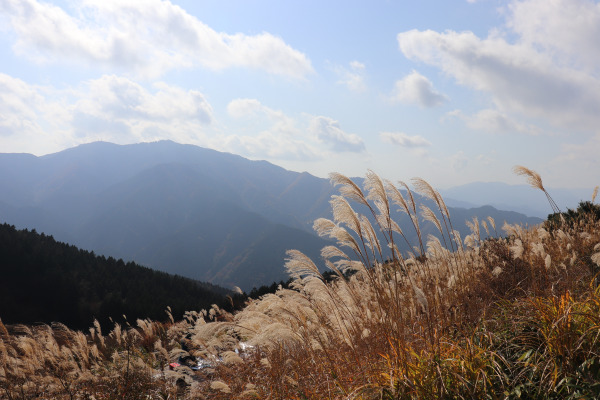 Mt. Yamto Katsuragi – Mizukoshi Pass
After Mt. Katsuragi, the Mizukoshi Pass is not so far away– you just have to endure the return of those damned long stairs! The great news is that you only have to go down, not up the stairs, but each flight has rather big steps, making it rather difficult.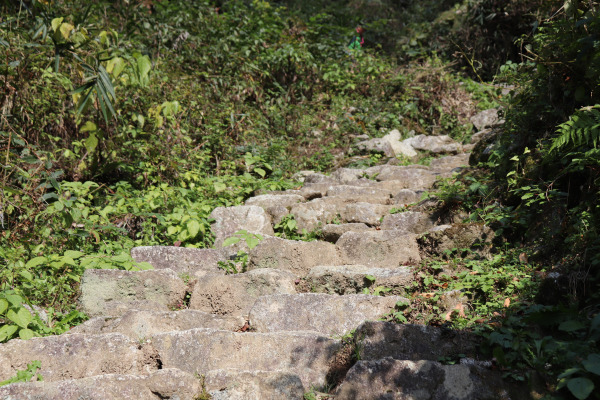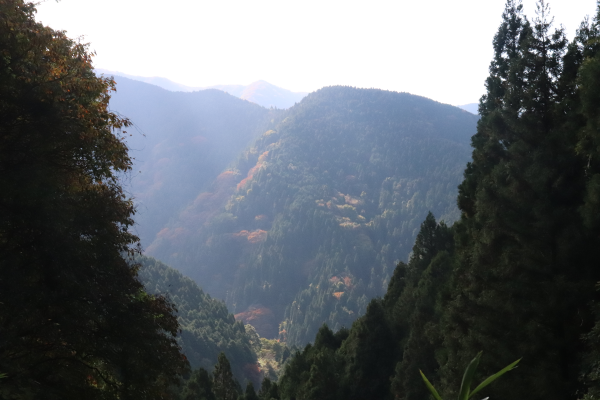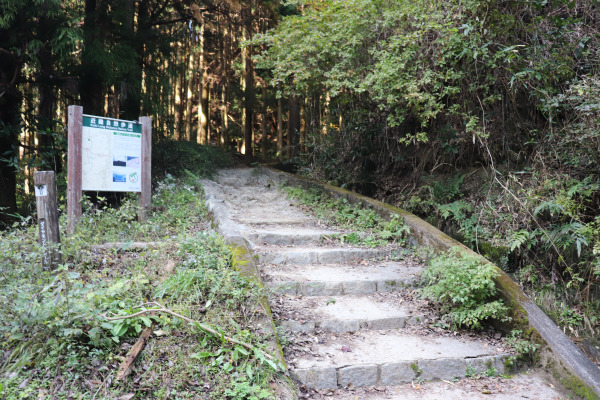 We arrived at end of the Miuzkishi Pass at around 1 o'clock. We walked roughly a little bit more than 15km and it took full 6 hours from Tonzurubo to reach the Mizkoshi Pass. Throughout the trail, there were so many steep sections; certainly making this the toughest trail in Kansai. It will burn you out pretty good! You can take a bus from the Mizukishi Pass to the Tondabayashi Station, but this is quite inconvenient as it runs only just a few times on weekends. You can walk to Tondabayashi Station, but it takes an hour and a half…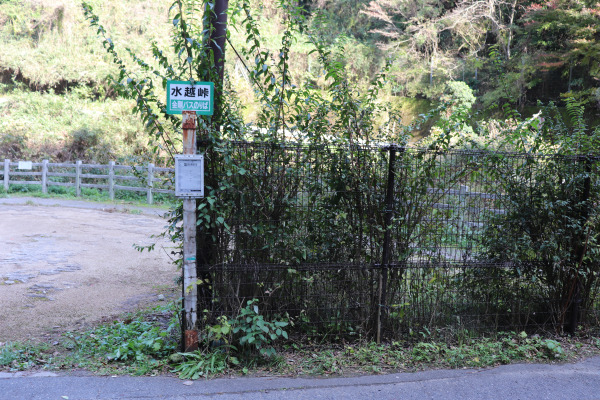 After this, the Diamond Trail goes up Mt. Kongo and many other mountains before reaching the final destination, Mt. Makio. The goal is still quite far!!