A ways down Kamo Street from Kamigamo Shine, is its sister shrine, Shimogamo Shrine. Just like Kamigamo Shrine, Shimogamo Shrine is also a world heritage site, is one of very popular among tourist and Kyoto natives alike.
Read here for Kamigamo Shrine!
The History of Shimogamo Shrine
Formally known as Kamomioya Shrine, it is not entirely clear when Shimogamo Shrine was first built, but we know for a fact it existed as early as 677. Legends say the main deities date back to the reign of Emperor Jimmu. In any case, this shrine did exist before the capital moved from Nara to Kyoto and earn the position as one of the guardian shrines of the capital after it moved.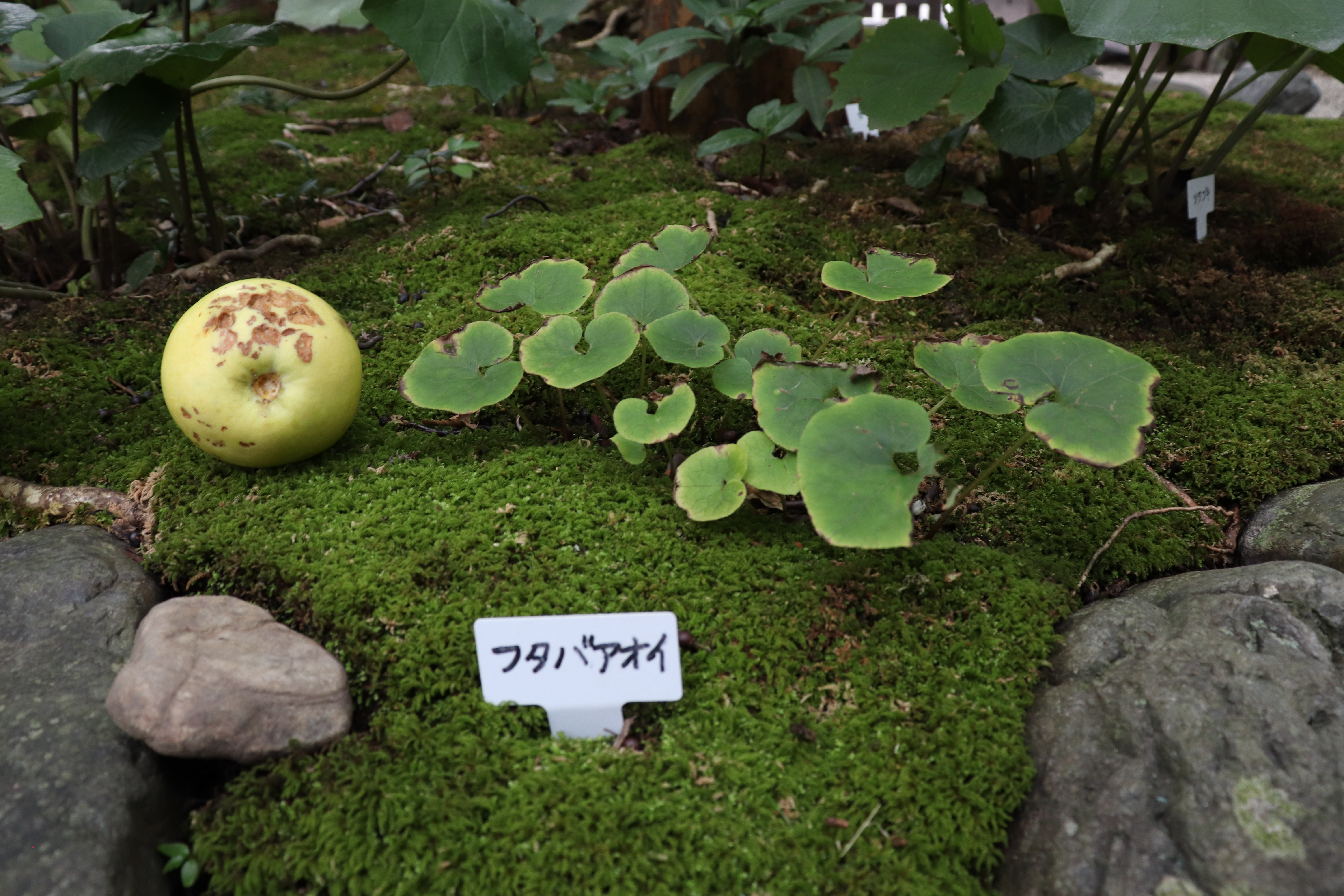 Shimogamo Shrine's main deity are Kamotaketsunumi no Mikoto [加茂建角身命] and his daughter Princess Tamayori, the mother of Kamowake Ikazuchi no Mikoto, the deity of Kamigamo Shrine. Though those gods do not appear in the Kojiki, myth says that Kamotaketsunumi no Mikoto transformed into the three legged raven, Yatagarasu, and safely guided Emperor Jimmu on his journey from Kumano to Nara.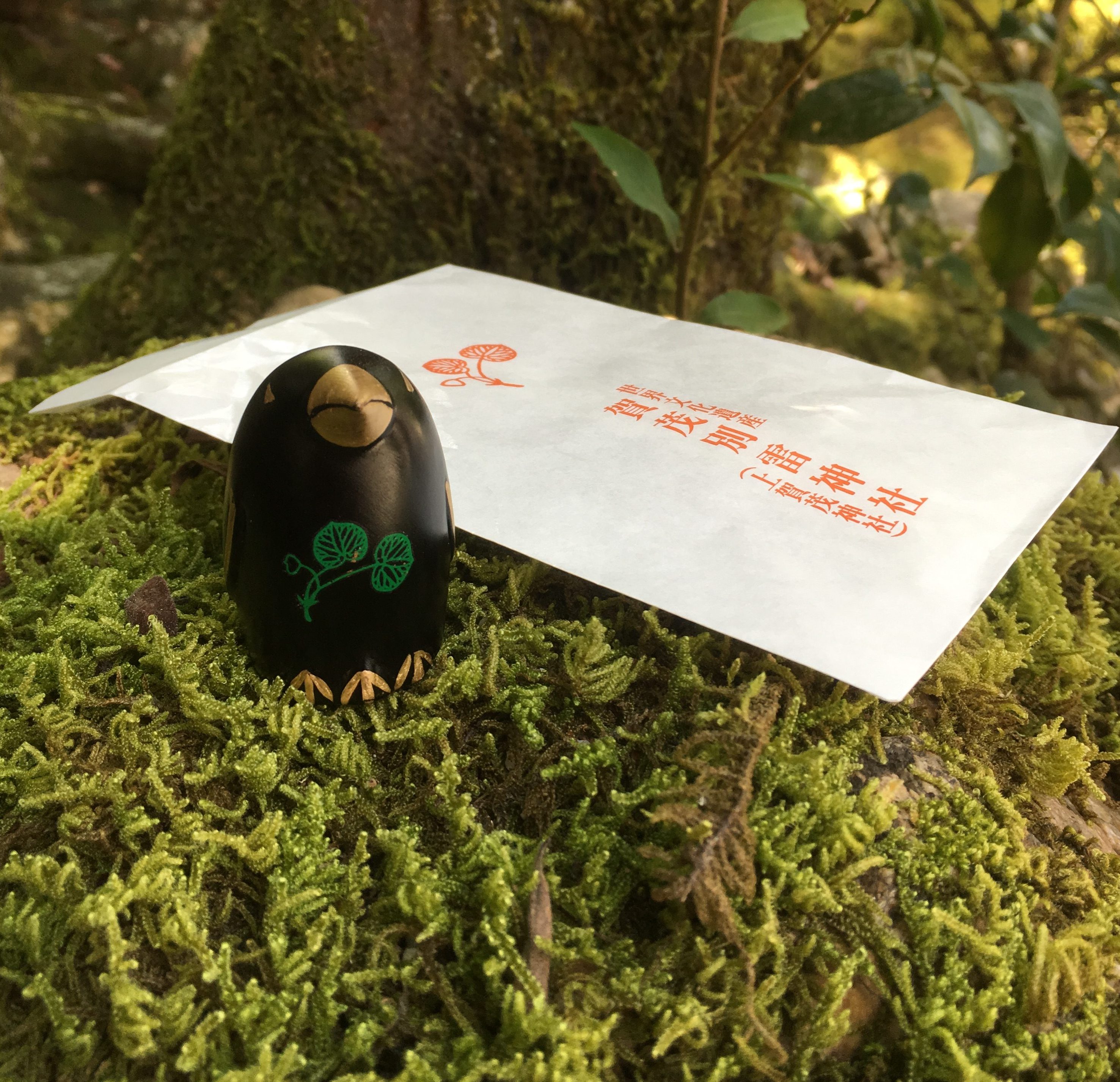 For more information for these three gods, see our post on Kamigamo Shrine, and click here for the first in our series on Japanese Mythology.
Getting to Shimogamo Shrine
Shimogamo Shrine is quite easy to access. From Keihan Demachiyanagi Station, walk across the Takano River, and head north. It will only takes you about 5 minutes or so from the station. Of course, there are plenty of bus services from Kyoto or Kawaramachi Station, just take the #4 or the #205.
Shrine Grounds
Tadasu no Mori
Shimogamo Shrine is located at the point where Kamo River and Takano River merge. From the entrance, the path to the main shrine building, or sando, runs through Tadasu no Mori. Tadasu no Mori is mentioned in many Japanese classics, is believed to be a sacred forest, and there are many trees with hundred years old.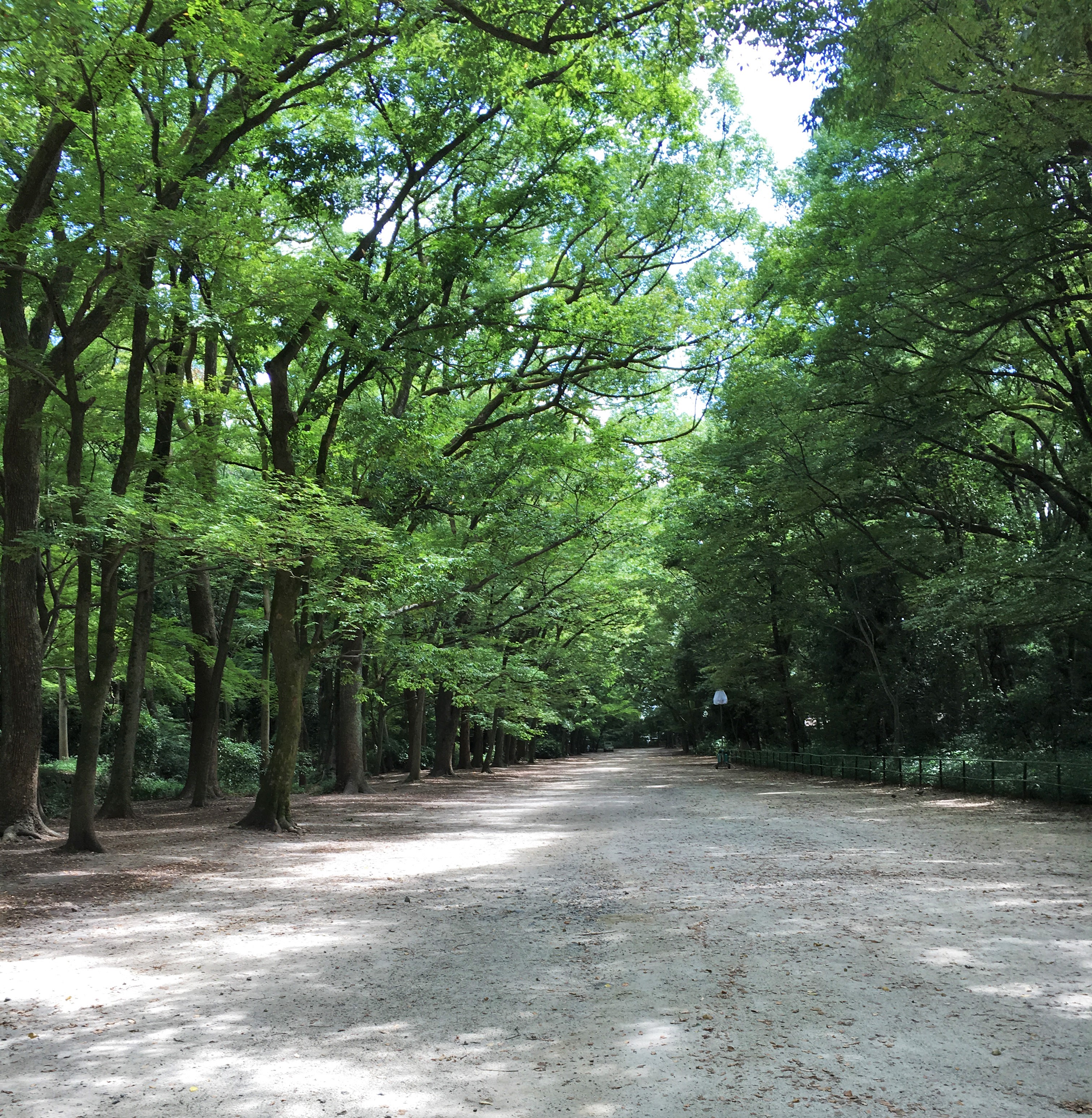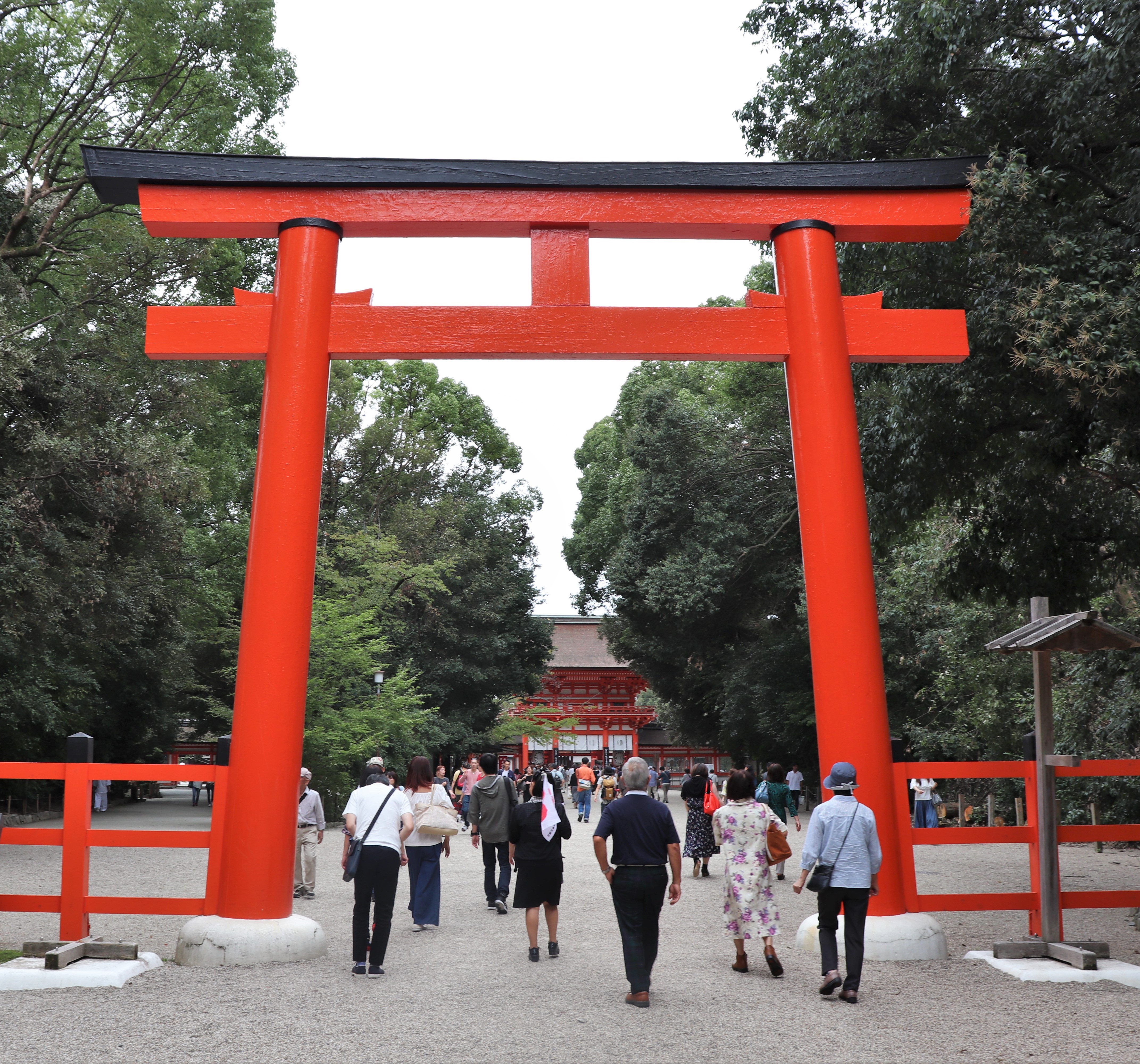 After a few minutes of walking through the forest, you will see the main shrine building.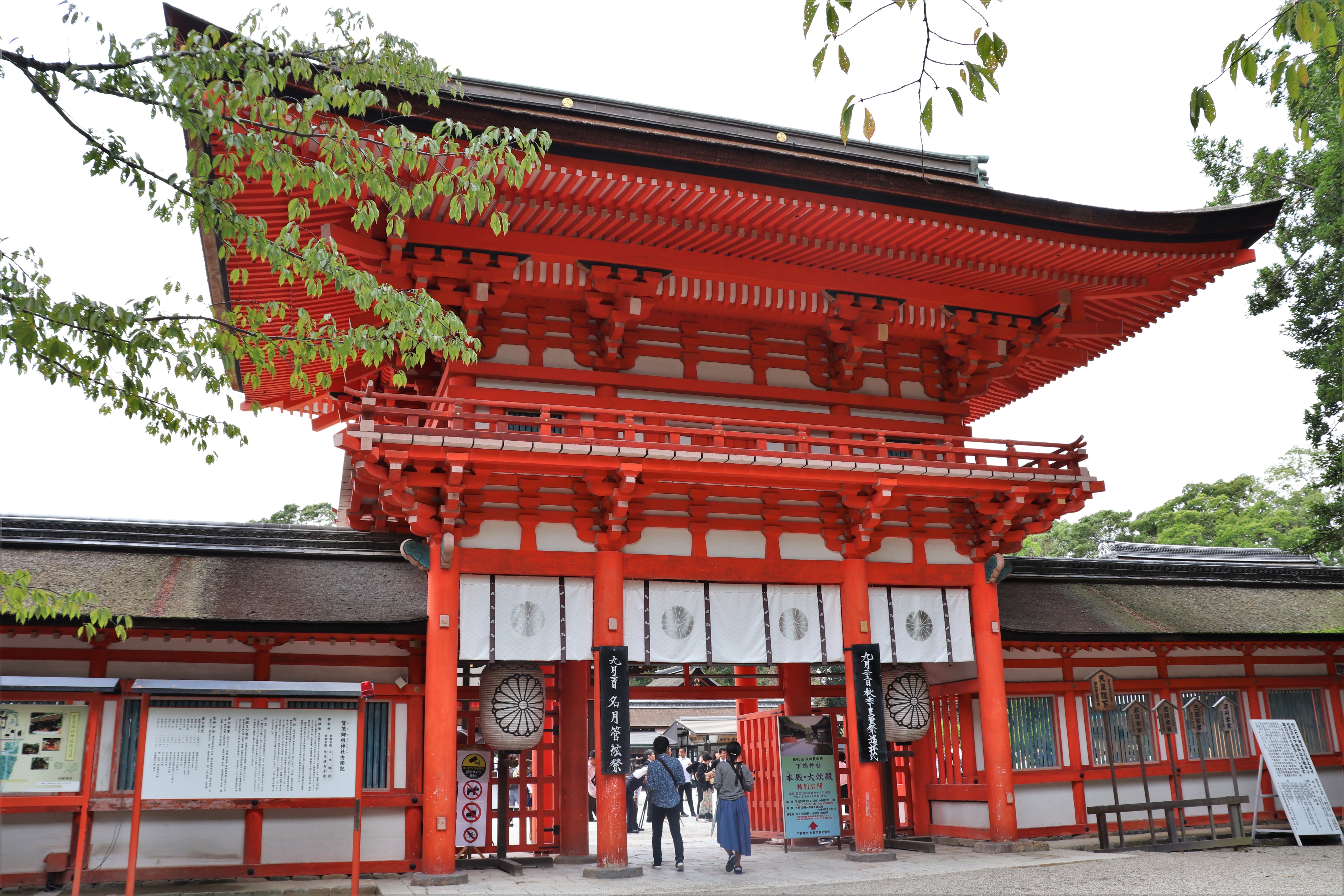 Just before the Romon Gate at the end of forest is Aioisha, a famous enmusubi shrine for couples.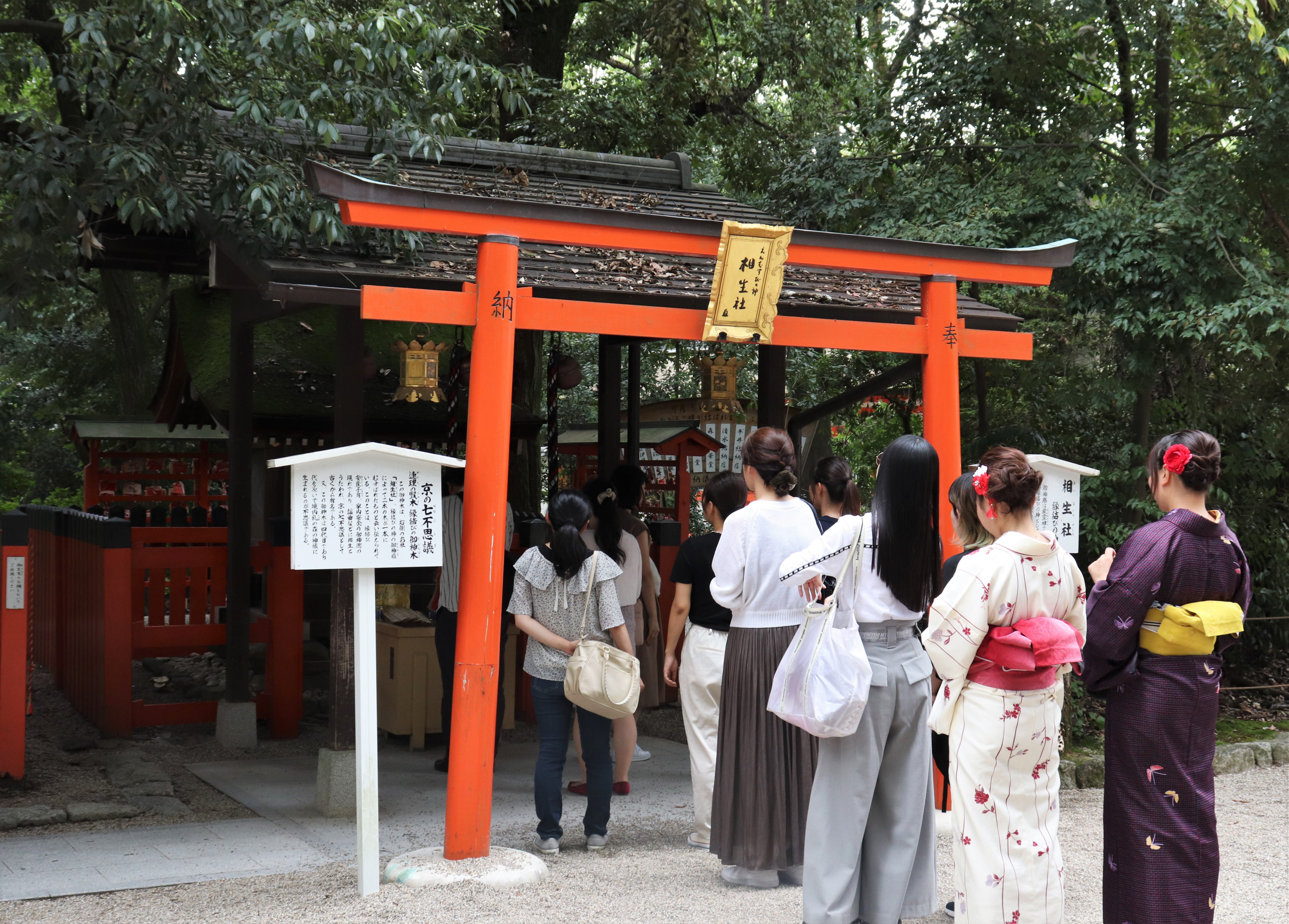 Shimogamo Shrine is not very big. In the inner shrine grounds, there are many buildings that usually are used only for aoi matsuri, hollyhock festival, one of the most famous festivals in Kyoto.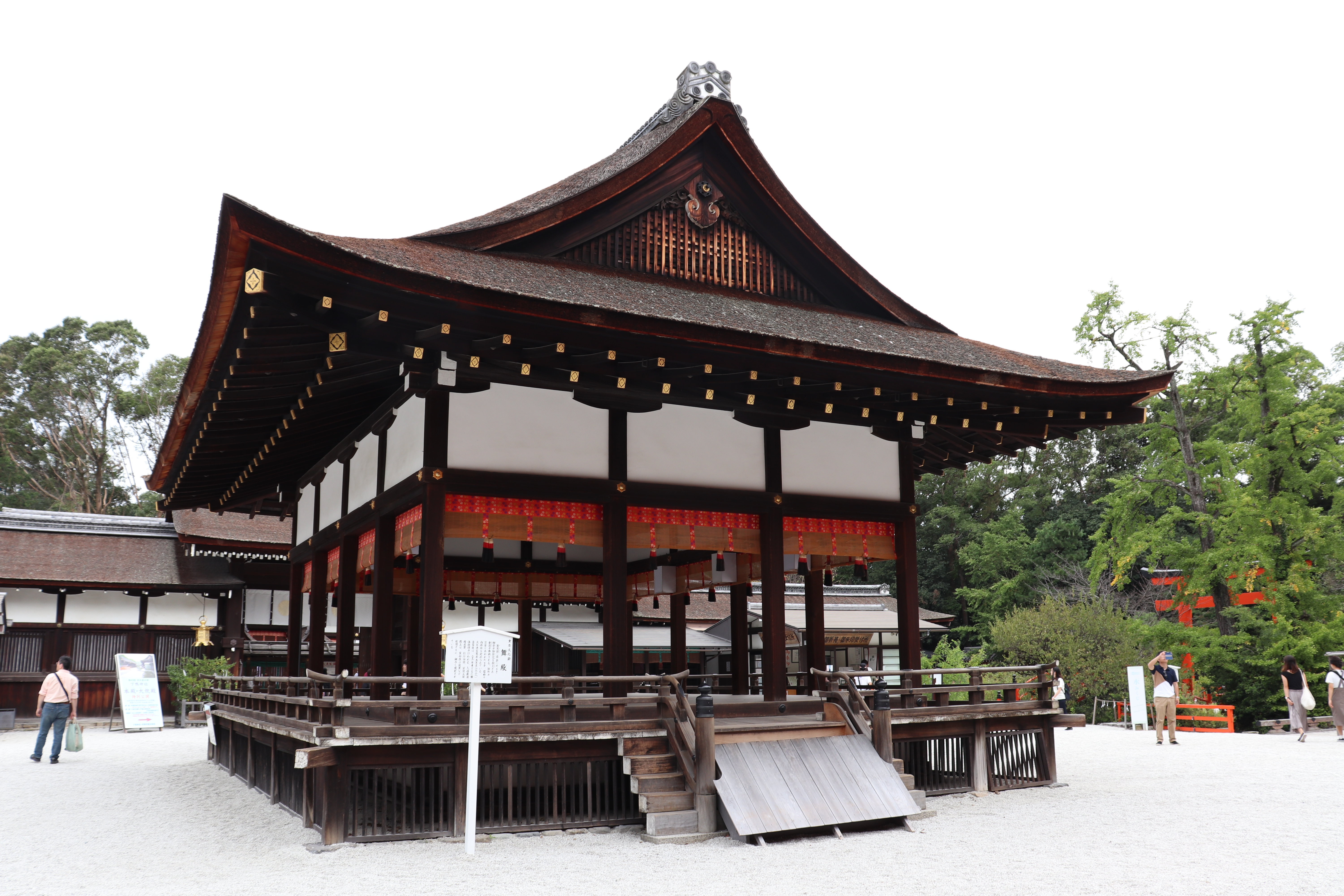 In the shrine grounds is Mitarashi Ike, a famous pond said to rid you of disease if you soak your feet in its waters.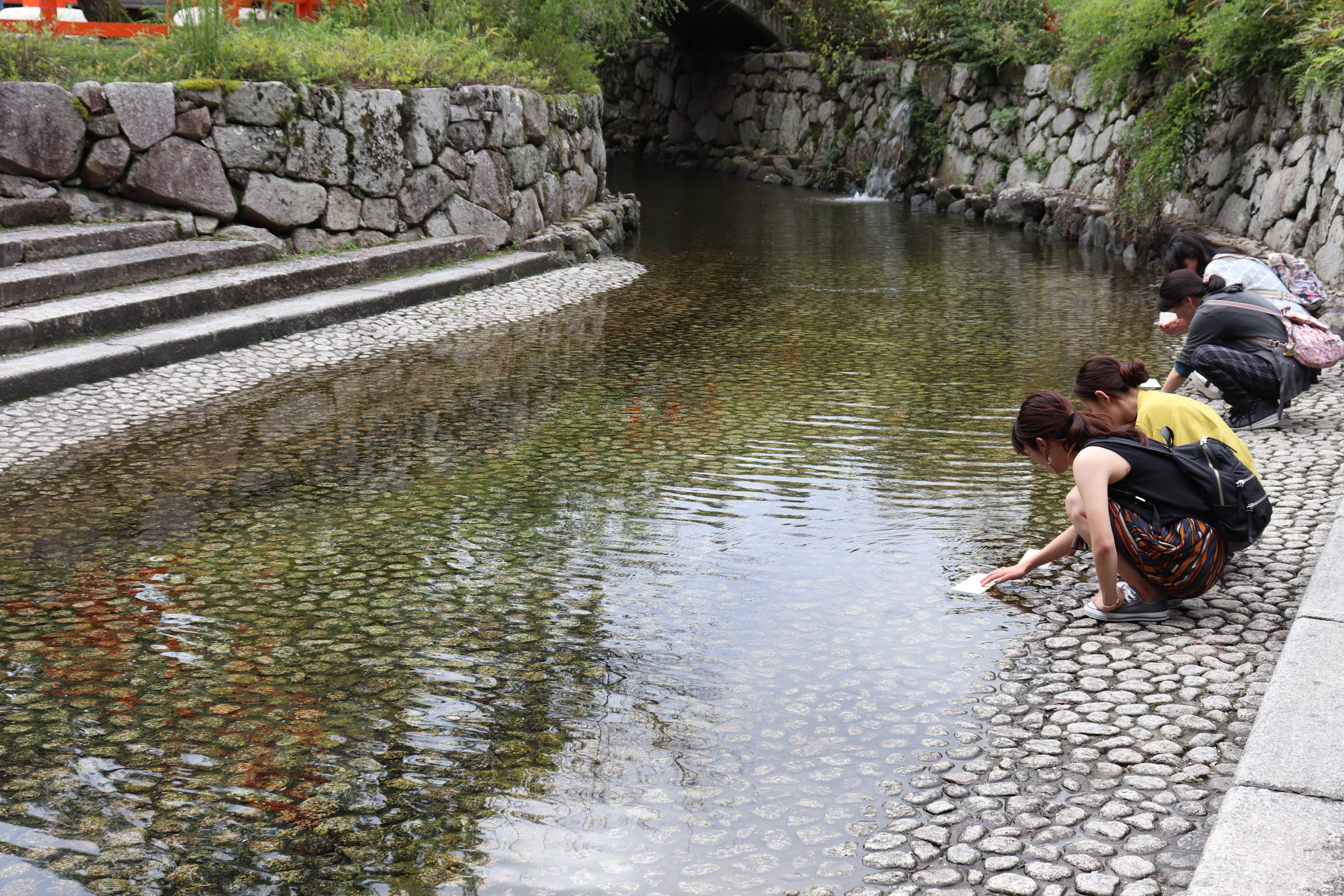 Inner Shrine Grounds
Once you enter the middle gate, you can see seven little shrines, one for each of the Chinese zodiac. Go visit your own animal, just make sure to check before you pray!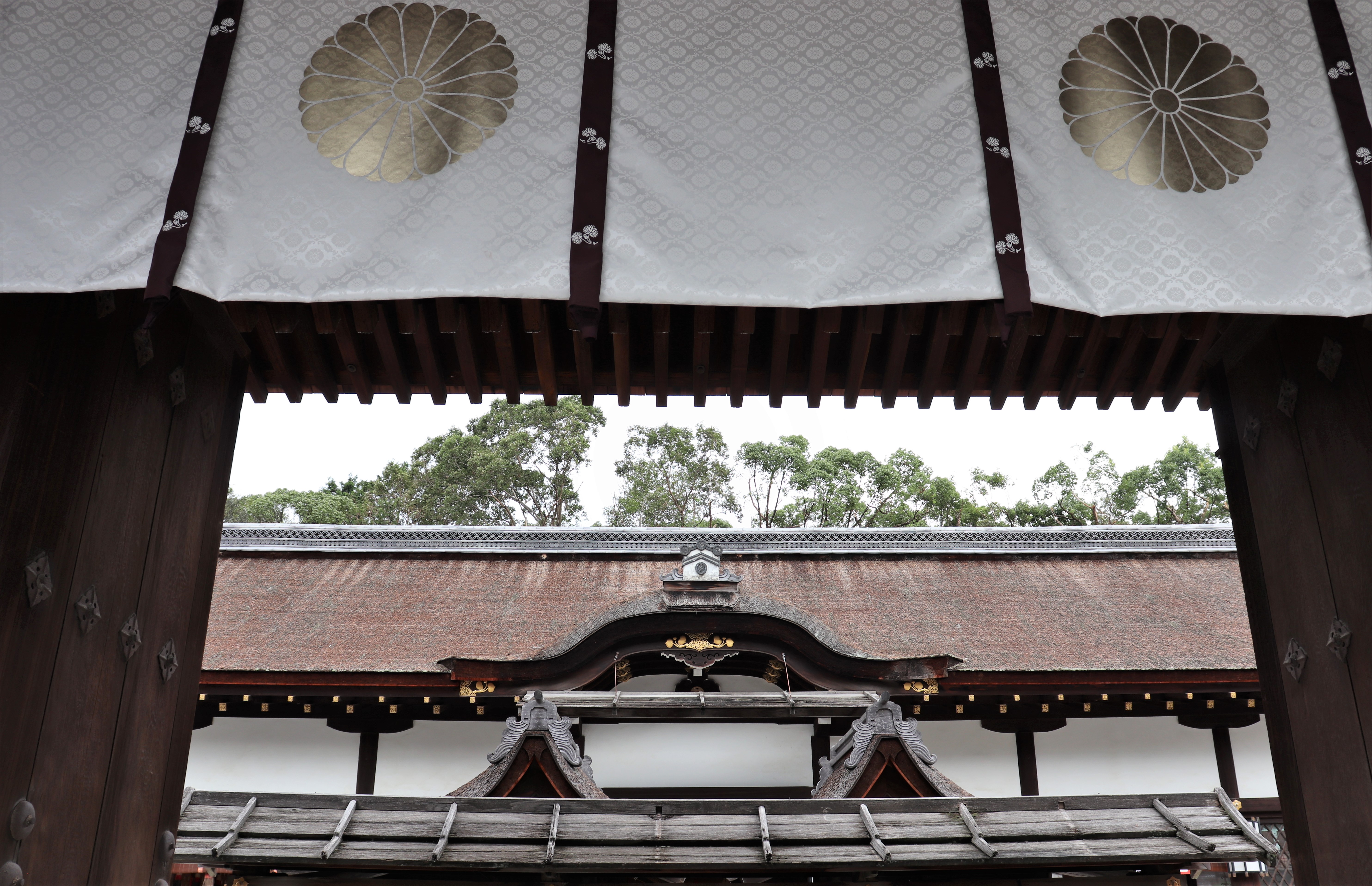 Behind these seven shrines is the heiden and then the honden, main building. Unfortunately you may not see the honden well from the heiden. If you'd like to see the honden, there is a special tour that takes you close to Honden and Mii Shrine right next to it.
Like its sister shrine, Shimogamo Shrine used to undergo sengu, but because of its status as a Japanese National Treasure, it no longer does.
Points of Interest
Mitarashi Dango
Not actually a part of Shimogamo Shrine, but an absolute must! Mitarashi dango is very common food throughout Japan, but few people know how that originated. Just west of the shrine is Kamo Mitarashi Chaya [加茂みたらし茶屋], the birthplace of mitarashi dango.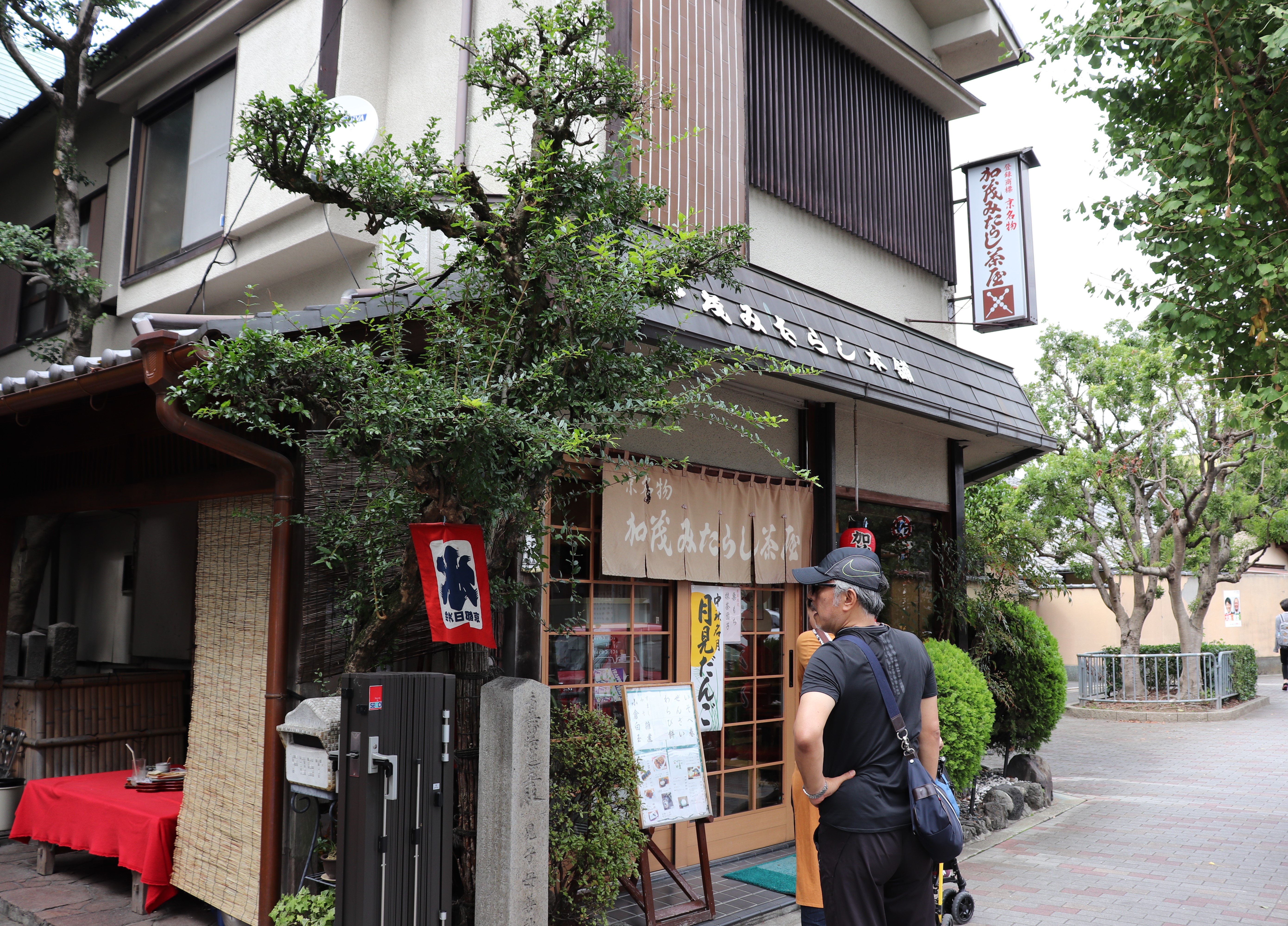 The shape of the dango is supposed to be like bubbles from Mitarashi Ike in Shimogamo Shrine.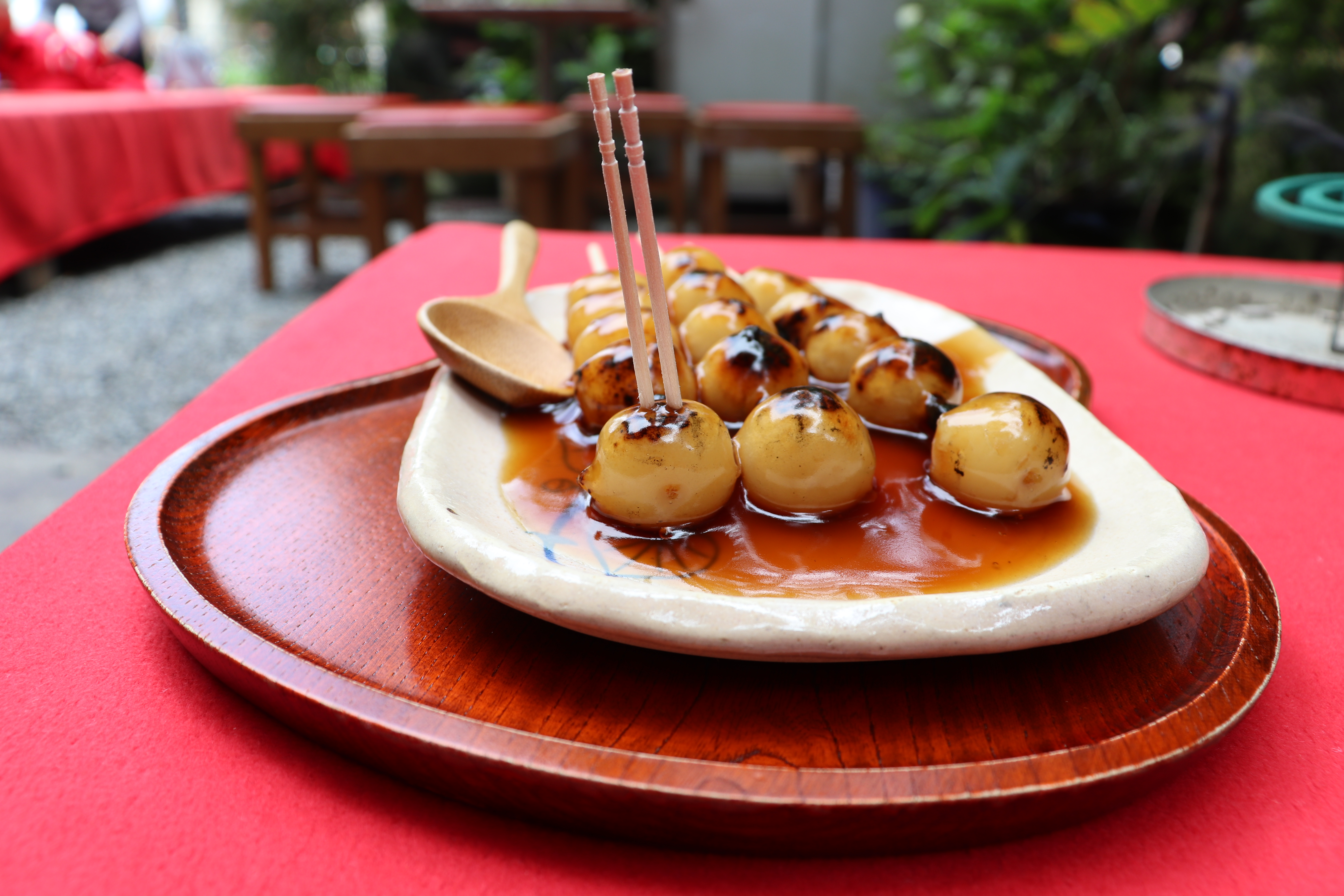 Kawai Shrine [河合神社]
Near the entrance of Tadasu no Mori, is a little Kawai Shrine. The family of Kamo no Chomei, the author of Hojoki [方丈記], served this shrine for a long time.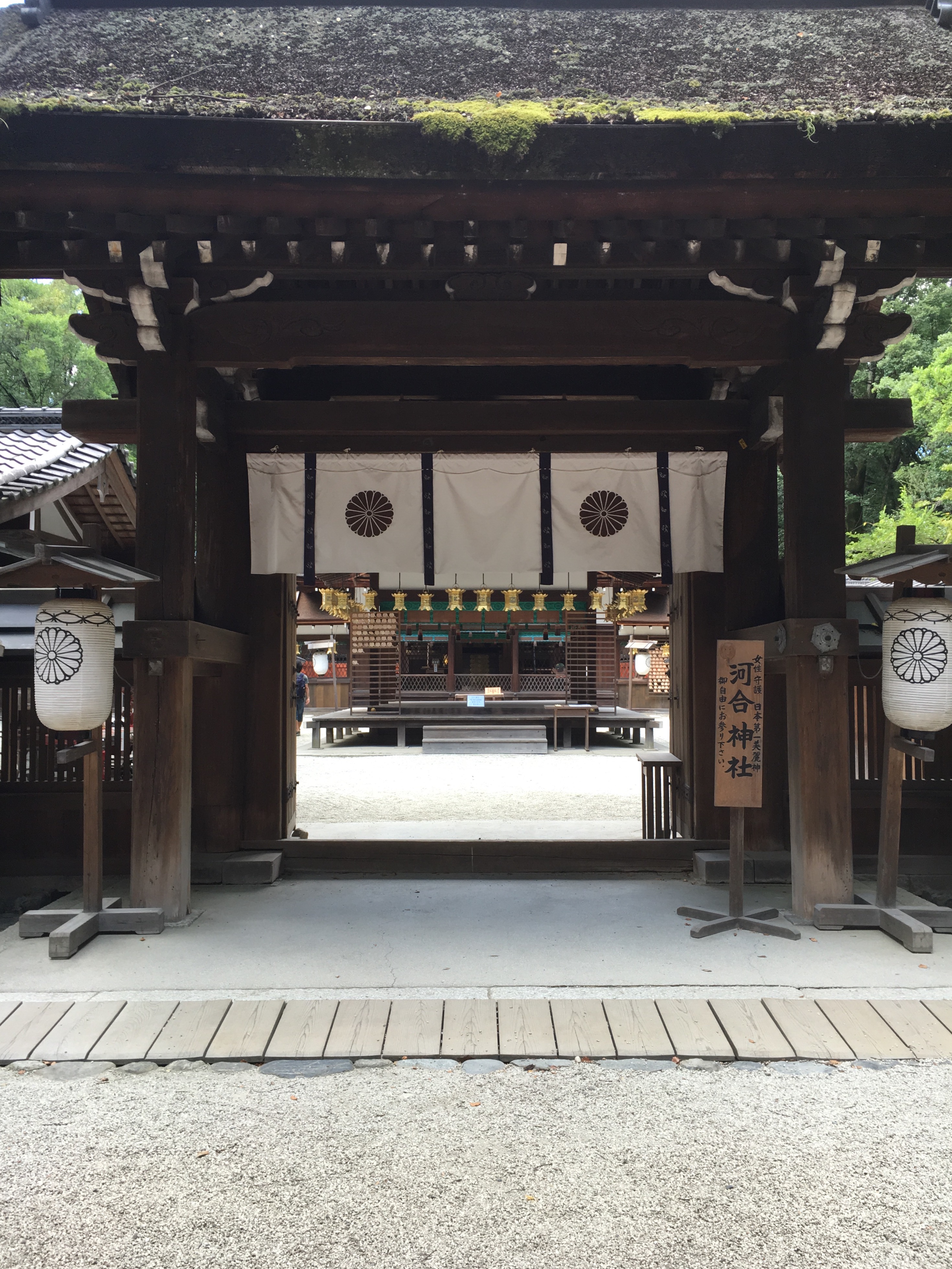 Kamo no Chomei's father was head priest of Kawai Shrine and like his father, Kamo wanted to become a priest at this shrine. But his true passion was poetry and art. He studied the arts so much that when it came time for him to join the shrine, he was denied priesthood. Dejected, he began wandering Japan, eventually writing about his journeys in his acclaimed book, Hojoki. Today in Kawai Shrine is a replica of the hut where Kamo no Chomei's lived.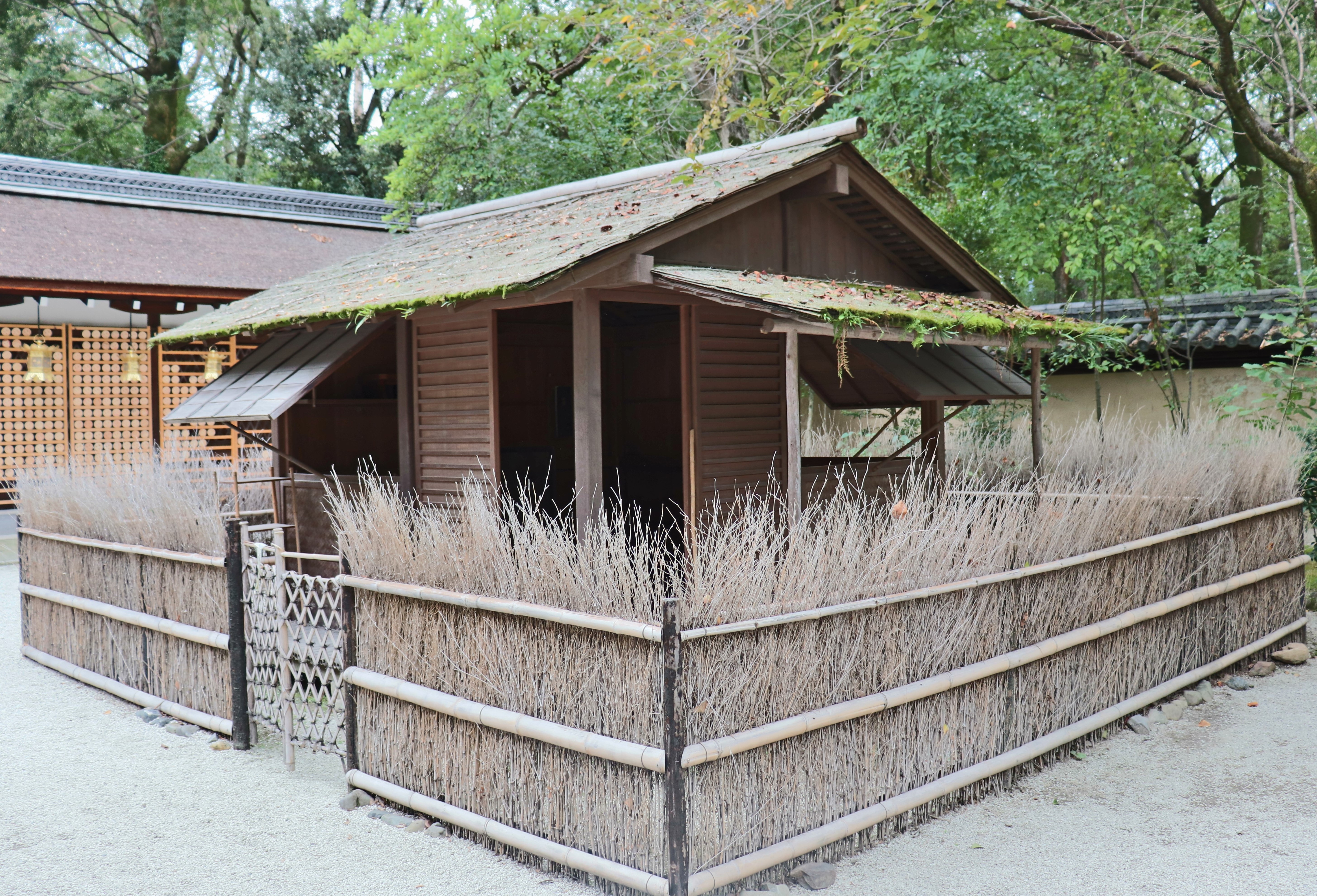 Sadly, not so many people are interested in Kamo no Chomei when they come to Kawai Shrine. Instead, since the beautiful Princess Tamayori is enshrined here, Kawai Shrine is a popular place for people to visit to become more  beautiful.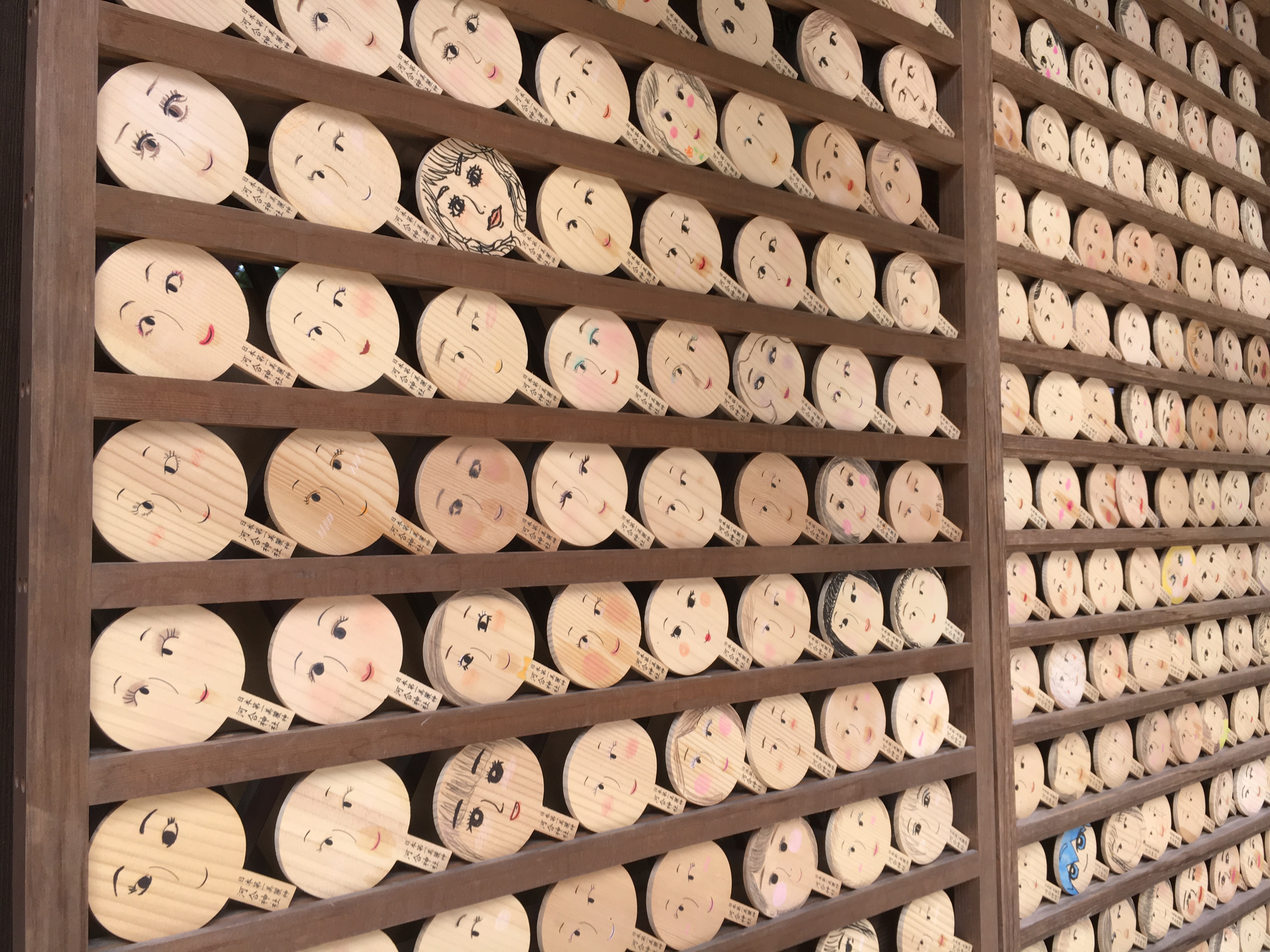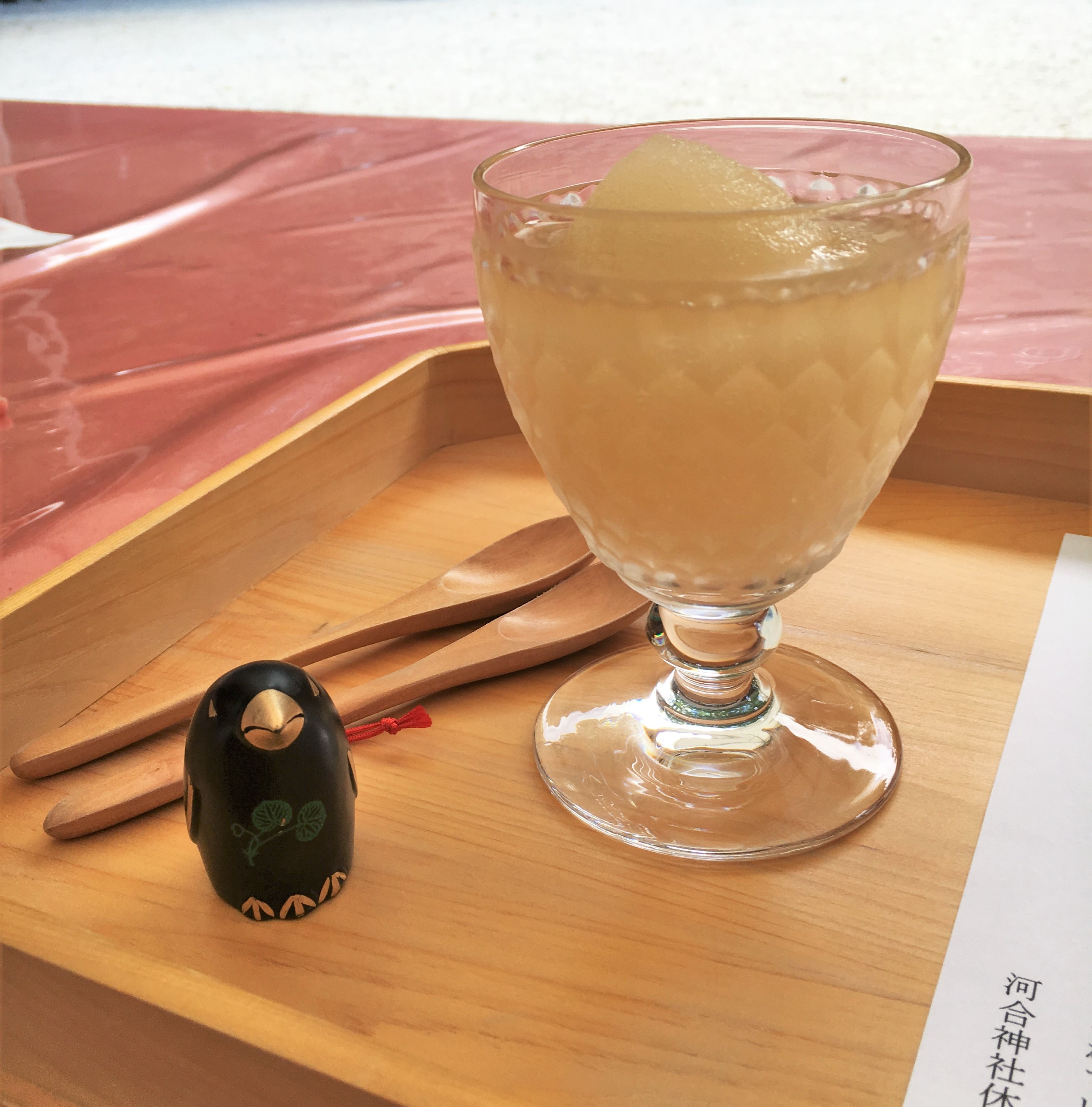 Shimogamo Shrine
Address
59 Shimogamo Izumigawacho, Sakyo-ku, Kyoto, Kyoto Prefecture 〒 606-0807
Website
http://www.shimogamo-jinja.or.jp/
Hours of Operation
Mon-Sun:
6:30-17:00
Admission Fee
Main shrine grounds: Free
Inner shrine grounds tour: 500 yen
Coming next time,
The Shrine of Japan's Mythical Swords, Isonokami Shrine
The adventure continues…
Please follow and like us: