Seishun 18 Kippu; Five Trips Anywhere in Japan!
Just about every tourist in Japan knows about the ever popular JR Pass. This fantastic ticket is arguably the best ticket for traveling around Japan. Unfortunately, if you are a going to be in Japan for more than 6 months, or are a Japanese citizen, the JR Pass is out of your reach. So, what kind of tickets are out there for foreign residents to use for traveling around Japan? The answer is the Seishun 18 Kippu.
What is the Seishun 18 Kippu?
Formally known as the JR Seishun 18 Kippu, this ticket is available every year for 11,850 yen. The Seishun 18 Kippu gets you 5 trips anywhere on the JR lines all over Japan! This boils down to only 2,370 per trip, an amazing deal!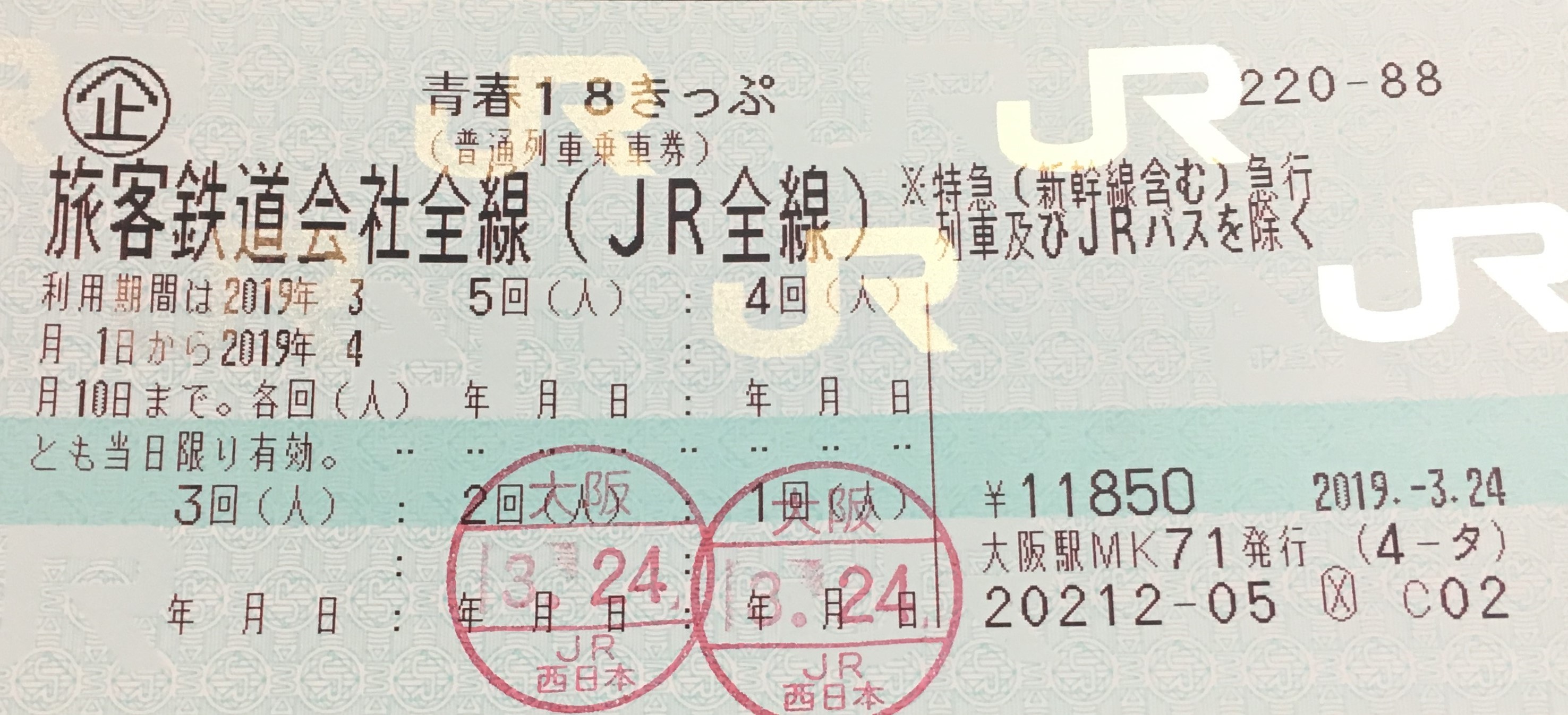 This ticket is very popular among Japanese people, especially college kids who don't have much money. However, don't worry they never sell out.
Seishun 18 Kippu: Where to Buy
You can purchase the Seishun 18 Kippu at the Midori no Madoguchi ticket counter in most train stations. You will have to exercise your Japanese skills and ask the station attendant for the ticket, but it's not that hard. Just say "Juuhachi kippu onegaishimasu" and you are set. In larger stations they have automated Midori no Madoguchi counters.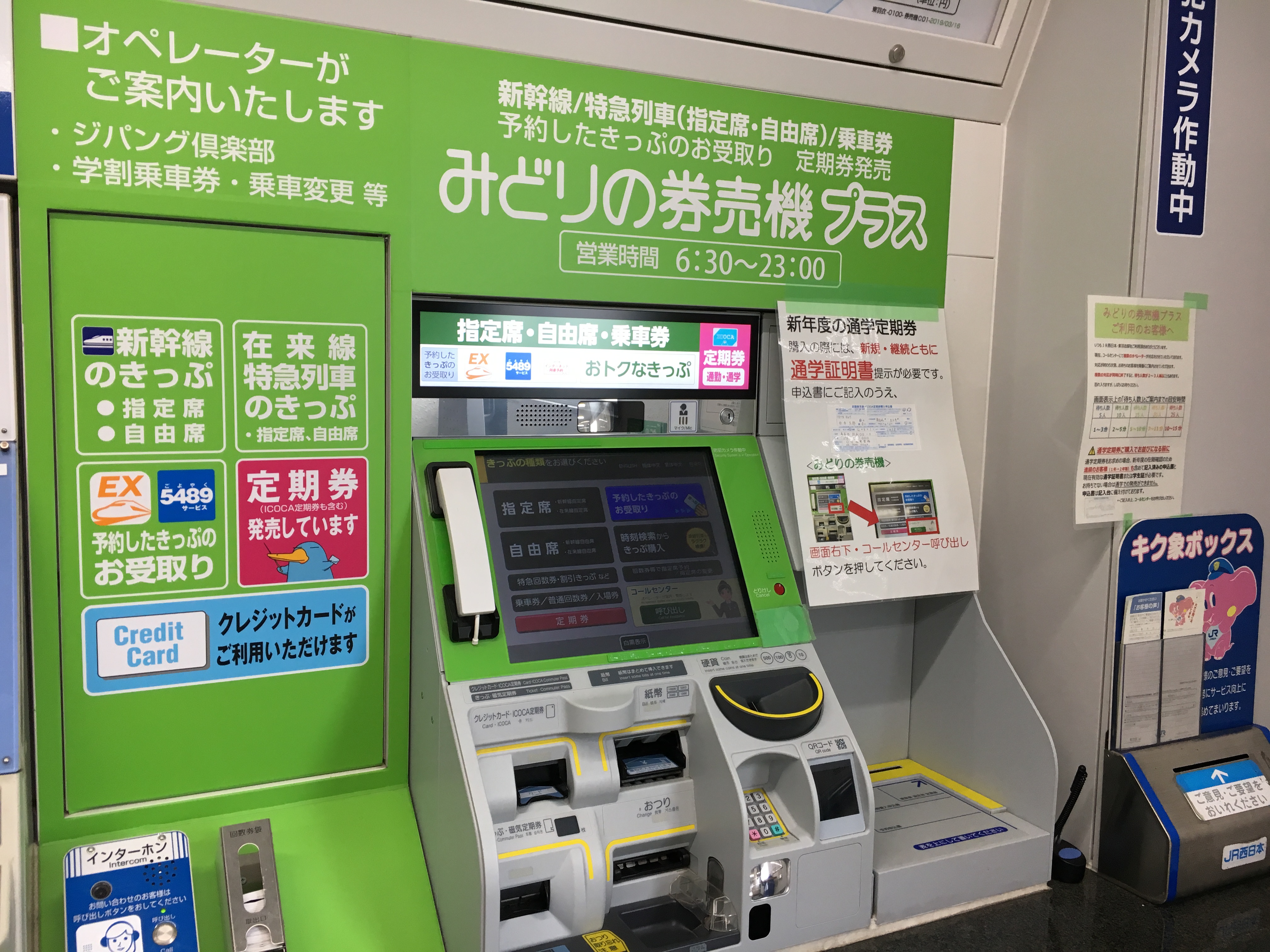 Additionally, some very small stations do not have a Midori no Madoguchi, so you will be unable to buy them at those locations.
Seishun 18 Kippu: Rules and Limitations
The Seishun 18 Kippu is truly a fantastic way to travel around Japan, but there are several limitation and rules you should definitely know before using it. Here are the most important ones.
Limited availability
The Seishun 18 Kippu is only sold for a month in spring, summer and winter. In fall, there is the Testudo no Hi Kippu (literally meaning, train day ticket), which works much like Seishun 18 Kippu. Either way, you must use your ticket within the specified amount of time. The ticket is non-refundable, even if you do not use all your trips on the ticket.
Only Available on JR Lines
The Seishun 18 Kippu is only available on JR Lines. It does not work on private rail lines or subways. This limitation also excludes the formerly JR owned local private line, the Dai 3 Sector Line. The local private lines around Osaka include the Chizu Express Line and the Kitakinki Tango Railway. If you want to use either of these lines you have to pay the full fare.
Sharing Ok
One of the perks about the Seishun 18 Kippu is that you can share the ticket. Unlike the JR Pass requires identification just for one person to use, more than one person can use the Seishun 18 Kippu. For example, two people can use the same ticket for the exact same trip. To do this, simply confirm with the attendant at the manned ticket gate the number of people traveling together. They will then stamp the ticket twice (one for each passenger) and the pair of you will be on your way. Alternatively, one person could use the ticket for a one way trip and then pass it on to another person and so on, until all trips are used gone.
Service Ends at Midnight
Each day you use the Seishun 18 Kippu, the ticket is valid from the time the first JR train runs until midnight. Although some trains will still have service until just after midnight, the ticket does not cover this additional time.
Not Available for Limited Express or Shinkansen.
You can only use the Seishun 18 Kippu on the local, rapid and new rapid service trains lines.
Of course, this means you cannot ride the Shinkansen either. It would be nice if the ticket covered the limited express and Shinkansen like the JR pass, but unfortunately it does not. If you wish to ride a limited express train, you must pay the entire fare plus the limited express fee.
Exit as Much as You Like
Another great point about the Seishun 18 Kippu is that you can freely exit the gate as many times as you need to, something many Japanese tickets prohibit. For most tickets, once you enter the gate you cannot exit it again. However, the Seishun 18 Kippu lets you exit the gate as many times you want. All you need to do is present your ticket at the manned gate. If you aren't totally sure where you are going this is a real lifesaver because you won't get stuck on the wrong platform!
They will not refund you even if the train is delayed
While people often praise Japanese the train system for its punctuality, they are actually riddled with short delays, especially in busy cities like Tokyo. Though brief, these delays can be really bad because you may miss your transfer train, which might force you to cancel your trip simply because you cannot reach your destination. If this happens to you JR will not give you refund.
Recommend Scenic Routes for Seishun 18 Kippu
There are several routes I recommend and plan from Osaka. Keep in mind that the train schedules might change at least once a year. The best way to check before you head out is with your hand-dandy jikokuhyo! (make sure you have a recent copy!)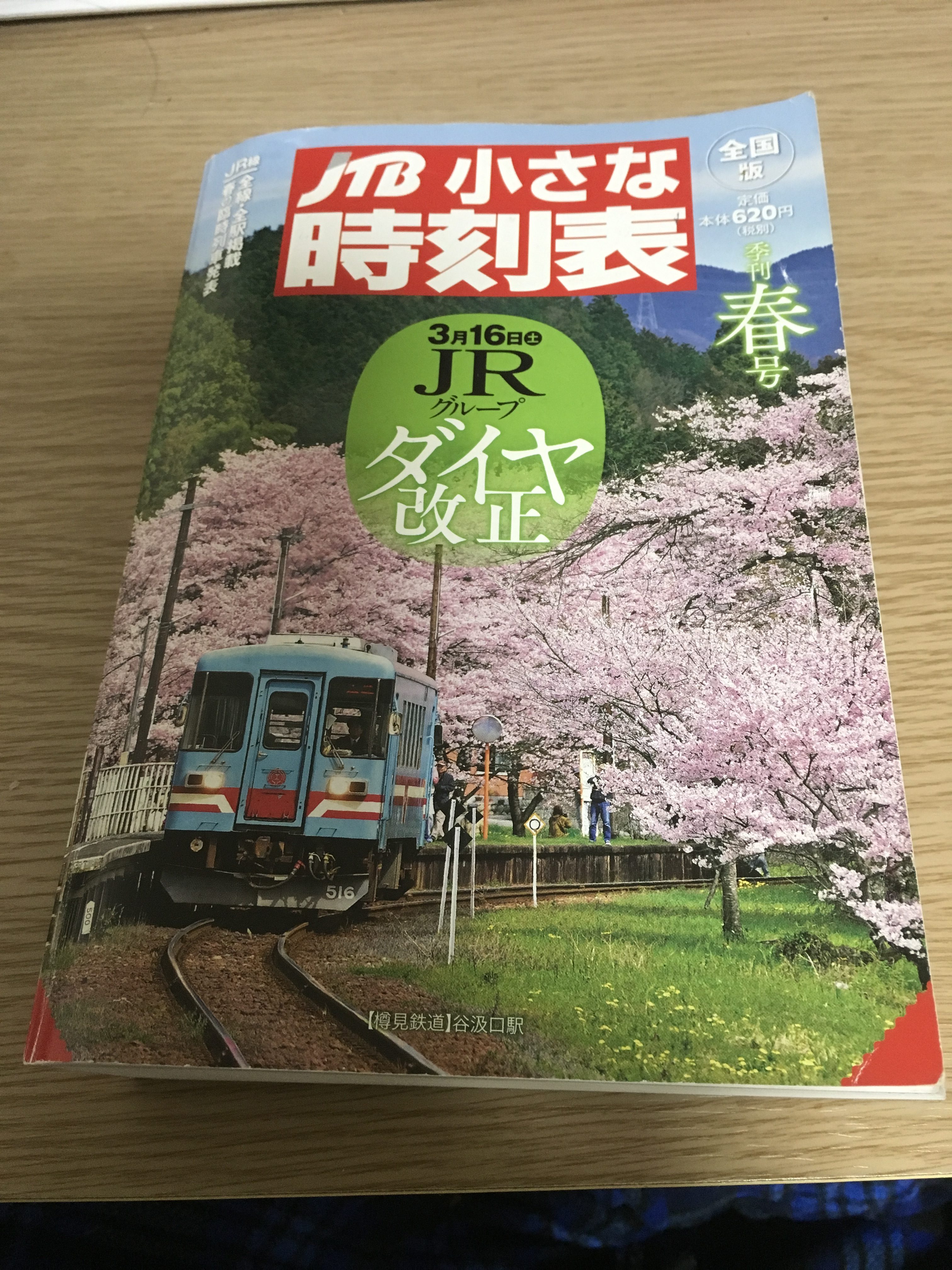 Sanin Scenic Route (Osaka to Tottori)
This line will take you through Sanin's beautiful countryside on quaint diesel trains.  This route will also take you over Japan's tallest train bridge, the Amarube Bridge in north Kansai.
| | | |
| --- | --- | --- |
| Arrival/Destination |  Time | Line Name |
| Osaka | 5:58 | Sanyo Line (bound for Himeji) |
| | ↓ | |
| Himeji (Arrive) | 7:30 | |
| Himeji (Depart) | 7:33 | Bantan Line (bound for Teramae) |
| | ↓ | |
| Teramae (Arrive) | 8:22 | |
| Teramae (Depart) | 8:27 | Bantan Line (bound for Wadayama) |
| | ↓ | |
| Wadayama (Arrive) | 9:17 | |
| Wadayama (Depart) | 9:27 | Sanin Line (bound for Toyooka) |
| | ↓ | |
| Toyooka (Arrive) | 10:09 | |
| Toyooka (Depart) | 10:11 | Sanin Line (bound for Hamasaka) |
| | ↓ | |
| Hamasaka (Arrive) | 11:18 | |
| Hamasaka (Depart) | 12:01 | Sanin Line (bound for Tottori) |
| | ↓ | |
| Tottori | 12:46 | |
Central Japan Scenic Route
While most people take the Tokaido Line from Osaka to Tokyo, I recommend the Chuo line. After Nakatsugawa Station, you will the magestic Japan Alps on either side of your train.
Arrival/Destination
Time
Line Name
Osaka
6:33
Tokaido Line:

special rapid service

( bound for Maibara)

↓
Maibara (Arrive)
8:01
Maibara (Depart)
8:25
Tokaido Line:

new rapid service

(bound for Toyohashi )

↓
Nagoya (Arrive )
9:29
Nagoya (Depart)
10:24
Chuo Line

rapid service


(bound

for Nakatsugawa

)

↓
Nakatsugawa (Arrive)
11:39
Nakatsugawa (Depart)
12:00
Chuo Line (bound for Matsumoto)
↓
Shiojiri (Arrive)
13:49
Shiojiri (Depart)
14:35
Chuo Line (bound for Enzan)
↓
Kofu (Arrive)
16:17
Kofu (Depart)
16:48
Chuo Line (bound for Tachikawa)
↓
Tachikawa (Arrive)
18:59
Tachikawa (Depart)
19:01
Chuo Line (bound for Tokyo)
↓
Shinjuku (Arrive)
19:37
Kii Peninsula Scenic Route
South of hte Kansai region is the Kii Peninsula. The smaller rail line here will run on narrow rails between the beautiful ocean and mountains.
Arrival/Destination
 Time
Line Name
Osaka
6:15
Osaka Loop Line
↓
Tennoji (Arrive)
6:35
Tennoji (Depart)
6:49
Hanwa Line for Yuasa

(rapid service)

↓
Wakayama (Arrive )
7:50
Wakayama (Depart)
8:06
↓
Kii-Tanabe(Arrive)
9:51
Kii-Tanabe (Depart)
10:41
Kisei Line for Shingu
↓
Shingu(Arrive)
13:24
Shingu (Depart)
13:26
Kisei Line for Kii-nagashima
↓
Kii-Nagashima (Arrive)
15:07
Kii-Nagashima (Depart)
16:20
Kisei Line for Taki
↓
Taki (Arrive)
17:28
Taki (Depart)
17:34
Kisei Line for Kameyama
↓
Kameyama (Arrive)
18:31
Kameyama (Depart)
18:38
Kansai Line for Kamo
↓
Kamo(Arrive)
19:54
Kamo (Depart)
19:59
Yamatoji Line for Osaka

(Yamatoji rapid serivce)

↓
Osaka (Arrive)
21:24