Omiwa Shrine in Nara is one of the most unique shrines in Japan. Omiwa Shrine sits at the base of Mt. Miwa, arguably the most holy mountain in the country since the god Omononushi is essentially the mountain itself. For this reason, visiting Omiwa Shrine can be a very powerful experience for the practitioners of Shinto and is frequented by pilgrims all year long.
Getting to Omiwa Shrine
The closest station to Omiwa Shrine is Miwa Station off the JR Sakurai Line.
Starting from Osaka station, take the Yamatoji Line bound to either Nara or Oji, whichever is convenient. Ride the train until you get to the terminal and then change to the JR Sakurai Line. From Osaka, it takes roughly an hour and thirty minutes to get to Miwa Station. Please keep in mind that the JR Sakurai Line only runs twice an hour, so be sure to check the train schedule before you go.
Alternatively, you could take the Kintetsu Line from Namba to Kintetsu Sakurai and change trains there to the JR Sakurai Line for Miwa.
It might be a good idea to stock up on snacks and drinks at Osaka or Nara Station before heading out to Miwa. Miwa Station is a really small station and there is nothing around the station either. We even couldn't find a convenience store!
&nbsp
Miwa's Torii
A short 10 minute walk from Miwa Station will reward you with an amazing site. Fittingly called Dai Torii [大鳥居], literally "big torii", stands guard to Omiwa Shrine and is the second tallest torii in Japan measuring an impressive 32.2 meters!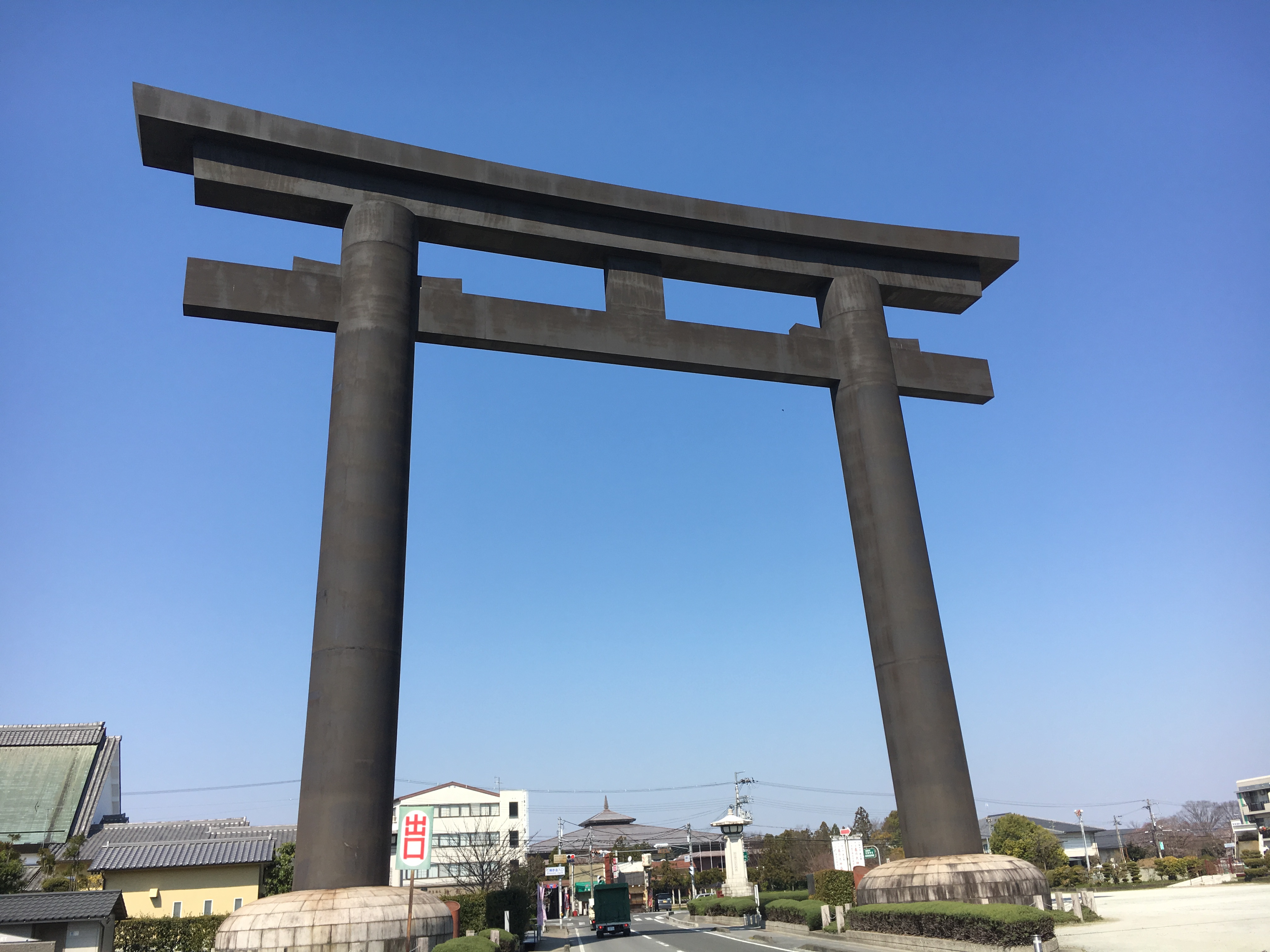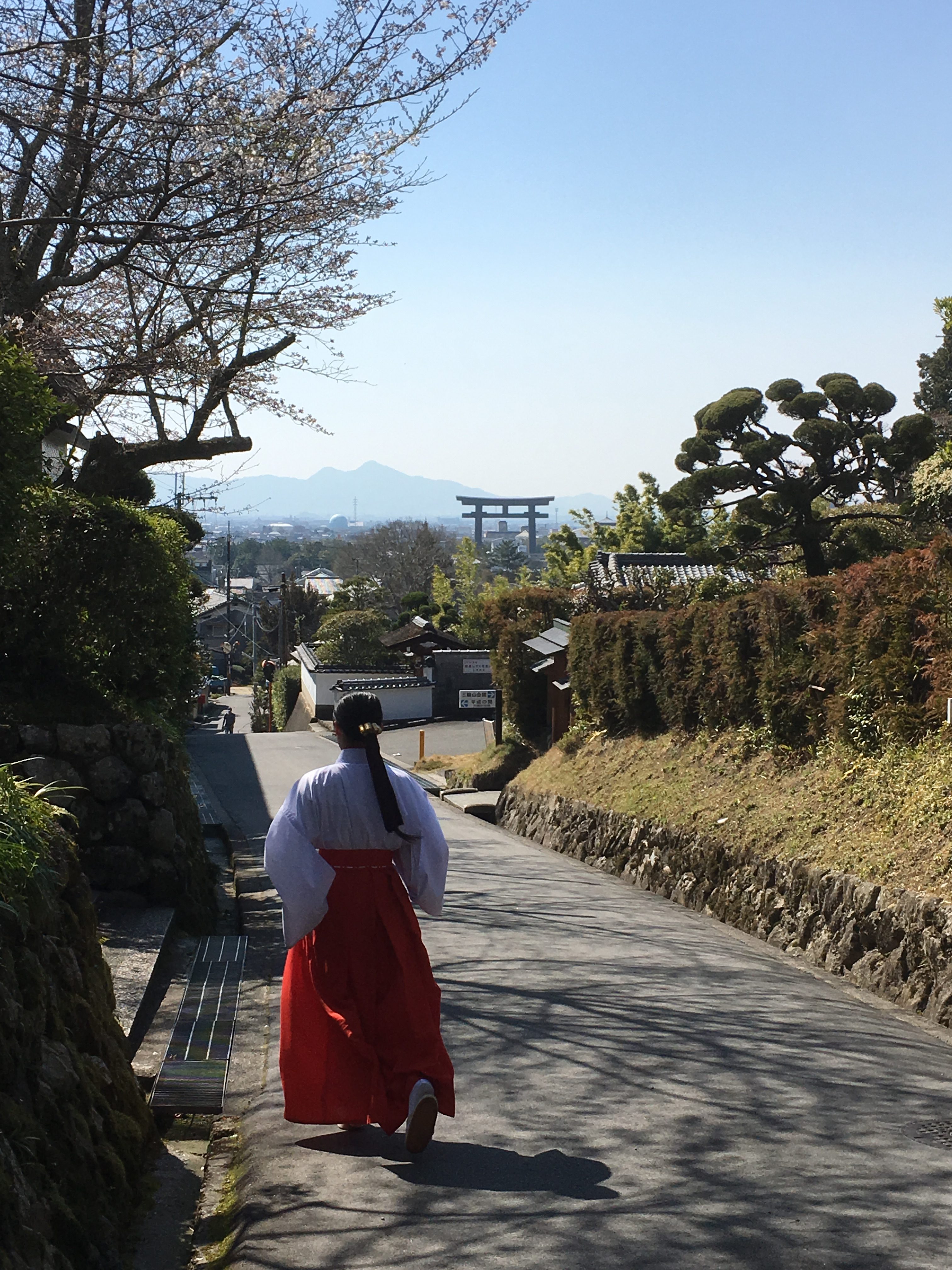 Despite its impressive size, Dai Torii is not the first torii of Omiwa Shrine. Omiwa's actual first torii is just off the road that Dai Torii stands and is no where near as tall.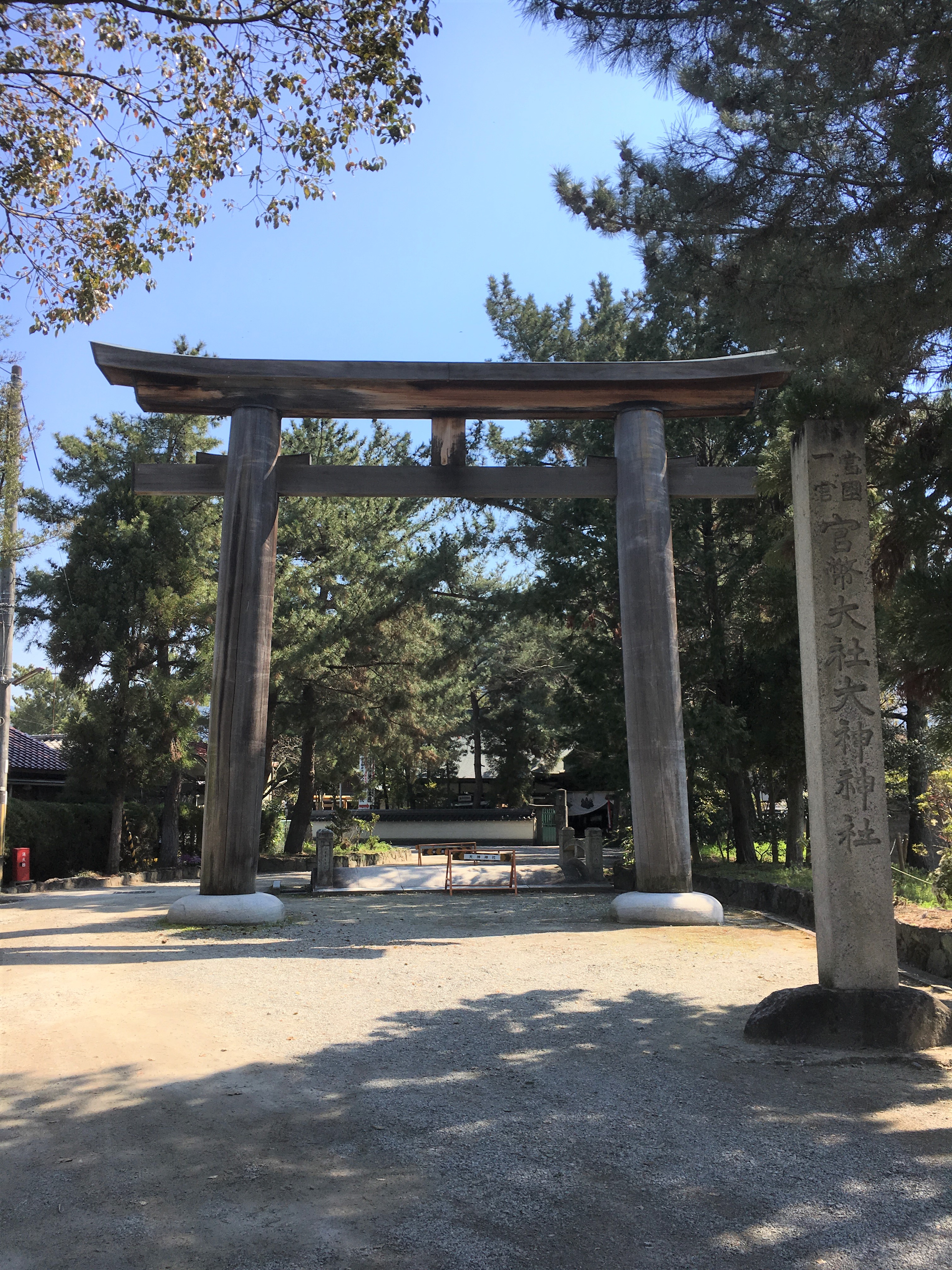 From the first torii you have to walk about 10-15 minutes to reach the entrance of Omiwa Shrine.
Despite seeing plenty of tour groups, we were surprised  that there were almost no food vendors, souvenir shops, or even a convenience store on the road to Omiwa Shrine.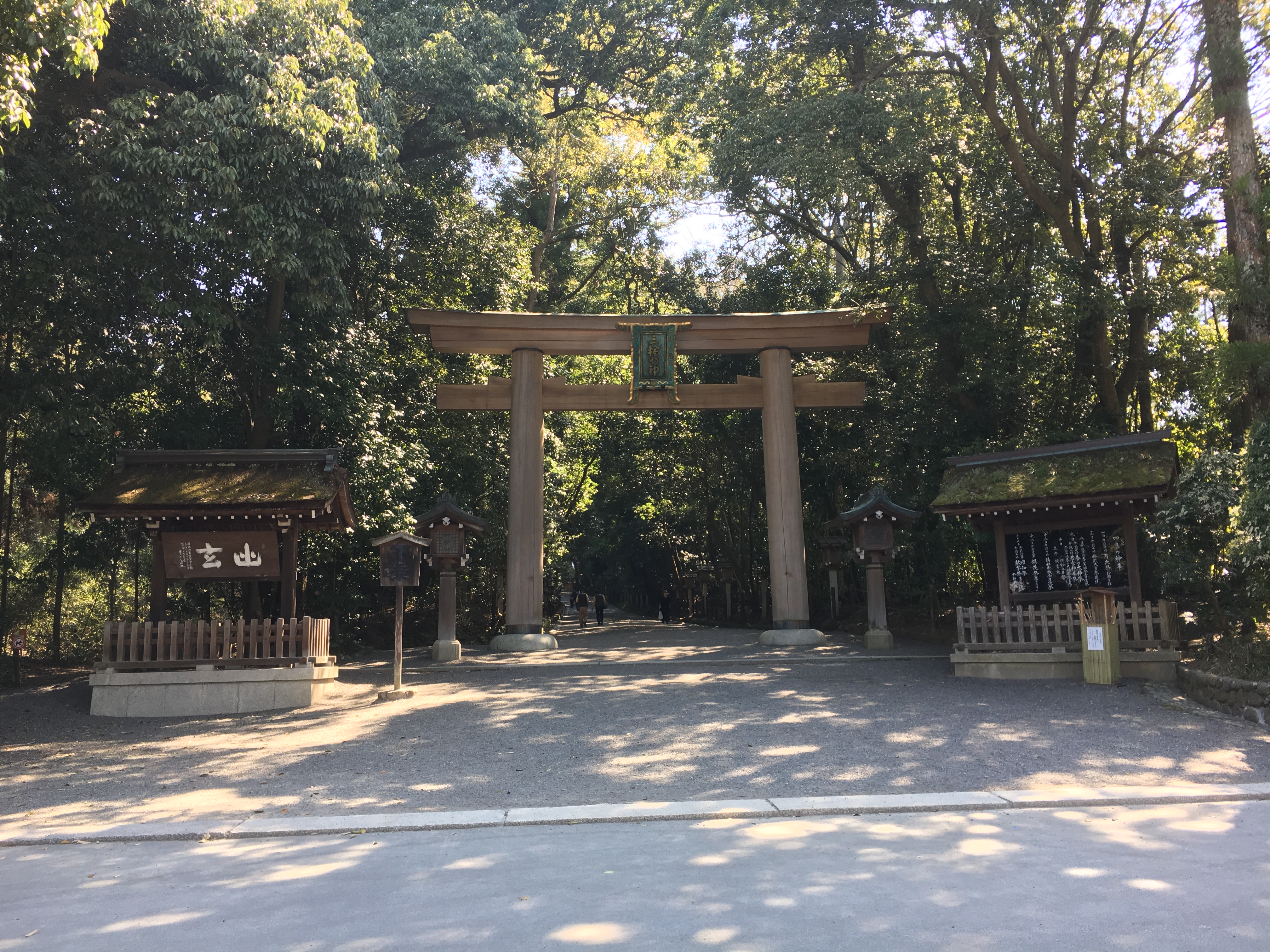 After Ni no Torii it feels more like an actual shrine with a dense layer or trees covering the road to the main shrine.
Shrine Grounds
Like Izumo Taisha, you are supposed pray and purify yourself shortly after you enter the shrine grounds, so be sure to stop by Haraedo Shrine on your way towards Omiwa's haiden.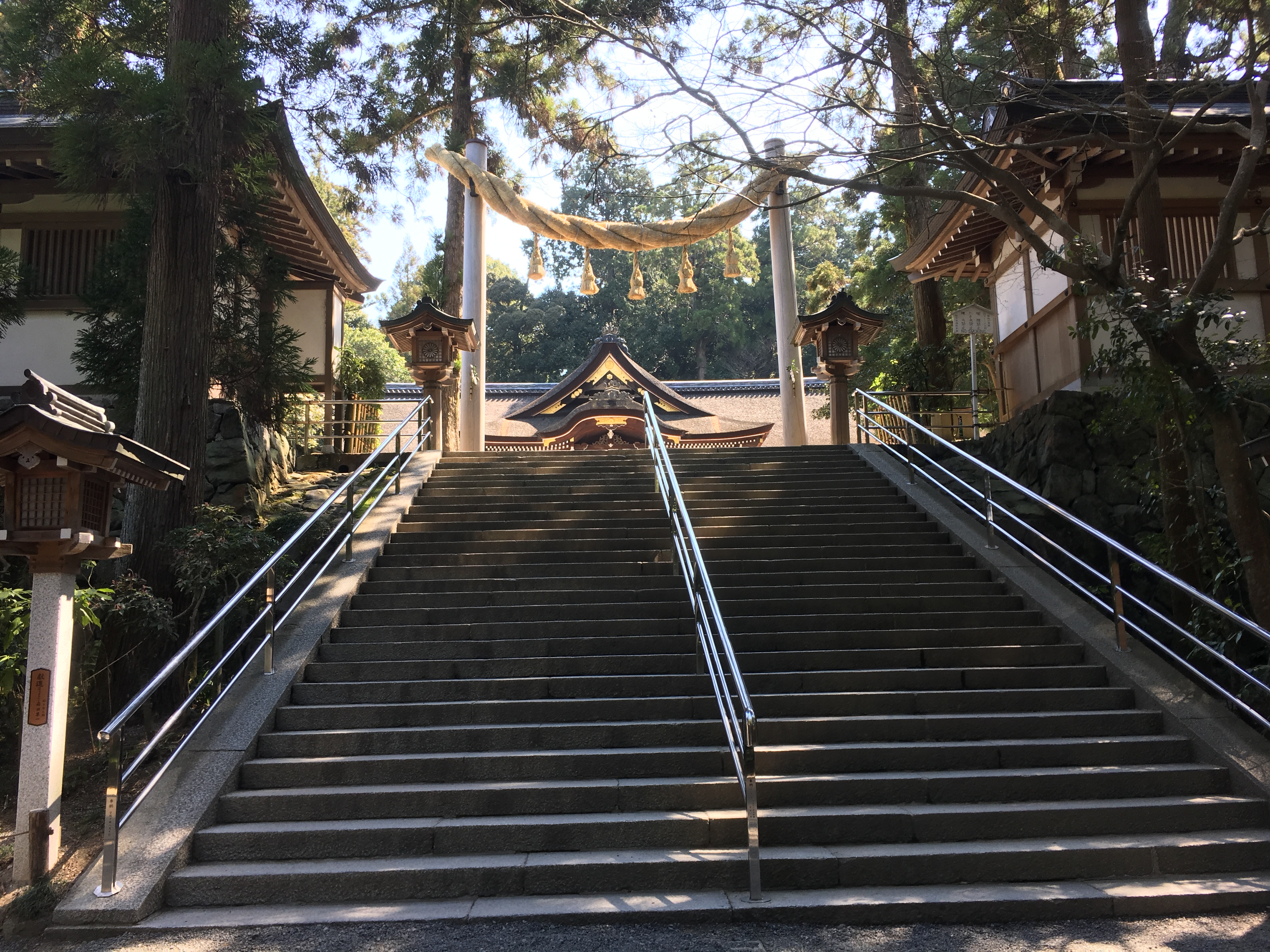 Once you climb up the stairs to the shrine, you will see a large tree on the right.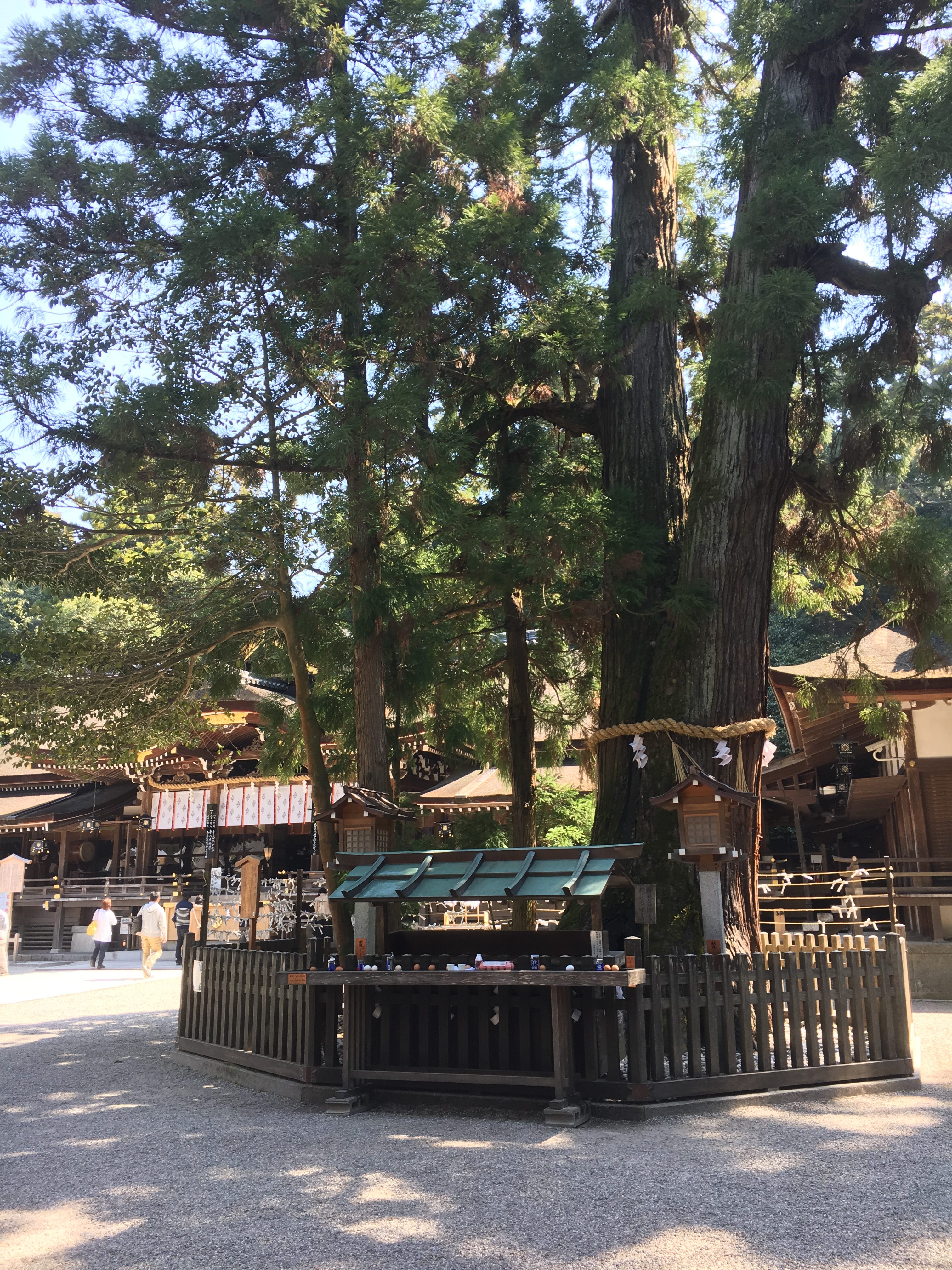 This tree is called Mi no Kami Sugi [巳の神杉] and is where Omononushi is often believed to appear in the form of a snake. Since snakes love eggs, people will often leave Omononushi eggs as offering in various places around Omiwa Shrine.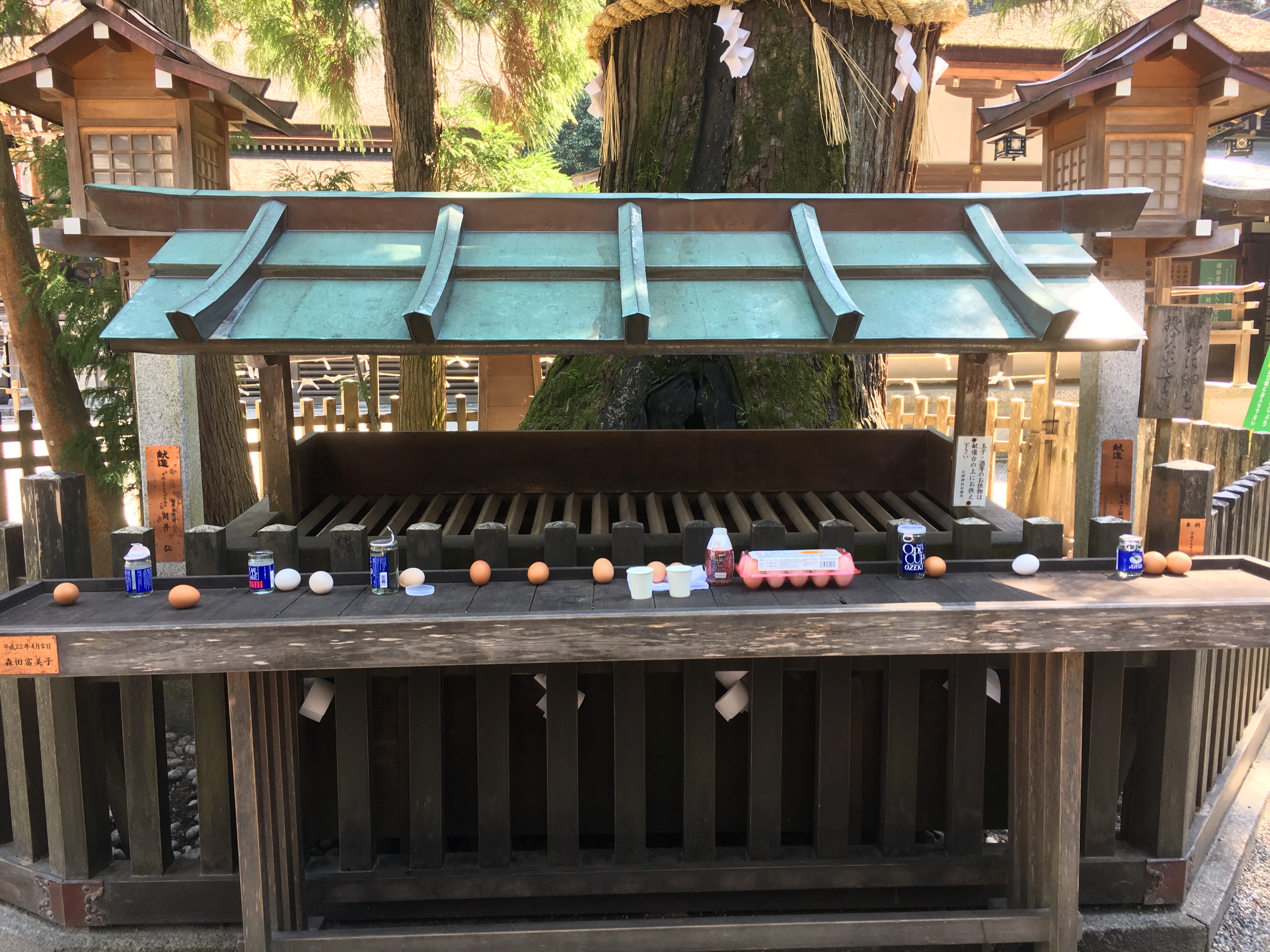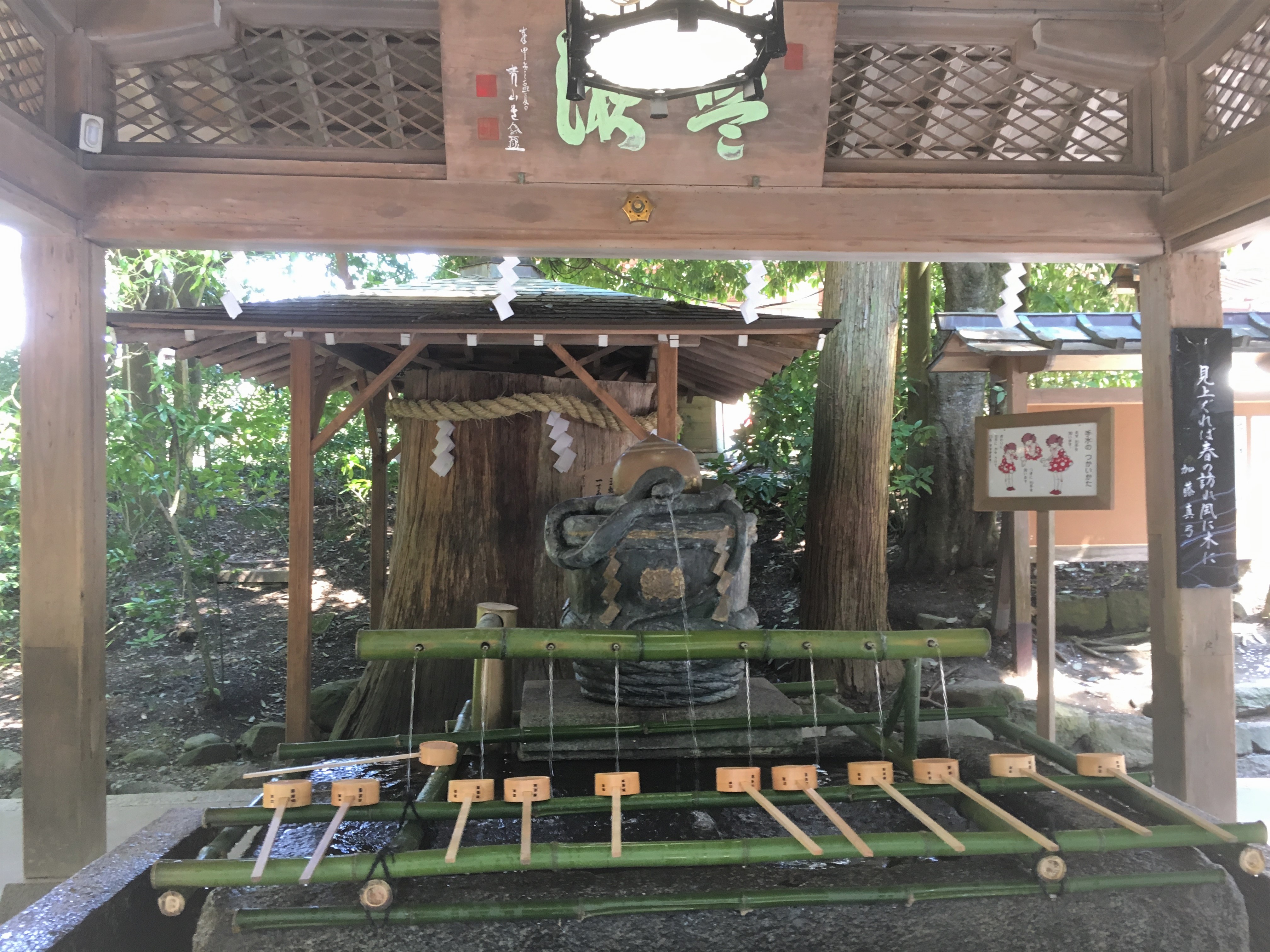 If you remember from our visit to Izumo Taisha, there was a special chant you were supposed to recite three times when praying before the haiden. Omiwa Shrine follows this same ritual. We assume it is because of the connection Okuninushi and Omononushi share.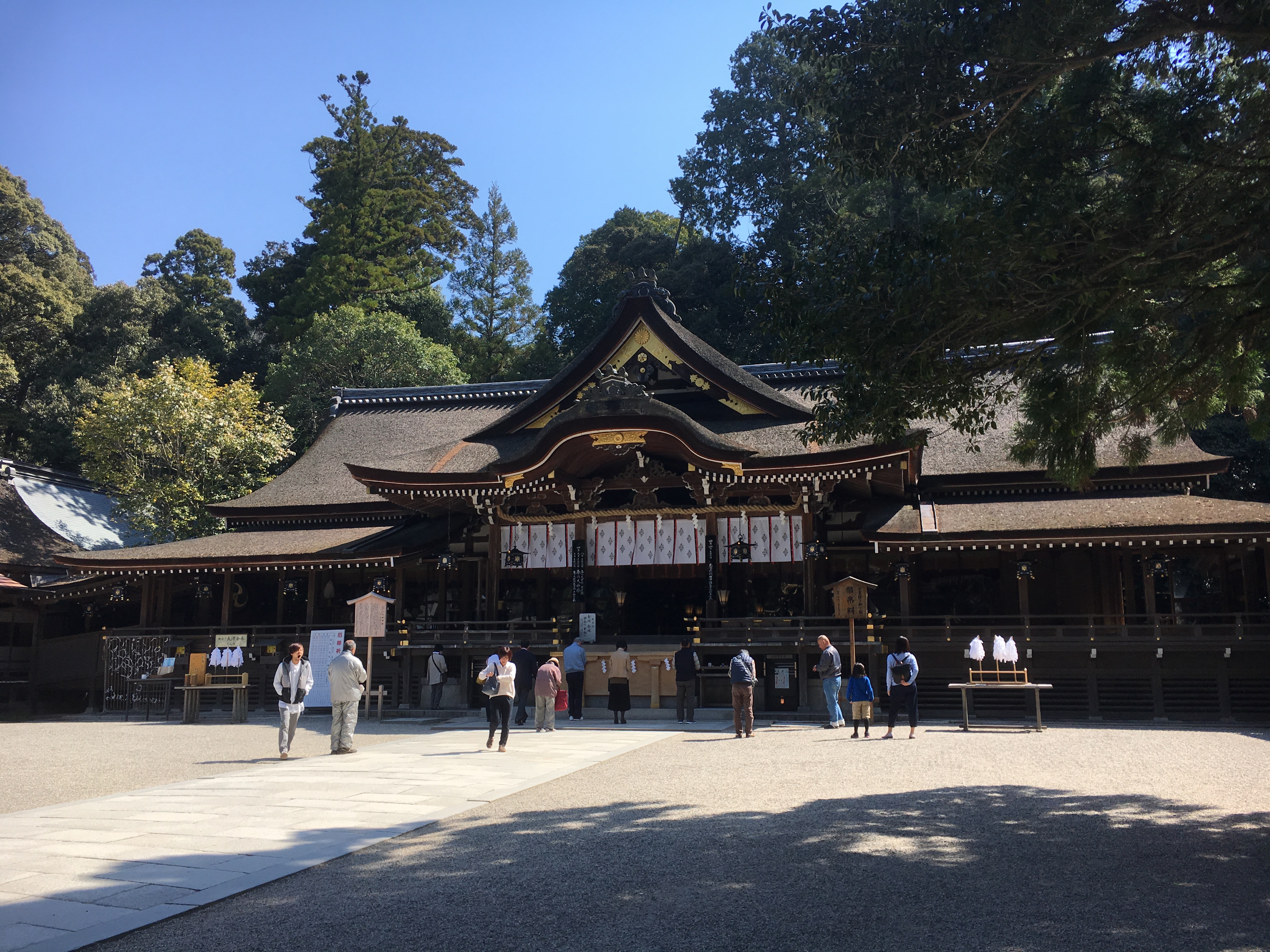 If you don't remember, the chant goes:
"Sakimitama Kushimitama Mamoritamae Sakihaetamae"
幸魂、奇魂、守給へ、幸魂へ

When you finish making your offerings at the haiden, peek around the side of the building. If you are very observant you will notice that something is missing. Can you guess what it is? It's the honden! There is no formal honden at Omiwa Shrine because Omononushi is believed to be everywhere on Mt. Miwa so having a honden would pointless.
Mitsu Torii
If you frequently visit shrines in Japan, you may sometimes come across a combined torii, like the one shown below.
This type of torii is called mitsu torii or miwa torii and originates from Omiwa Shrine. Unfortunately, even the shrine records are unclear as to when or even why they started building torii in this fashion.
There is a mitsu torii behind Omiwa's haiden, but it is hard to see if you are standing in front of the haiden. However, if you go to the Sanshu-den (shrine office) and ask to see the mitsu torii, a priest will usually be able to escort you to the back of the haiden. (If they are busy or doing ceremony, they may not be able to take you). When we went, they were able to take us! The priest purified us first and then took us to the back of the shrine. He explained a lot and even answered many of the questions we had. Due to the religious significant of Omiwa's mitsu torii, taking pictures is strictly prohibited.
If you have time, you should definitely check it out. Oh, and by the way, it's free.
Famous Food Near Omiwa Shrine
As we already mentioned, there were almost no convenience stores when we got off at Omiwa Station but we were glad to see that there were several places offering food near Ni no Torii.
Soumen
We mentioned in our trip to Izumo that for some reason many prominent shrines in Japan are often famous for some kind of noodle. Likewise, Miwa is famous for their somen and is a must try when you are in the area. In fact, somen was first invented in Miwa and you can find Miwa somen all over Japan.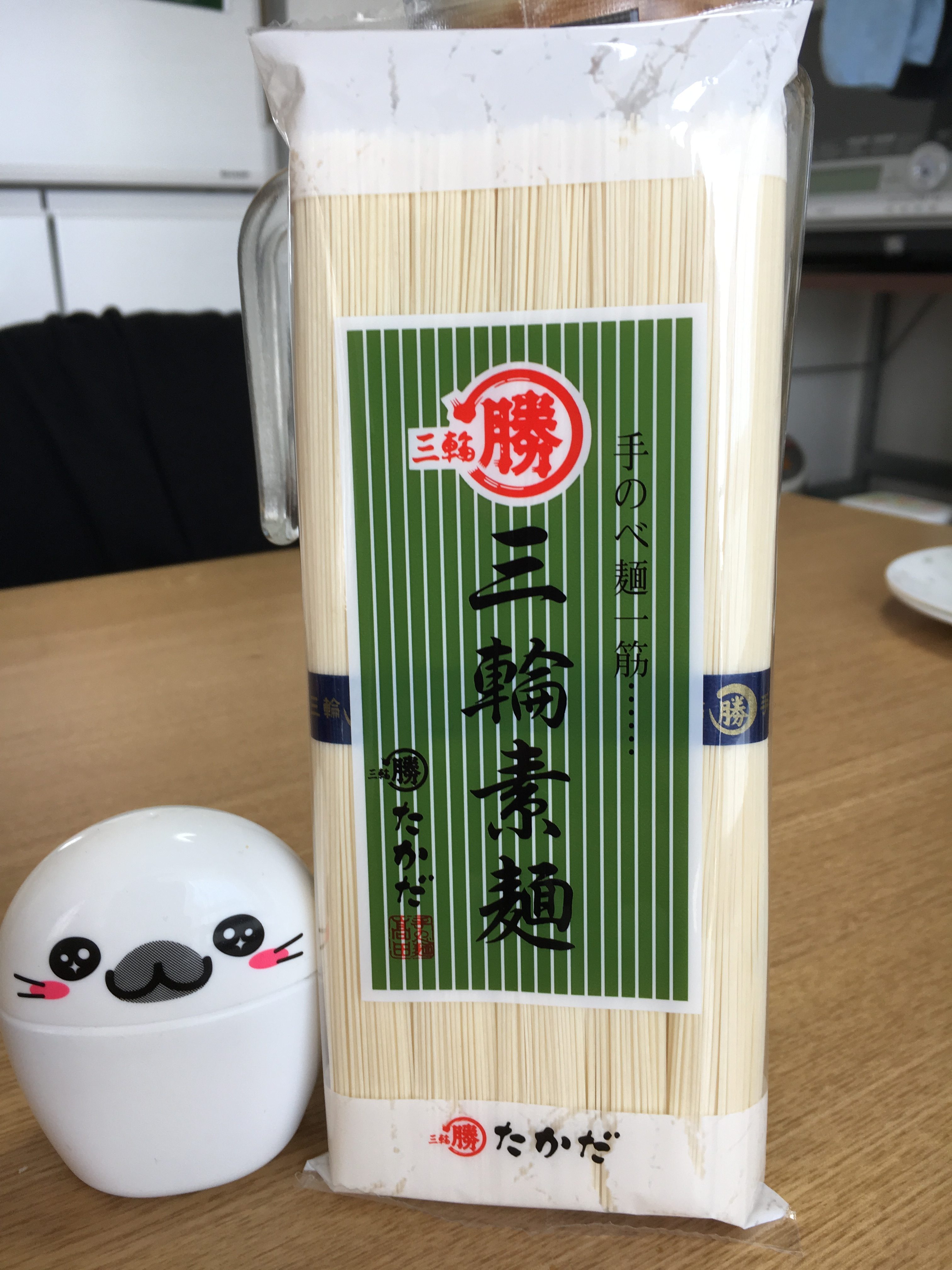 Somen is often served cold, making them one of the most popular summer dishes in Japan.
Kakino ha Sushi
Another popular dish in Nara, and even Wakayama is kakino ha sushi [柿の葉寿司]. We'll talk about this more at another time but, it is certainly worth trying if you ever see it on a menu.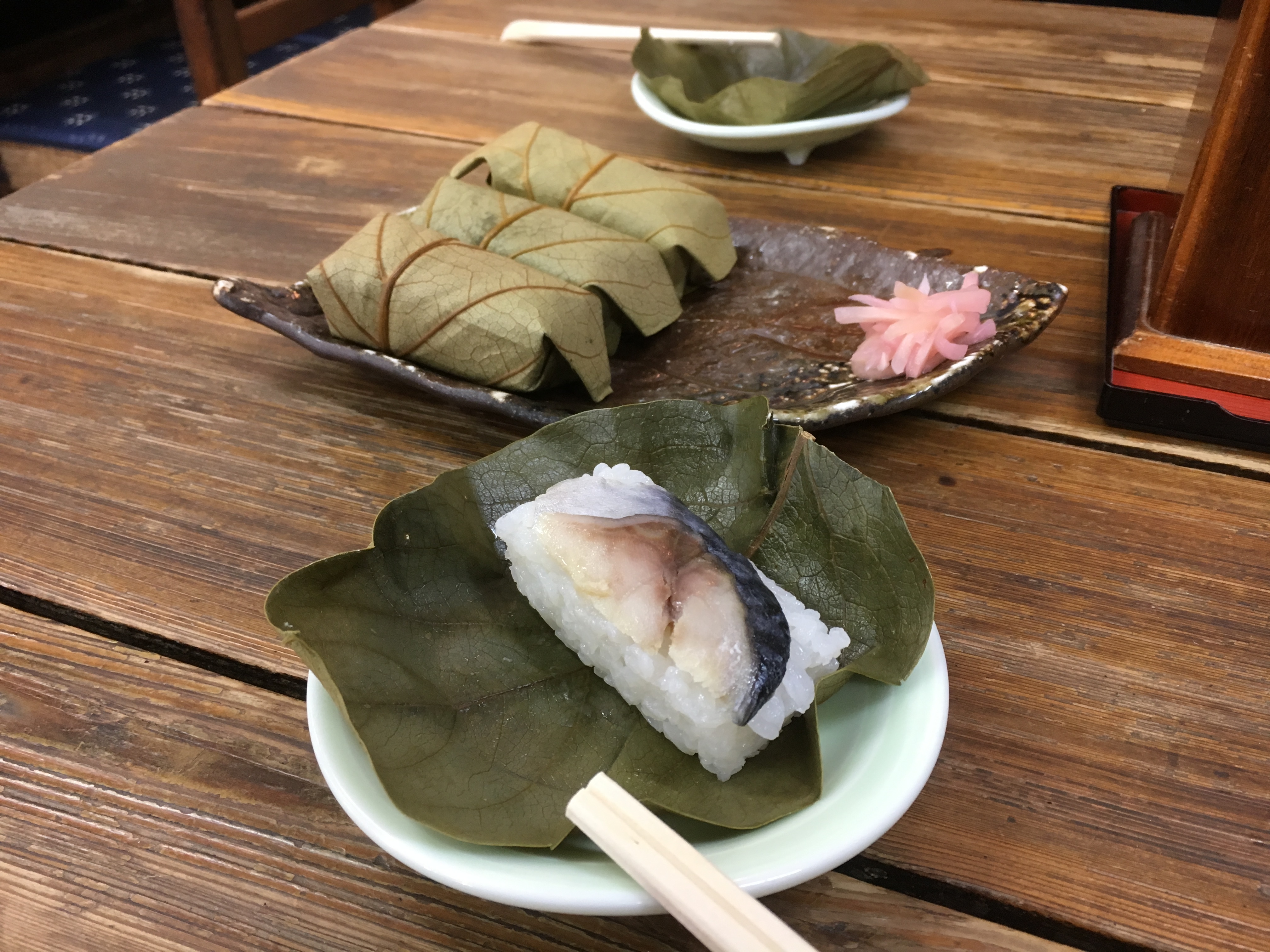 Sake
We also saw another local special on the way to the shrine, Imanishi Shuzo.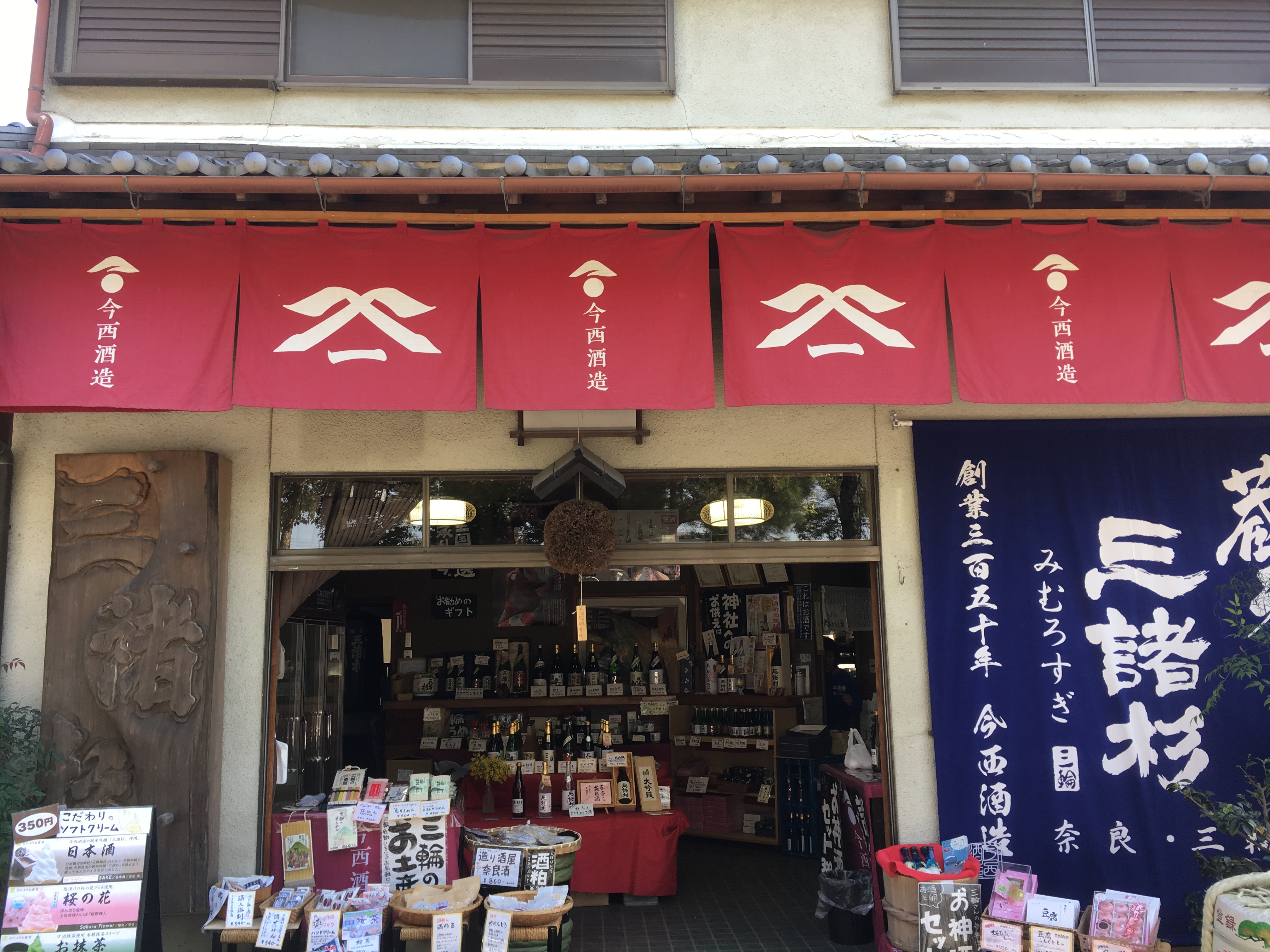 Imanishi Shuzo makes ice cream from their very own sake! The flavor of the sake came through much more than I expected but it was not overpowering.
Remember, that because of a story from the Nihon Shoki, Omiwa Shrine is a very sacred place for sake, so you should absolutely not miss out on a chance to try some!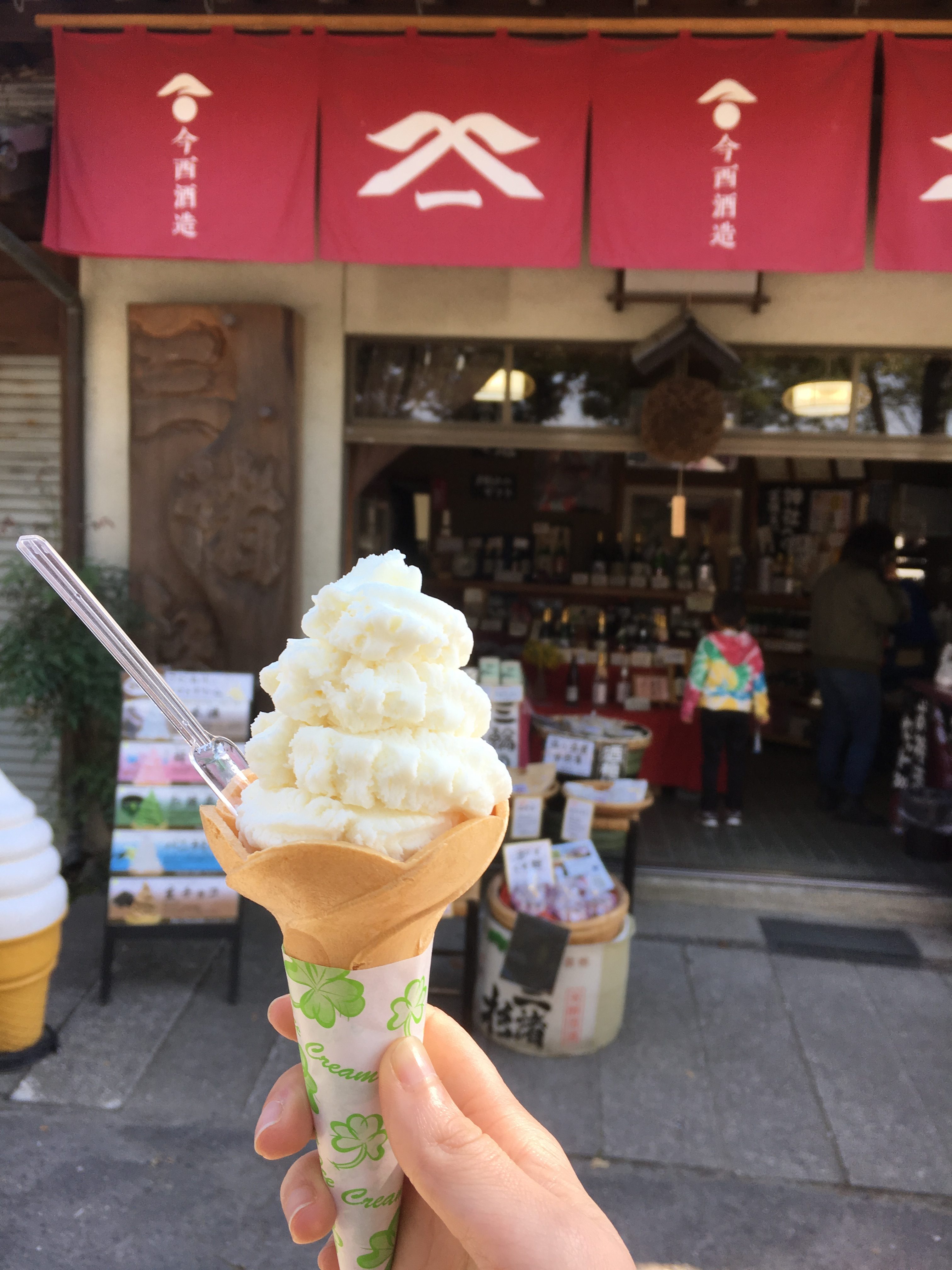 We even took some sake for the road.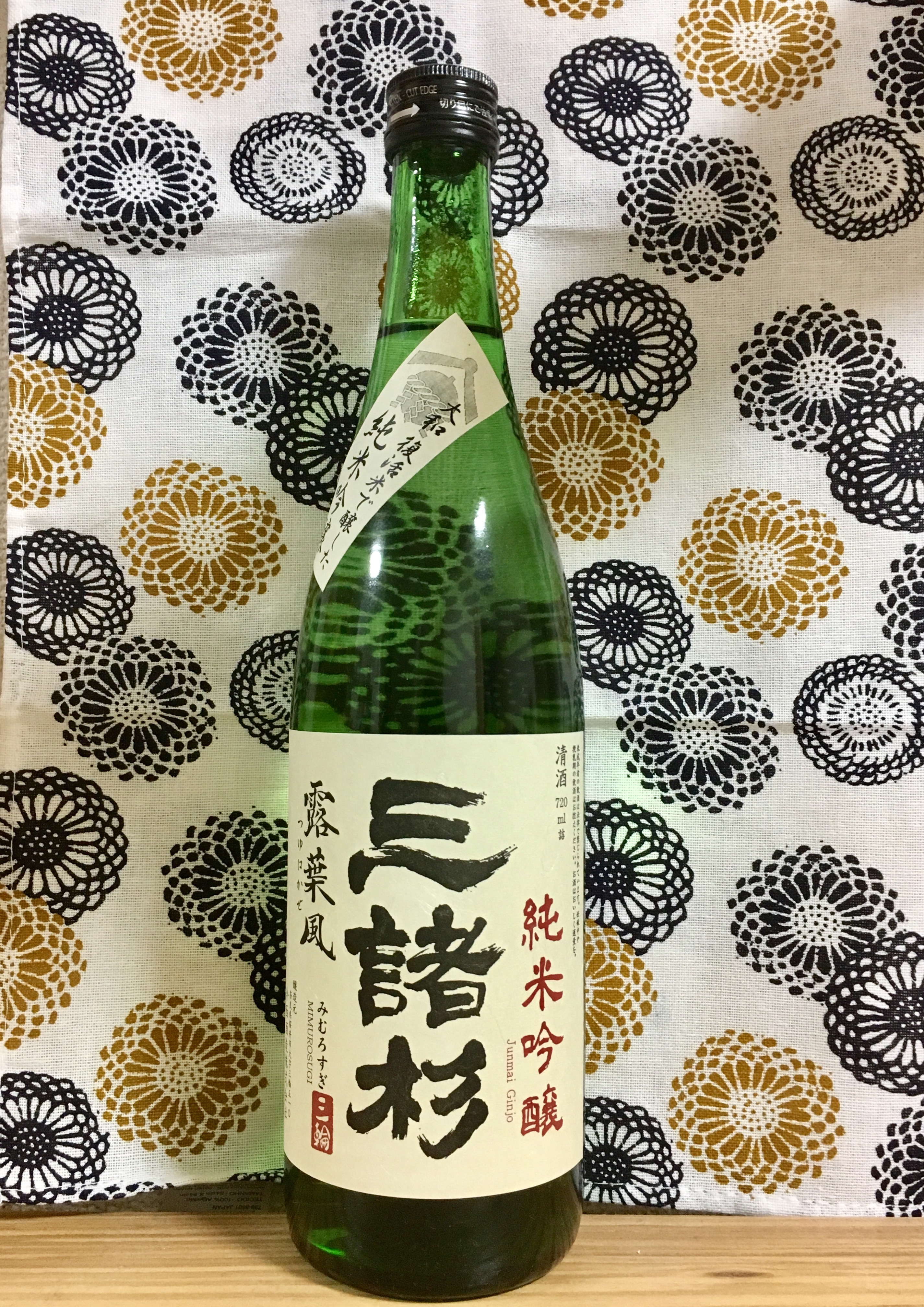 Omiwa Shrine
| | |
| --- | --- |
| Address | 1422 Miwa, Sakurai, Nara Prefecture 633-8538 |
| Website | http://oomiwa.or.jp/english/ |
| Admission Fee | Free |
| Hours of Operation | Open seven days a week from dawn to dusk |
Visting Omiwa Shrine is a very full day and does involve a little bit of planning, but it is not terribly difficult to prepare for. Just be sure you check your timetables, and if it is summer when you visit don't forget to buy plenty of water BEFORE you set out. You will find that this little bit of effort has a tremendous pay off and is well worth a visit when you are in Kansai.
Coming next time,
Walking up Mt. Miwa
The adventure continues…
Please follow and like us: