Kasuga Taisha, Holy Deer!
Nara Prefecture is famous for its rich history and iconic shrines and temples. Perhaps just as iconic as those shrines and temples are the deer. Once you get close to Nara Park you will immediately see scores of deer freely walking around. Tourists love to buy special crackers to feed the deer, and the deer are more than happy to accept. But why are the deer there? The reason these deer are here is because of nearby Kasuga Taisha [春日神社].
The Mythology and History of Kasuga Taisha
Kasuga Shrine has a very confusing history, deeply mixed with actual occurrences and myth. Built in 710 by the Fuhito Fujiwara, Kasuga Shrine houses a total of four gods, collectively called the Kasuga gods: Takemikazuchi, Futsunushi, Amenokoyane and his wife, Himegami. Kasuga Taisha's original god was Takemikazuchi. Originally from Kashima Shrine in Chiba, legends say that Takemikazuchi rode a white deer from Kashima, Chiba to Kasuga Shrine. As for the white deer, supposedly all the deer in Nara Park today are related to this one white deer, and therefore blessed by Takemikazuchi.
Later, in 768, Fujiwara Nagate, brought the god of Chiba's Katori Shrine, Futsunushi, as well as the gods of Hiraoka Shrine in Osaka, Amenokoyane and his wife, Himegami, to Kasuga Taisha. Since then, the Kasuga Gods became the guardian gods of the Fujiwara clan.
Getting to Kasuga Taisha
[mappress mapid="115″ width="95%"]
Kasuga Taisha is only a 15 minute walk from Kintestu Nara Station. There is JR Nara Station, but it is bit far away, meaning you will have to walk a total of 25 minutes to get to the shrine gates. Of course you should get yourself plenty of time to get to the shrine since everyone wants to stop and pet/feed/photograph the deer along the way. Not to mention, the road that directly leads to the shrine, is lined with thousands of stone lanterns. This road is yet another great spot for some amazing pictures, so be sure to take this in to consideration as well when you are making your plans.
Shrine Grounds
Sando
You will still find there are many deer along the path to the shrine. The stone lanterns, or toro, are also very impressive. There are roughly 2,000 toro in Kasuga Taisha, some of which are hundreds of years old.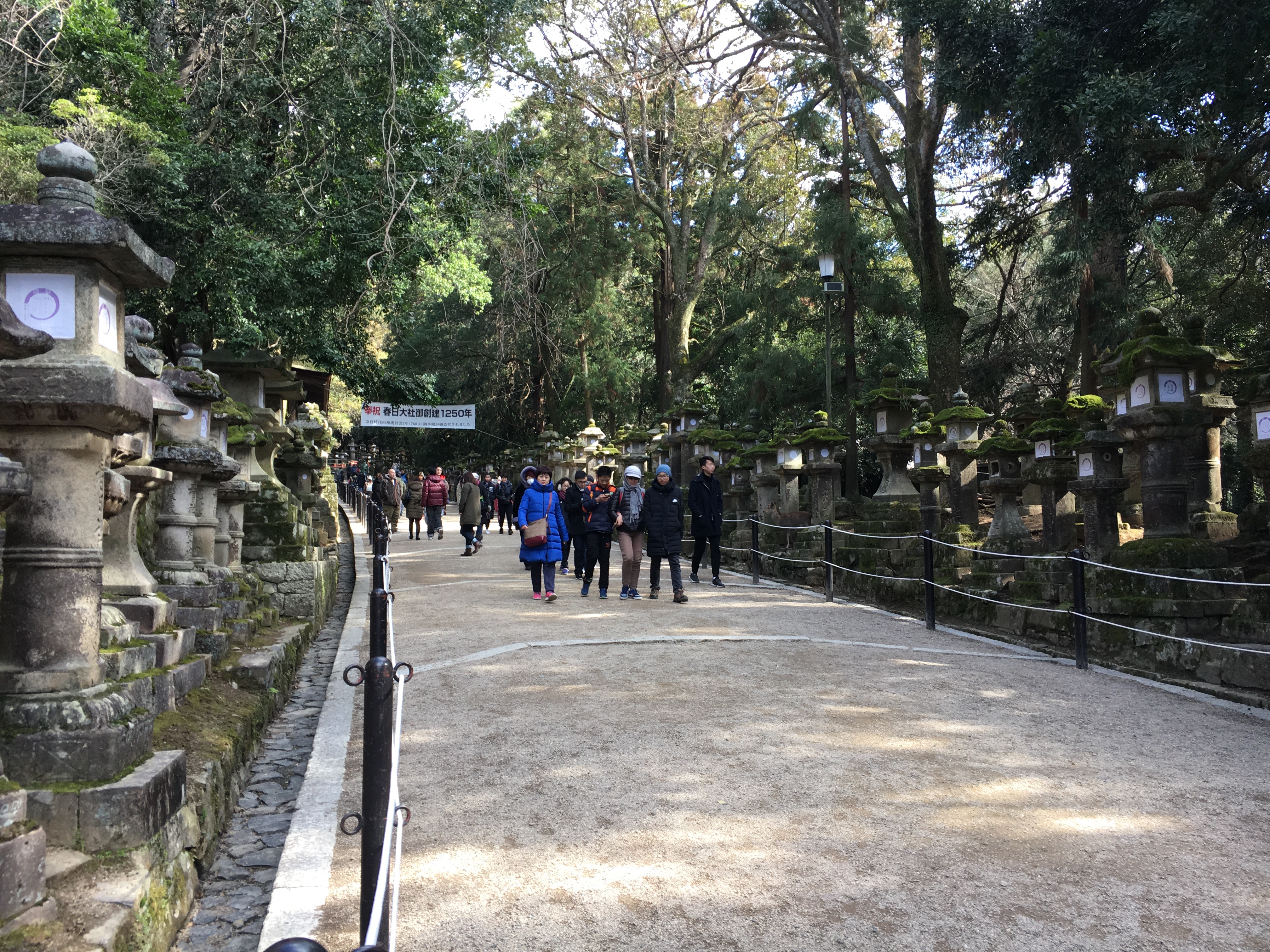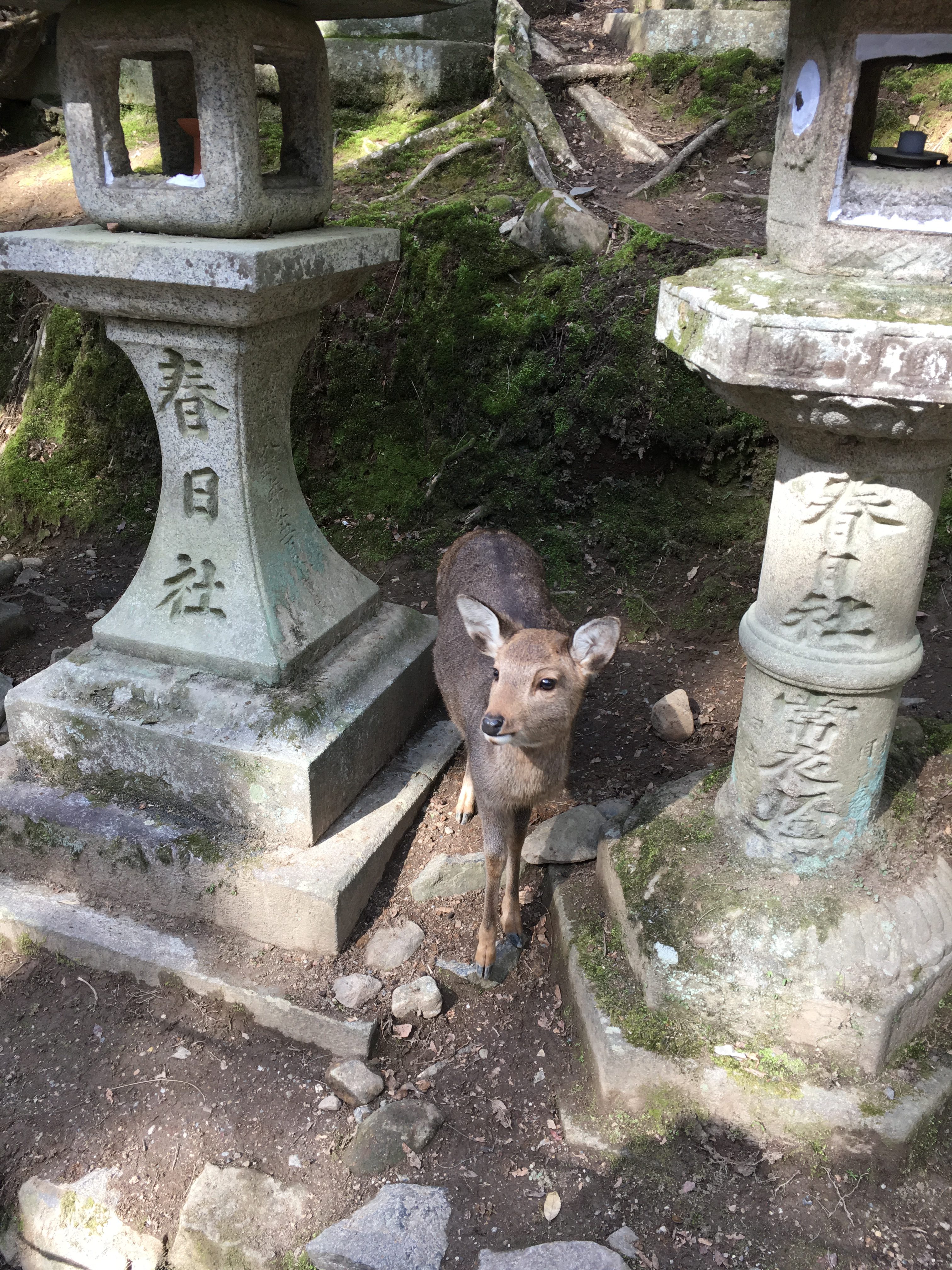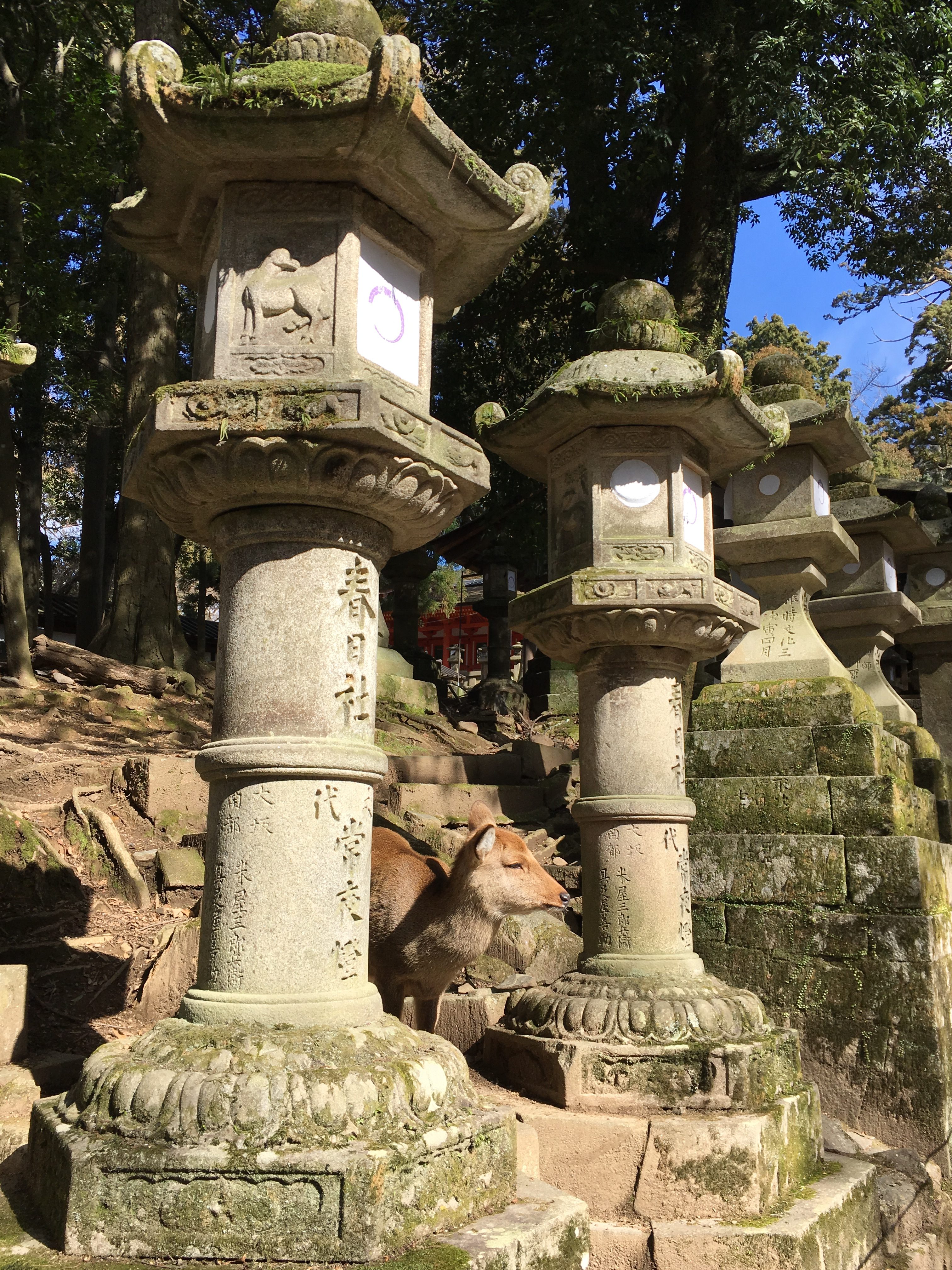 After a little walking you will come across Ni no Torii. This torii is a good example of a kasuga torii, which you can only see in Kasuga Taisha and its surrounding smaller shrines.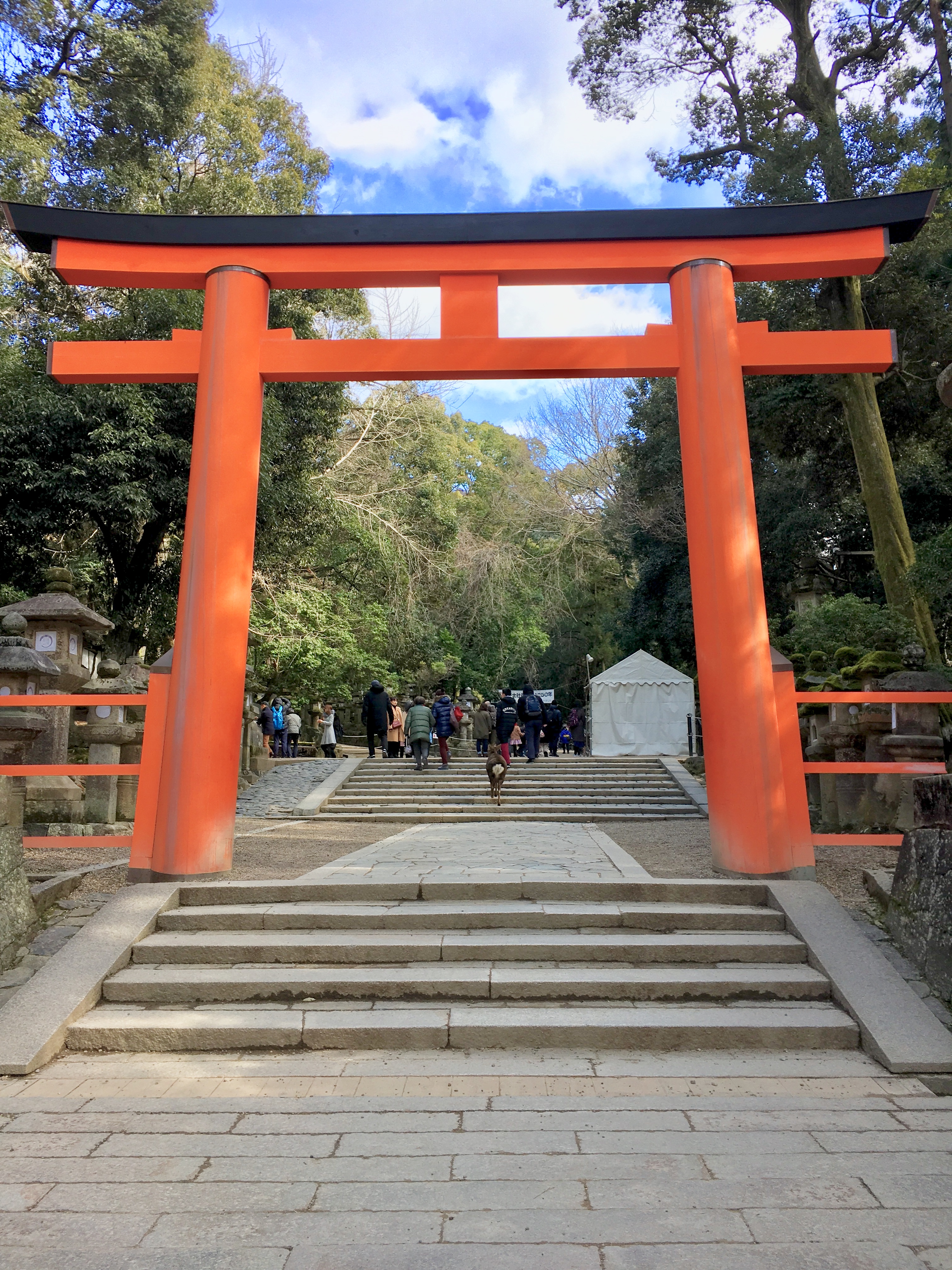 After Ni no Torii, you will see the main shrine grounds.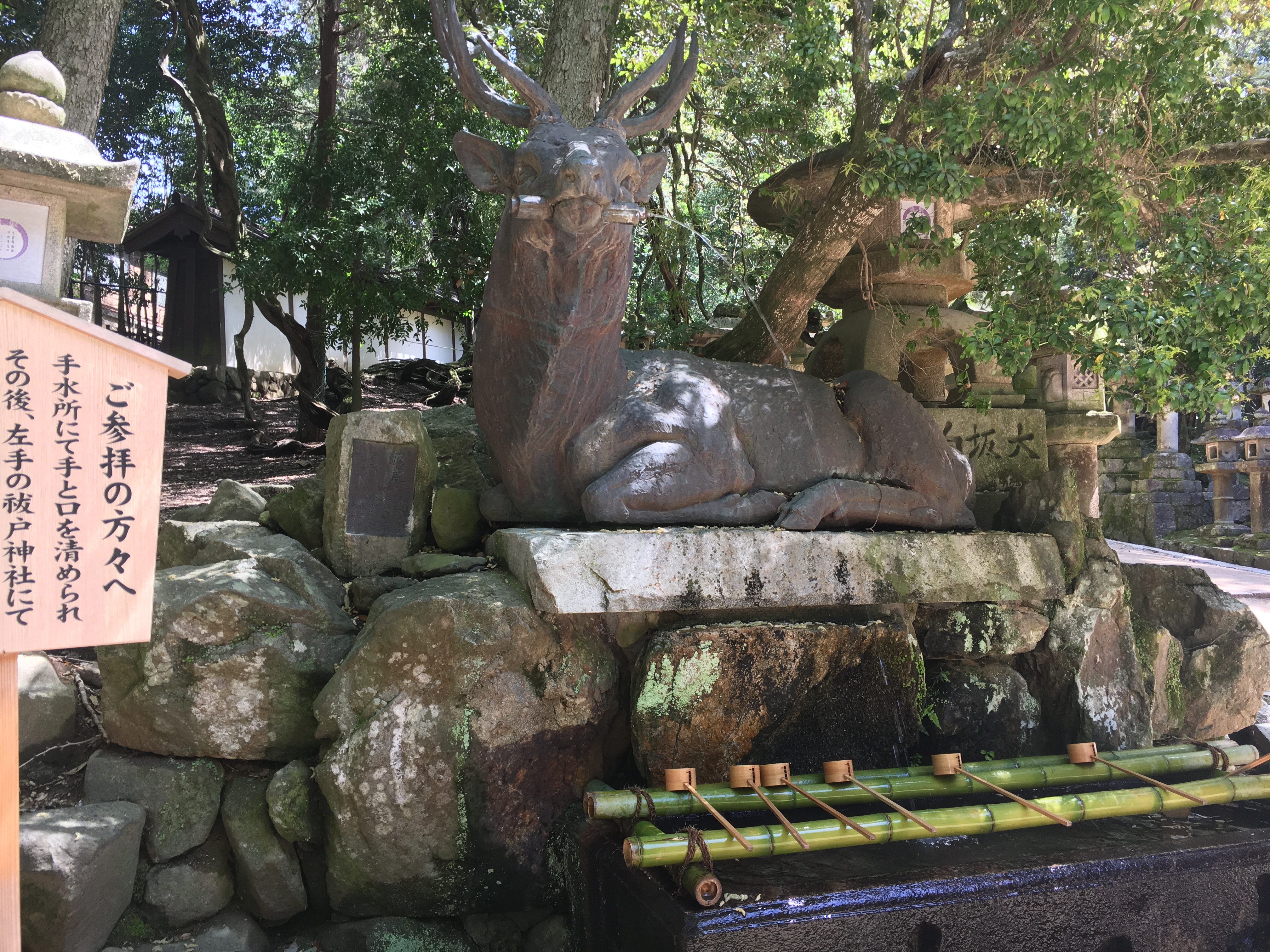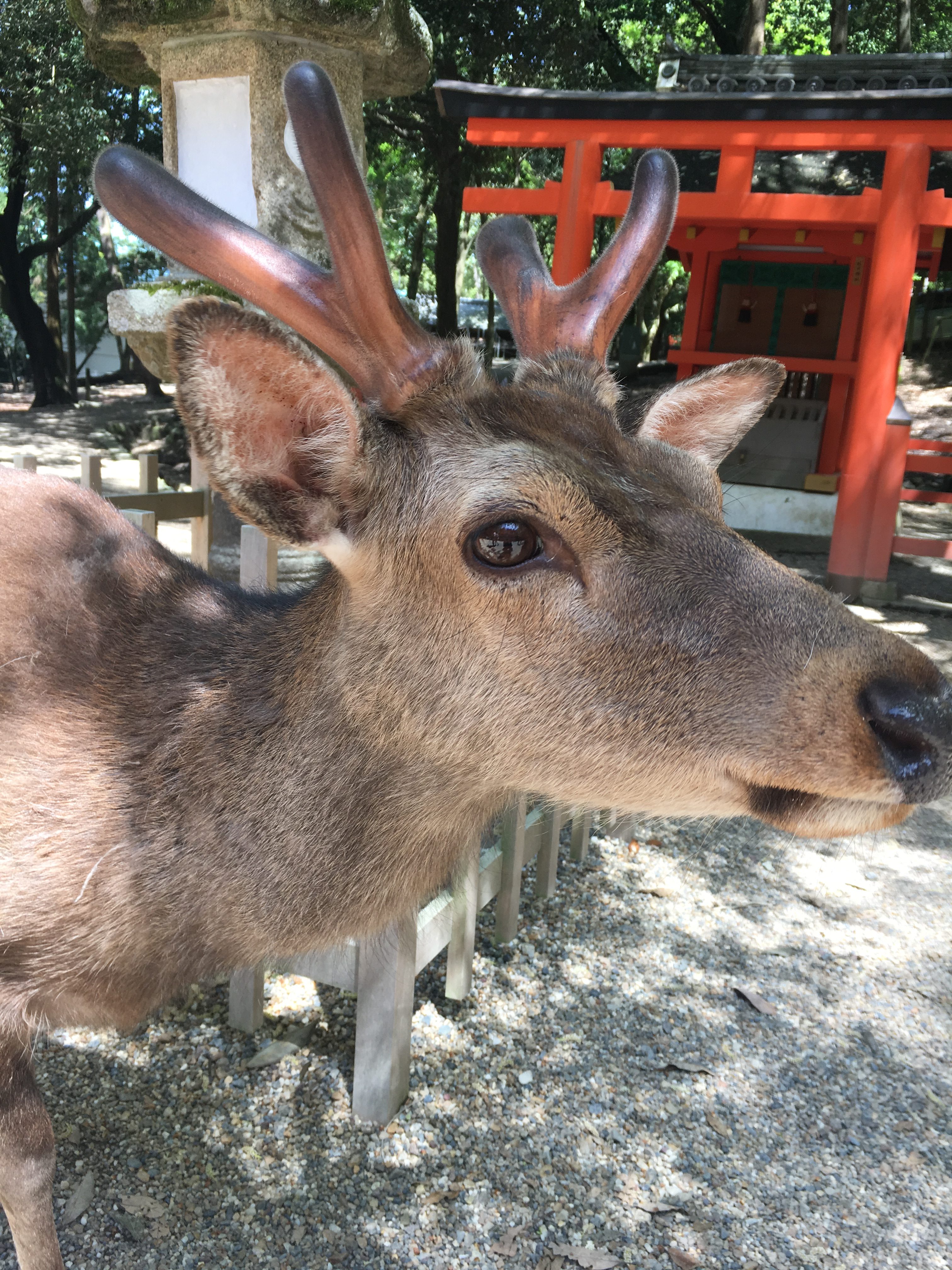 As you approach the south gate you will see Enomoto Shrine. This shrine originally occupied this area before Kasuga Taisha's construction.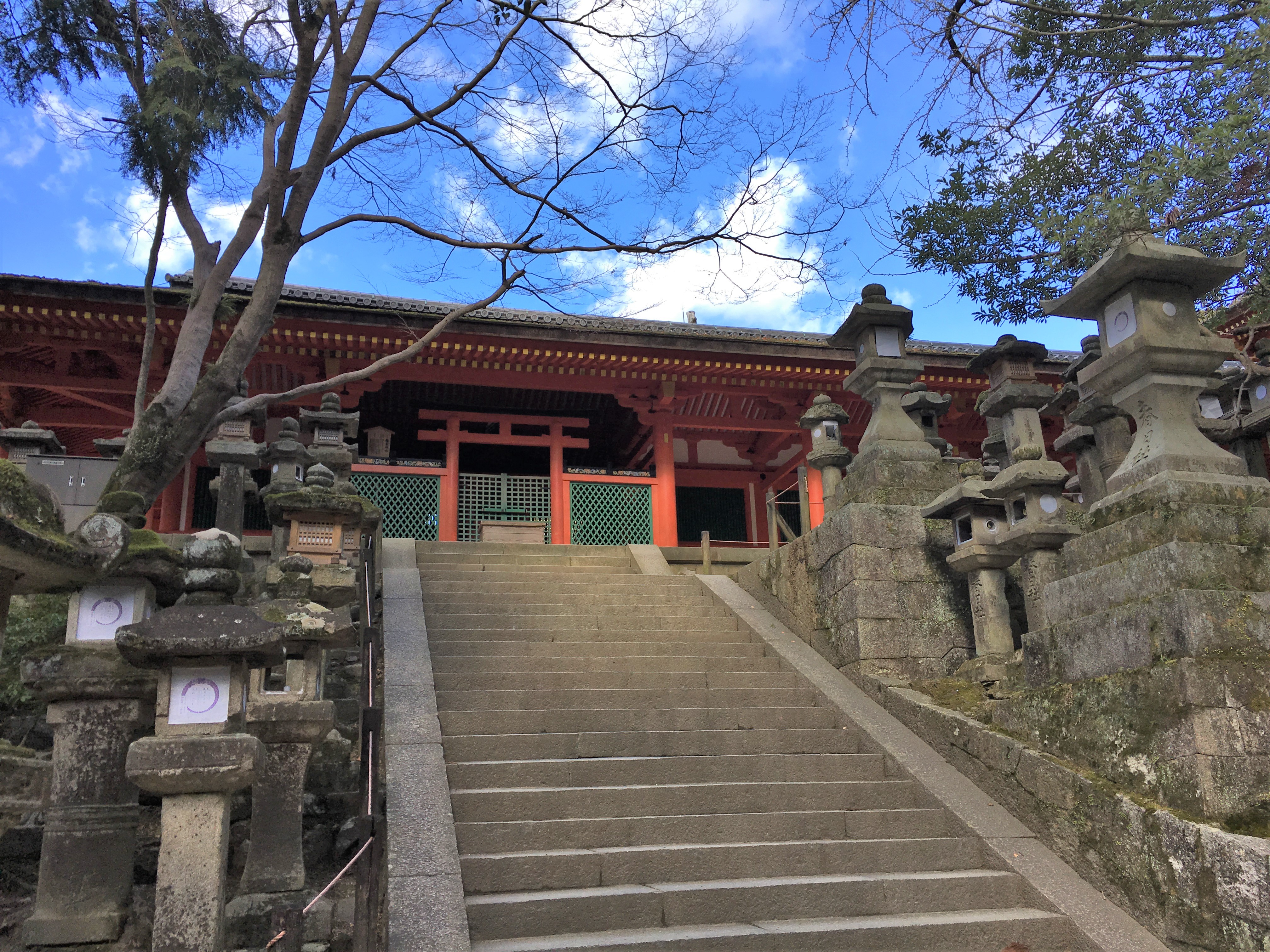 Main Shrine Grounds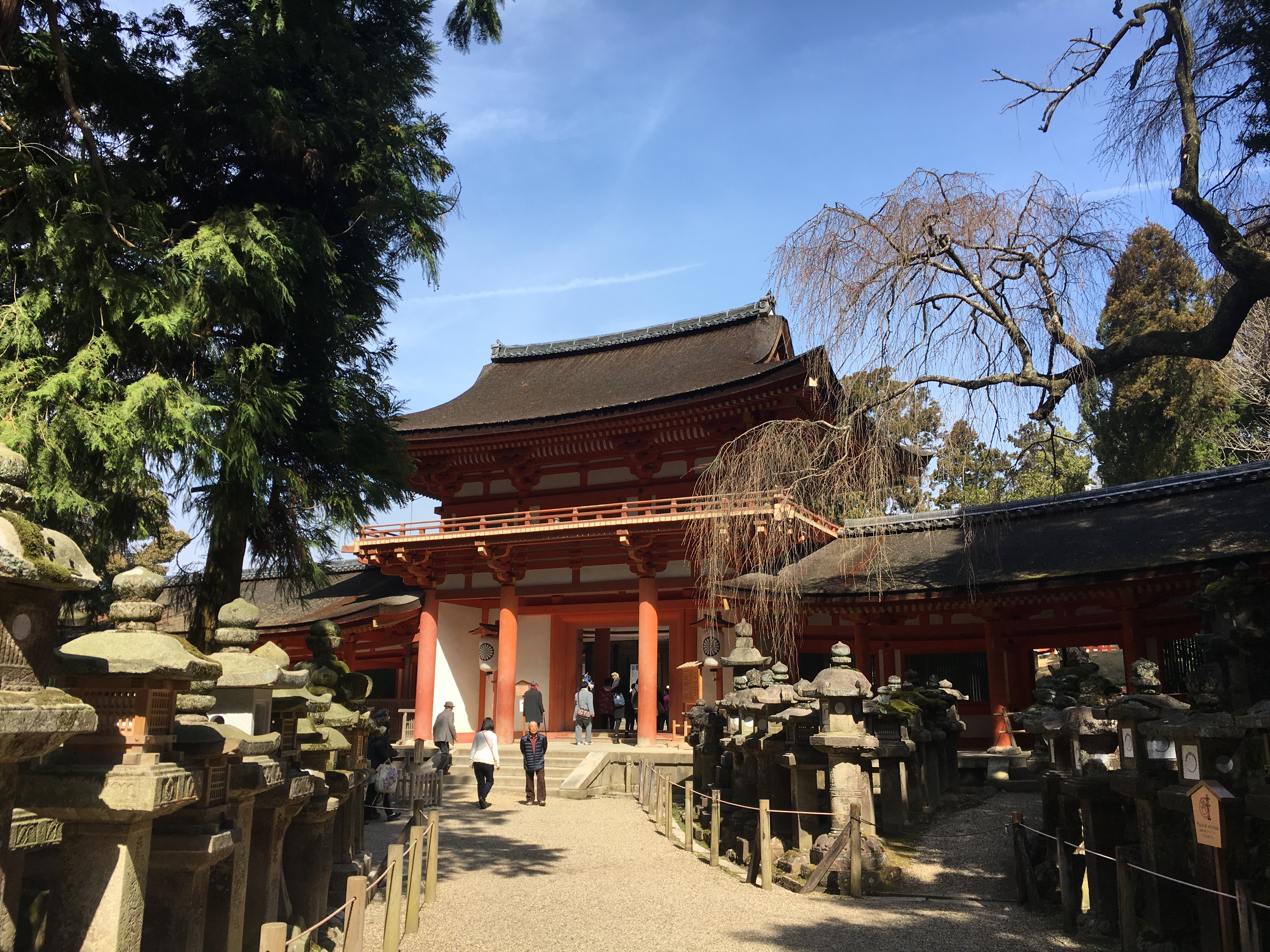 Once you go through the south gate, you will see the Heiden and Maiden. Though it looks like one long covered structure it is actually two and you can make your offering and prayers here.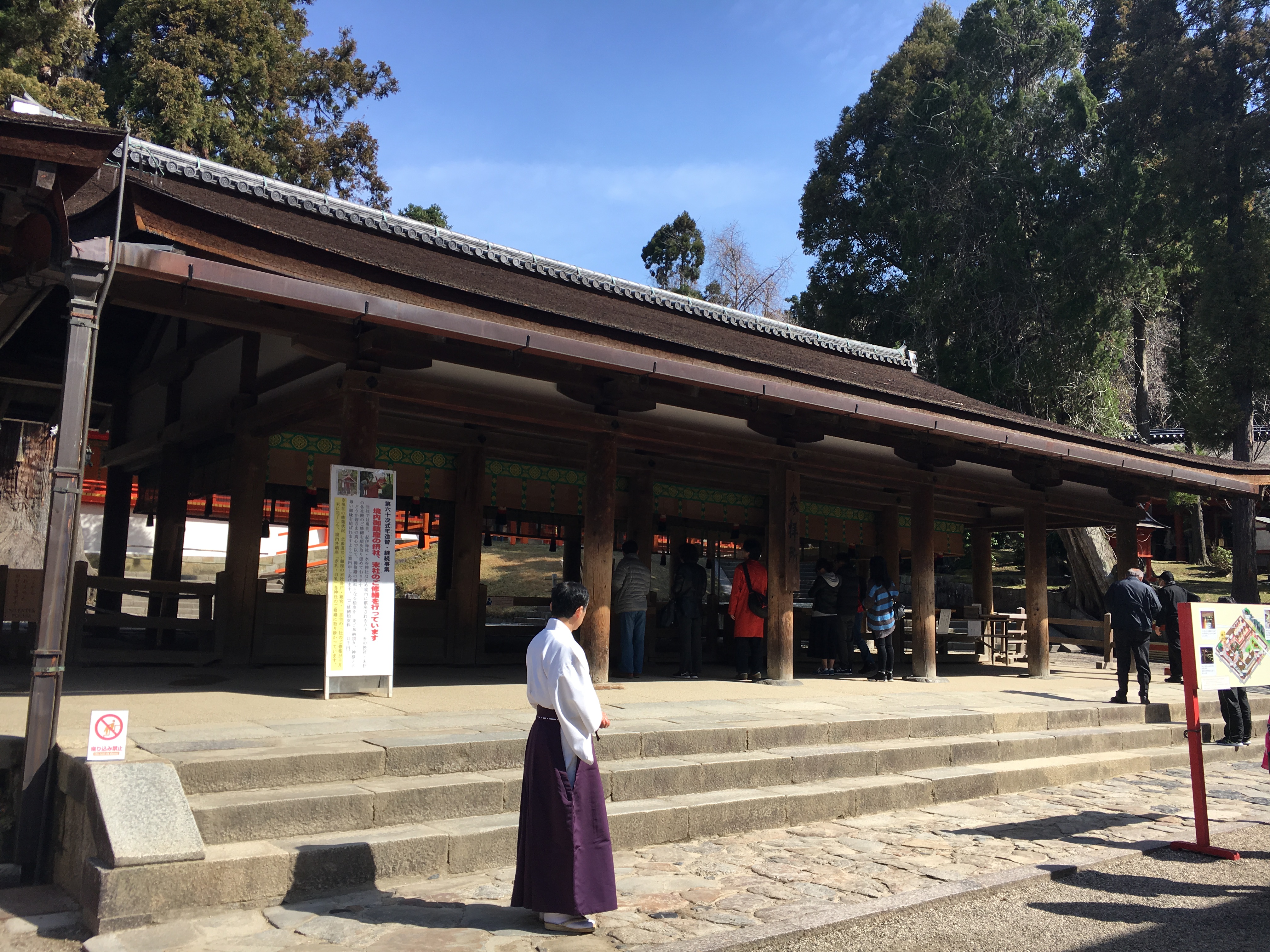 Wisteria is common throughout Kasuga Taisha because it is the family crest of the Fujiwara clan.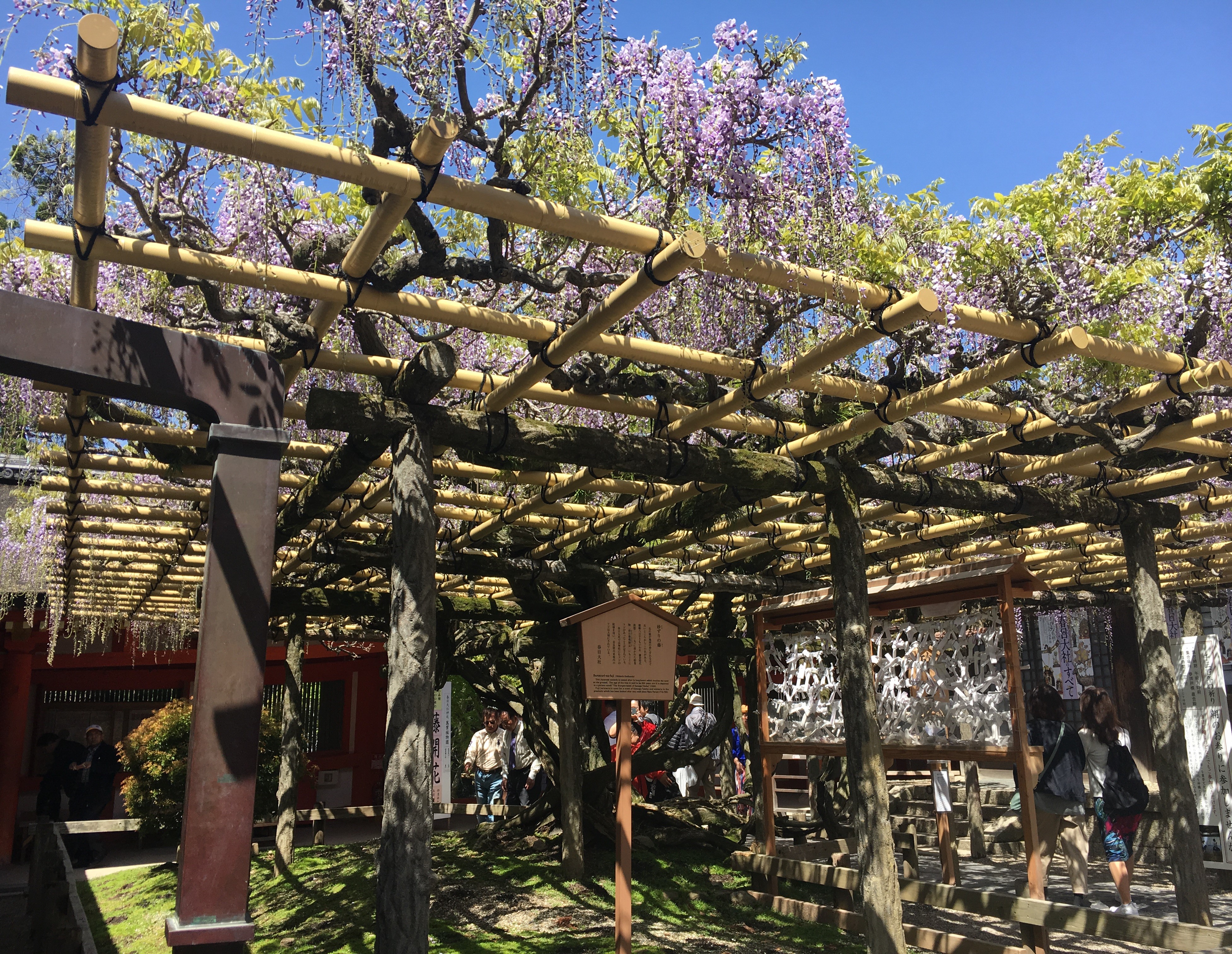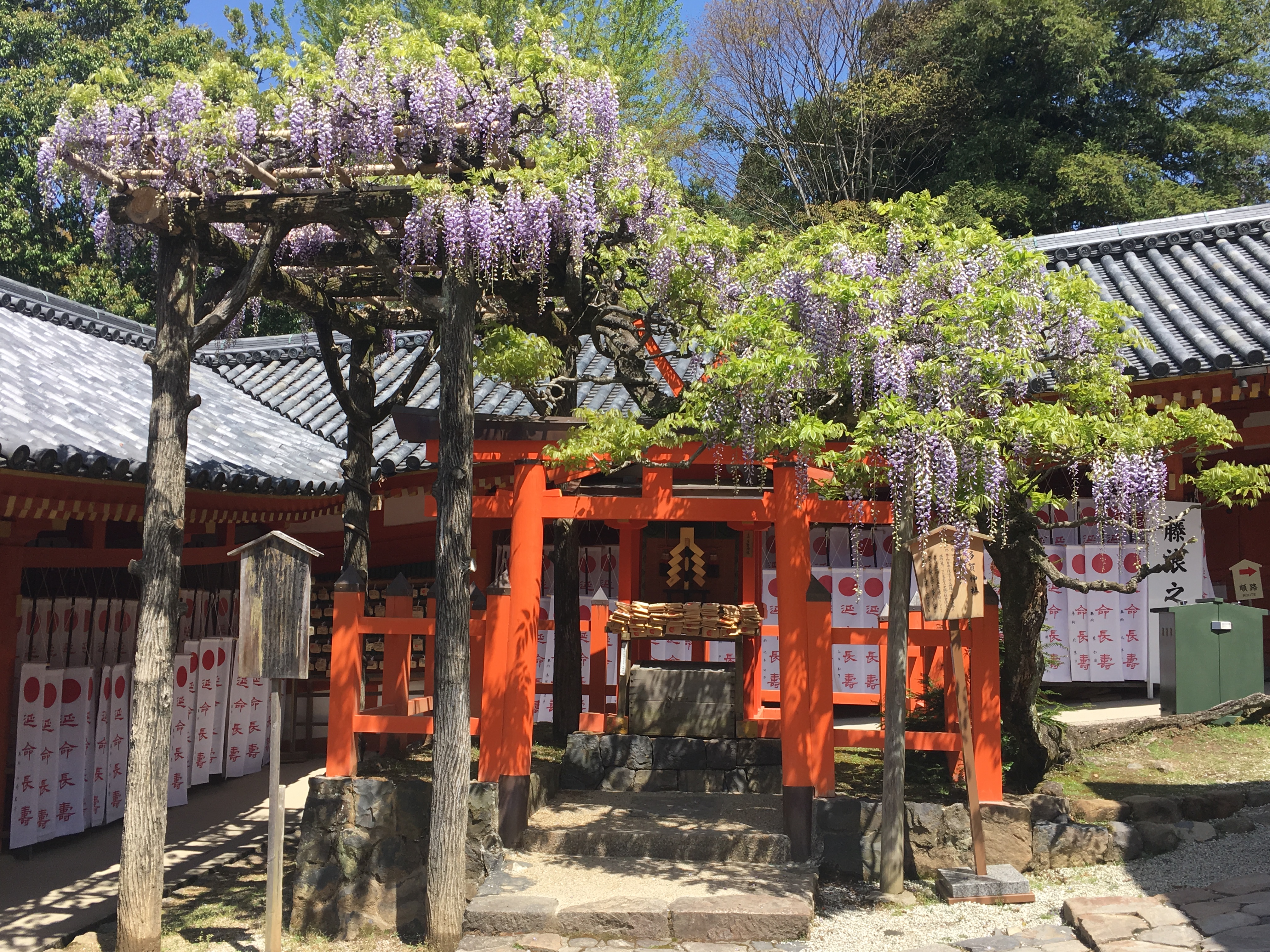 Unfortunately, the honden where the Kasuga Gods reside, is not visible from here. If you pay an additional 500 yen, you can get special access to the inner part of the shrine where you can get a better look at the honden. If you are interested in shrine, I strongly encourage you to go! Unfortunately, we were not allowed to take a photos of the honden itself, so you will have to find out what it looks like for yourself. 
Inner Shrine
In terms of Japanese shrines, Kasuga Taisha's honden is fairly new as it was completed in 1863, . Despite this "newness", it is registered as a Japanese National Treasure. In the past, Kasuga Taishi regularly rebuilt their honden every 20 years. Though they no longer continue this tradition, the shrine does repaint its honden regularly. 
There are approx 1,000 hanging lanterns, or tsuri toro, in Kasuga Taisha. Come during Setsubun and O-bon to see all lanterns in the shrine lit up!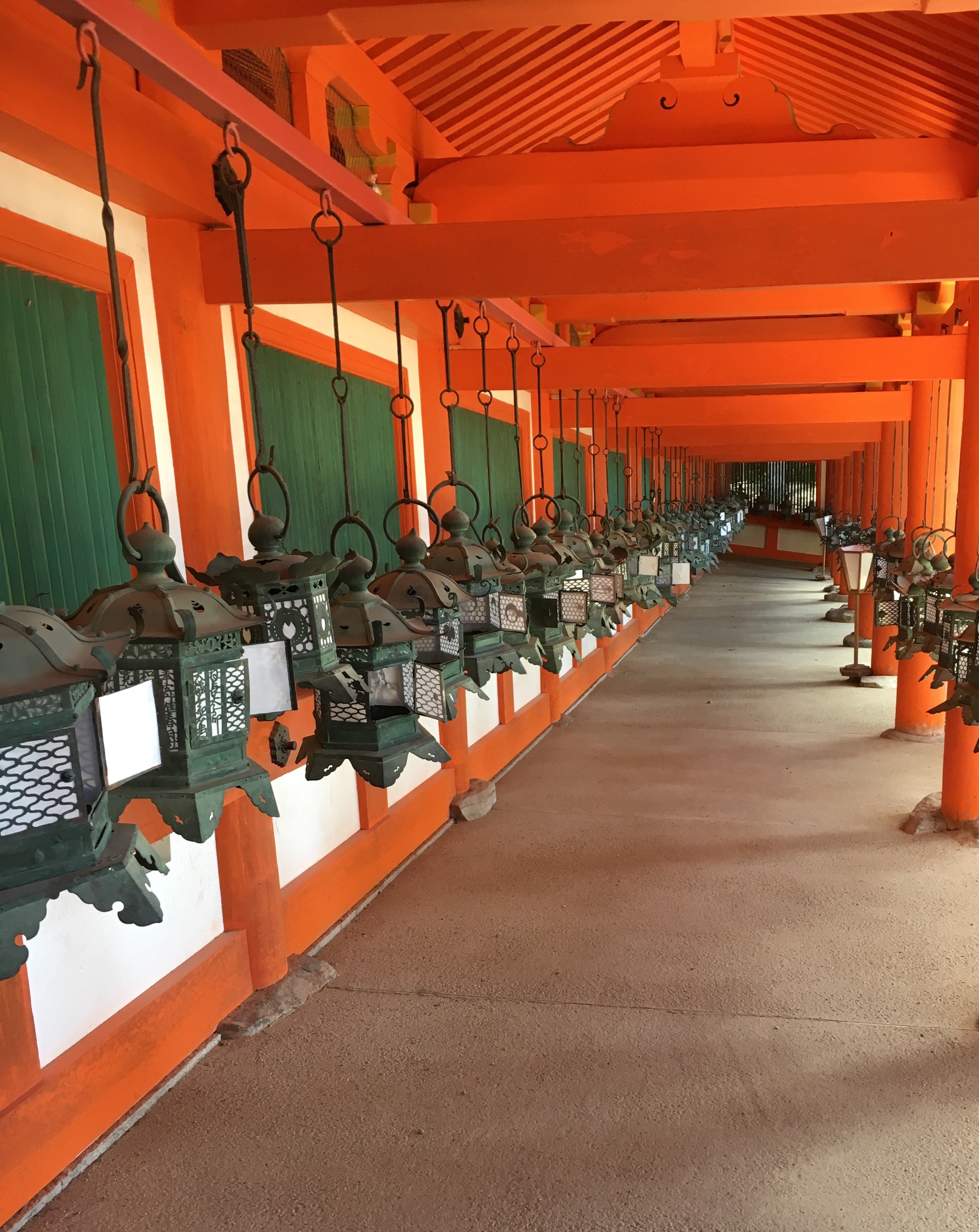 Some tsuri toro are even from famous samurai.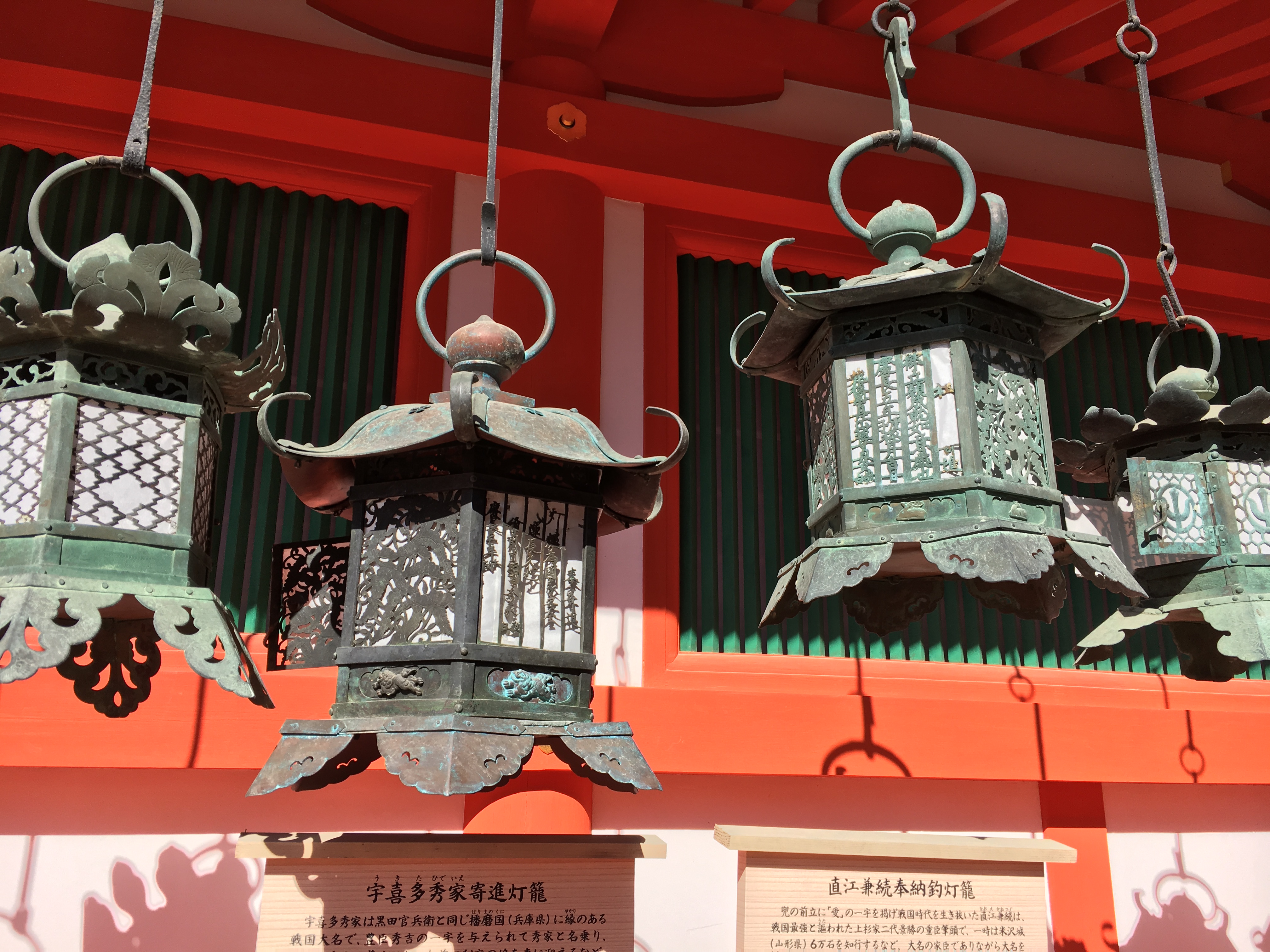 If you were really hoping to see the lanterns lit up, fear not! In the inner shrine grounds is the Fujinami no Ya where they keep some lanterns lit whenever you come.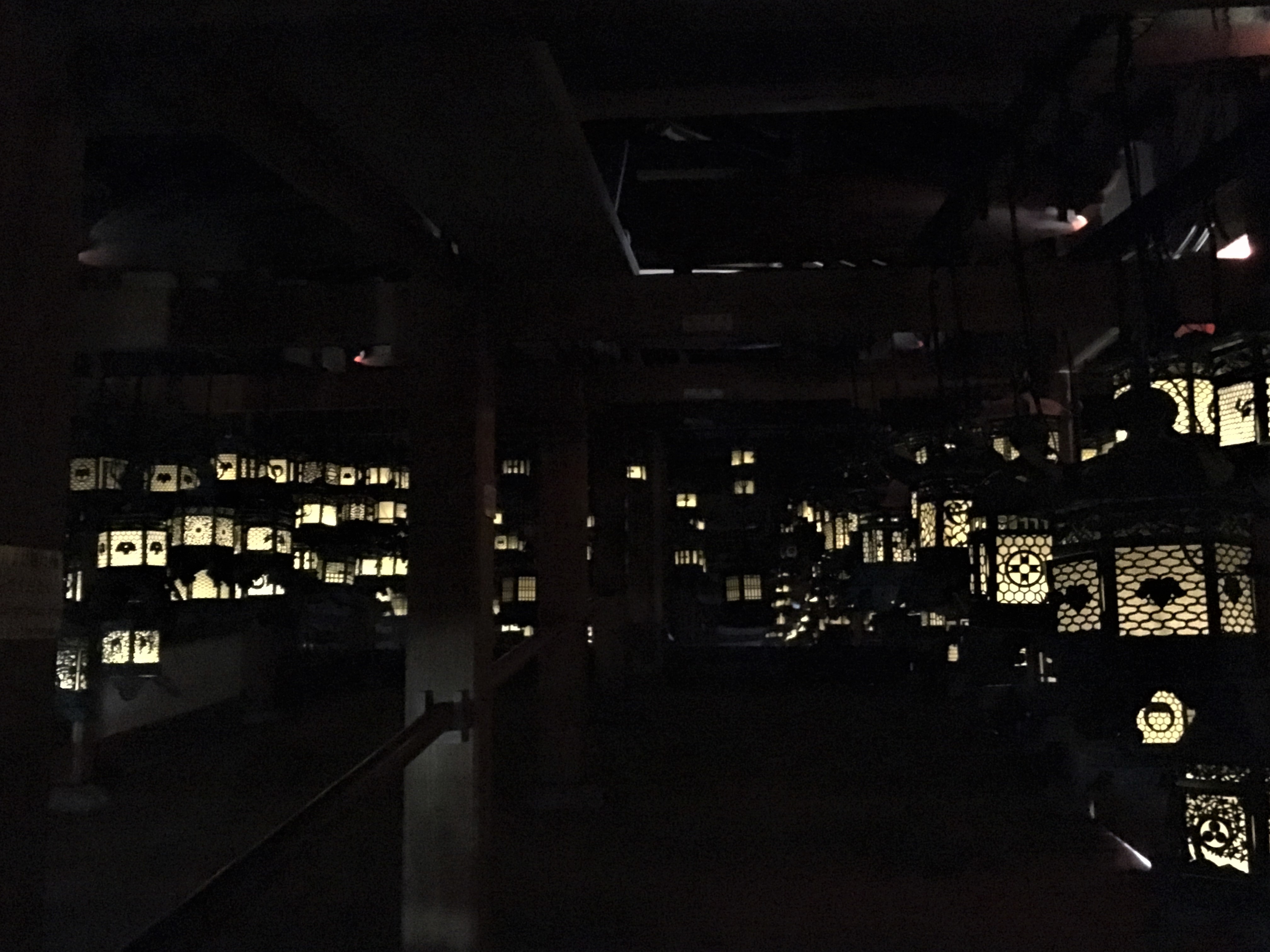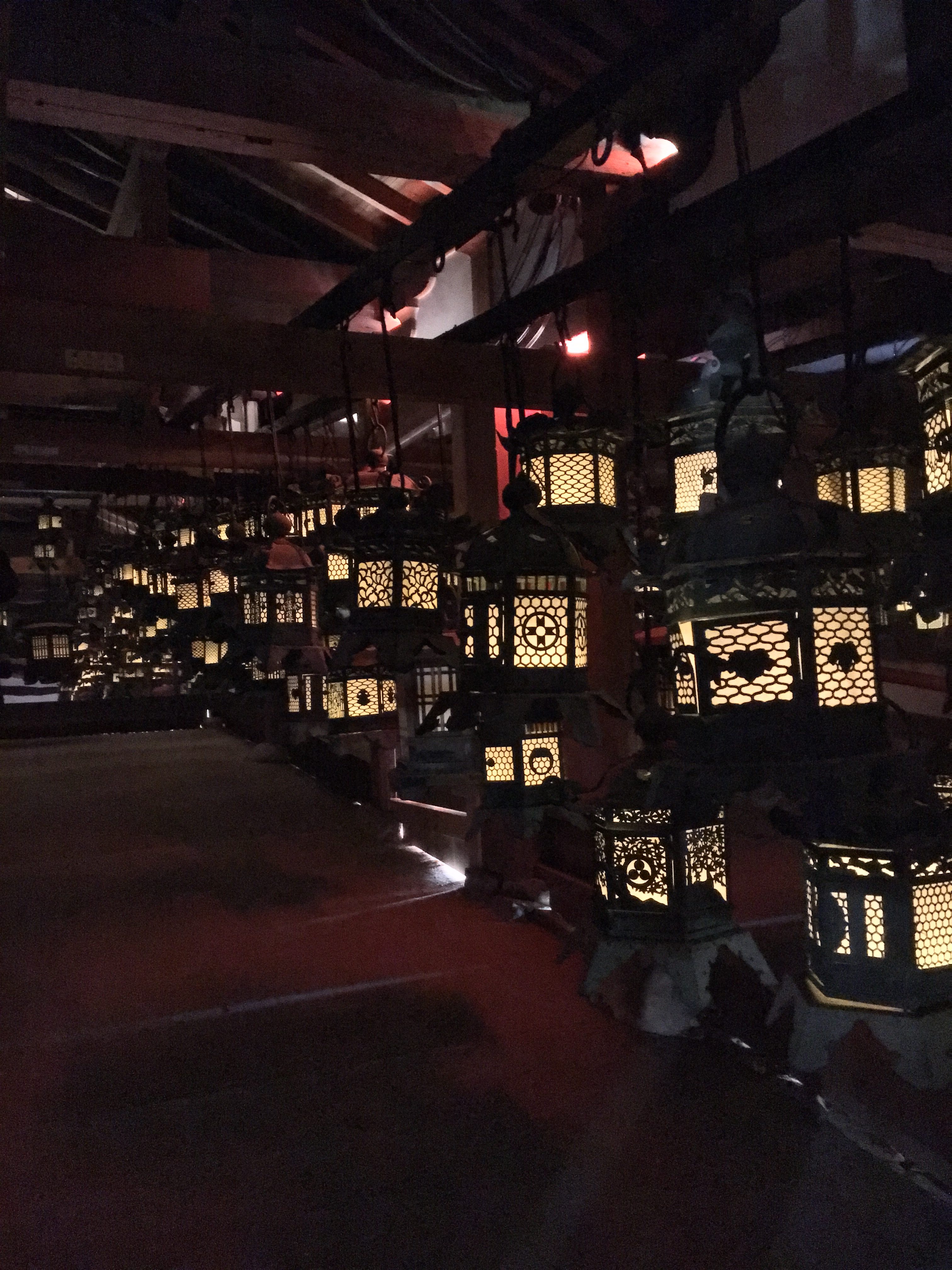 Points of Interest
Kasuga-zukuri
Like many ancient and important shrines, Kasuga Taisha has its own specific style of architecture. The only buildings that use kasuga-zukuri are the shrine's honden as well as some of the smaller shrines. Because it is can be kind of challenging to get a clear view of the honden, the smaller shrines dotted around the shrine grounds are the best way for visitors to get an understanding of what kasuga-zukuri looks like.
Little Shrines
Kasuga Taisha is a huge shrine! There are as many as 61 little shrines throughout the shrine grounds. The largest of these is Wakamiya Shrine [若宮], which enshrines Amenooshikumone no Mokito, the son of Amenokoyane and Himegami.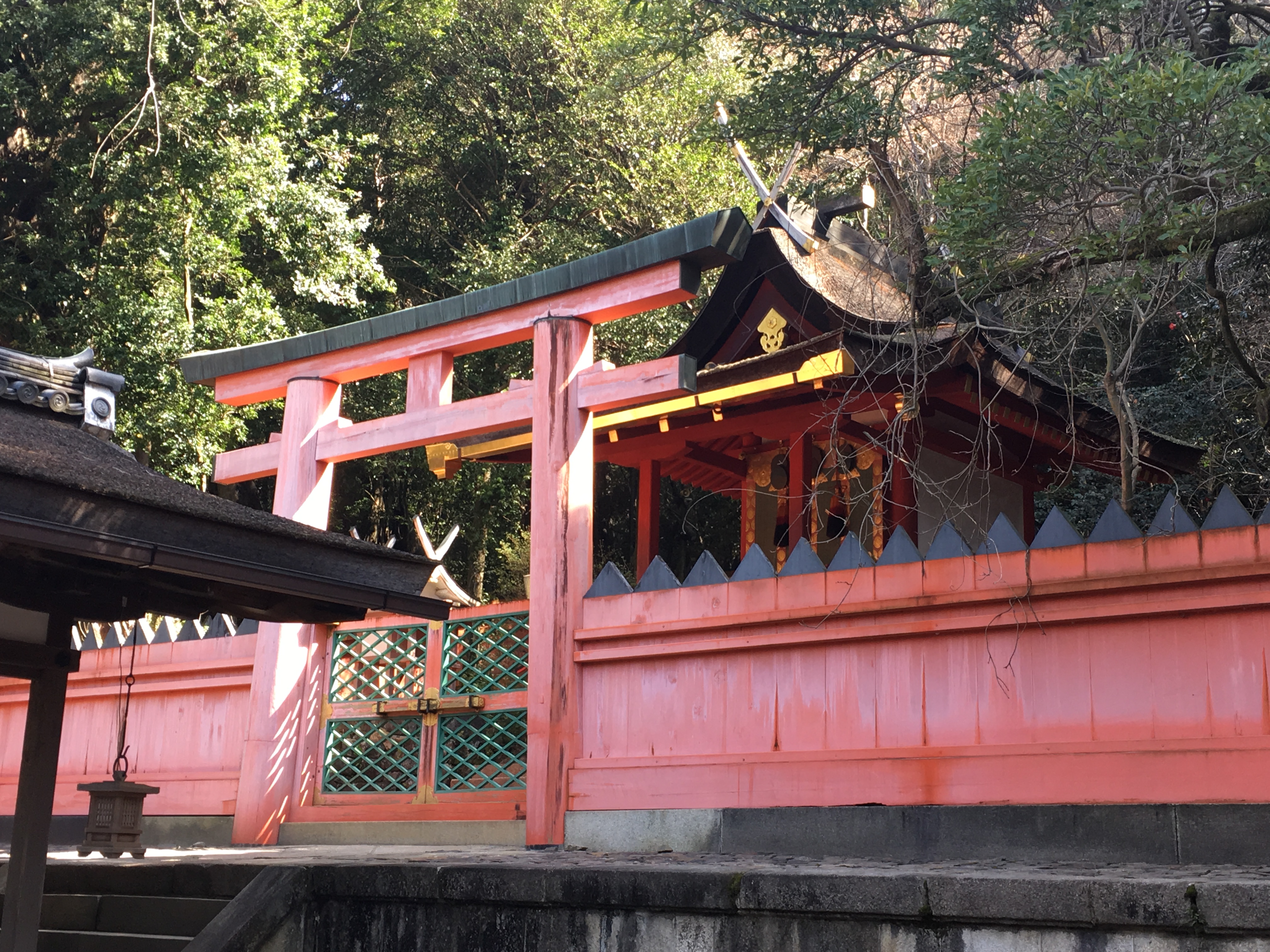 Meoto Okunisha [夫婦大国社]
Another particularly interesting shrine is Meoto Okunisha, which enshrines Okuninushi and Princess Suseri. It is only shrine in Japan which enshrines Okunishi and its wife in the same shrine. Thus, it is known as enmusubi shrine, a place where people go to pray for love.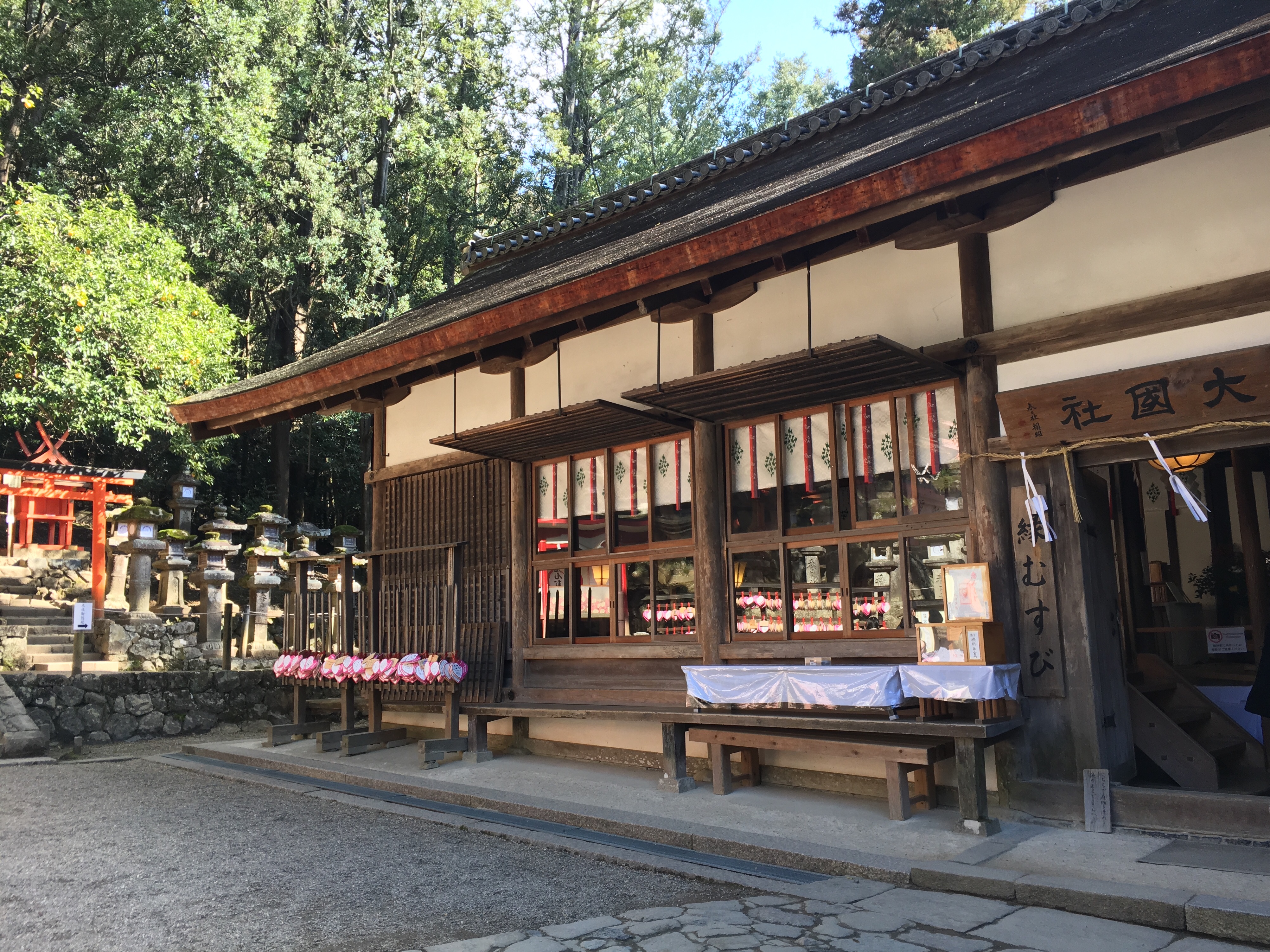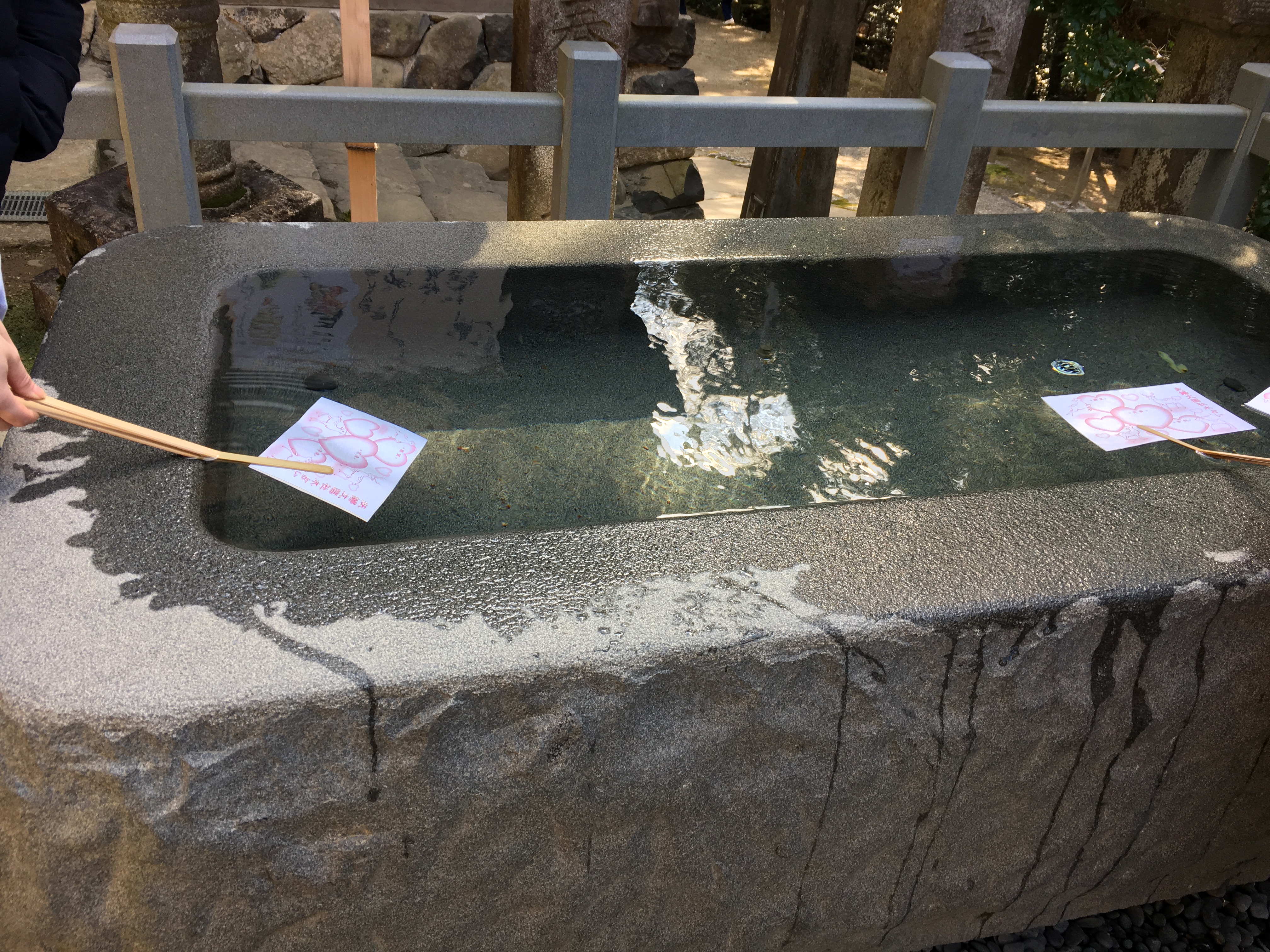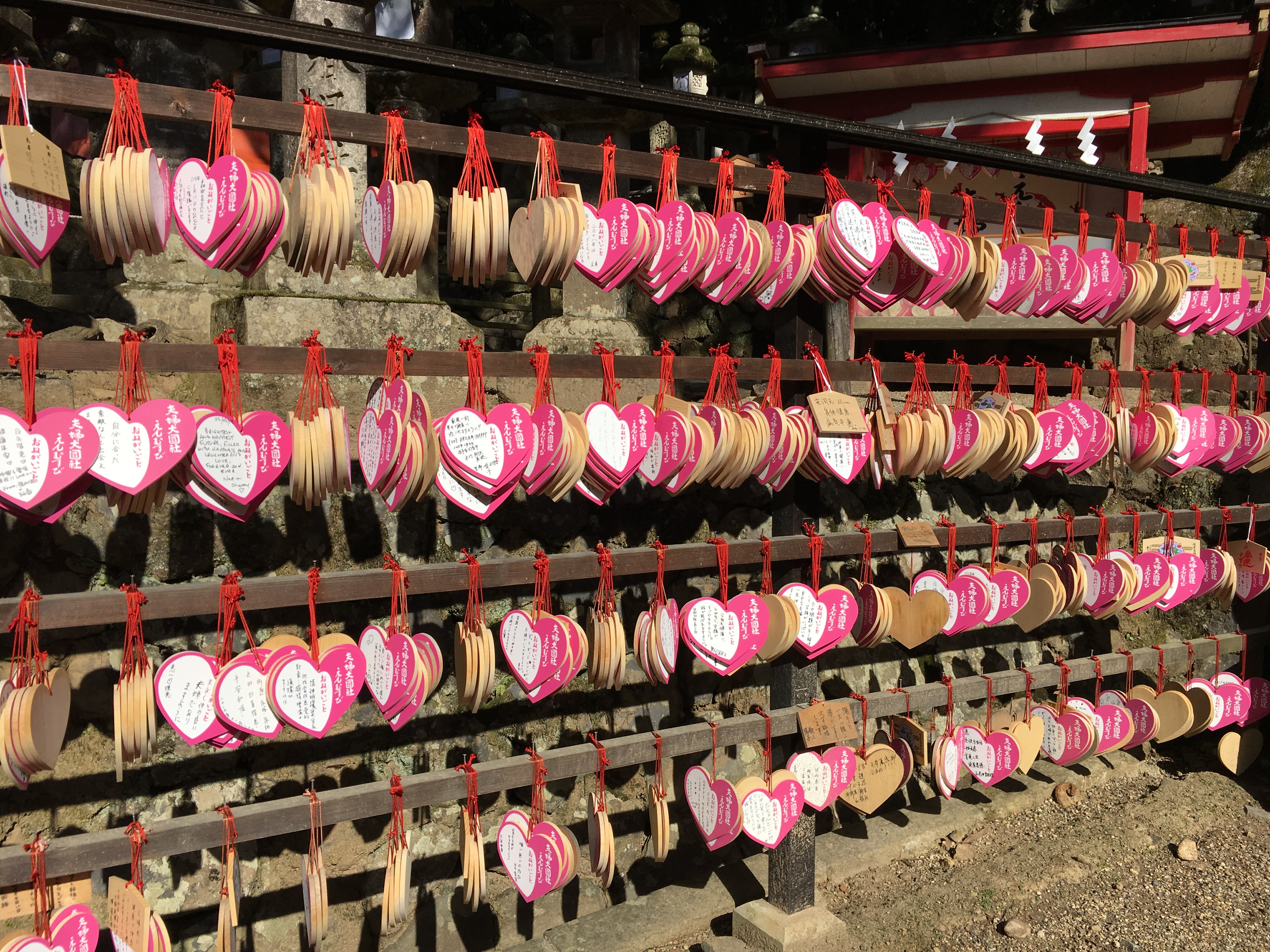 Manyo Botanical Garden [万葉植物園]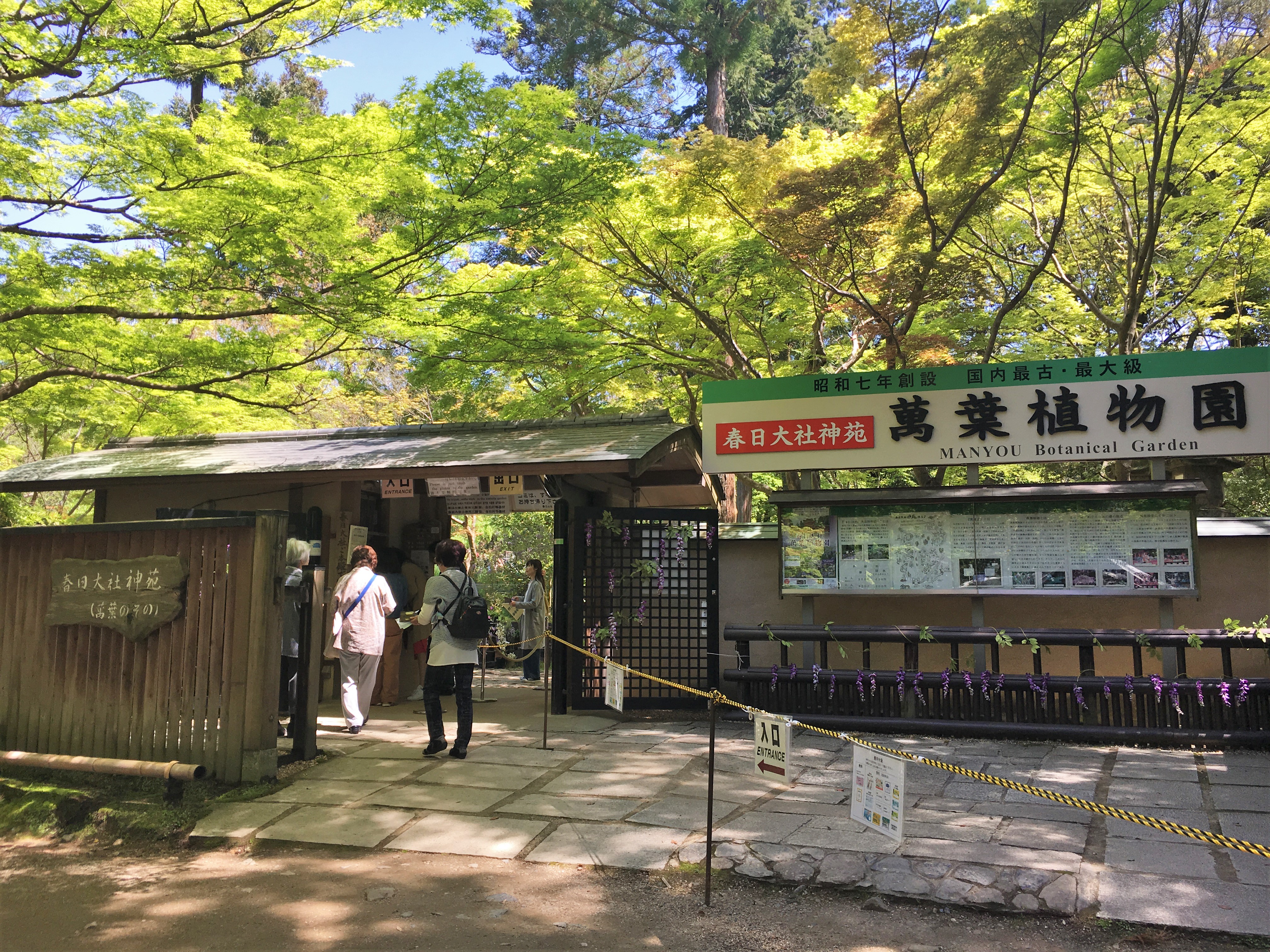 On the way to Kasuga Taisha, is Manyo Botanical Garden. Manyo Botanical Garden is very unique because most of the flowers in the garden are in the famous Manyoshu a collection of poetry compiled in 8th century.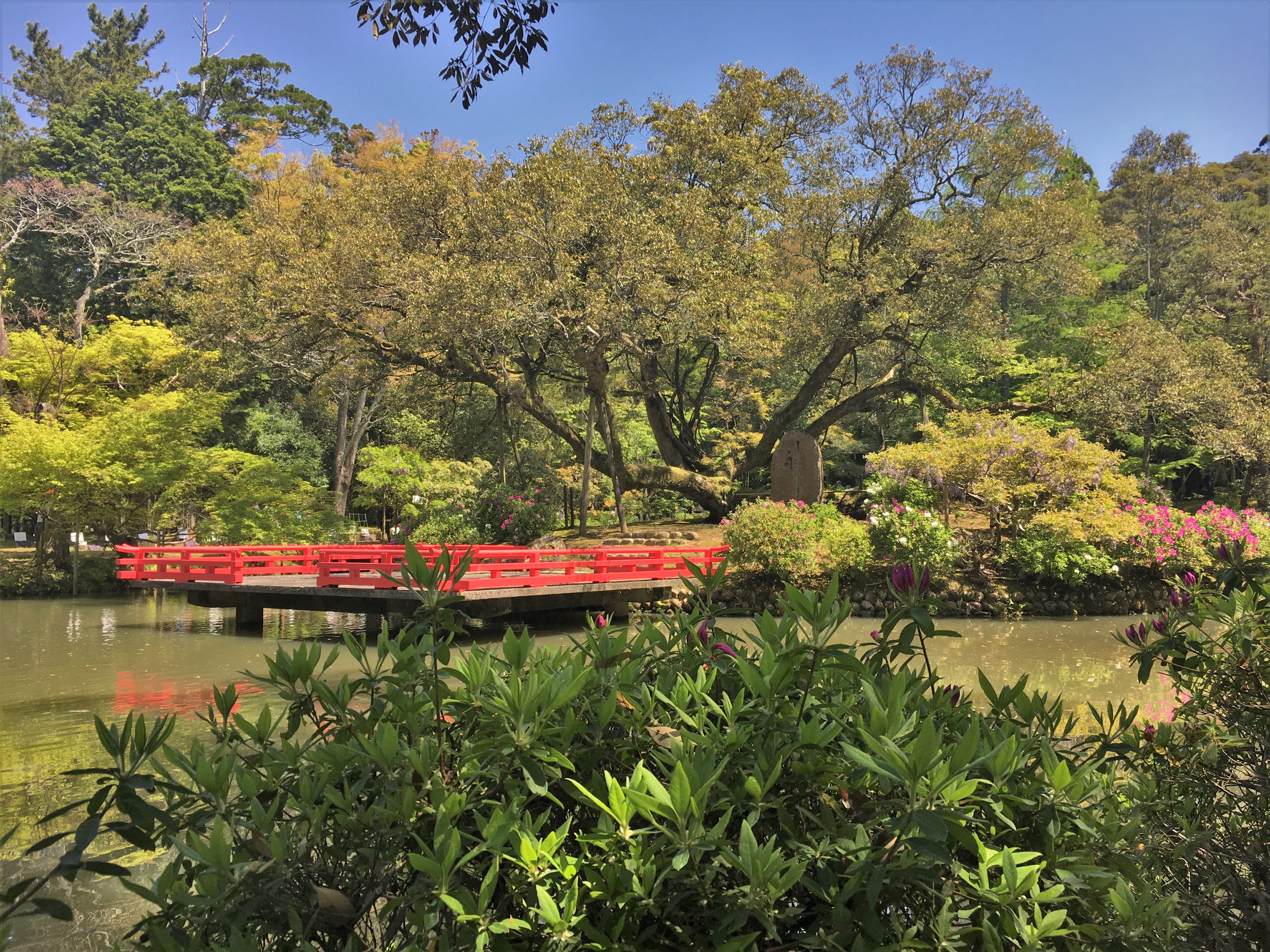 Above all else, the garden is famous for its beautiful wisteria and many people come to visit when the flowers are in bloom.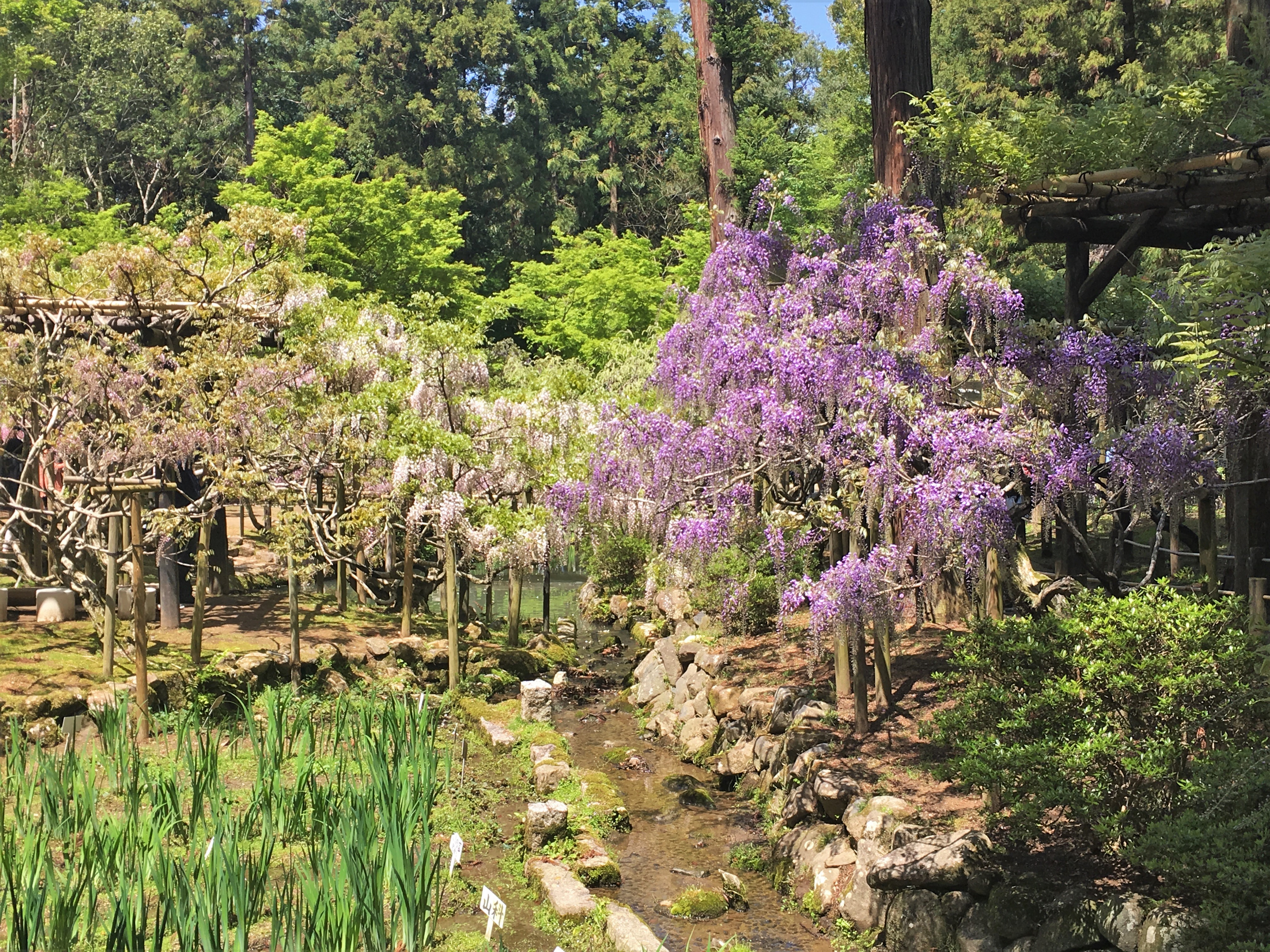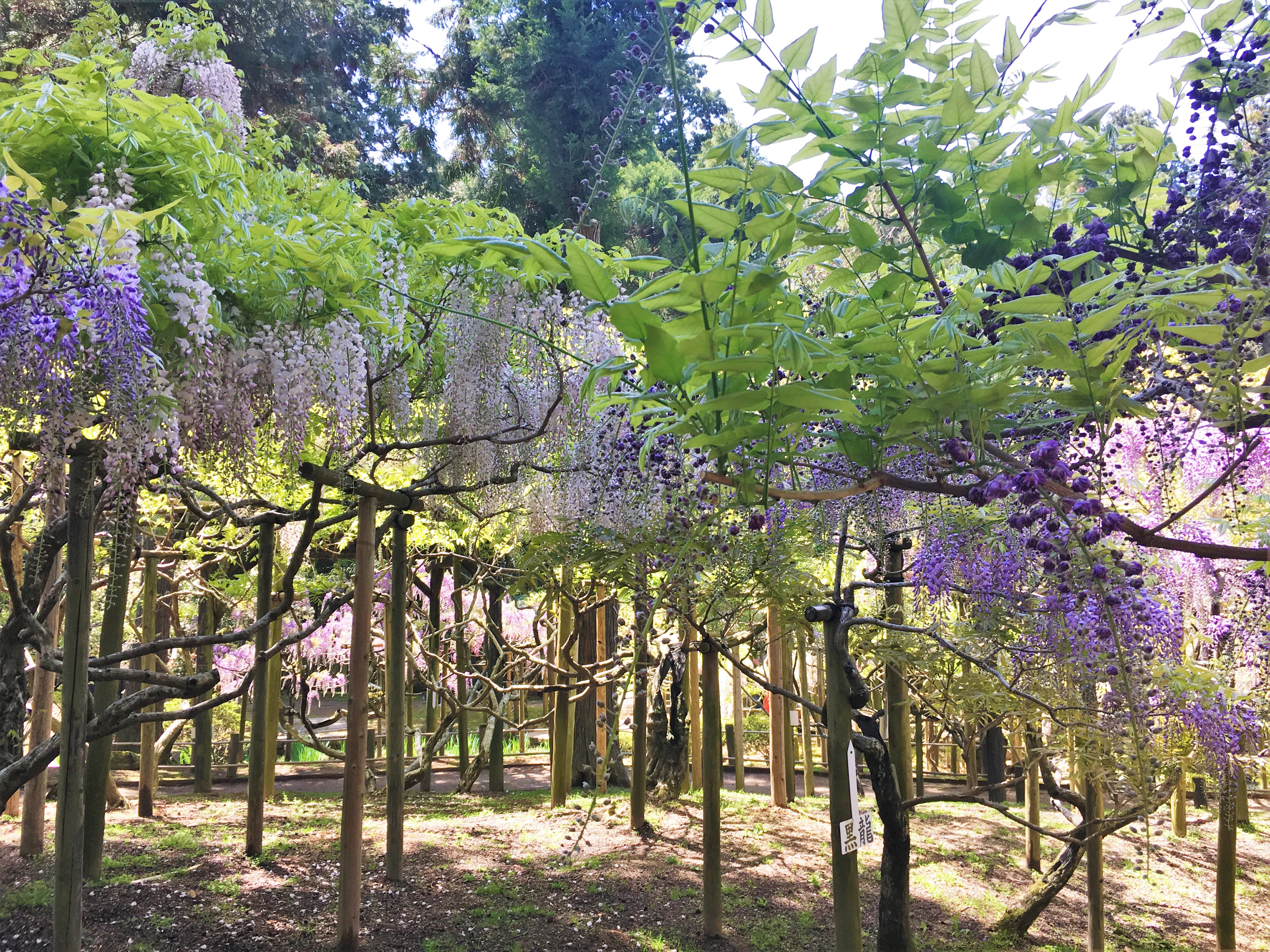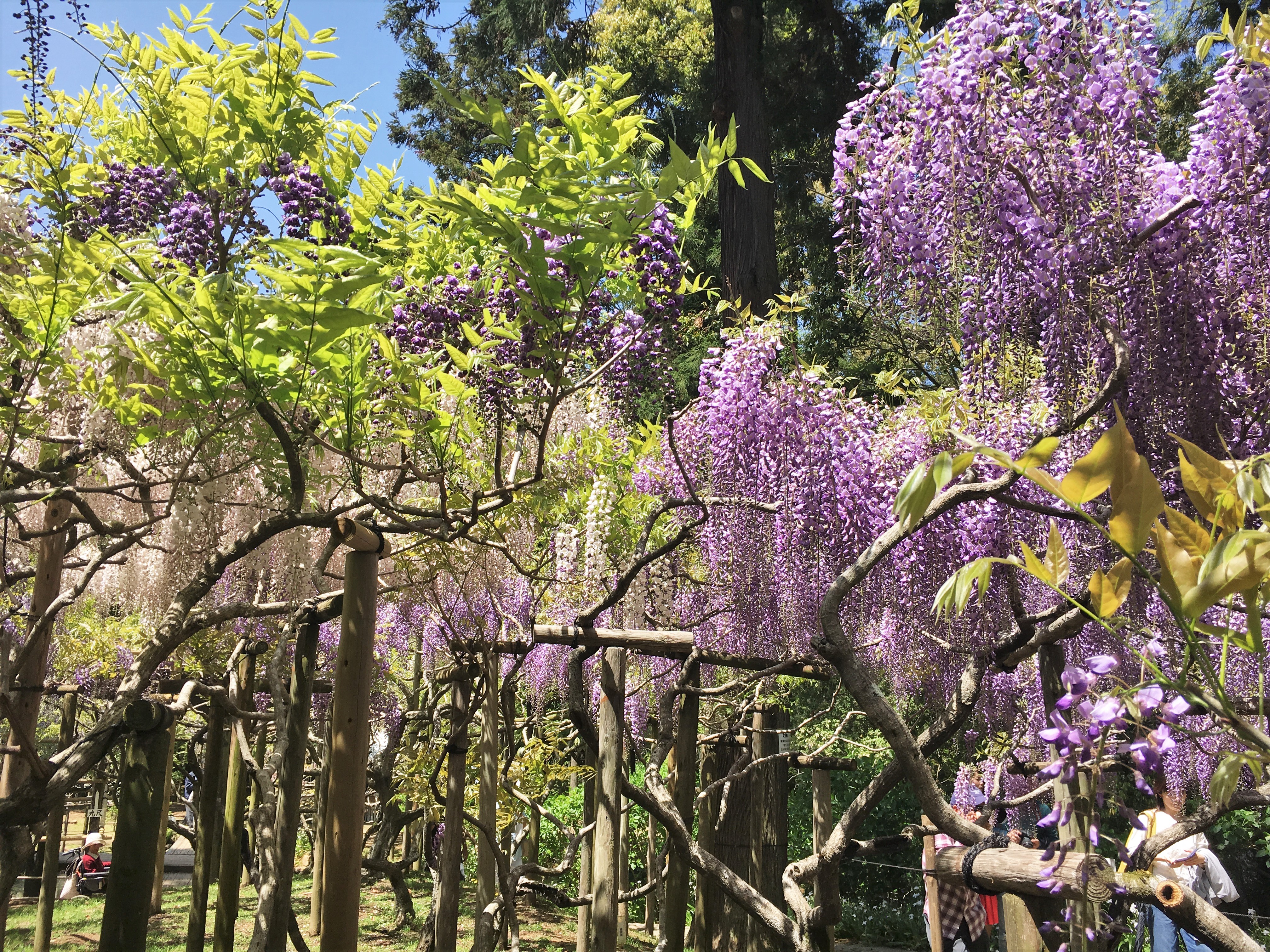 Kasuga Taisha
Address
160 Kasuganocho, Nara City,
Nara Prefecture 〒630-8212
Website 
http://www.kasugataisha.or.jp/
Hours of Operation
Apr – Sep: 6:00 -18:00
Oct – Mar: 6:30 -17:00
Admission Fee
General Admission: Free
Inner Shrine Admission: 500 yen 
Coming next time,
The Kagusa Primeval Forest!
The adventure continues…