There are many nice spots throughout in Osaka where you can enjoy the koyo, or autumn colors. One such place is Hoshi no Buranko [星のブランコ] in Hoshida Prefectural Park. Hoshi no Buranko is a long suspension bridge that connects two small mountains. The observation deck near the top of one mountain offers a breath-taking 360 panorama view of nearby Osaka, Kyoto, as well as the brilliantly colored leaves. Hoshi no Buranko is one of the best hidden koyo places in Osaka and attracts many couples and families every year. We think it is especially nice because there are significantly fewer people than other places like say Kyoto, and best of all, it's free.
*Quick update for 2018: We just wanted to let everyone know that this year the leaves at Hoshi no Buranko will not be ready until late November! Hope this post helps you plan your trip :).*
Getting to Hoshi no Buranko
The closest station to Hoshi no Buranko is Kisaichi Station [私市駅] off the Keihan Katano Line. To get to Kisaichi Station, get the Keihan main line to Hirakata-shi Station. This is roughly 30 minutes from Yodoyabashi via the limited express (you don't have to pay extra to ride the limited express on Keihan). Then change trains at Hirakata-shi to the Keihan Katano Line. From there it takes 10 minutes to reach Kisaichi Station, which is the end of the Katano Line.
After you arrive at Kisaichi Station, it will take about 30 minutes to get to Hoshida Park [星田園地] and then an additional 30 minutes to get to Hoshi no Buranko.
Once you exit Kisaichi Station, head towards National Route 168 and then turn left and walk along route 168. Getting to Route 168 is rather straightforward and there will probably be other people walking to Hoshi no Buranko during koyo season, so you shouldn't get lost. There is a trail near 168 so you don't have to walk next to traffic.
When you see this, cross the road and walk along the river.
After you cross the bridge you will be on the Kawazoi no Michi Trail [川沿いの道] that will lead you to the park. From here, its only 20 minutes to Hoshida Park.
The Origin of Tanabata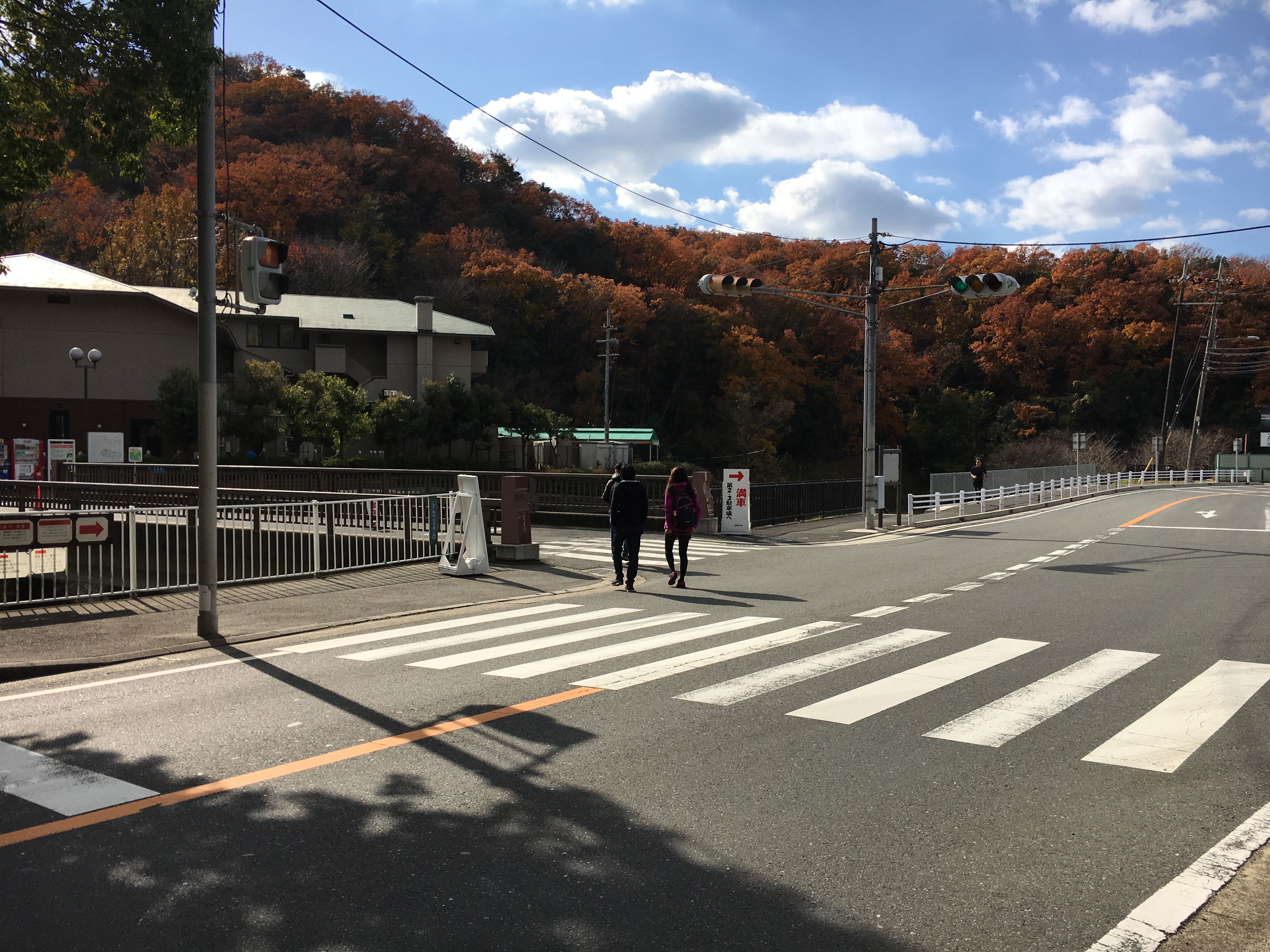 Ama no Gawa [天の川] literally means "Milky Way". Actually, Katano City claims to be the origin of the Tanabata legend and there are many Tanabata related places throughout the city.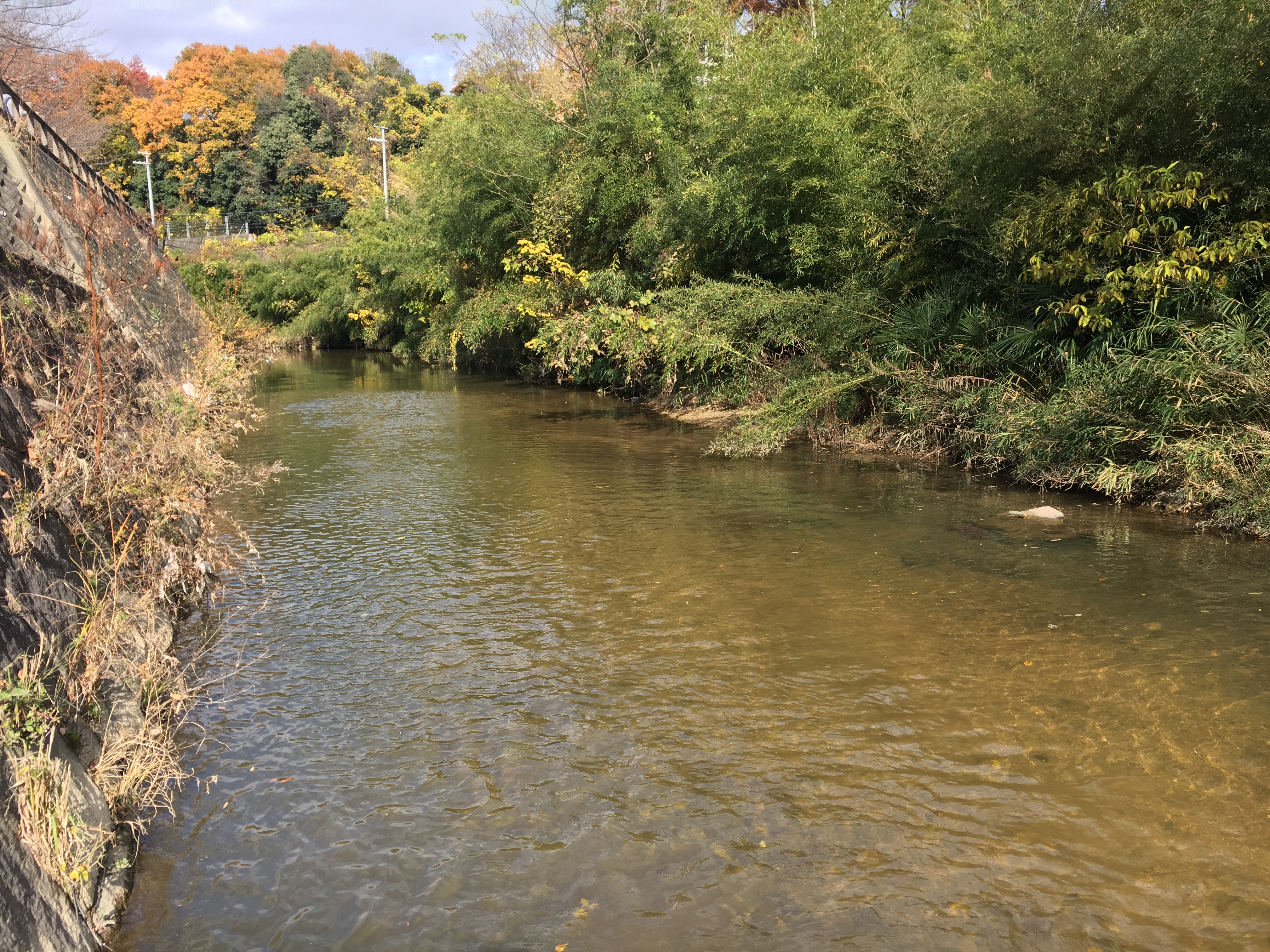 The Kawazoi no Michi Trail is also very pretty!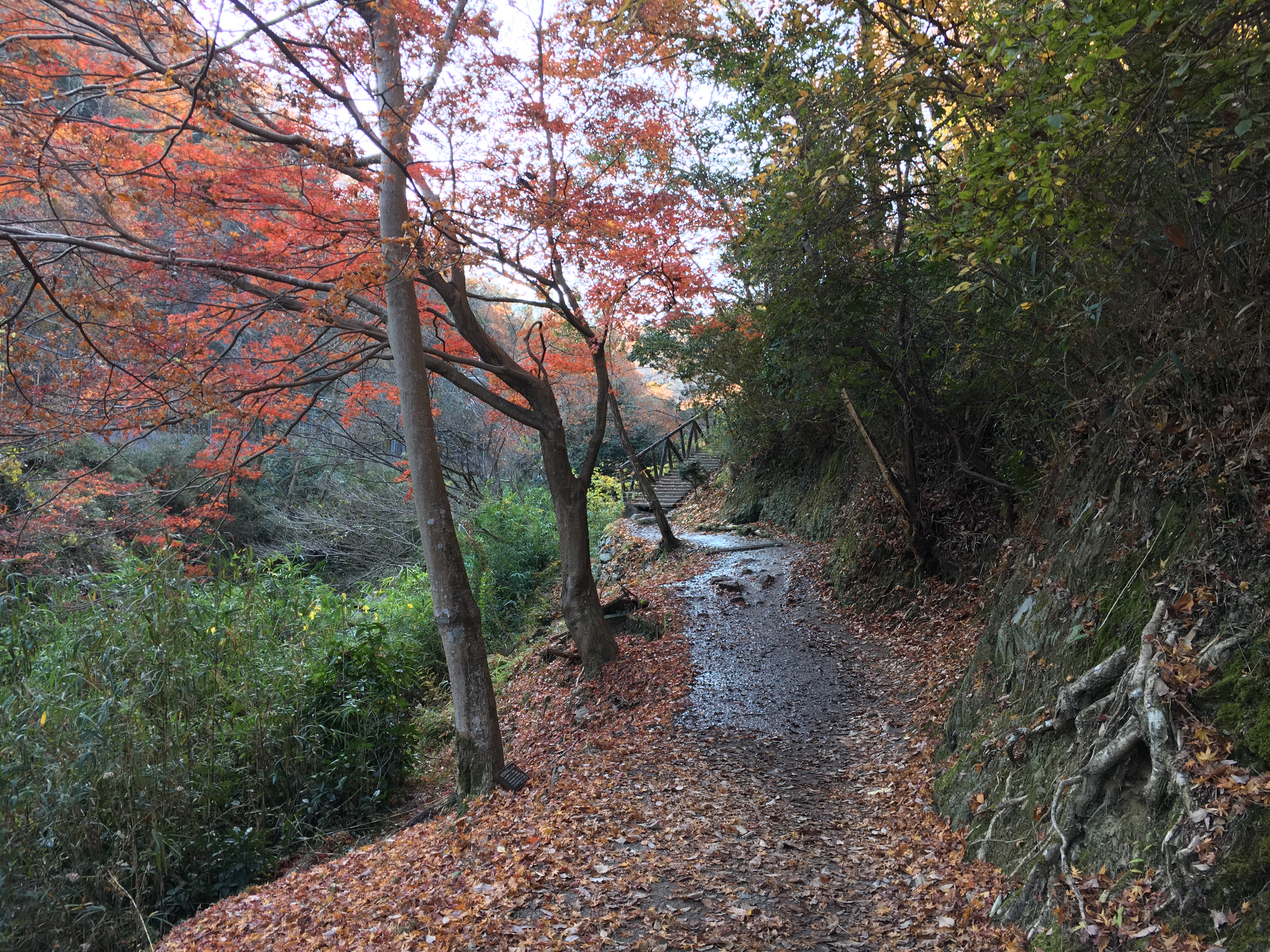 Hypothetically, you could drive to Hoshida Park. The park does have a parking lot (200 yen per hour), but it fills up really fast during koyo season, so I strongly recommend to come here by train.
FYI, there are no convenience stores near the park or even near Kisaichi station. Be sure to stock up on drinks and snacks before you come!
Hoshida Park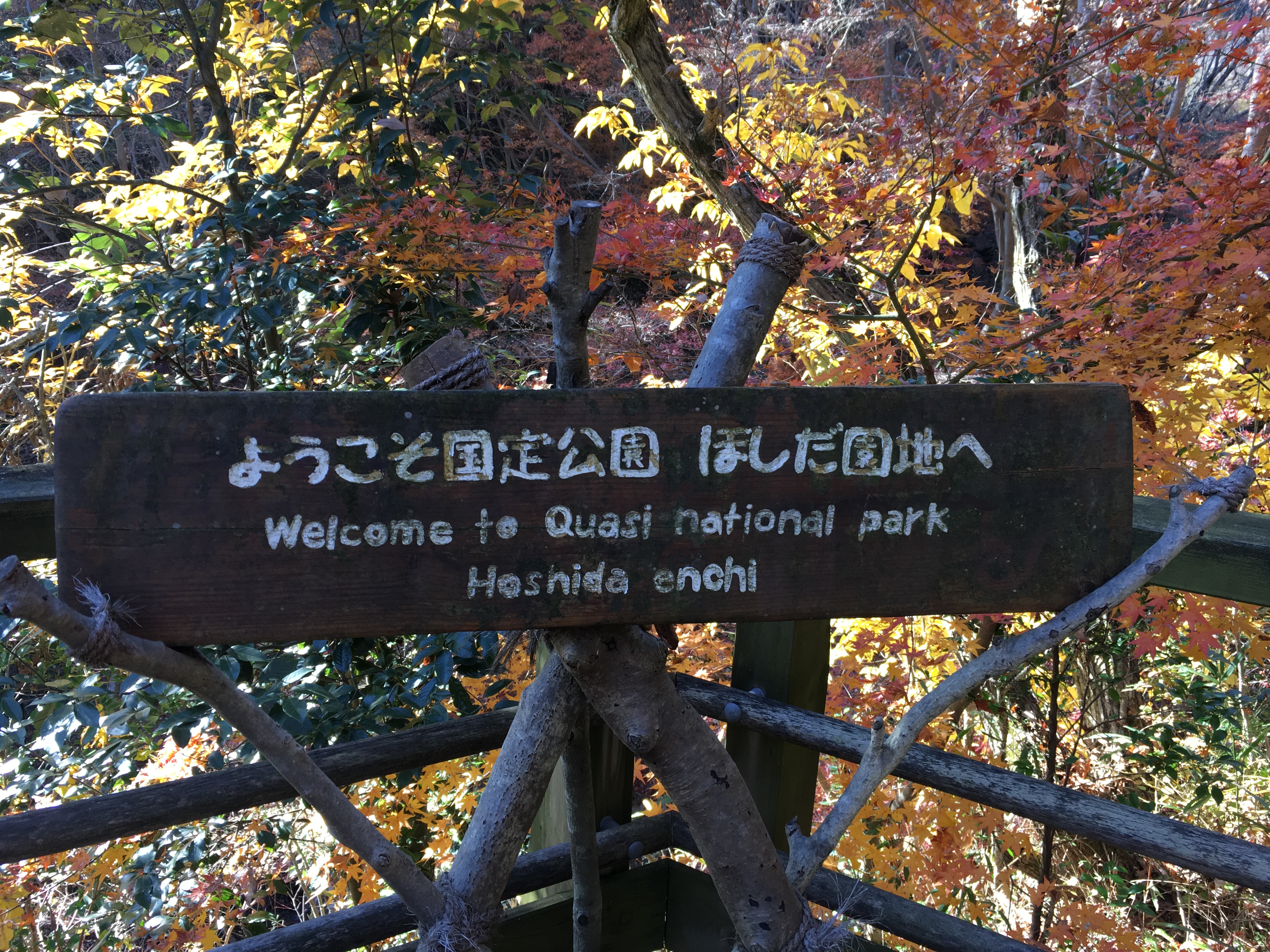 Although Hoshi no Buranko is located on a mountain, the trail is well maintained, so you won't need any heavy gear.
Rock Wall
Hoshida Park has a rock wall! But sadly, you can't just show up and climb it. You have to attend a one-day safety lecture to climb the rock wall, which is held several times throughout the year. The fee to climb the rock wall is 700 yen.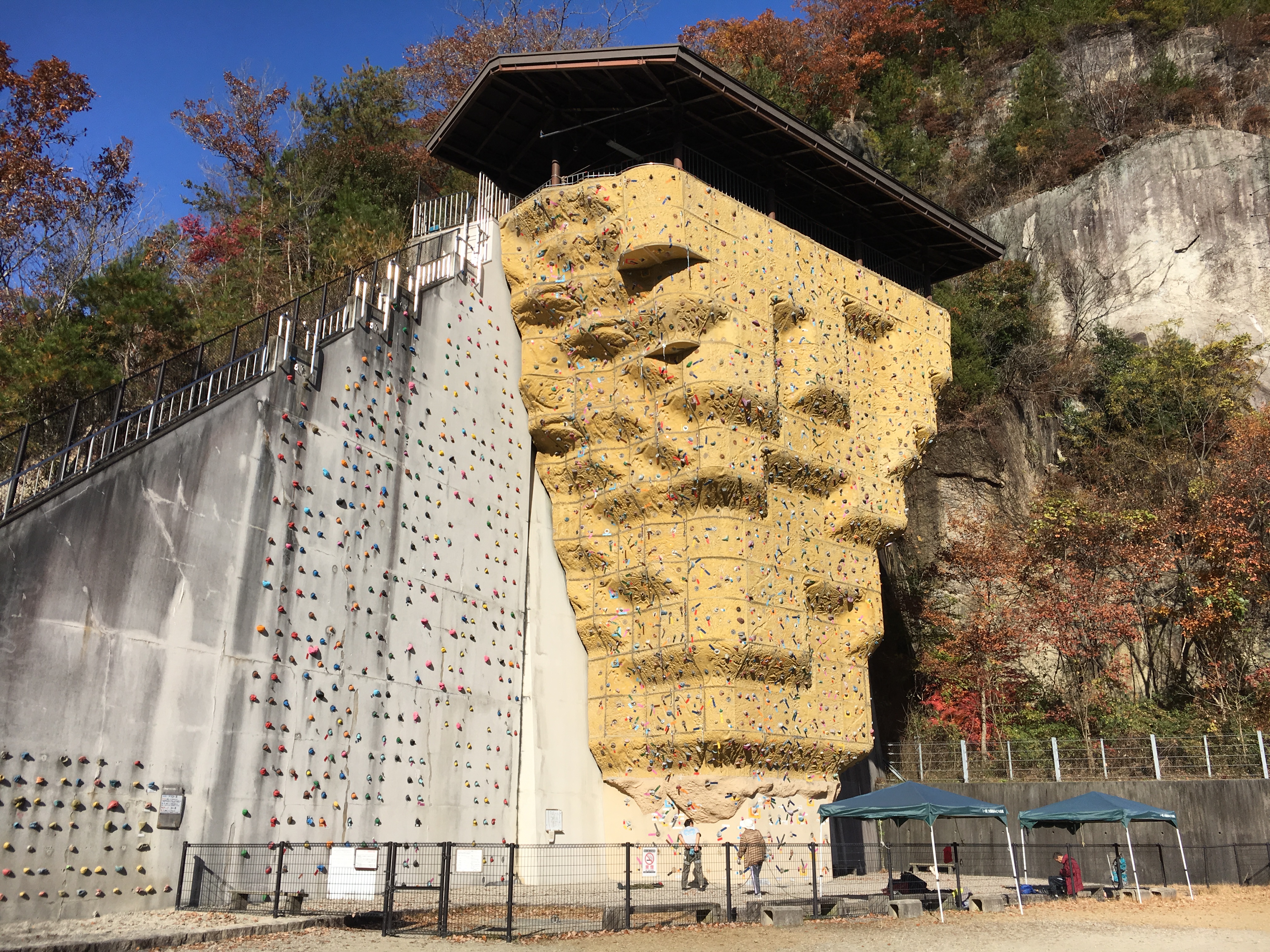 Once you see the rock wall, Hoshi no Buranko is just a short hike away. There are several paths you can take to get to the bridge; some paths are step stairs and some of them are long but not steep. Whatever you choose, it should take only 20 minutes or so to get to the bridge.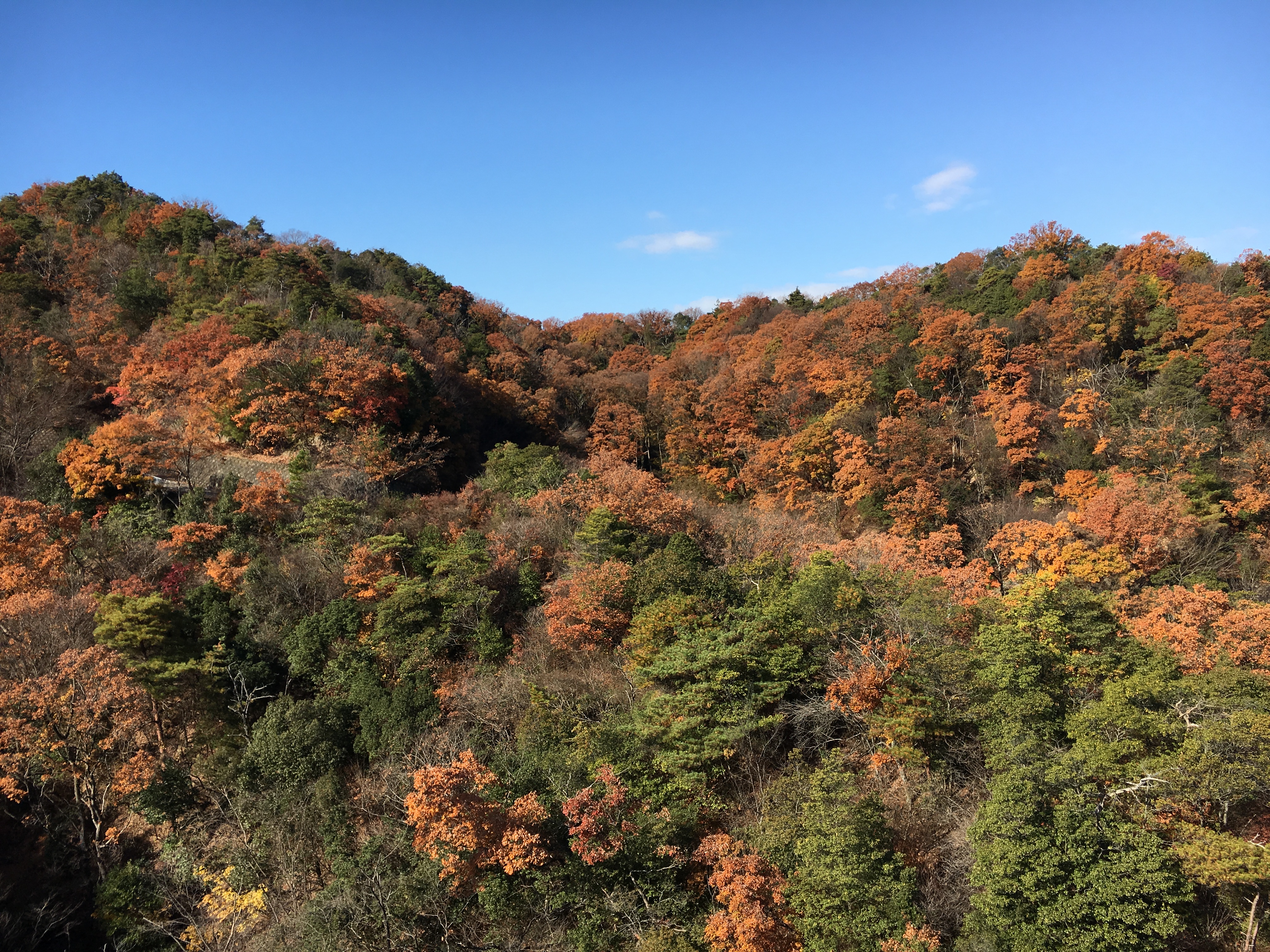 Hoshi no Buranko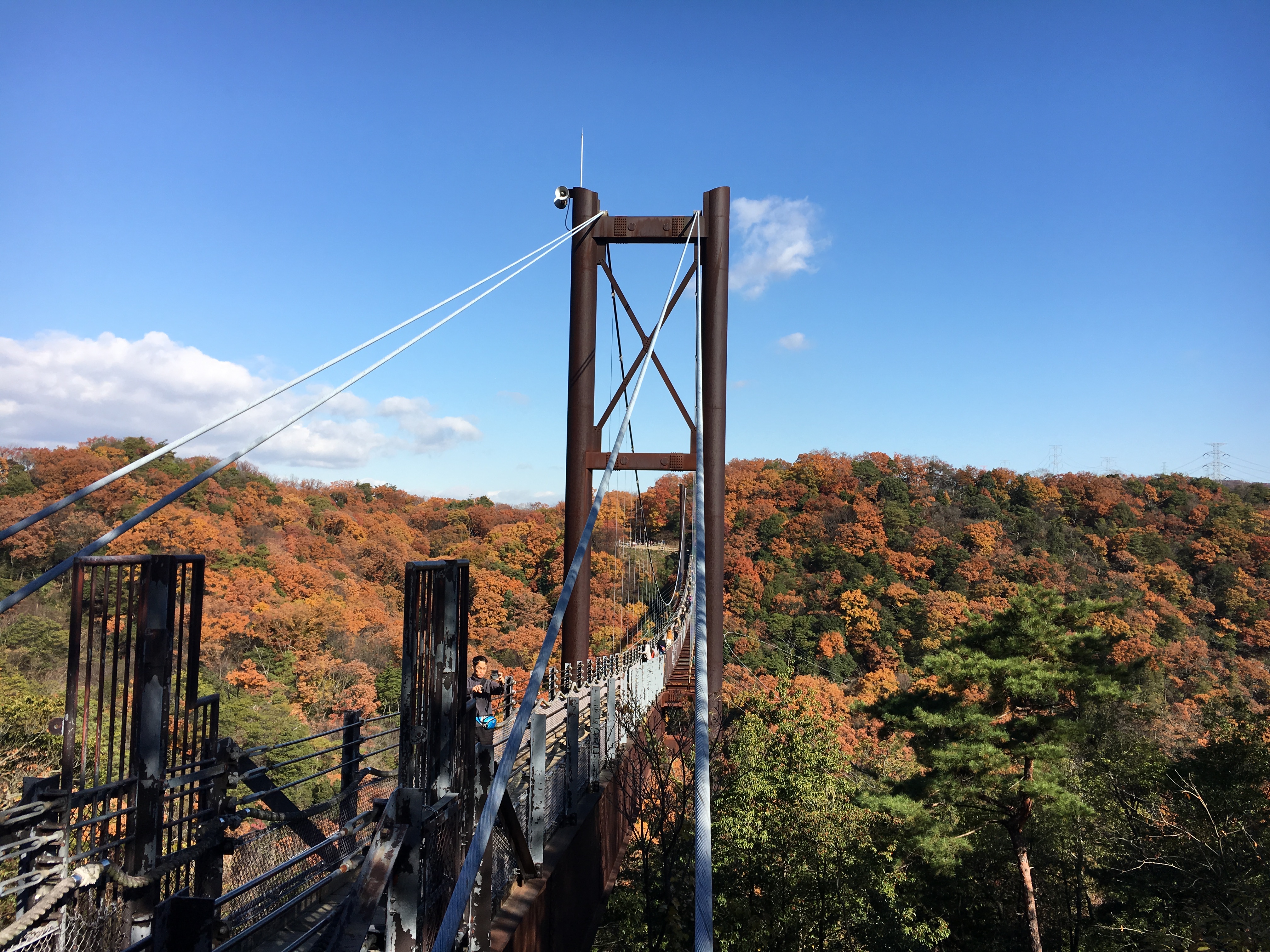 The bridge is 280m long and 50m high!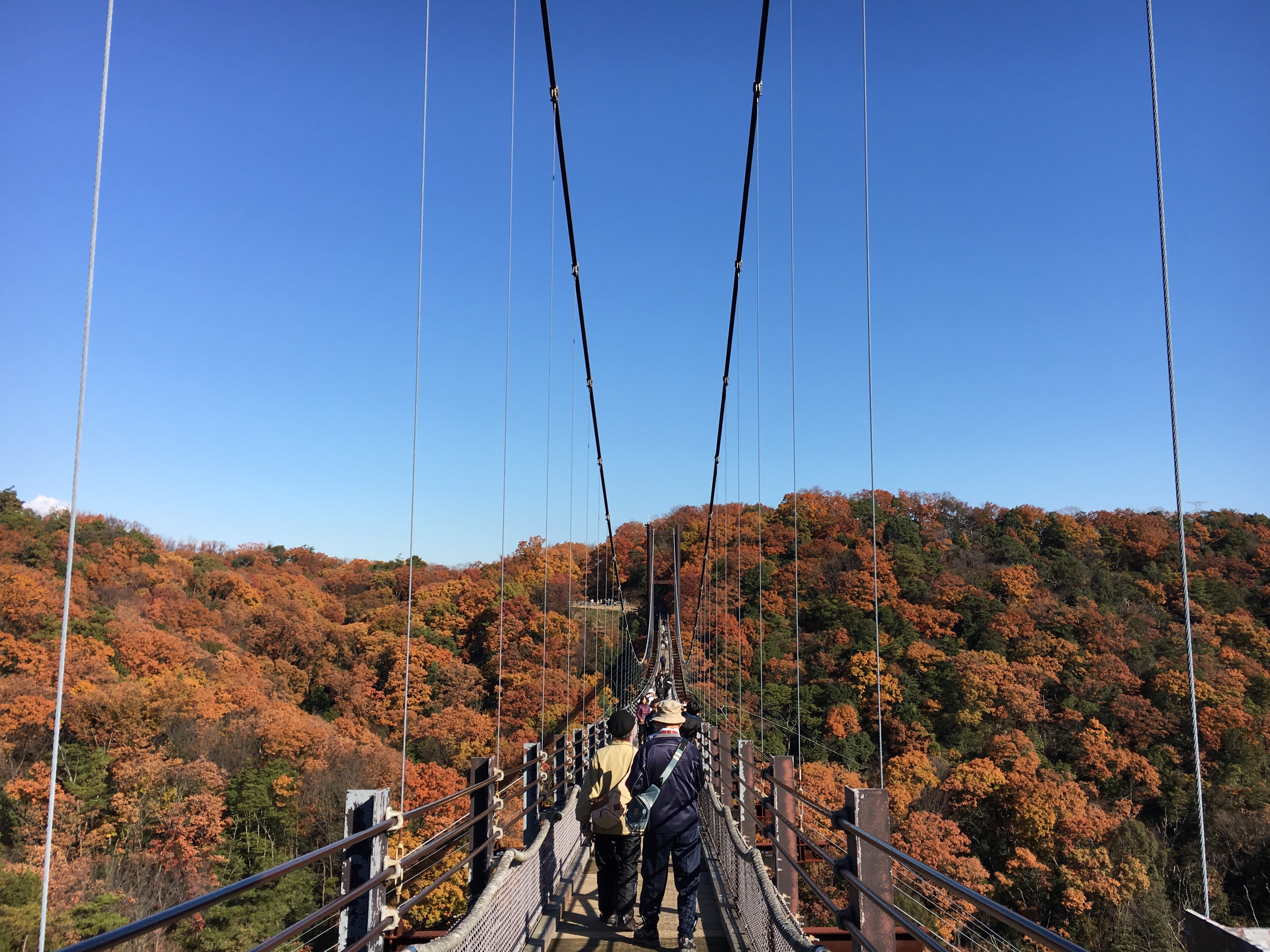 Go a little bit further and you can go to the observation deck. From the observation deck, you can not only take a picture of beautiful koyo but you will also get to see an amazing panoramic view of Kyoto and Osaka.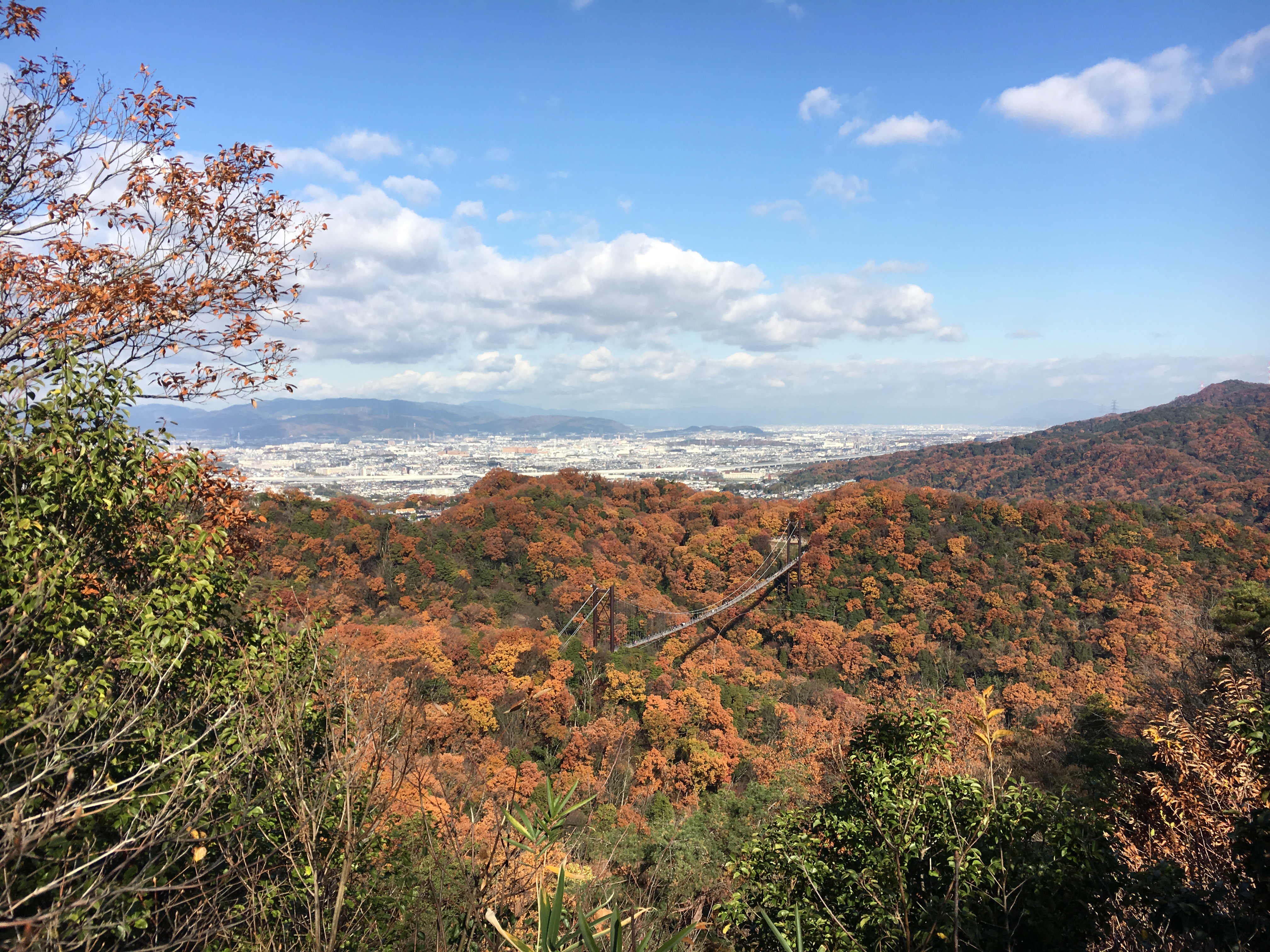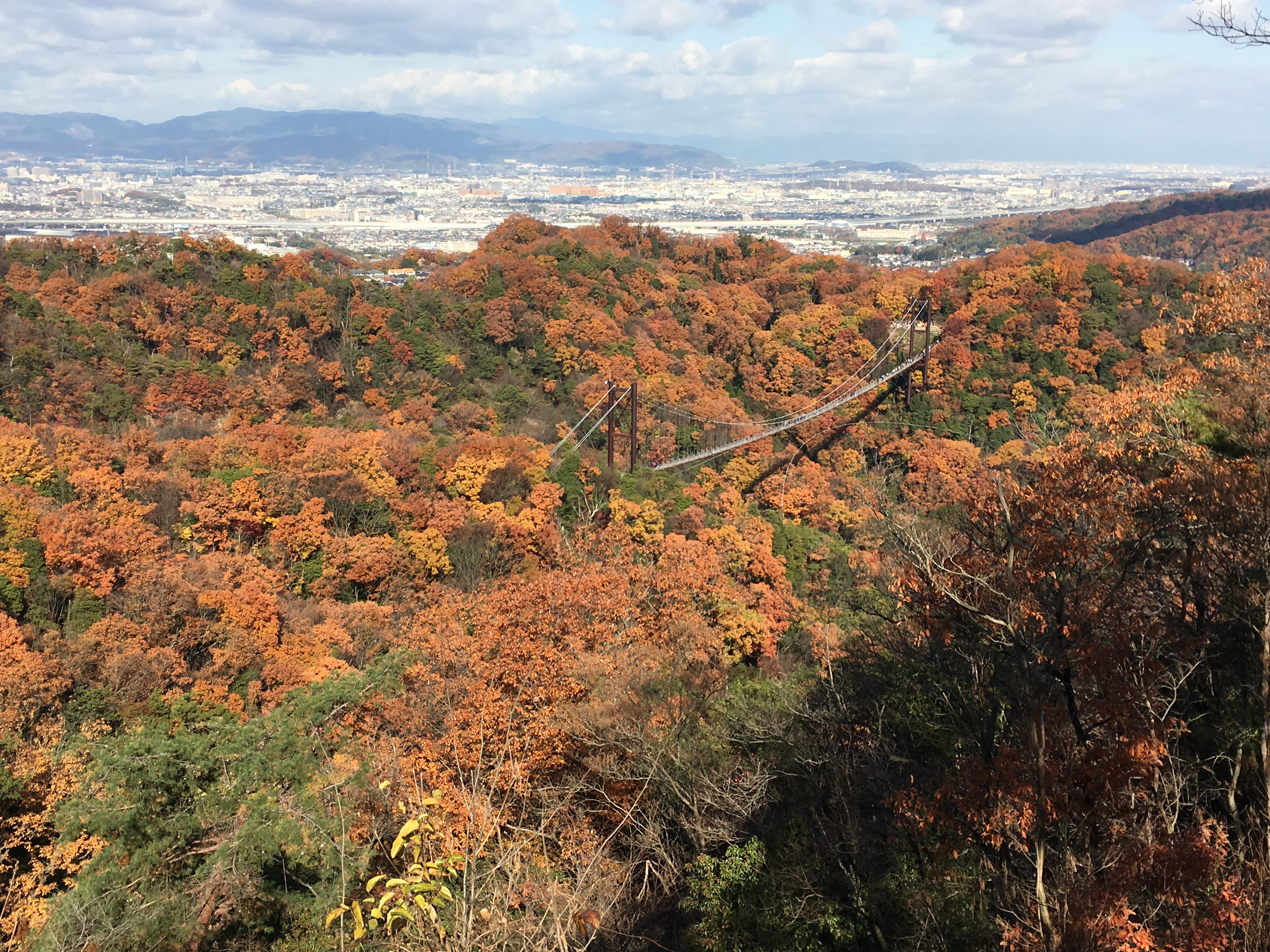 Need More?
If you feel like going on an even bigger adventure (or just have a lot of energy) Hoshida Park connects to other prefecture parks such as Kurondo Park and Muroike Park. A 40km trail connects these parks, which subsequently leads to the Ikoma Juusou Hodo, Diamond Trail, and then the Kinki Shizen Hodo Trail. These trails total 300km in length, going as far as Horigo Park in the Sennan City, which is near the southeastern most point of Osaka Prefecture.
Hoshi no Buranko at Hoshida Park
Address

5019-1 Hoshida-Katano-shi,
Osaka Prefecture 〒 576-0011

Website

http://www.osaka-midori.jp/mori/hoshida/index.html

Admission

Free

Hours of Operation

Weekdays and Weekends:9:00-17:00




Closed Tuesdays and National Holidays




Closed Annually Dec 29-Jan 4th
Hiking to Hoshi no Buranko is very refreshing and has some amazing views. I highly recommend packing a lunch and having yourself a little picnic on the mountain side. The park is also pretty in the spring and summer, so whenever you go, you are sure to have a great experience.
Coming next time,
Our Guide to Osaka's Winter Illuminations!
The adventure continues… 
Please follow and like us: