Tamatsukuri Onsen and Yunokawa Onsen
During our stay in the Izumo region, we opted out of staying in the more typical Western hotels and had the pleasure of staying to two different areas that were each famous for their natural onsen. We picked two particuarly famous onsen: Chorakuen in Tamatsukuri Onsen and Yunokawa Onsen just outside of Izumo. Both of these onsen have illustrious reputations as places of relaxation and rejuvenation! 
Tamatsukuri Onsen
The first one we visited was Tamatsukuri Onsen [玉造温泉] which has the best onsen in the Sanin region. Tamatsukuri Onsen was a popular onsen destination as far back as the Nara Period (around the 8th century) and was considered one of the best onsen of Japan. Tamatsukuri Onsen was so famous that it even attracted the likes of Sei-Shonagon, the author of Makuro no Soshi, known in the West as The Pillows Tales. Sei-Shonagon was so fond of the baths at Tamatsukuri Onsen, she even wrote them into The Pillow Tales.
Chorakuen, Ryokan and Onsen
We elected to stay in a ryokan called Chorakuen[長楽園]. Probably the most famous guest of Chorakuen was none other than Emperor Showa, who frequently stayed in his own private guest house, complete with private garden and koi pond. If you pay a hefty sum, you can reserve it for yourself.
In addition to having royal guests, Chorakuen has the largest outdoor co-ed bath in Japan. If you feel shy about staying in an onsen, especially a co-ed one because you are nervous about being exposed in a mixed gender setting, let me tell you there is nothing to worry about! In the outdoor bath you are provide with something to wear so you are not exposed, and no one else is for that matter. However, in the separate women's and men's only baths, you will be naked—but at least you are among you own.
Sorry for a lack of pictures of the outdoor bath. However, I think everyone would have felt pretty intruded upon if I was running around the bath with a camera or trying to take pictures—even from far away. That sounds like it would be creepy, wouldn't it?
Visit their website (English Available) to see pictures of their outdoor bath.
Around Tamatsukuri Onsen
Tamatsukuri Onsen is not just famous for its baths. The name Tamatsukuri literally translates to "place where tama are made"
What are tama? Tama refers to magatama, the comma shaped talismans often used as good luck charms. Magatama have been made in Japan for thousands of years, and are even among the Three Sacred Relics of the Imperial family (the other two sacred relics are a sword and a mirror). Specifically, the Imperial Magatama originates from Tamatsukuri Onsen. While various regions throughout Japan made magatama, the magatama of Tamatsukuri Onsen are distinct, in that they have a more rounded shape than the more common magatama found in other parts of Japan.
Magatama shaped things are literary everywhere!
Tamatsukuri Shrine
Unsurprisingly, there is a shine to the god who made the very first magatama in Tamatsukuri. This god's magatama  became one of the offerings that lured Amaterasu out from hiding (check out the story). This very magatama supposedly became the Imperial Magatama, one of the Emperor's Three Imperial Regalia.
Pour some water on this stone, then put you hand on it and you will supposedly have one wish come true.
Yunokawa Onsen
The next place we stayed at was Yunokawa Onsen [湯の川温泉], where we stayed in Yumoto Yunokawa [湯元湯の川] .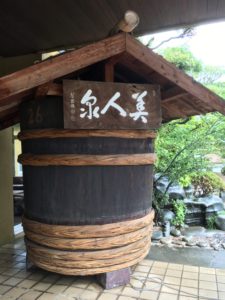 Yunokawa Onsen ranks as one of the three [三大美人の湯], or beautiful women's onsen, in Japan.
The Story of Yunokawa Onsen
The beautiful woman said to have bathed in the waters of Yunokawa Onsen was the goddess Yagami, the first wife of the god of Izumo Taisha, Okuninushi. Story goes that when Yagami heard of Okuninushi's return from the Underworld, she decided to go visit him, especially since she had just given birth to their first and only child, Kinomata no-kami. On her way to Okuni-nushi's house, she stopped and bathed in the waters of Yunokawa to prepare for seeing Okuninushi.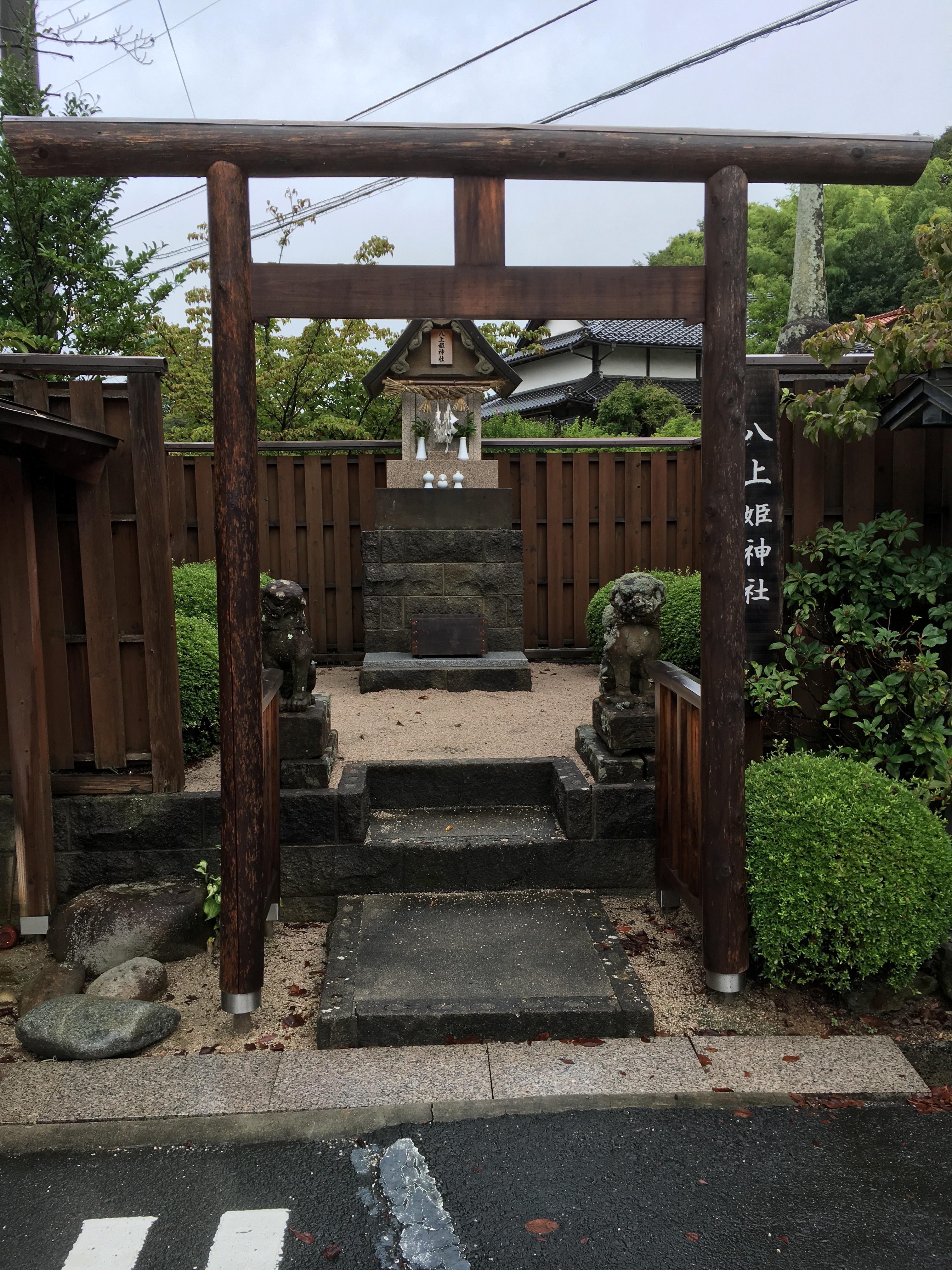 Relaxing in Yunokawa Onsen
This onsen is much smaller than Chourakuen was, but that gave it a much more intimate feeling, and I think the staff got to know us a little bit better. Also there were significantly fewer people, so we felt like we had the whole place to ourselves and were able to relax more.
Yumoto offers three separate private baths, so this time I was able to take picture of two of them!
If you are interested, here is their website (Japanese Only)
Onsen Are Expensive. Is It Worth It?
Good onsen are not cheap, but they are very much worth it. Just once you should splurge and stay in a ryokan in Japan. Besides, when you think about all that you are getting, rejuvenating baths, at least two meals, a room, as well as free yukata to wear around the ryokan, it all evens out. The food is always fantastic as well. Look at some of the meals we ate in Chorakuen!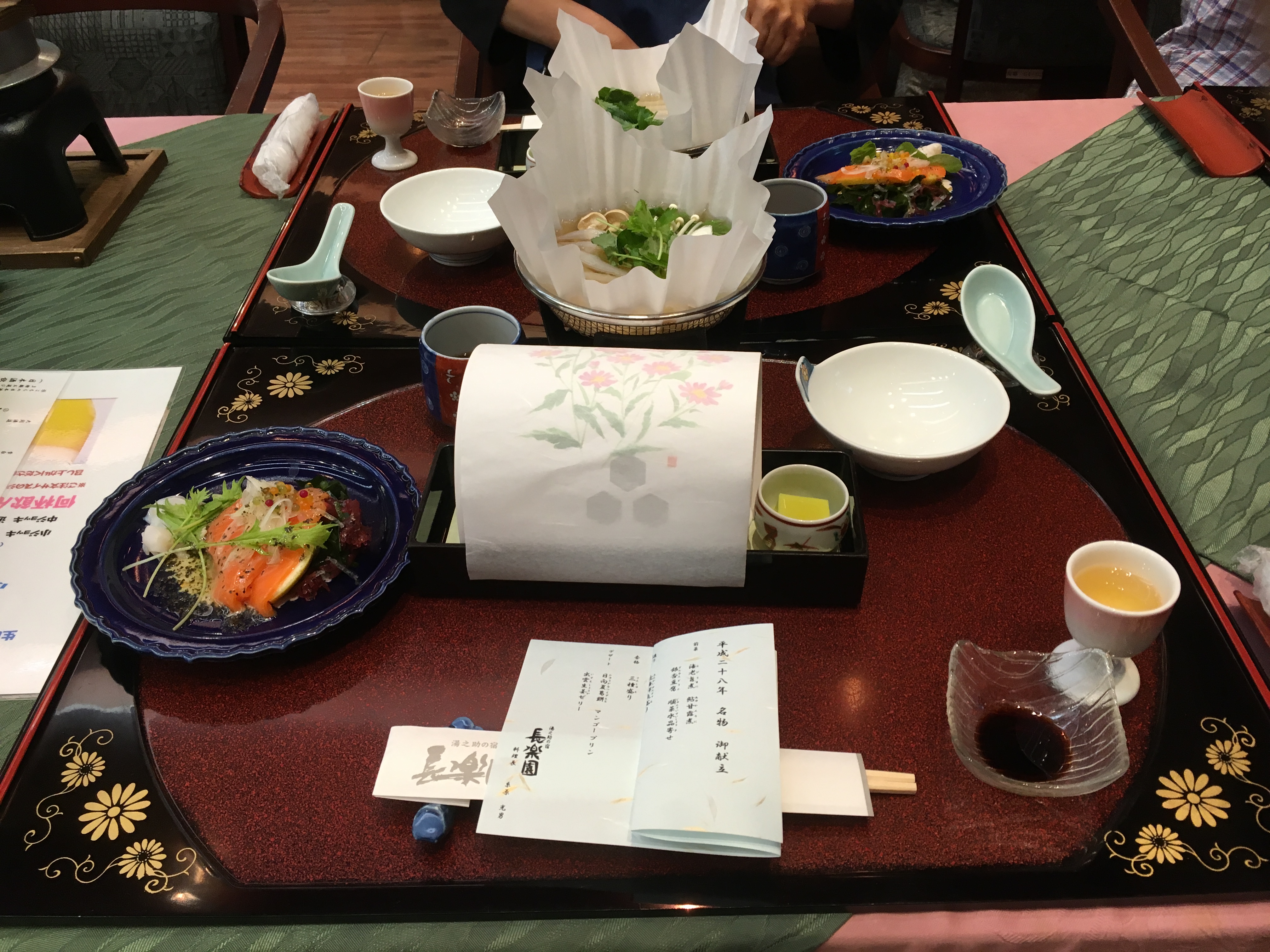 If you have special dietary needs, a ryokan can try to accommodate you. However, you must call them ahead of time so they can accommodate your needs.
Coming next time,
Going to Matsue? Don't know what to do? Our list what things to do in Matsue
The adventure continues…