Domyo-ji Tenmangu Shrine: 800 Beautiful Ume Trees!
In February, the very first spring flowers start to bloom. The most famous and iconic of these flowers are plum blossoms, or ume. While Osaka might not be everyone's first thought when it comes to ume, Osaka offers many places where you can enjoy the ume blossoms. Some of the most famous ones are: Osaka Castle Park, Kozen Park, Hiraoka Shrine, and Domyo-ji Tenmangu Shrine [道明寺天満宮]. Domyo-ji Tenmangu Shrine in particular has 800 trees and 80 different kinds of ume trees!
History of Domyo-ji
Long ago, this region was governed by Nomi no Sukune [野見宿祢], the father of sumo and 13th head priest of Izumo Taisha.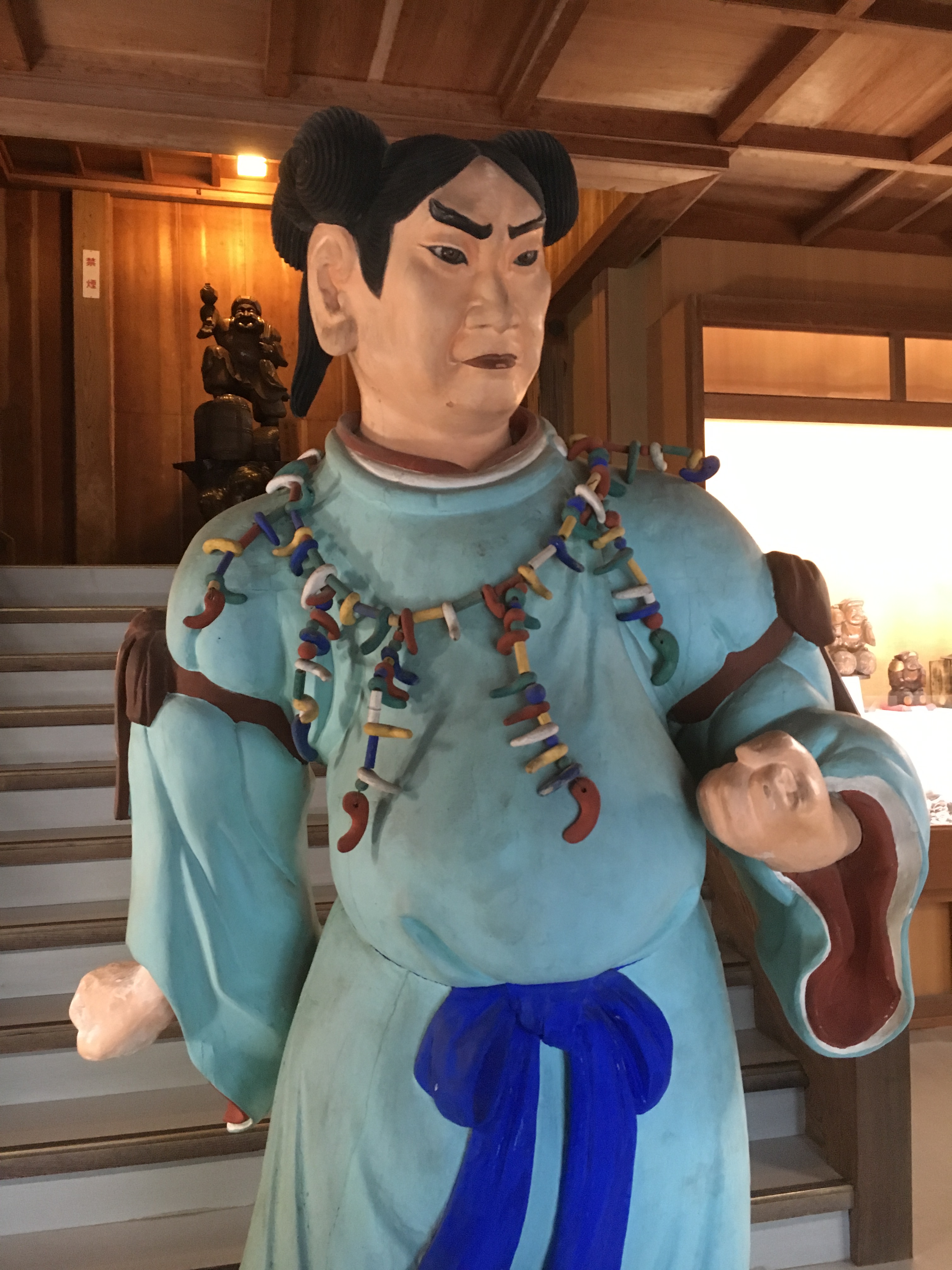 Later, Sukune's descendants, the Haji clan, built Haji Shrine [土師神社] for their divine ancestor, Amenohohi no Mikoto [天穂日命]. A few more centuries later, they built Haji Temple right next to Haji Shrine.
Michizane and Domyo-ji Tenmangu
The Haji clan eventually changed their family name to Sugawara, the clan of Sugawara no Michizane. In fact, Michizane's aunt lived in Haji Temple. Just after the emperor banished Michizane from his beloved Kyoto, he stopped by Haji Temple to see his aunt one last time. When dawn broke on the morning of his departure, a rooster crowed. Quickly, Michizane penned what became of his most famous poems:
 鳴けばこそ 別れも憂けれ 鶏の音の なからん里の 暁もがな
Because rooster cries, I must leave. If only I could live in a land with no roosters.
After Michizane died, he joined the gods in Haji Shrine and the name of shrine became Domyo-ji Tenmangu. Haji temple also eventually became Domyo-ji Temple, enshrining a Kwannon statue made by Michizane made by himself. Domyo-ji Temple and Domyo-ji Tenmangu were once shared the same land, but during the Meiji Period, the government forced them to separate.
Getting to Domyo-ji Tenmangu
Getting to Domyo-ji Tenmnagu is very easy. Take express for Kwachinagano or Yoshino from Abeno-bashi Station on the Kintetsu Minami Osaka Line. After only 20 minutes or so, you will arrive at Domyo-ji Station. The Kintetsu Minami Osaka Line is only available at Abenobashi, not from Namba or Tsuruhashi.
Domyo-ji Tenmangu Shrine is only a 5 minute walk from the station.
Shrine Grounds
This shrine is particularly famous for its beautiful ume garden. We also visited the shrine in the spring of 2017 and the sakura were very pretty then too.
Right next to the torii, Haji Shrine, the original shrine of Domyo-ji Tenmangu. Nomi no Sukune and several other gods are housed in Haji Shrine.
After the main torii, you will see the haiden and behind the haiden is the honden. Inside the honden Amenohohi, Sugawara no Michizane and Michizane's aunt, Kakujyuni are enshrined.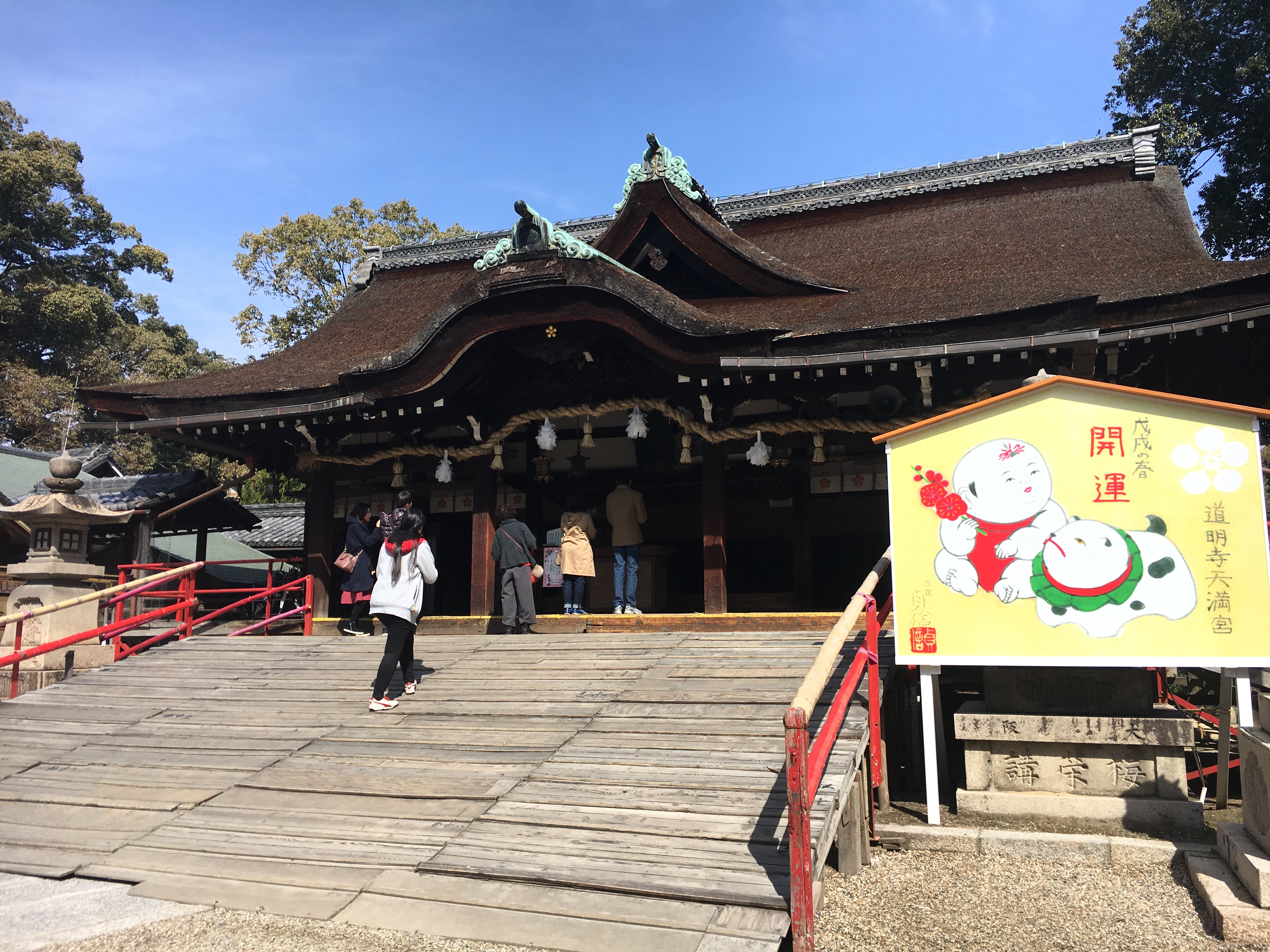 The Nogaku stage at the shrine is also one of the oldest in Osaka! Remember, Shinto shrines have a long tradition of holding Noh plays!
Ume Garden
The plum garden is located right behind of the honden. Every year the shrine hosts a small ume festival when the flowers are at their peek.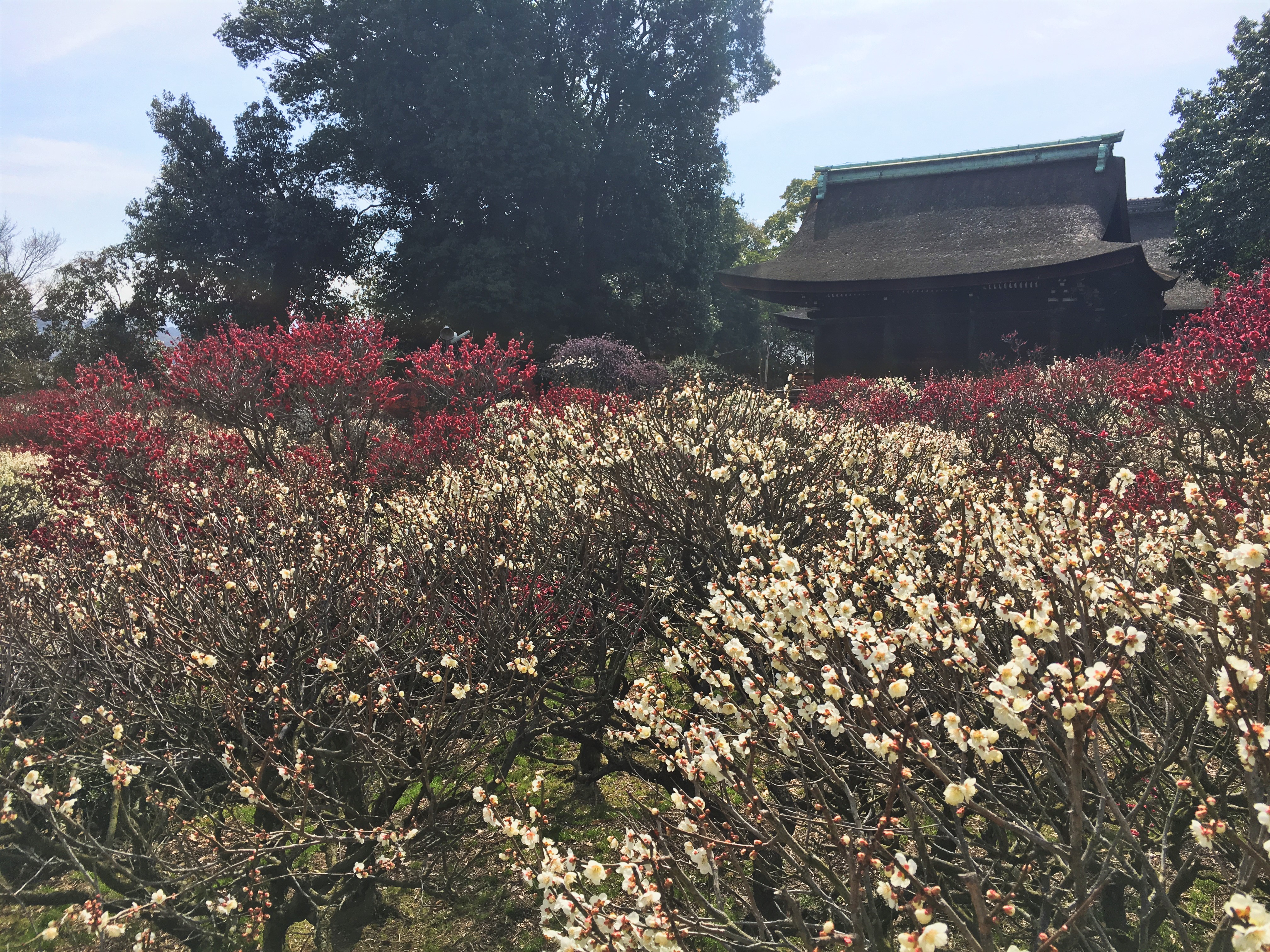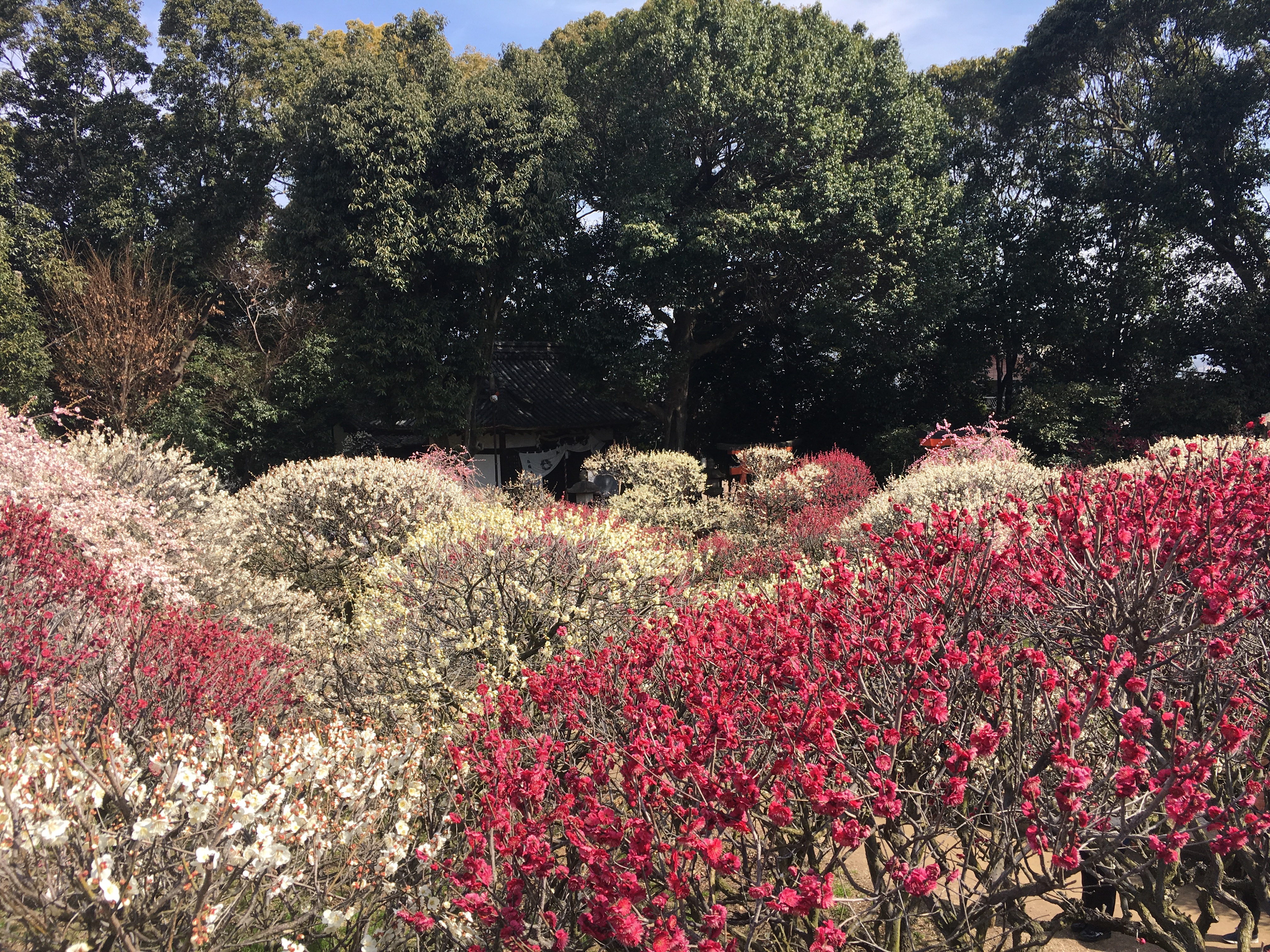 Domyo-ji Temple
Next to Domoyo-ji Tenmnagu is Domoyo-ji Temple.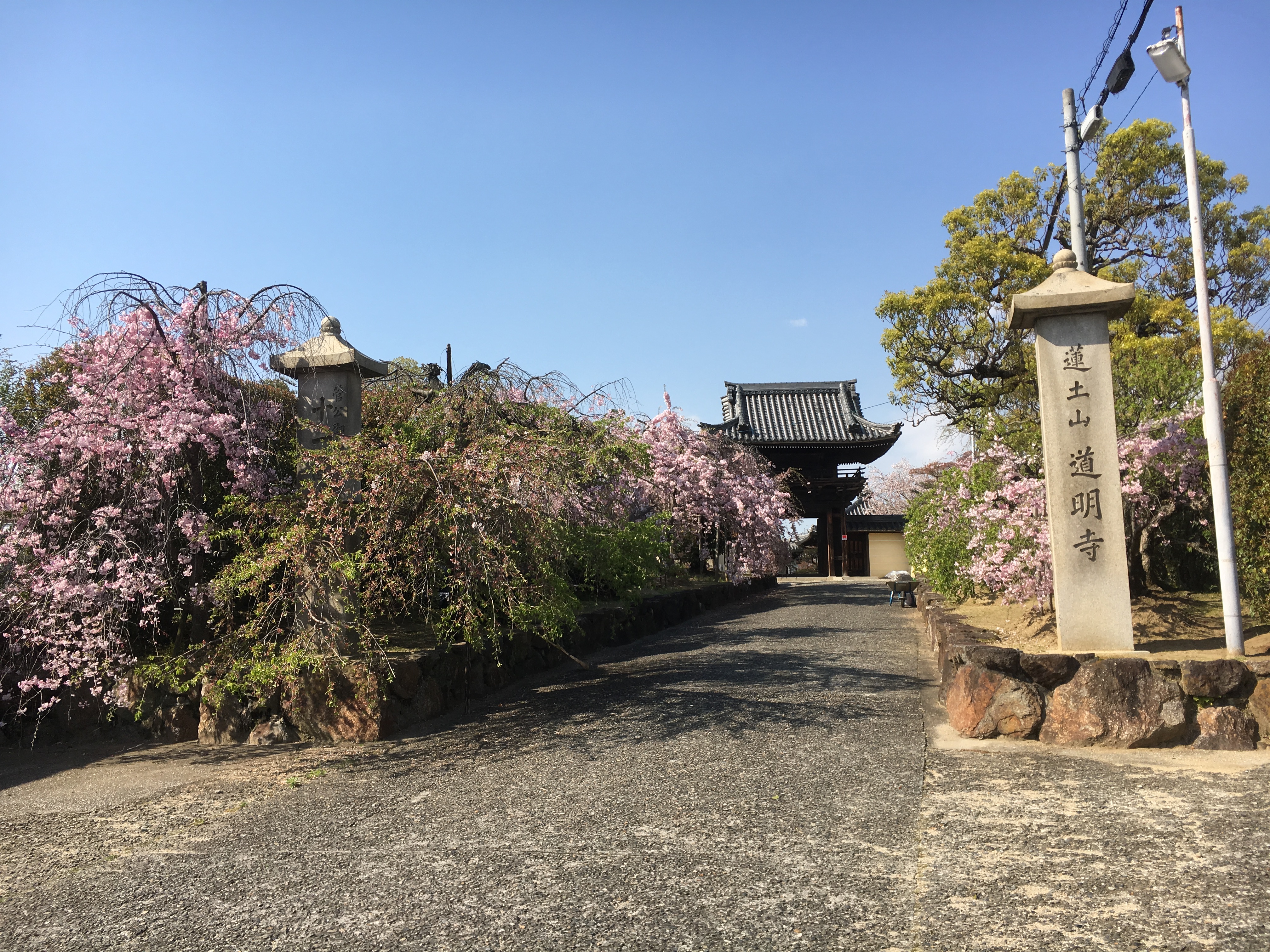 Domoyo-ji enshrines the eleven faced Kwannnon statue made by Sugwara no Michizane. The statue is usually not visible to the public, but on the 18th and 25th of every month, the temple allows visitors to see the statue.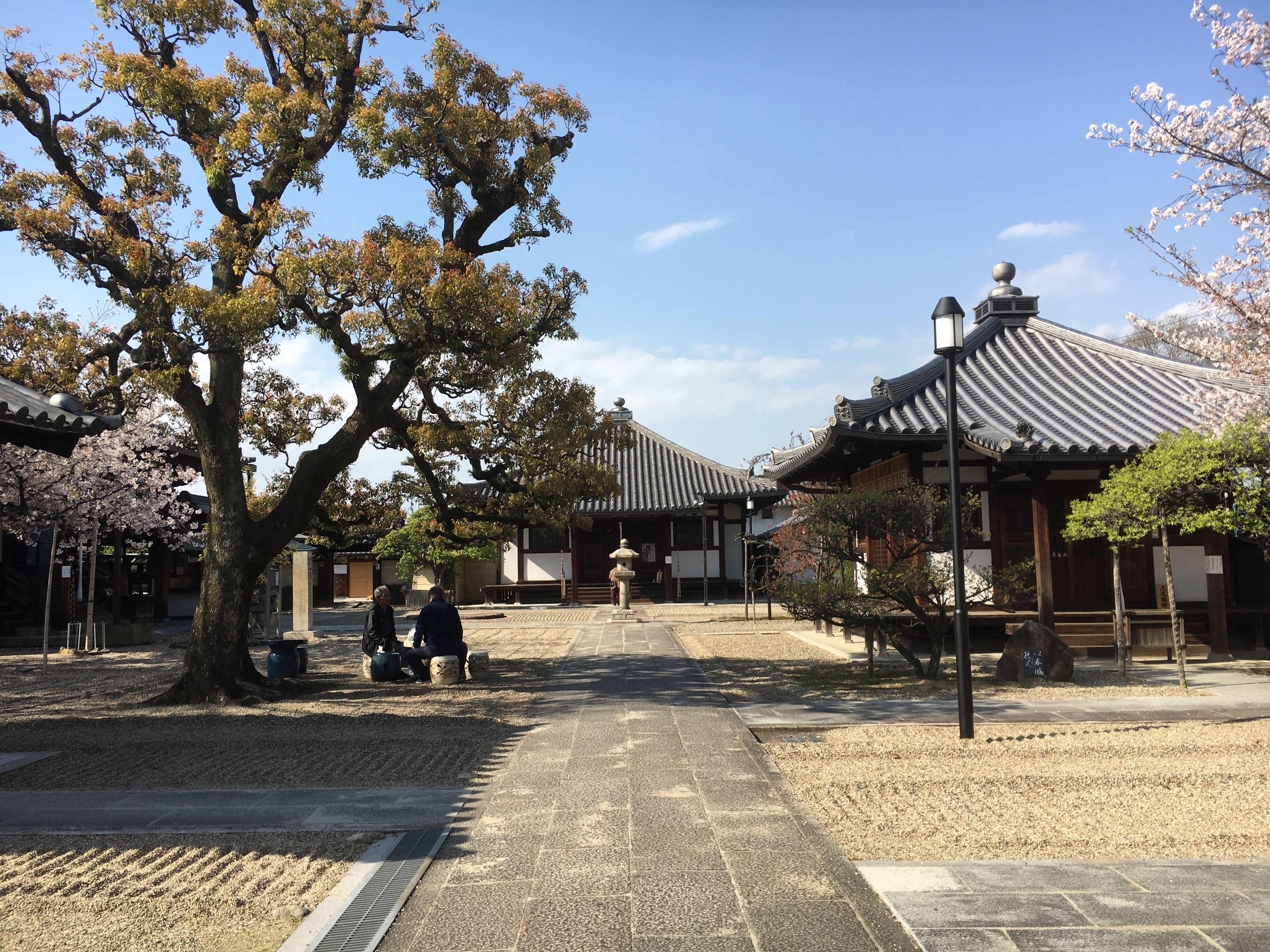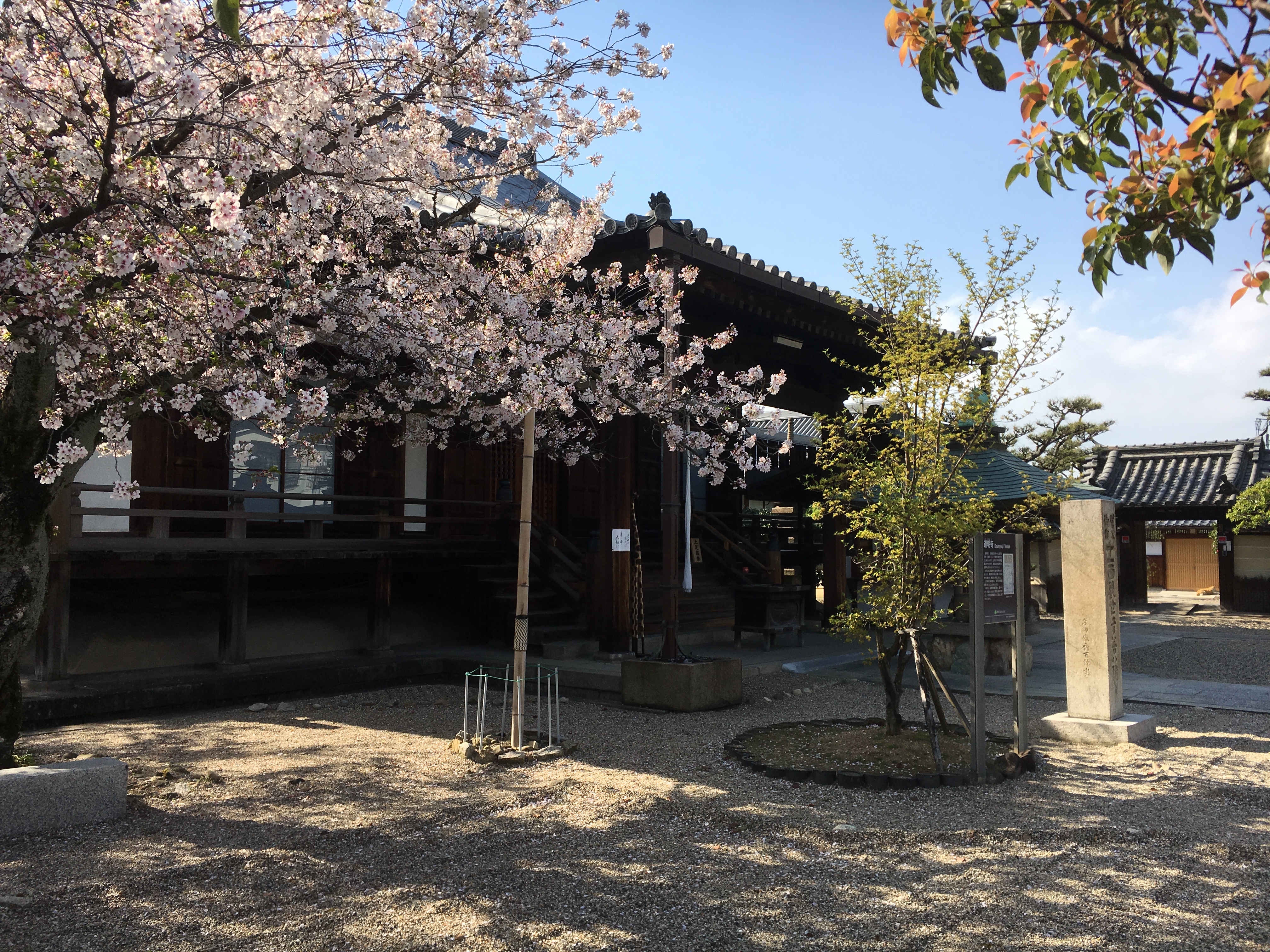 Sakura-mochi
One of the most popular traditional Japanese sweets out there is sakura mochi. Sakura mochi are filled with anko (sweet adzuki paste) and wrapped in a brined sakura leaf. These treats do in fact have some of the sweet floral smell of sakura, though the color is a dye.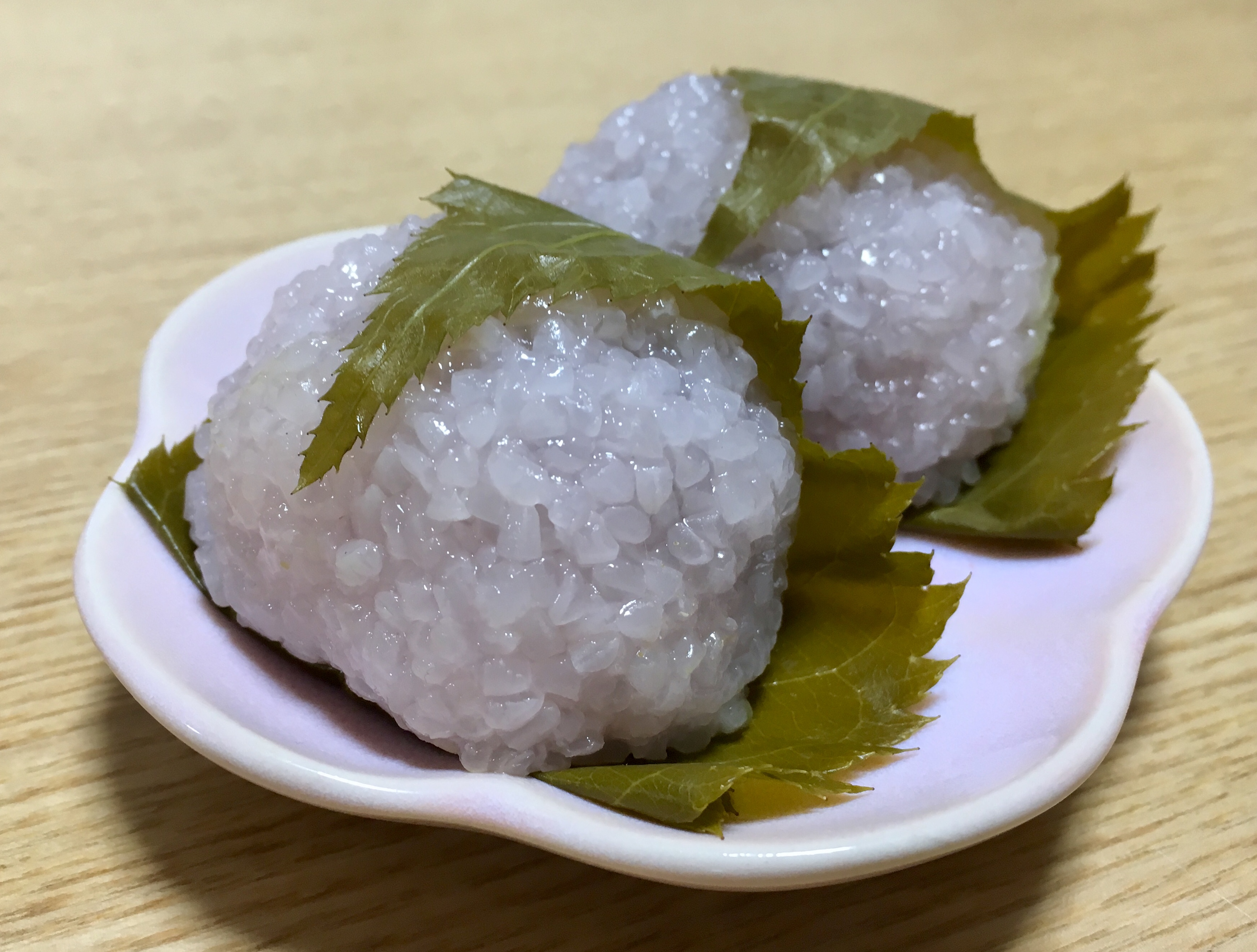 We Osakans call this kind of mochi sakura mochi, but interestingly people in Kanto call this Domyo-ji or even Kansai-style sakura mochi. Of course they have their own sakura mochi but their sakura mochi evendoesn't look like the Kansai version of sakura mochi.
Why do they call it Domyo-ji? Actually, the special powder used to make sakura mochi, domyo-ji powder, originated in Domoyo-ji Temple. Domoyo-ji powder is a ground dried mochi rice called, hoshi [糒]. Originally hoshi was staple food for warriors because it lasts long and is very light. Today, hoshi is predominately used as Domoyo-ji powder to make Japanese confectioneries.
Domyo-ji Tenmangu Shrine
Address

1-16-40 Domyoji, Fujiidera,




Osaka Prefecture 〒 583-0012

Website
http://www.domyojitenmangu.com/
Hours of Operation

Mon-Sun




9:00-16:30

Admission Fee

General Admission: Free




Admission to Ume Festival: 500 yen
Domyo-ji Tenmangu is a really pretty shrine to visit in the early spring. It is an especially popular place for photographers of all skills levels when the ume are in full bloom. Because it is a not sitting right in the middle of Osaka City, the crowds feel manageable. Definitely a great spot!
Coming next time,
Osaka's cheesecake war: Rikuro Ojisan vs Pablo!
The adventure continues…